Zucchini and Lemon Ricotta Flatbread
Zucchini and lemon ricotta flatbread is a fun dinner for one or appetizer for two and a great way to use up zucchini and yellow summer squash! The secret to making this veggie pizza super EASY is using a premade flatbread.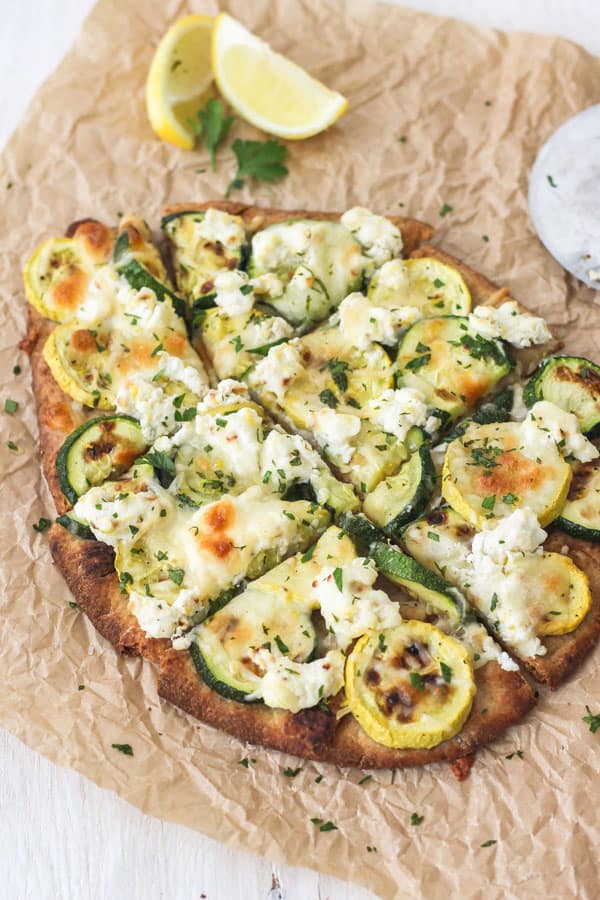 I married a man who absolutely LOVES pizza and all things pizza-related. That's why you'll find recipes for pizza spaghetti squash, calzones, tortilla pizzas and pizza bagels on TOL.
But I have a little confession. I don't really like pizza, at least not the way it's usually served: with red sauce.
So I was thrilled when I came across a grilled zucchini and ricotta flatbread recipe on Bon Appetit. It had fresh veggies, ricotta cheese, and no red sauce.
The recipe was a little large so I scaled it down to fit in our toaster oven and made a few swaps like using flatbread instead of pizza dough.
The results were heavenly. Lemony ricotta + buttery broiled zucchini is THE BEST, seriously.
Zucchini and Lemon Ricotta Flatbread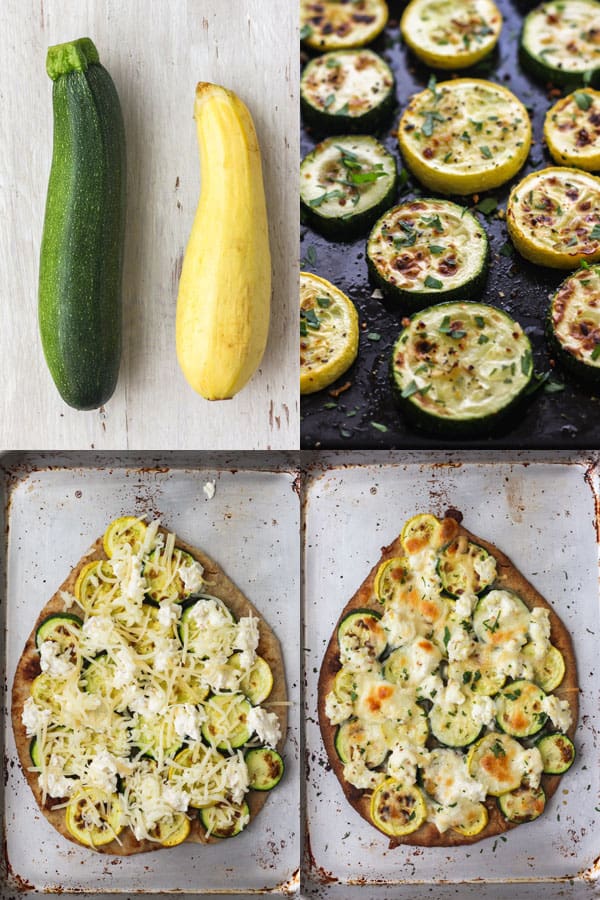 To make the original recipe work in our toaster oven we broiled a yellow squash and a zucchini (instead of grilling them). Broiling zucchini using your toaster oven is super easy and takes just a few minutes.
Since both of us are lemon fanatics we added lemon zest to the ricotta (sooo good!).
Then we swapped out the pizza dough for a premade naan flatbread. Thick and chewy naan is a superstar in our house, you can tear it in half to make wraps, top with hummus and veggies for a quick lunch or make a sweet flatbread fruit pizza.
We like the whole wheat Stonefire naans, they're big enough to make a filling meal for one or light dinner for two. (They also have mini toaster oven-sized flatbreads!)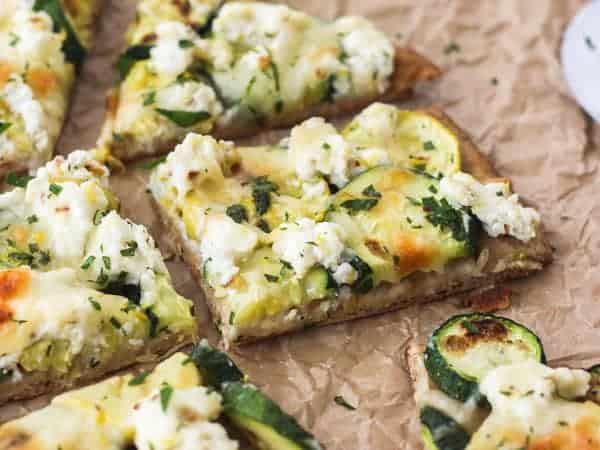 Small Household Cooking Tip: Since we're not making naan pizza every week I usually buy a package and keep it in the freezer. The flatbreads defrost quickly and don't get soggy.
Lastly, to give the flatbread more of a pizza-vibe we topped the whole thing with shredded mozzarella cheese.
Then we popped it in the toaster oven to get warm and melty…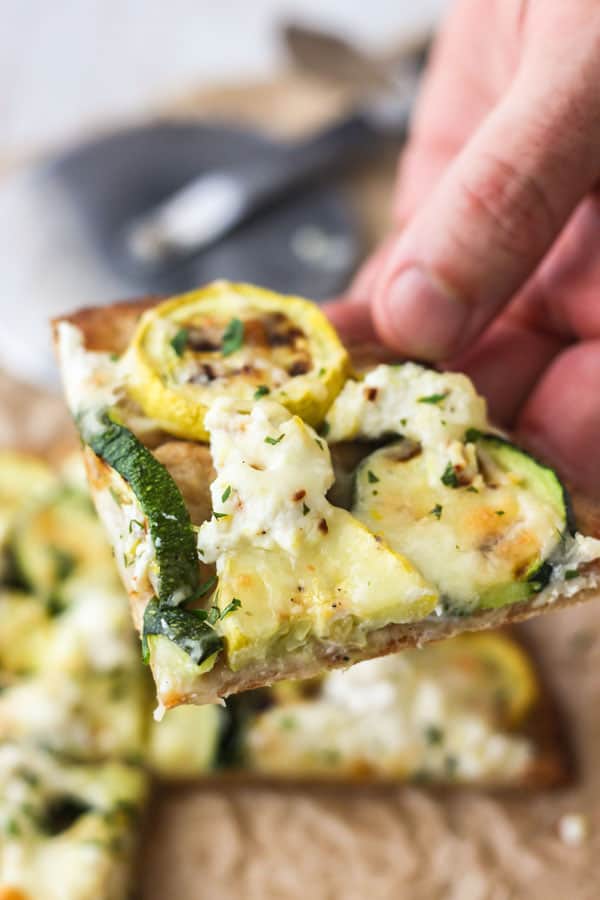 The edges of the flatbread got really crispy but the middle stayed soft and chewy.
The real standout though is the lemon wedges, they are genius!
Squeeze one over a slice right before eating, it brings out the best in every ingredient and keeps all of those cheeses from feeling too heavy.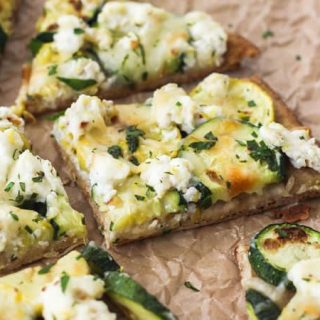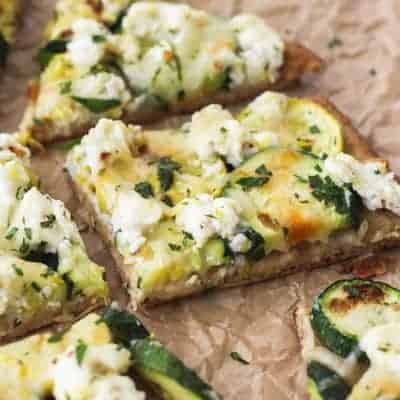 Broiled Zucchini and Lemon Ricotta Flatbread
Zucchini and lemon ricotta flatbread is a fun summer meal for one or appetizer for two and a great way to use up summer squash.
Ingredients
Broiled Zucchini:
2 small zucchini, sliced into 1/2-inch pieces
1 teaspoon grapeseed oil, or another high-heat vegetable oil
Salt & black pepper
Pizza:
1 medium lemon
1/4 cup ricotta cheese
Pinch Red pepper flakes
Salt & black pepper
1 whole grain premade flatbread
1 tablespoon grated parmesan cheese
1/4 cup shredded mozzarella cheese
Fresh parsley or basil, finely chopped
Instructions
Broil The Zucchini:
Adjust toaster oven cooking rack to the top position.
Slice the zucchini into 1/2-inch thick rounds and toss with oil, salt, and pepper.
Place rounds in an even layer on a roasting pan and broil for 3 to 4 minutes. Carefully remove the pan and flip the zucchini. Broil the other side until browned in spots, about 3 to 4 minutes more.
Make The Pizza:
Adjust the toaster oven cooking rack to the bottom position and preheat to 400F on the Bake setting. Lightly oil a baking pan.
Zest the lemon. Mix lemon zest with the ricotta and red pepper flakes. Taste the mixture and season with salt and black pepper.
Arrange zucchini slices on the flatbread and dollop with ricotta mixture. Top with parmesan and mozzarella.
Cook pizza until the cheese is melted and bubbly, about 10 to 12 minutes.
Top with parsley. Cut the lemon into wedges and serve with pizza for squeezing over slices.
Notes
Recipe inspired by and adapted from Bon Appetit
Authentic Parmesan cheese contains rennet (sometimes called enzymes) which is not vegetarian. We found a tasty grated parmesan cheese at Trader Joe's that is made with microbial rennet which is vegetarian. Also, we've heard Organic Valley and some Whole Foods branded cheeses are vegetarian-friendly and made with microbial or vegetable rennet too. 
Nutrition Information:
Yield:

1
Serving Size:

1 Flatbread Pizza
Amount Per Serving:
Calories:

639
Total Fat:

27.2g
Saturated Fat:

11.6g
Cholesterol:

50mg
Sodium:

1319mg
Carbohydrates:

72.1g
Fiber:

12.3g
Sugar:

11.7g
Protein:

30.1g
Leftover Ingredients Waste Avoidance