Ricotta Flatbread With Zucchini
This Ricotta Flatbread with zucchini, mozzarella, and fresh herbs is perfect for a light summer meal or appetizer. Using store-bought Naan as the base makes cooking it up quick and easy!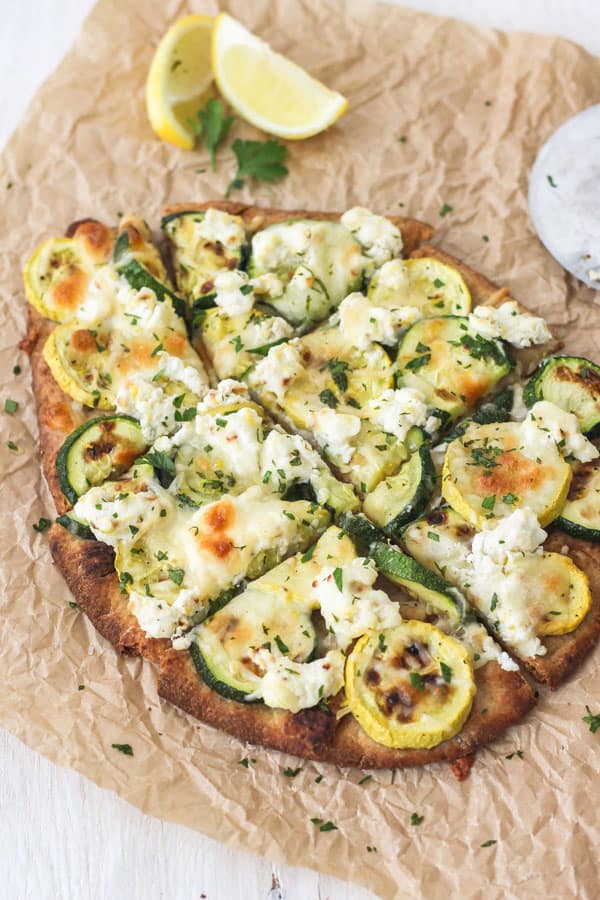 Flatbreads (like naan and pita bread), are freezer staples in our small household. They defrost quickly and make a great base for all kinds of toppings from hummus and fresh veggies to berries and sweetened ricotta.
Today we're using a naan flatbread to make a veggie pizza that features bright lemony ricotta, broiled zucchini slices, parmesan, and mozzarella cheese. Though my favorite ingredient has to be the lemon wedges.
It may sound kind of funky, but squeezing lemon juice over the baked pizza makes it feel light and fresh instead of heavy from all of that cheesy goodness.
For an easy weeknight dinner, we usually split the flatbread and enjoy it alongside a quick side salad. But I think it makes a great meal all on its own. Especially if you're dining solo and don't have to share!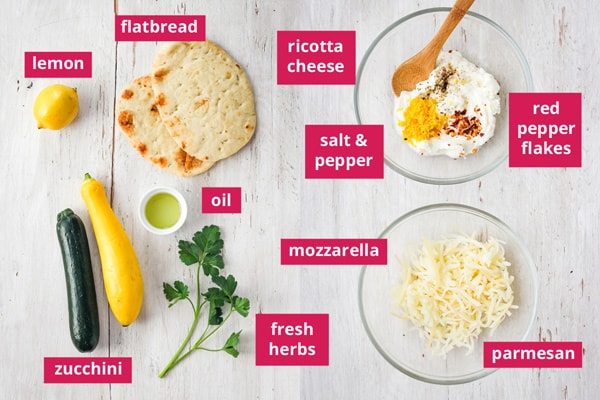 Ingredients
Zucchini or Yellow Squash: Two small zucchini (about 5 to 6 ounces each) scrubbed, dried, and sliced into ½-inch thick rounds.
Flatbread: We like to use storebought Naan to make things easy. You'll need two mini or a single large flatbread.
Ricotta: Part-skim or whole-milk.
Lemon: Zested for the ricotta, then sliced into wedges for serving.
Seasonings: Salt, pepper, and red pepper flakes.
Cheese: Shredded mozzarella for added creaminess and (vegetarian) parmesan for flavor.
Fresh Herbs: Like parsley or basil to lighten things up.
How to Make Flatbread Pizza With Ricotta and Zucchini
1. Broil the zucchini. Toss the sliced zucchini with oil, salt, and pepper. Arrange on a pan and broil for 3 to 4 minutes per side until crisp-tender and starting to brown. Quickly broiling the squash gives it a richer buttery flavor. Plus it removes moisture which keeps the pizza from getting soggy.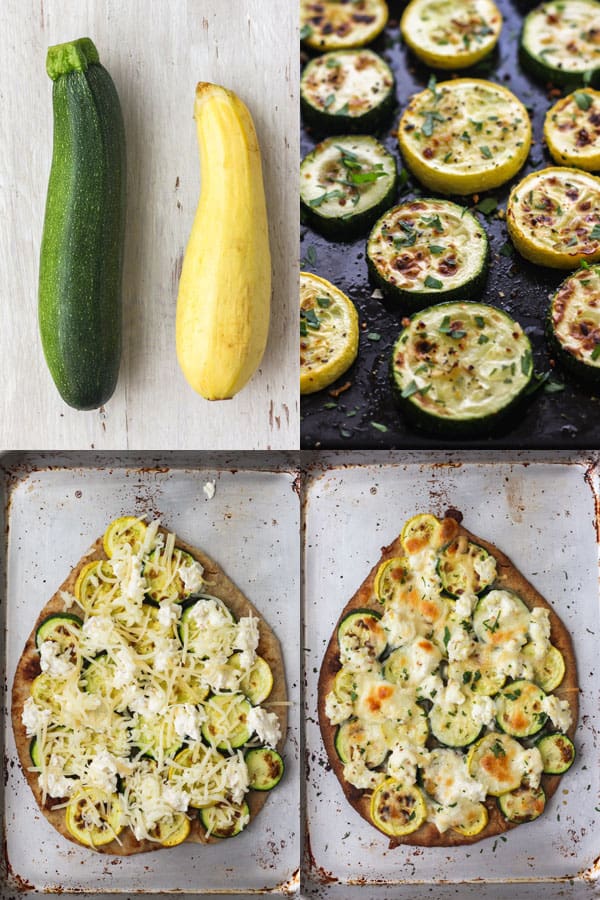 2. Mix up the lemon ricotta. Zest the lemon skin and mix it with the ricotta and red pepper flakes. Give it a taste and season with salt and pepper as desired.
3. Assemble the flatbread pizza. Place the naan on a baking sheet and top with the zucchini slices. Dollop on the ricotta, then sprinkle with the cheeses.
4. Bake at 400°F. Cook until the edges of the flatbread are browned and the cheese is melted about 8 to 12 minutes. While the pizza bakes slice the lemon into wedges.
5. Serve and enjoy. Garnish the baked pizza with chopped fresh herbs and cut into slices. Squeeze a lemon wedge over a slice and dig in!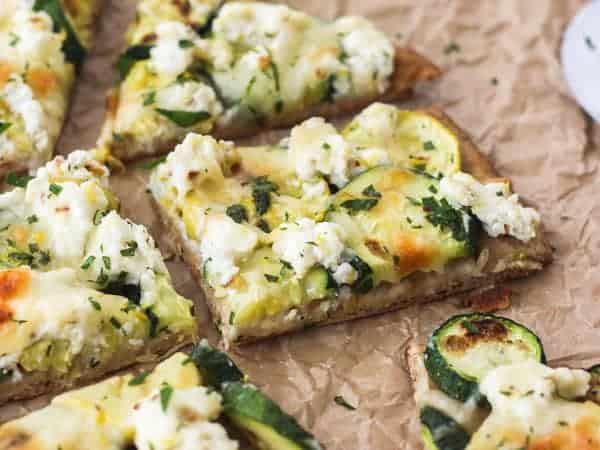 Recipe Variations
Mix up the veggies: Instead of zucchini use roasted asparagus, broccoli, artichoke hearts, or red peppers.
Try other cheeses: Another fun cheesy combo is sharp white cheddar and crumbled feta cheese or goat cheese.
Add more flavor: Mix chopped garlic and fresh or dried thyme with the ricotta. If you've got leftover pesto, dollop it on before baking!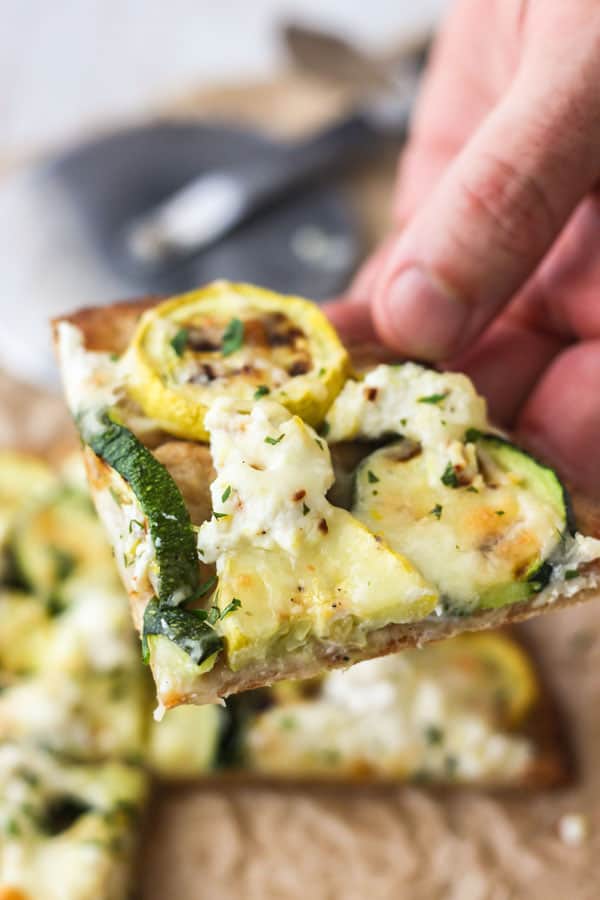 More Easy Vegetarian Dinner Recipes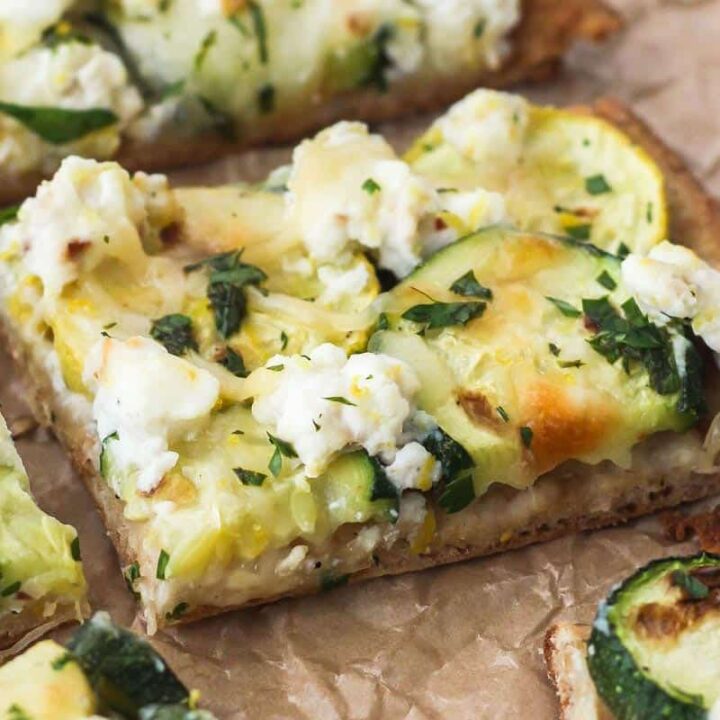 Ricotta Flatbread With Zucchini
Fresh and flavorful, this easy ricotta flatbread makes a great appetizer or weeknight dinner. If you're not a fan of zucchini try it with roasted asparagus or broccoli.
Ingredients
Broiled Zucchini
2 Small Zucchini or Yellow Summer Squash, about 5 or 6 ounces each
1 teaspoon Avocado Oil or Olive Oil
Salt and Pepper
For The Flatbread Pizza
1 Small Lemon
1/4 cup (55 grams) Ricotta Cheese
Pinch Red Pepper Flakes
Salt and Pepper, to taste
1 Large Naan Bread (or 2 mini naan)
1/4 cup (28 grams) Shredded Mozzarella Cheese
1 tablespoon (7 grams) Shredded Parmesan Cheese
Chopped Fresh Parsley or Basil, for serving
Instructions
Broil The Zucchini:
Slice the zucchini into 1/2-inch thick rounds and toss with oil, salt, and pepper.
Place rounds in a single layer on a roasting pan and broil just until browned in spots, about 3 to 4 minutes. Carefully flip the zucchini and broil for an additional 3 minutes. Set aside.
Make The Pizza:
Heat the oven to 400°F. If using a toaster oven, adjust the cooking rack to the middle or bottom position and select the BAKE setting. Lightly oil a sheet pan or pizza pan.
Zest the lemon and mix it with the ricotta and red pepper flakes. Taste the mixture and season with salt and black pepper as desired.
Distribute the zucchini slices across the flatbread. Dollop with ricotta, then sprinkle with the mozzarella and parmesan
Cook the pizza until the cheese is melted and bubbly, about 8 to 12 minutes. While the pizza bakes slice the lemon into wedges.
Once ready, top with the chopped parsley or basil and cut into slices. Grab a slice, squeeze a lemon wedge over it, and enjoy!

Notes
Vegetarian Parmesan: To keep this pizza vegetarian use a parmesan cheese that is made with microbial or non-animal rennet. We get ours from Trader Joe's. The BelGioioso and Mauro & Gianni brands also offer vegetarian-friendly options.
Recipe inspired by Bon Appetit's Zucchini Grilled Flatbread.
Nutrition Information:
Yield:

2
Serving Size:

Half a large flatbread
Amount Per Serving:
Calories:

249
Total Fat:

8.9g
Saturated Fat:

4g
Cholesterol:

19mg
Sodium:

502mg
Carbohydrates:

33.4g
Fiber:

7.3g
Sugar:

5.9g
Protein:

12.8g