Toaster Oven Breakfast Sandwich
Start your day off right with a satisfying toaster oven breakfast sandwich – easy, filling, and ready in just 10 minutes! Go simple with an English muffin + egg + cheese combo or add avocado, spinach, and tomatoes…the options are endless.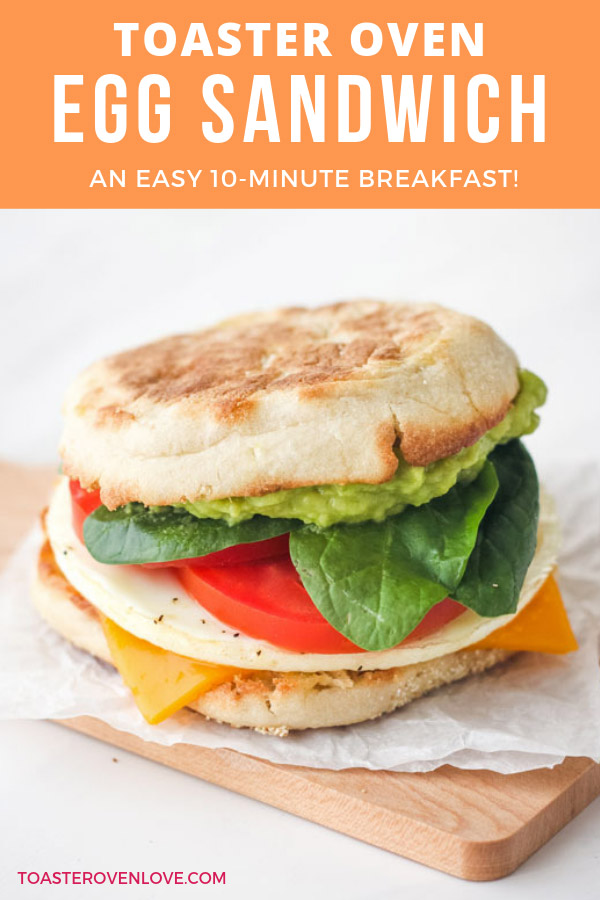 The title says toaster oven breakfast sandwich but honestly, this sandwich is great for any time of the day. It's quick, delicious, and incredibly easy to customize.
My favorite lunchtime version has avocado, tomato, and hummus with a generous sprinkle of everything bagel seasoning.
The secret to this simple no-frying-pan-needed-recipe is that you cook ALL of it in your little oven using just the TOAST setting.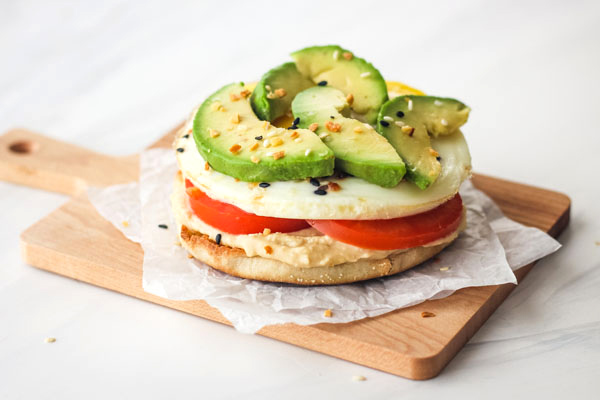 We discovered this trick for "toasting eggs" in our old-school Oster a while back but then ran into trouble making it work in our larger Breville Smart Oven Pro (BOV845BSS).
No worries though, we worked it out and have you covered with directions for both kinds of ovens.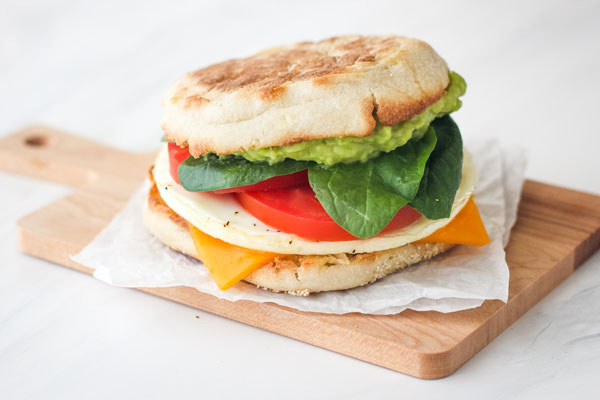 Toaster Oven Breakfast Sandwic

h 101

A good breakfast sandwich starts with the usual suspects:
One large egg
An English muffin (split in half)
A slice of cheese. I like sharp cheddar but if you've got other ideas, you do you!
Plus something to cook your egg in. We have a set of 3-inch round cake pans from Wilton. They are my favorite to use because the cooked egg fits perfectly on an English muffin.
We've also had success toasting eggs in a mini loaf pan (I found ours at the grocery store), the square pans from our toaster oven carrot cake, and in a mini cast iron skillet too.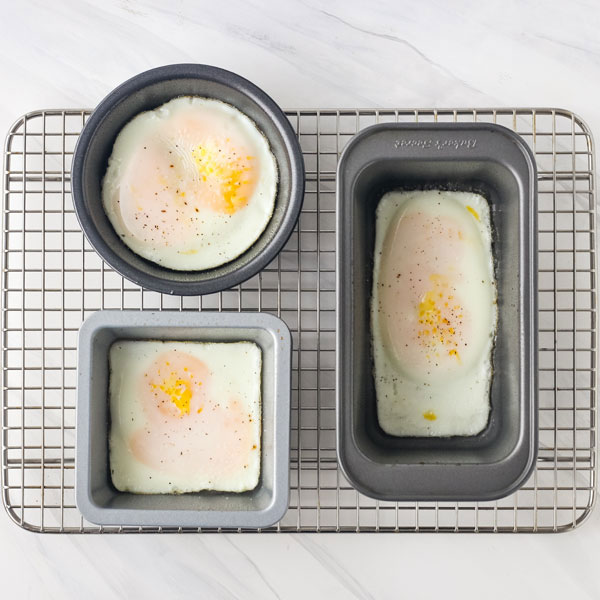 Mini Pan Alternatives
Stoneware ramekins like the ones from this Baked Eggs and Green Beans recipe are another option but not my favorite.
The eggs we made in them took way longer to cook. Plus, I was a little worried about the ramekins cracking under the intense heat, so if you go that route your mileage may vary.
If I didn't have access to a mini pan and was feeling scrappy, I'd probably try to create something using foil. (Got ideas? Make sure to share them in the comments!)
Whatever you do, avoid glass ramekins as they are usually not toaster oven-friendly.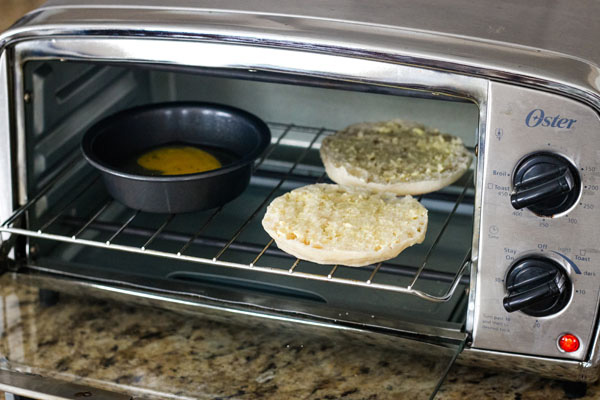 Once you've got your mini pan sorted, it's time to get cooking!
1. Spray your small pan with a little cooking oil and crack the egg in. Give the yolk a quick poke with a fork or knife, this will help it to cook more evenly. 
2. Next, split your English muffin in half. I like to butter both sides but it's not required. 
3. Place the pan and muffin halves in the middle of the cooking rack in your toaster oven. Close the door, turn the dial to TOAST, and set the toasting level to DARK. 
4. Cook until the English muffin is toasted and the egg white and yolk are cooked through about 4 to 5 minutes.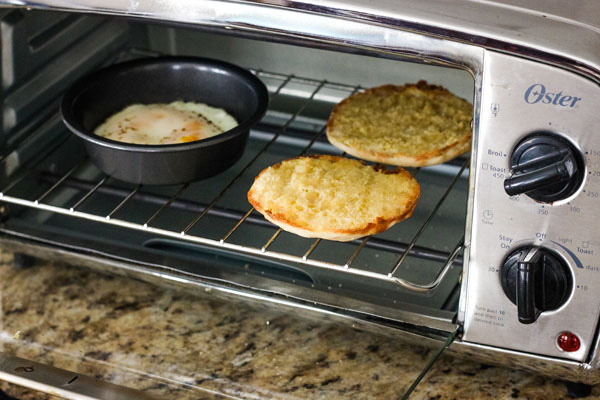 5. Layer the slice of cheese and cooked egg between the English muffin and dig in!
Quick Note: Depending on your appliance, your sandwich might cook a little faster or slower. So keep an eye on it the first time and make adjustments as necessary.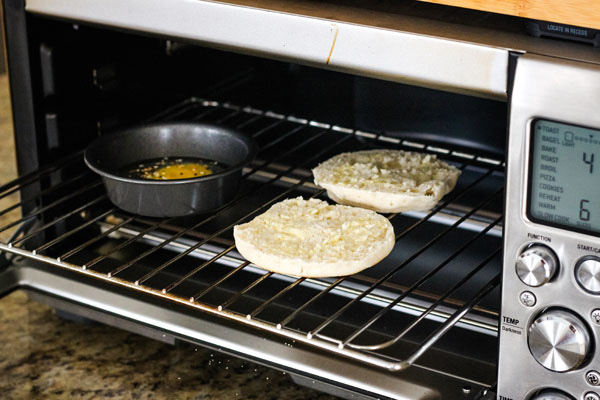 Countertop Oven Tips
If your toaster oven or countertop oven is like our Breville Smart Oven Pro (BOV845BSS) with fancy-schmancy "smart toasting technology" the technique is a little different.
The BEST METHOD we've found is to select the highest number of slices (even if you're making just one sandwich) and a toasting level of 4 or Medium.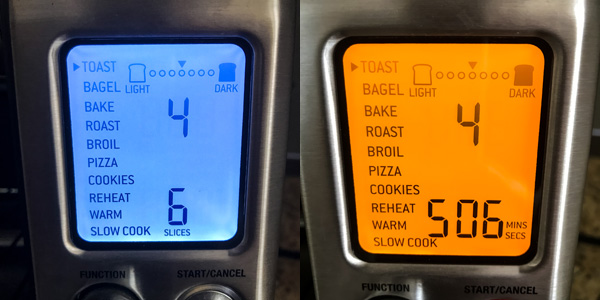 Our egg is usually always done after the initial cooking time. But sometimes, the muffin will need 20 to 30 seconds of additional toasting.
You may need to play around with the settings on your oven to increase or decrease the cooking time depending on the ingredients used and your level of toasted preference.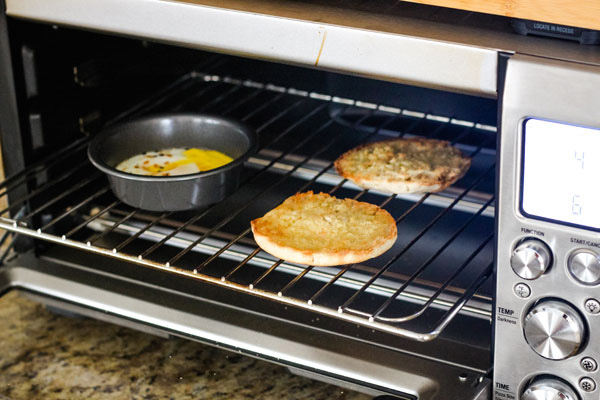 Easy ways to customize your breakfast sandwich:
Chop up leftover roasted vegetables (Brussel's sprouts taste delish!) and stir them in with the egg before cooking.
Clean out the fridge and top your sandwich with avocado, hummus, or salsa.
Swap the English muffin for two frozen waffles and drizzle the sandwich with maple syrup. Warning: once you go waffle, there's no going back – it's that good.
I feel like this list could go on, and on, and on, but I'm going to stop here so you can go make yourself one 😉
Happy Cooking!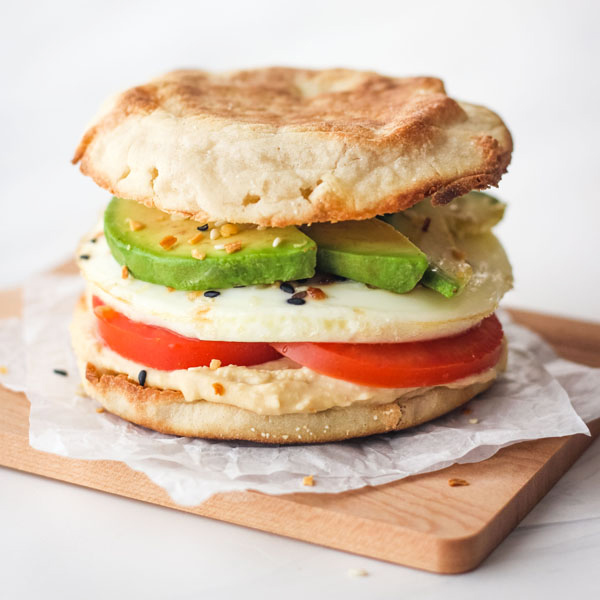 More Toaster Oven Breakfast Recipes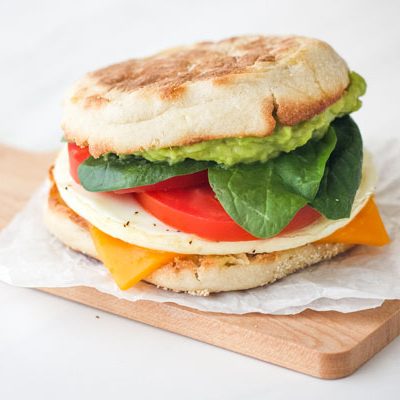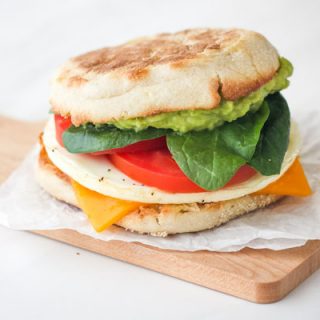 Toaster Oven Breakfast Sandwich
Skip the drive-thru, this easy breakfast sandwich is ready in just 10 minutes!
Ingredients
1 large egg
Salt and pepper, to taste
1 English muffin, split
1 slice cheese
Instructions
Coat a small 4-inch round metal pan with cooking oil.

Crack egg into prepared pan, poke yolk with a fork or toothpick, and season with salt and pepper.

Place pan and split english muffin in the center of the cooking rack in your toaster oven.

Select the TOAST setting on DARK and toast for one cycle.

Check the egg and muffin and remove if ready. If further cooking is needed, set for another cycle of toasting until desired level of doneness is achieved.

Layer egg and cheese inside english muffin and enjoy.
Notes
To make this sandwich in our Breville Smart Oven Pro Countertop Oven we use the TOAST function with a Darkness Level of 4 or 5 and Slices Setting of 6.
Nutrition Information:
Yield:

1
Serving Size:

1 Breakfast Sandwich
Amount Per Serving:
Calories:

301
Total Fat:

15g
Saturated Fat:

7.6g
Cholesterol:

216mg
Sodium:

440mg
Carbohydrates:

25.40g
Fiber:

1g
Sugar:

1.4g
Protein:

17.3g