These baked buttermilk donuts are sweet and tangy with that unmistakable plain cake donut flavor. Dust off your donut pan and bake a batch today, you'll love how easy they are to make!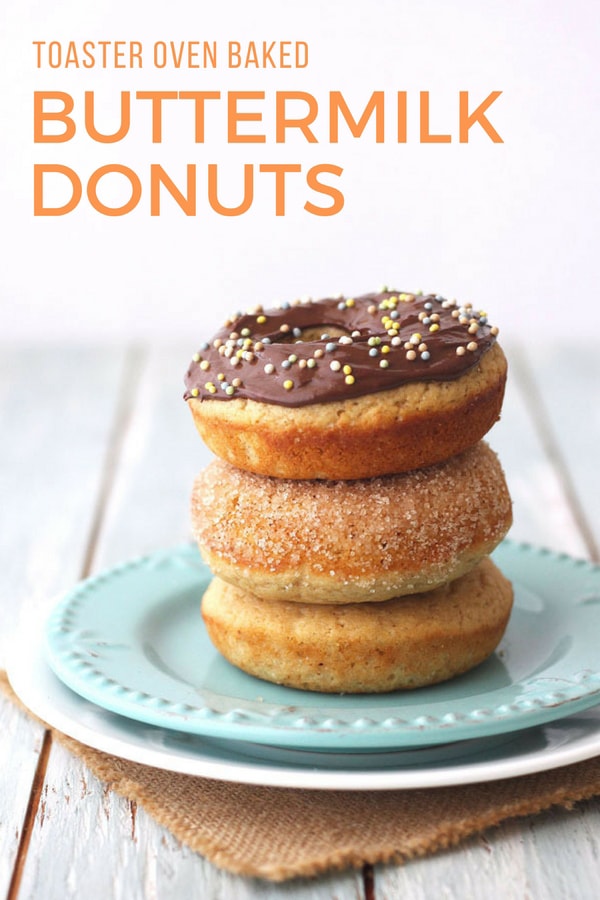 It's rare to find a recipe that pleases everyone in my family. So getting the thumbs up from all the adults made me feel pretty good about these baked buttermilk donuts.
But they still had to make it past the toughest critic I know: my 4-year-old nephew.
That little dude's culinary critiques ensure I will always stay humble about my cooking. So when he ate his entire donut AND began negotiating for a bite of Tim's second donut, I knew this recipe was a keeper.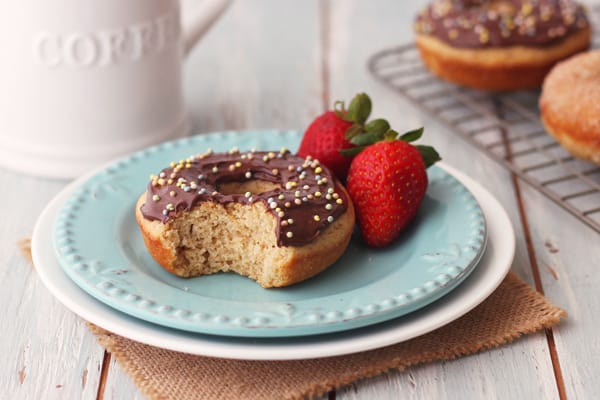 Flavor-wise, these donuts remind me of a classic plain cake donut.
They have that same lovely combination of warm vanilla, spicy nutmeg, tangy buttermilk and the perfect amount of subtle sugary sweetness.
I've made them so many times in the last two months it didn't seem fair to keep this easy toaster oven recipe all to myself any longer.
Now I know what you're thinking…can I substitute milk for the buttermilk?
Yesterday while my sister and nephew were visiting we made a batch using whole milk in place of the buttermilk.
The donuts were a touch dry, though that didn't stop us at all from eating them. So I'd add a tablespoon of unsweetened applesauce or an extra teaspoon or two of oil if you want to make them with regular milk.
~ Keep scrolling for more tips & photos after the recipe ~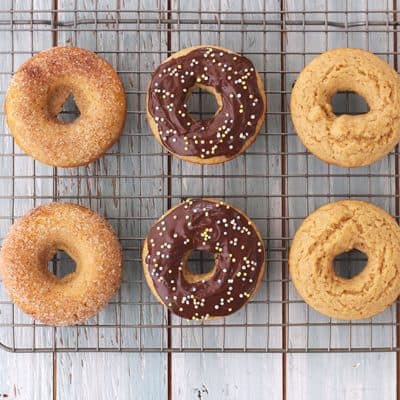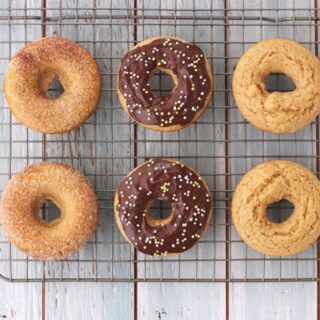 Baked Buttermilk Donuts
These nutmeg-flavored donuts taste great served plain, coated with cinnamon and sugar, or slathered with chocolate hazelnut spread.
Ingredients
Cooking Oil Spray
1 cup White Whole Wheat Flour or All-Purpose Flour
1/4 cup Granulated Sugar
3/4 teaspoon Baking Powder
1/4 teaspoon Fine Sea Salt
1/4 teaspoon Ground Nutmeg
1 large Egg
1 tablespoon Olive Oil
1 tablespoon Honey
1/2 cup Low-Fat Buttermilk
1 teaspoon Pure Vanilla Extract
Instructions
Adjust the toaster oven cooking rack to the middle position and preheat to 425°F on the "Bake" setting. Use non-stick cooking spray or oil to coat a 6-cavity donut pan.
In a medium bowl whisk together the flour, sugar, baking powder, salt, and nutmeg.
In a small bowl whisk together the egg, oil, honey, buttermilk, and vanilla.
Add the wet ingredients to the flour mixture and stir just until combined.
Scoop batter into a quart-sized plastic bag and cut a bottom corner off. Pipe batter evenly into the prepared pan.
Bake until the tops of the donuts spring back when pressed and a toothpick inserted into a few comes out clean, about 8 to 9 minutes for full-sized donuts and 5 to 6 minutes for mini donuts. The donuts will be pale on top and lightly golden on the bottom.
Allow donuts to cool in the pan for 2 to 3 minutes before turning them out onto a cooling rack and topping if desired.
Notes
To bake in a Convection Toaster Oven, reduce temperature to 350°F and bake 8 to 9 minutes for full-sized donuts and 5 to 6 minutes for mini donuts.
Toppings
For Cinnamon Sugar Topped Donuts: In a small bowl melt 1 tablespoon of butter or coconut oil. In another small bowl combine 2 tablespoons granulated sugar and 1/4 teaspoon cinnamon. Dip each donut into the melted butter and then the cinnamon sugar.
For Chocolate Frosted Donuts: Use 2 to 3 teaspoons of chocolate hazelnut spread to frost each donut, top with sprinkles or chopped nuts.
Storage
The donuts are best enjoyed the day they are baked. Un-topped leftovers can be frozen for up to 2 months.
Nutrition Information:
Yield:

6
Serving Size:

1 donut
Amount Per Serving:
Calories:

152
Total Fat:

3.7g
Saturated Fat:

0.7g
Cholesterol:

32mg
Sodium:

112mg
Carbohydrates:

26.7g
Fiber:

2g
Sugar:

13g
Protein:

4.4g
Toaster Oven Baking Tips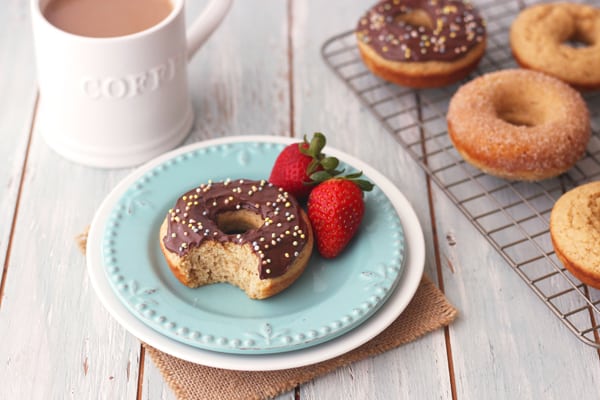 Use the middle rack position, if you can. It's perfect for cooking baked goods like muffins, chocolate chip pecan oatmeal cookies, and donuts.
If you're cooking with a convection toaster oven, turn the temperature down, WAY DOWN. We tried this recipe using the convection fan on our larger countertop oven at 400°F and 375°F. Both temperatures yielded dry donuts even with a shortened cooking time. At 350°F with convection, the donuts were soft and delicious.
Step by Step Photos
To make this recipe you'll need a 6-cavity donut pan or a mini donut pan (the mini is nice for smaller toaster ovens).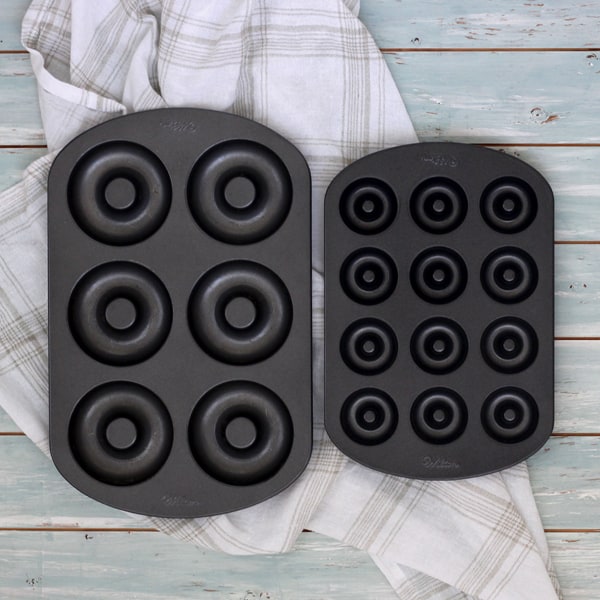 We've included baking instructions for both sizes in the recipe. I've tried this recipe using other pans and unfortunately, it doesn't turn out the same.
Step 1: Grease Your Donut Pan Well
If your pan is like mine and has seen better days use the cooking spray that has flour in it. That stuff will keep anything from sticking.
Step 2: Measure Out Your Flour
In my experience, this is where baked donuts can go bad (aka DRY). Especially when using whole grain flour.
To keep from compacting the flour and adding too much to the batter lightly spoon your flour into the measuring cup and then level off the top with the back of a butter knife.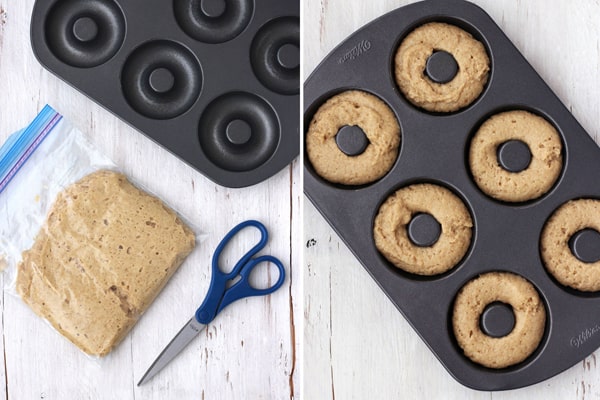 Step 3: Mix It All Together
Add the liquid ingredients to the dry ingredients, stirring just until combined. Too much stirring and your donuts will be tough.
Also, expect the batter to be on the thicker side.
Step 4: Pipe Your Batter
Transfer the batter to a plastic bag and snip off one of the corners. Then pipe it into your prepared pan. A reusable pastry bag without a tip works well too.
Step 5: Bake, Top, and Eat
Pop the donuts in your toaster oven but don't wander off, they bake up quickly.
Instead, use that time to decide how many you should dip in butter and cinnamon sugar, cover with chocolate hazelnut spread and sprinkles, or just enjoy plain!