A simple recipe for two cups of Small Batch Almond Granola filled with sweet golden oats, sliced almonds and toasted coconut.  Perfect for making in your toaster oven!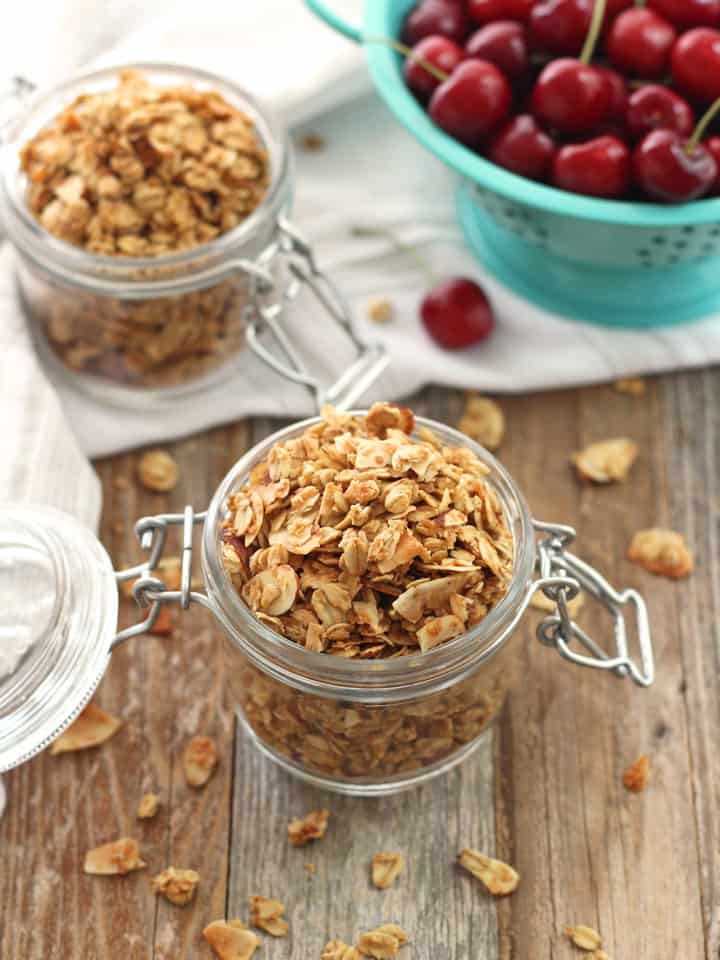 This year has been awesome for early seasonal produce.  First there were these "I Need To Be Roasted And Bathed In Balsamic" asparagus spears.  Now cherry season is upon us and was in full force at my grocery store last week – I'm talking $1.99 per pound cherry deliciousness.
After relieving my wallet of several dollars I immediately started dreaming up a list of recipes for my bounty of sweet cherries.
A yogurt parfait was high on that list but there was a tiny issue with the granola.  Our super clumpy no-stir toaster oven granola recipe has a variety of nuts, seeds and dried fruit.  I was worried with so many ingredients the fresh cherries might get lost.
So I dug around in our pantry and created this ultra simple Small Batch Almond Granola.  Its full of golden toasted oats and has a light almond flavor perfect for highlighting any fruit, especially cherries!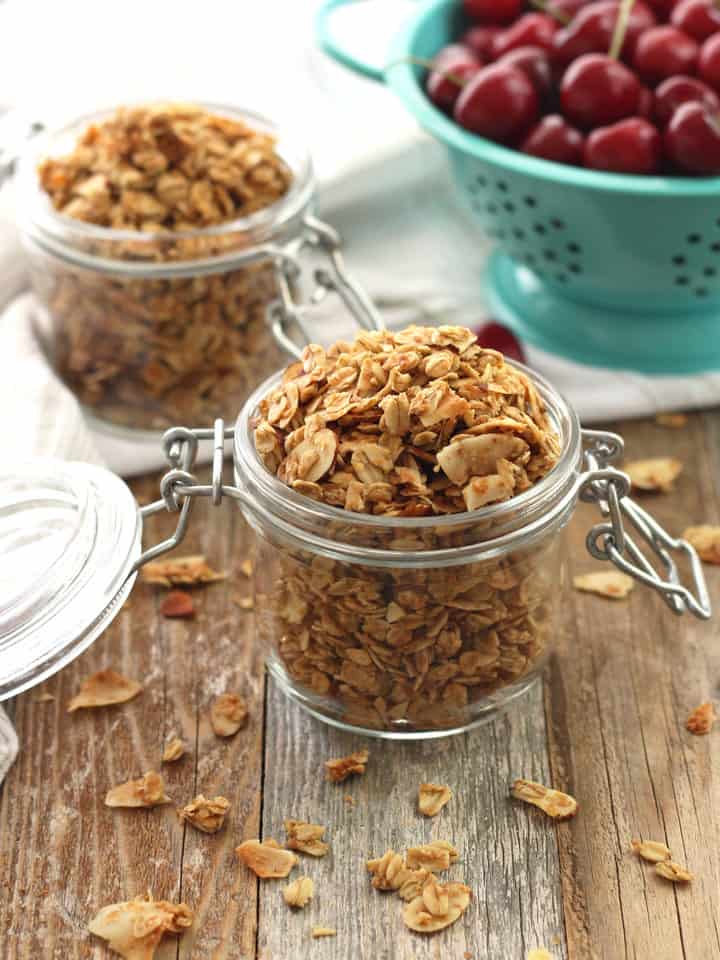 Making Granola In Your Toaster Oven
Small Batch, the two sweetest words a Toaster Oven Lover can hear.
The world is full of fantastic granola recipes (in cookbooks and online) but almost all of them make enough to feed a football team.  Don't get me wrong, Tim and I would happily eat every last cluster of those mega-sized recipes.  But there's just no practical way to cook a huge granola recipe in a little toaster oven.
I've tried re-sizing some of my favorite big-batch recipes and it's been a little hit-and-miss.
That's why I'm excited to share this almond granola recipe with you guys!  It's super simple with only 9 ingredients and takes just a few minutes to mix together before popping in the toaster oven.
Because it was designed to be small the flavors and textures meld perfectly.  Wholesome rolled oats, toasted coconut and sliced almonds all coated with coconut oil and maple syrup.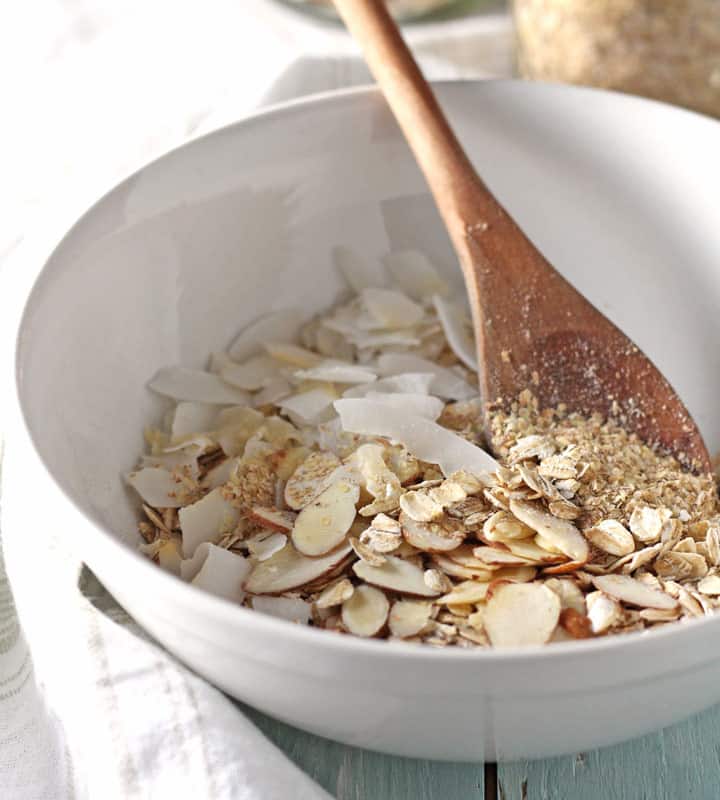 Simple is good but sometimes you want to mix-it up a bit.  The beauty of this granola recipe is that it makes a great base to let your creativity go wild!
There's only one die-hard must follow granola making rule = Dried fruit gets added after the granola is baked.
Everything else is up to you!
***Personalize Your Small Batch Almond Granola***
Use honey or agave instead of maple syrup
Swap vanilla for the almond extract
Use chopped pecans or cashews instead of sliced almonds
Add a 1/4 teaspoon of ground cinnamon, a pinch of ginger or cardamom
Sprinkle in flax meal or chia seeds
Use a mix of dried fruits like cranberries, apples or chopped mango
Stir in freeze-dried strawberries, blueberries or raspberries
The granola flavor possibilities seem pretty endless.  Hey, what's your favorite granola flavor combo?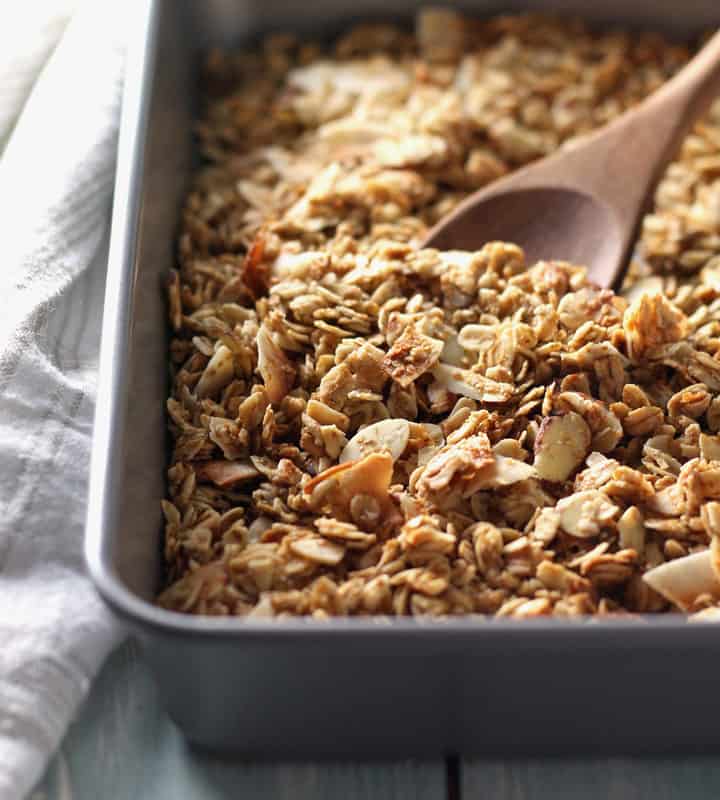 A few last toaster oven tidbits before you head off on your granola making way.
It's difficult to stir the granola on a toaster oven sized cookie sheet, be kind to yourself and use something like a 10 x 7 cake pan (part of item No. 1 on our list of Toaster Oven Essentials).  The higher edges make it easier to keep the granola in the pan and not on the bottom of your toaster oven.
Watch the granola closely at the end of the cook time.  Granola cooked in any oven will go from beautiful to burnt in just a few short minutes.
If you know your toaster oven runs hot – set it for 300° the recipe might take longer to bake but burnt granola is such a bummer!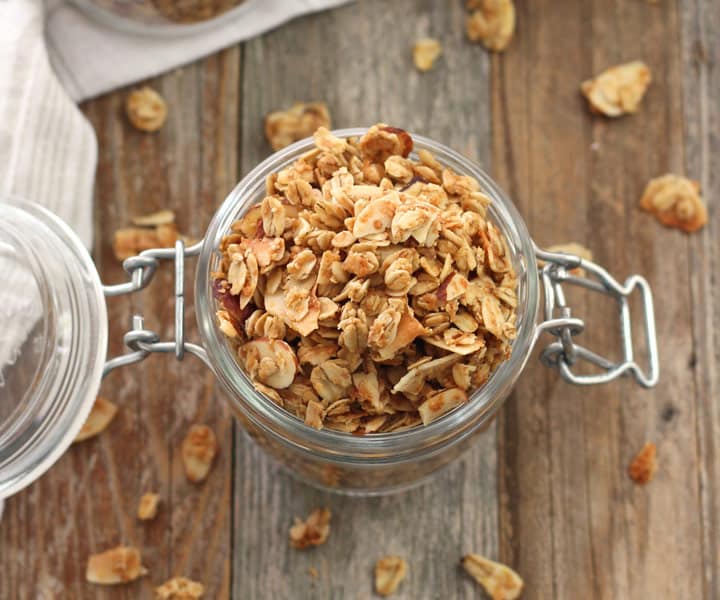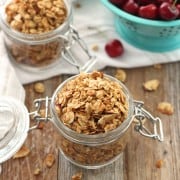 Small Batch Almond Granola Recipe
A simple recipe for two cups of maple syrup sweetened almond granola. Perfect for making in your toaster oven!
Ingredients
1

cup

+ 1/4 cup old fashioned rolled oats

3

tablespoons

wheat germ*

1/4

cup

sliced almonds

1/4

cup

unsweetened flaked coconut

1/8

teaspoon

salt

2

tablespoons

melted coconut oil

(+ 1/4 teaspoon for oiling pan)

2

tablespoons

maple syrup

1/4

teaspoon

almond extract
Instructions
Preheat toaster oven or oven to 325 F and lightly oil a 10 x 7 pan.

In a medium bowl mix together the oats, wheat germ, almonds, coconut and salt.

In a small bowl whisk together the coconut oil, maple syrup and almond extract.

Pour the maple oil mixture over the oat mixture and stir well coating all of the ingredients well.

Pour the granola into the prepared pan and spread into an even layer pressing the granola down with a rubber spatula.

Bake granola for 19 to 22 minutes until golden brown. Stir the granola after 15 minutes, stir from the edges of the pan inward. Keep a close eye during the last few minutes to make sure granola does not burn.

Cool granola completely (about 30 minutes) without stirring before storing in a sealed jar.
Recipe Notes
* Wheat germ is a part of the wheat kernel that is rich in vitamins and minerals. It can usually be found at health food stores, in the baking or cereal aisle at the grocery store or in the bulk bins.

Substitute wheat bran, flax meal or chia seeds for the wheat germ.

Time does not include 30 minute recommended cooling time.
Recipe makes 2 cups total. Nutritional information is an estimate for a single 1/3 cup serving.