Small Batch Almond Granola
A simple recipe for two cups of Small Batch Almond Granola filled with sweet golden oats, sliced almonds, and toasted coconut. Perfect for making in your toaster oven!
Small Batch. The two sweetest words any toaster oven cook can hear.
From cookies to granola the world is full of fantastic recipes. The problem is that most of them make enough to feed an entire football team.
Don't get me wrong, Tim and I would eat every last cluster of those mega-sized granola recipes. But there's no practical way to cook a HUGE granola recipe in a LITTLE toaster oven.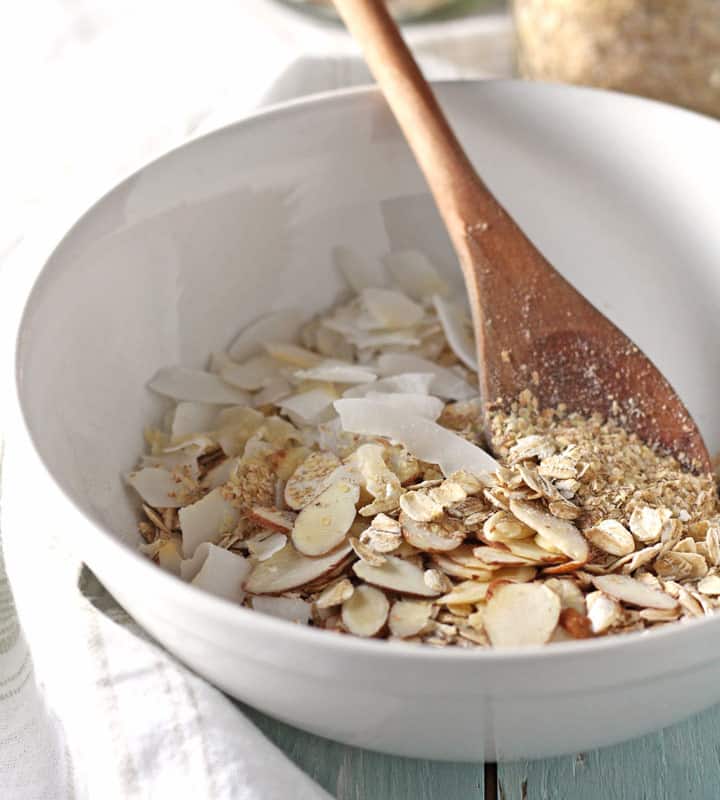 That's why you're going to love this light and flaky Small Batch Almond Granola.
It's a simple toaster oven recipe that's full of ALL the good stuff. Like wholesome rolled oats, toasted coconut, sliced almonds, coconut oil, and maple syrup.
Simple is good but sometimes you want to mix-it-up a bit. And this granola recipe makes a great base to let your creativity go wild!
But there is one DIE-HARD granola making rule you must follow. Dried fruit gets added after the granola bakes.
Everything else is up to you!
~ Keep scrolling for tips & substitutions after the recipe ~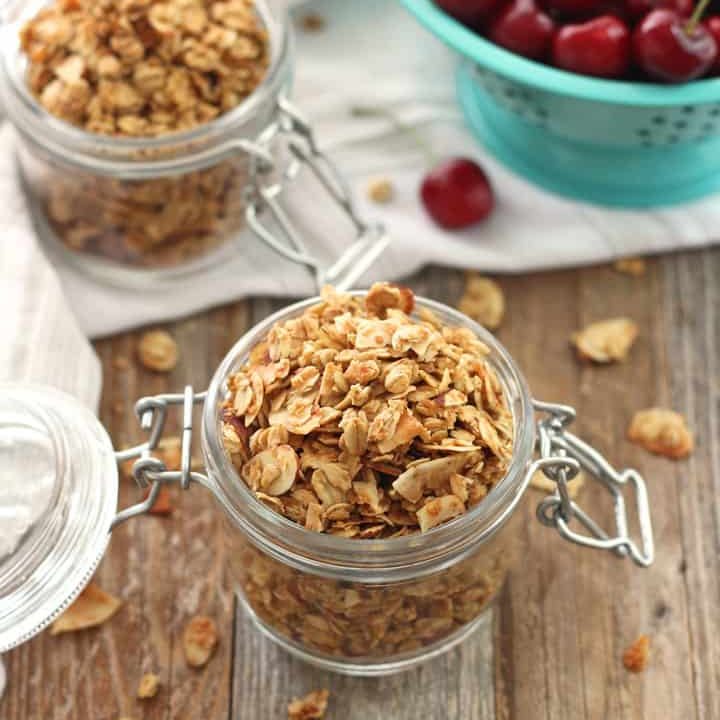 Small Batch Almond Granola Recipe
A simple recipe for two cups of maple syrup sweetened almond granola. Perfect for making in your toaster oven!
Ingredients
1 ¼ cups Old Fashioned Rolled Oats
3 tablespoons Wheat Germ (*See Note)
1/4 cup Sliced Almonds
1/4 cup Unsweetened Flaked Coconut
1/8 teaspoon Fine Sea Salt
2 tablespoons Melted Coconut Oil, plus more for oiling the pan
2 tablespoons Maple Syrup
1/4 teaspoon Almond Extract
Instructions
Preheat toaster oven to 325°F and lightly oil a 10 x 7-inch pan.
In a medium bowl mix together the oats, wheat germ, almonds, coconut, and salt.
In a small bowl whisk together the coconut oil, maple syrup, and almond extract.
Pour the maple oil mixture over the oat mixture and stir well making sure to coat all of the ingredients.
Pour the granola into the prepared pan and spread into an even layer pressing the granola down with a rubber spatula.
Bake granola, stirring once or twice, until golden, about 18 to 22 minutes. When stirring the granola, try to move it from the edges of the pan inward. Keep a close eye during the last few minutes to make sure the granola does not burn.
Cool granola completely without stirring before storing in a sealed jar.
Notes
Wheat germ is a part of the wheat kernel that is rich in vitamins and minerals. It can usually be found at health food stores, in the baking or cereal aisle at the grocery store, or in the bulk bins. An equal amount of wheat bran, flax meal, or chia seeds can be substituted for the wheat germ.
Oil - The coconut oil adds a nice flavor to the granola but other neutral-flavored oils like grapeseed, avocado, or canola oil can be substituted for the coconut oil.
Nutrition Information:
Yield:

6
Serving Size:

1/3 cup
Amount Per Serving:
Calories:

170
Total Fat:

9.2g
Saturated Fat:

5.5g
Sodium:

51.4mg
Carbohydrates:

19.3g
Fiber:

3g
Sugar:

4.6g
Protein:

4g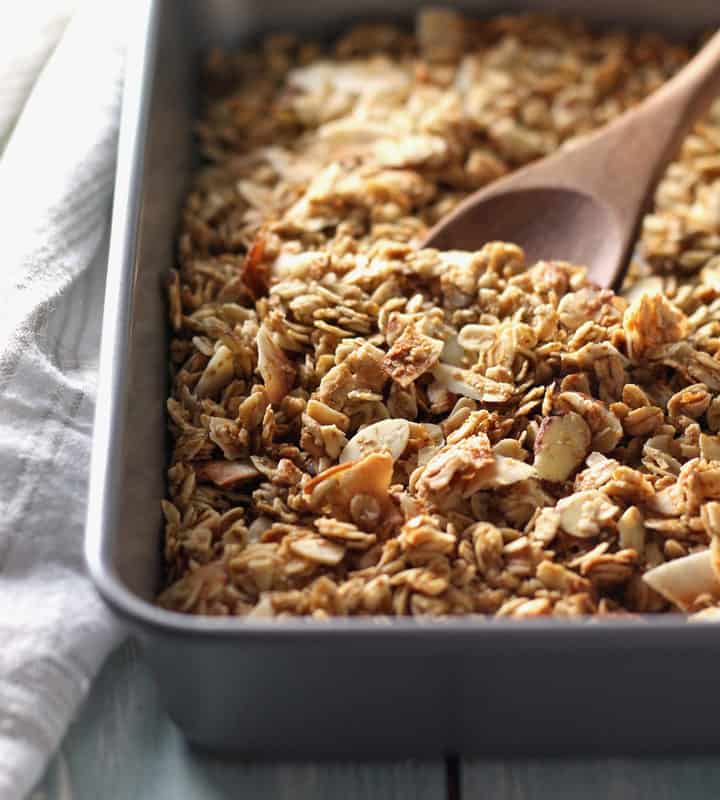 Toaster Oven Granola Tips
#1 – Try A Baking Pan. It's difficult to stir granola in any oven let alone a little toaster oven. Be kind to yourself and use an 8 x 8-inch baking pan or a 10 x 7-inch cake pan.
The higher edges make it easier to keep the granola in the pan and not on the bottom of your toaster oven. Because who wants to clean their toaster oven more often than necessary?
#2 – Keep an Eye On The Granola. Watch it closely at the end of the cooking time. Granola cooked in any oven will go from beautiful to burnt in a few short minutes.
#3 – Check Your Temperature. Have you checked your toaster oven's temperature accuracy?
If your toaster oven runs hot set it at 300°F. The recipe might take longer to bake but burnt granola is such a bummer!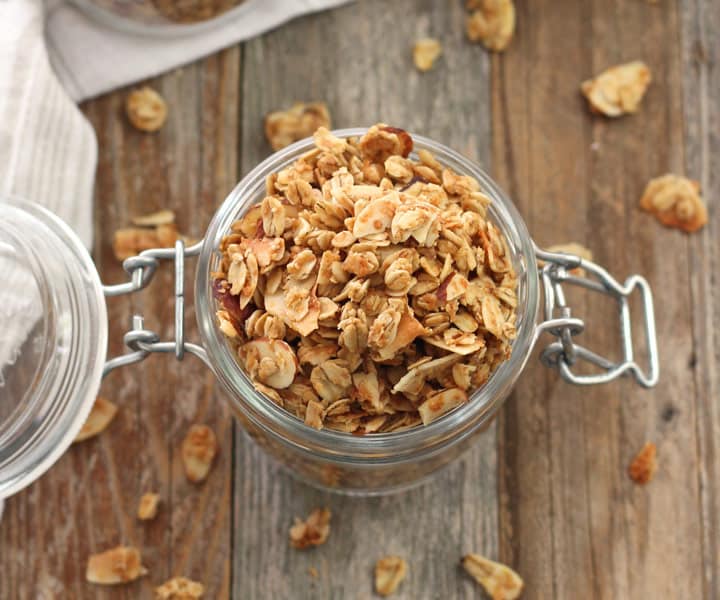 Fun Ideas For Your Toaster Oven Almond Granola
Use honey or agave instead of maple syrup
Use chopped pecans or cashews instead of sliced almonds
Add a 1/4 teaspoon of ground cinnamon, a pinch of ginger or cardamom
Sprinkle with flax meal or chia seeds
Add a mix of dried or freeze-dried fruits like cranberries or blueberries.