Easy Flatbread Fruit Pizza
Easy Flatbread Fruit Pizza. A semi-homemade toaster oven treat made with whole wheat flatbread, creamy lemon ricotta, fresh berries, and toasted coconut. Perfect for breakfast or dessert!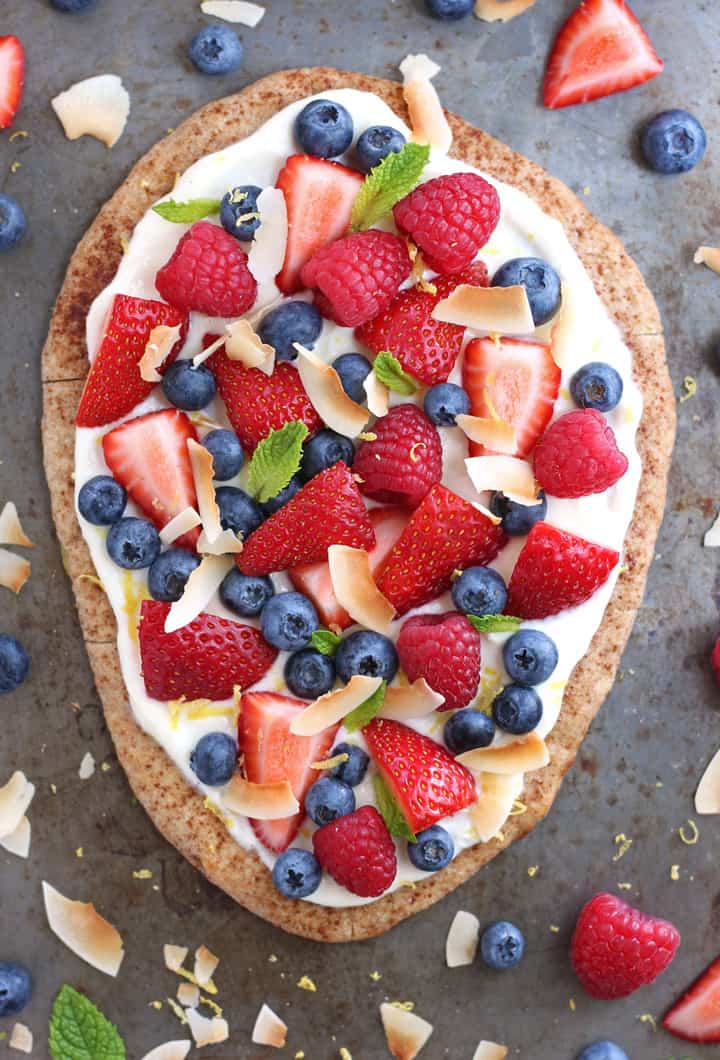 Wow your family (seriously they will say W-O-W!) with an easy flatbread fruit pizza. This tasty treat isn't just semi-homemade it's like semi-semi-homemade 🙂
The hardest part = you're toasting flaked coconut. Yup, that's the hard part!
Otherwise, we're just adding a little spice to plain whole grain flatbread. A touch of sweetness and pop of lemon flavor to creamy ricotta. And the berries, seriously they are so fantastic right now they don't need anything.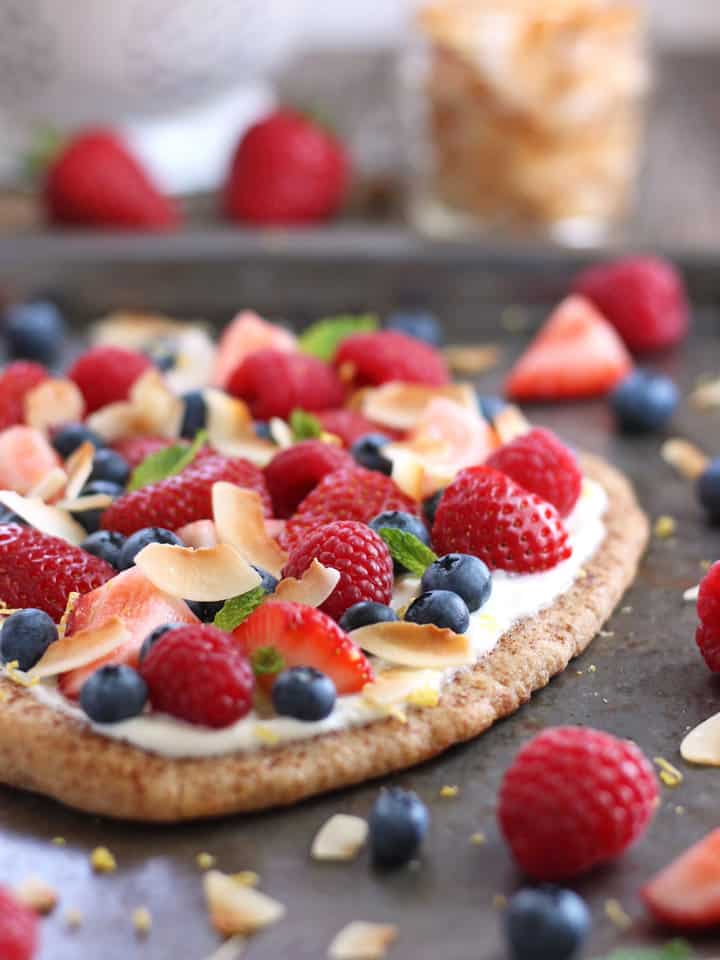 Just like with our Veggie Hummus Flatbread I had to make this a few times to get the ratios right. Too much ricotta and you get a creamy mess.
Overdo it on the lemon curd and you'll easily overpower the delightful flavor of your fresh berries.
On the last go-around I discovered the best way to serve the finished flatbread without making a muddled berry ricotta mess. Slice the flatbread before you top it! (Do you ever feel like your brain purposely has you doing things the hard way just so you can be surprised later – or is that just me?)
Then you nudge the slices back into place and load them up. (Look at the first picture in this post and you can barely see where I cut the pieces) Now it's pretty at the table and not nearly as chaotic to serve/devour 🙂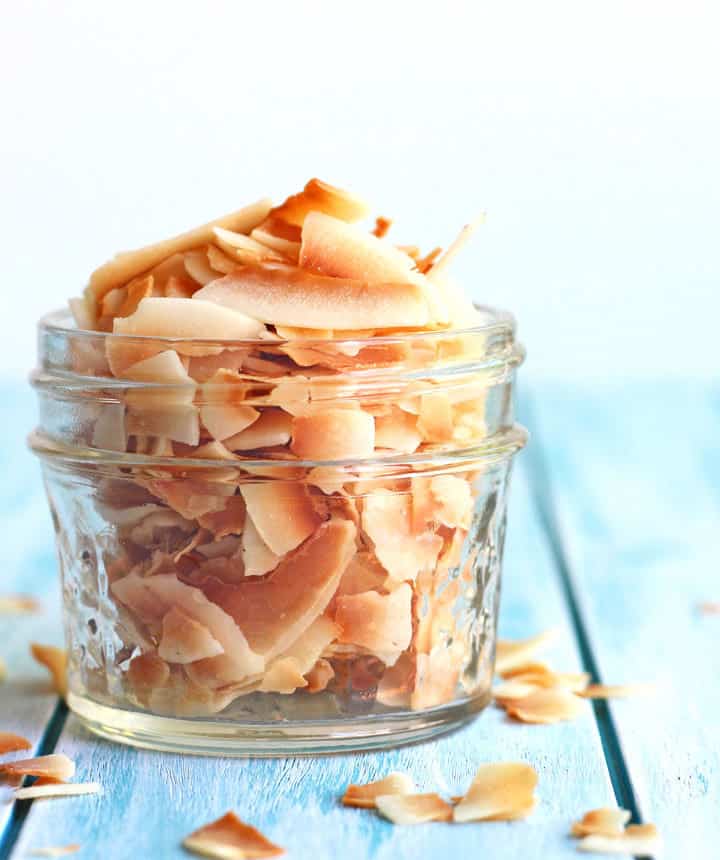 Tips For Making Your Easy Flatbread Fruit Pizza:
Salt on the flatbread? Jarred lemon curd can be very sweet (almost cloying). A tiny pinch of salt sprinkled on the flatbread balances out the sweetness to an enjoyable level that leaves you tasting more lemon than sugar.
The toasted coconut is completely optional (really isn't everything since this is your flatbread!) but I think it adds a nice crunch that contrasts the creamy ricotta, chewy naan and juicy berries. If coconut isn't your jam you might enjoy toasted sliced almonds or chopped pistachios instead.
That's it guys, an easy-peasy fruity flatbread that's all kinds of yummy, perfect for breakfast-brunch-dessert and you barely broke a sweat toasting that coconut 🙂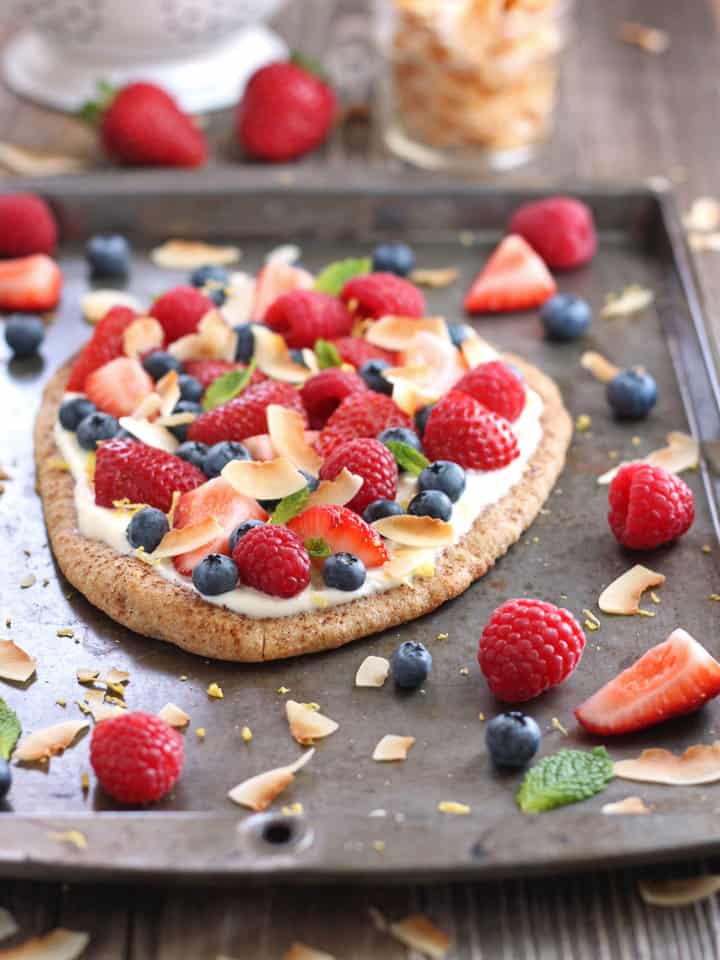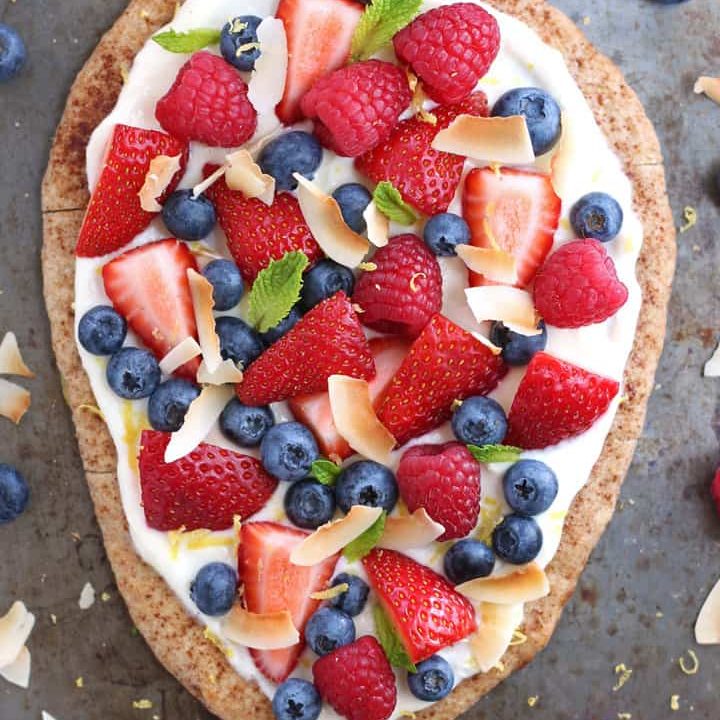 Easy Flatbread Fruit Pizza
Yield:
1 Flatbread Fruit Pizza
A semi-homemade toaster oven treat made with whole wheat flatbread, creamy lemon ricotta, fresh berries and toasted coconut. Perfect for breakfast or dessert!
Ingredients
2 tablespoons unsweetened flaked coconut
1 whole wheat Naan flatbread
1/2 teaspoon melted coconut oil
1/4 teaspoon cinnamon
Pinch of fine grain sea salt
1/4 cup whole-milk ricotta cheese
2 teaspoons prepared lemon curd
8 ounces fresh mixed berries, (strawberries sliced in half or quarters)
Freshly grated lemon peel, (a/k/a lemon zest)
Fresh mint leaves
Instructions
Preheat your toaster oven to 325 F.
Spread coconut in a single layer on a rimmed cookie sheet or pan. Toast for 3 to 6 minutes until lightly golden. Remove coconut and set aside to cool, increase the toaster oven temperature to 400 F.
Brush the top of the flatbread with coconut oil and sprinkle with cinnamon and salt.
Bake the flatbread at 400 F for 7 to 8 minutes until golden and crisp on the edges. Remove the flatbread and cool completely before topping (about 5 minutes).
While the flatbread cools whisk together the ricotta and lemon curd until smooth.
To assemble the pizza: slice the flatbread into six pieces but do not separate the slices. Spread ricotta mixture onto the flatbread and top with berries, coconut, lemon zest and mint.
Before serving gently run your knife through the previous cuts in the flatbread. Serve immediately and enjoy!
Notes
Prepared lemon curd can usually be found near the jams and jellies at your local grocery store.
Step-by-step directions for How to Toast Coconut in Your Toaster Oven.
Nutritional information is an estimate for 1/2 of the fruit pizza.
Nutrition Information:
Yield:

2
Serving Size:

Half of Recipe
Amount Per Serving:
Calories:

248
Total Fat:

8.5g
Saturated Fat:

5g
Cholesterol:

16.5mg
Sodium:

193.4mg
Carbohydrates:

35g
Fiber:

5.9g
Sugar:

14.2g
Protein:

10.2g