Tortilla Pizzas with Sundried Tomatoes and Spinach (15 Minutes!)
Tortilla Pizzas with Sundried Tomatoes and Spinach have the flavors of your favorite veggie pizza with a lightened-up crust. Enjoy some crispy cheesy deliciousness, and a fun new reason to fire up your toaster oven.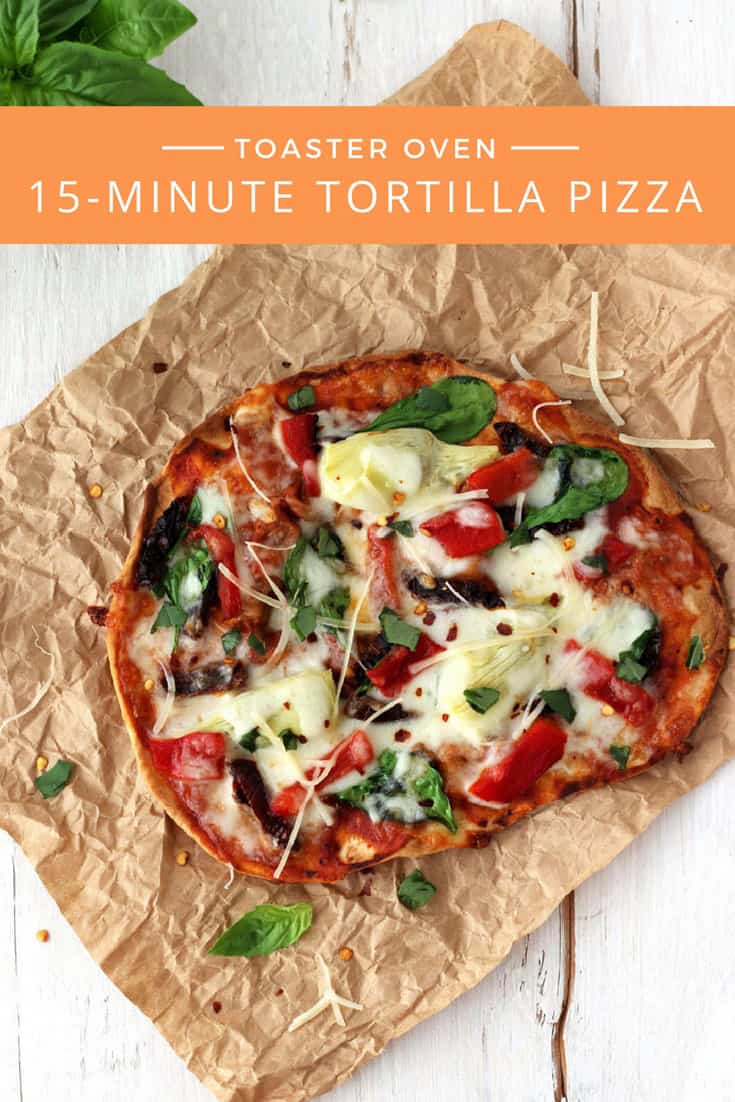 Mmm…Cheesy pizza, classic comfort food at its best.
But in the spring months with bathing suit season on the horizon and So Cal turning up the temperature dial it's nice to enjoy a pizza that's lighter on the thick crust and heavier on the veggie toppings.
Plus, with no dough to knead and bake these individual pizzas are a snap to throw together.
In just 15 minutes you can feast on healthier Tortilla Pizzas with Sundried Tomatoes and Spinach that taste indulgent but won't leave you with a belly full of bread before hitting the beach.
~ Keep scrolling for step by step photos & toaster oven tips after the recipe ~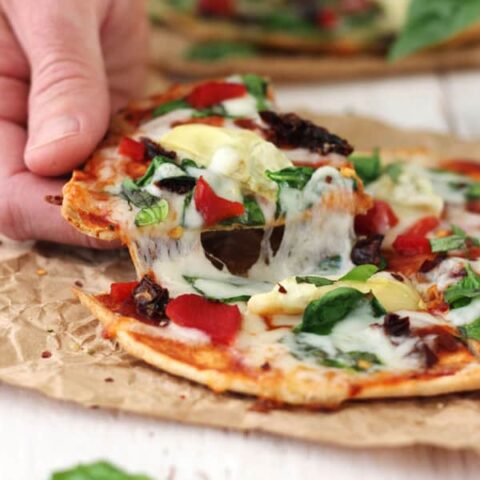 Tortilla Pizzas with Sundried Tomatoes and Spinach
A healthier way to get your pizza fix!
Ingredients
2 6-inches Flour Tortilla, regular or whole grain
1/2 teaspoon Olive Oil
2-3 tablespoons Pizza Sauce, or prepared pesto
2 ounces Shredded Mozzarella Cheese, divided
2 Artichoke Hearts, canned in water, drained and quartered
2 tablespoons Sundried Tomatoes, not packed in oil
1/2 cup Fresh Baby Spinach
1/4 cup Chopped Roasted Red Peppers
Optional Toppings:
Crushed Red Pepper Flakes
Fresh Basil
Shredded Parmesan Cheese
Instructions
Preheat toaster oven to 425°F on the BAKE setting.
Place tortillas on a baking pan and brush each side with oil.
Bake tortillas for 4 to 5 minutes.
Carefully remove the tortilla and spoon pesto or pizza sauce evenly over it. Then sprinkle each one with half of the cheese.
Top with artichokes, sun-dried tomatoes, spinach, roasted red peppers and remaining cheese.
Return to the toaster oven and bake for 5 to 7 minutes until the cheese is melted and bubbly.
Serve warm with red pepper flakes, fresh basil, and shredded Parmesan.
Nutrition Information:
Yield:

2
Serving Size:

1 Tortilla Pizza
Amount Per Serving:
Calories:

269
Total Fat:

9.4g
Saturated Fat:

3.2g
Cholesterol:

15mg
Sodium:

747mg
Carbohydrates:

33.1g
Fiber:

4.1g
Sugar:

4.3g
Protein:

14.1g
Crispy Crust Secret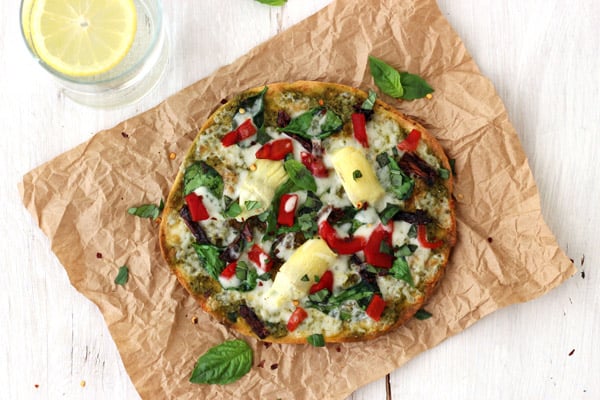 For the lightened-up crust, you'll need two 6-inch flour tortillas. Use regular or whole grain tortillas, both taste delicious.
Like baked egg tostadas and veggie pita pizza bites the trick is to get the tortillas super crispy before topping. Just brush them with a little oil and pop in the toaster oven for 4 or 5 minutes.
If you're using handmade tortillas that are slightly misshapen, don't worry if they overlap a bit. The tortillas will shrink a little as they bake.
After a few minutes, they'll be golden, crisped up and ready to be sauced.
For the sauce, make things easy and grab what's in the fridge. In our house, that means marinara, pesto and if we've been making veggie pizza spaghetti squash boats or toaster oven pizza bagels an open jar of pizza sauce too.
You really can't go wrong, Tim even uses tapenade!
If we're making the pizzas with pesto, I usually reduce the mozzarella a little. That way it's not too rich and the cheese doesn't overpower the flavors of the other toppings.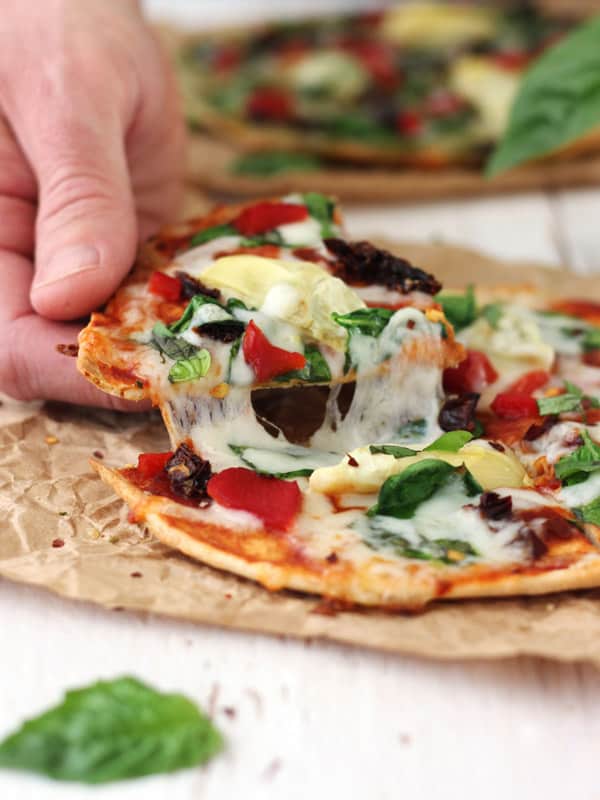 Toppings
Fresh baby spinach, tangy artichokes, sweet roasted red pepper and a punch of sun-dried tomatoes.
Yep, these are some seriously grown-up tortilla pizzas.
But you can "clear the fridge" and add any toppings you want, like leftover roasted vegetables or veggie-pepperoni. I mean they're called Personal Pizzas for a reason.
Then it's time for cheese and a quick trip back into the toaster oven to get everything warm and melty.
Finish them off with a generous sprinkle of spicy red pepper flakes (or not) and a few leaves of fresh basil.
Then get ready to devour the best tasting crispy, cheesy, flavorful Tortilla Pizzas with Sundried Tomatoes and Spinach.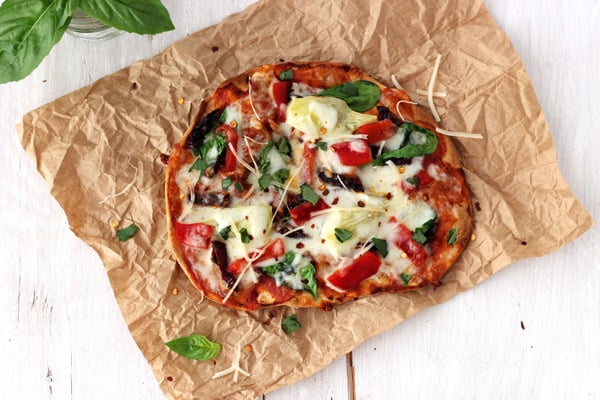 Looking for more quick and easy snacks? Check out these Killer Toaster Oven Appetizers That Are Surprisingly Healthy!