Part lasagna, part pizza, these cheesy spaghetti squash boats are 100% delicious. The basic recipe is easy to customize and can even be made ahead if you like!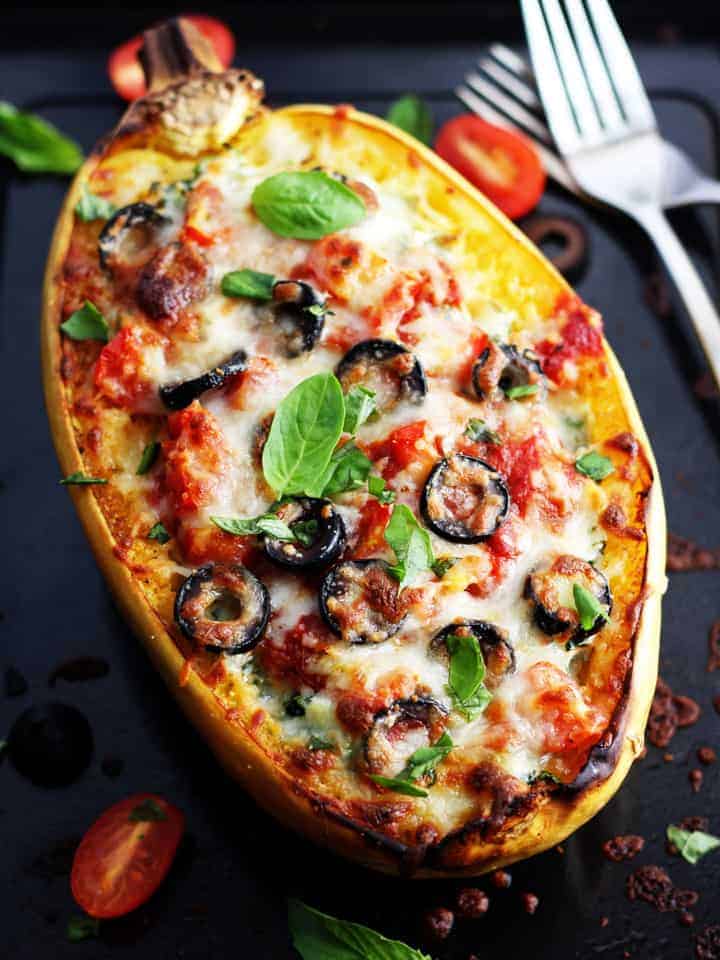 If you've never had spaghetti squash before, then you're in for a treat. The cooked squash has a mild nutty flavor and flesh that shreds into spaghetti-like strands.
It's surprisingly filling and a fun way to eat your vegetables. 
How to Cook Spaghetti Squash Halves
Raw spaghetti squash is hard. Like really hard. To keep from getting my knife stuck in one, I use a hybrid microwave/oven (or toaster oven) method to cook it.
1. Carefully stab the squash a few times with a paring knife (similar to making a baked potato) and then pop it in the microwave for 4 to 5 minutes. This softens up the squash making it much easier to slide a knife into it and slice it in half.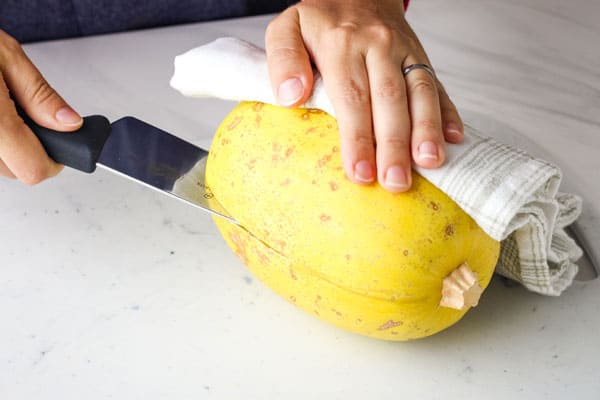 2. Scoop the seeds and wet-looking guts out of the halves. *According to the site Eat or Toss, if a squash has sprouting seeds like ours did it's still okay to eat but the flavor or texture of the squash may be affected. For what it's worth, ours tasted fine.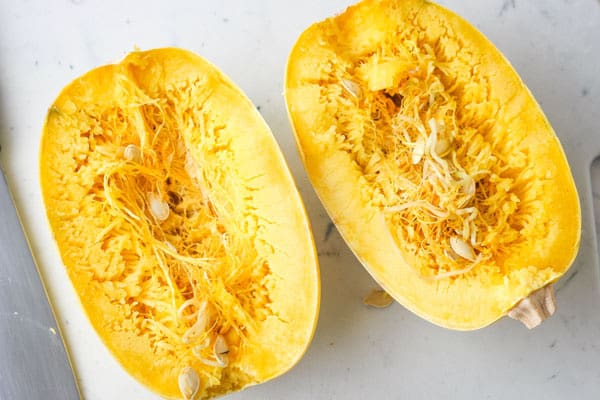 3. Rub the squash flesh with oil and season with salt and pepper. Then place the halves face down on a sheet pan. Cook in a 425°F oven (or toaster oven) until a fork easily goes through the back of the spaghetti squash, about 30 minutes. If your squash is larger it may take closer to 40 or 45 minutes.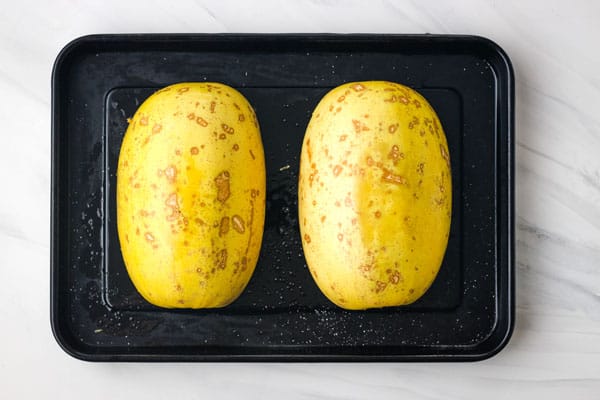 4. Use a fork to scrape and fluff the flesh into spaghetti-like strands after it's cooled for a few minutes. Don't scrape all the way down to the skin though. To keep a sturdy "boat" you'll want to leave about ¼ thickness of the squash behind.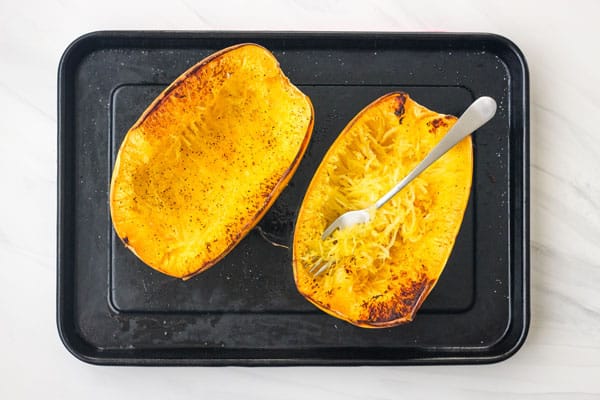 Let's Make Some Stuffed Spaghetti Squash Boats 
Before prepping the filling, we need to talk about the frozen spinach real quick. Spinach pairs well with all things cheesy so it makes a great addition to these boats.
The problem is that it's loaded with moisture. 
To get all of the water out, place the thawed spinach in a colander or mesh strainer. Then use the back of a spoon to press/squeeze as much liquid out of it as you can.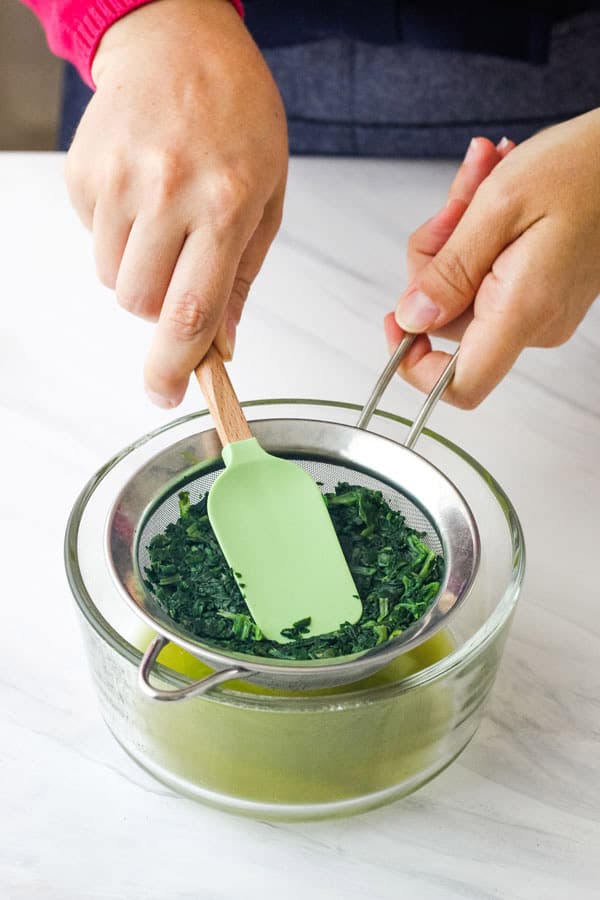 Now that you've got your spinach handled it's time to make the filling. Just combine the spinach, ricotta cheese, chopped basil, Italian seasoning, salt, pepper, and the scrapped spaghetti squash.
I like to use tongs to toss everything together. They're great for breaking up stubborn spinach clumps.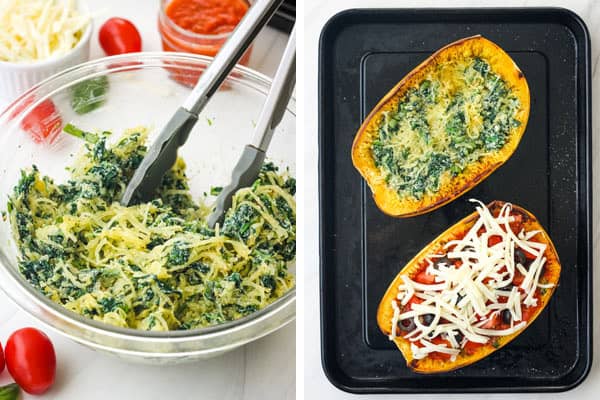 Now, divide the filling between the squash halves. Press it down and really pack it in there. Then spread each half with the pizza sauce and top with the tomatoes, black olives, and shredded cheese.
Pop the squash boats in a preheated 350°F oven (or toaster oven) until they are warmed and the cheese is melty, about 10 minutes.
To get a little browning on the cheese you can turn the broiler on for 1 to 2 minutes. Once ready, sprinkle with more fresh basil and dig in!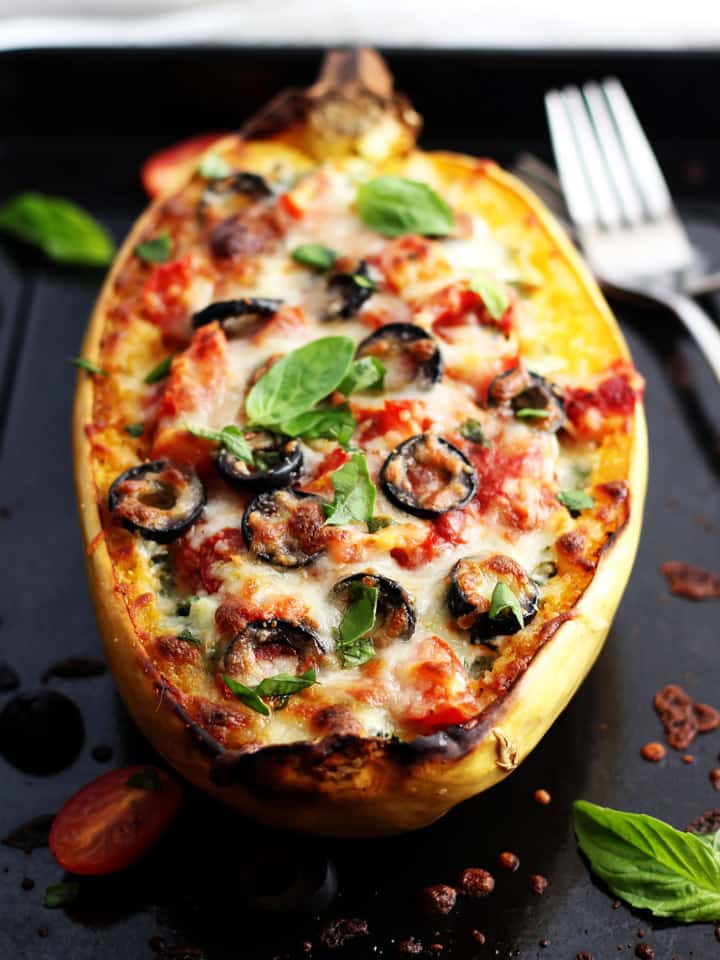 Customize Your Spaghetti Squash Boats With…
Cottage Cheese. You can swap it for the ricotta.
More Cheese. Mix 1/4 cup of shredded mozzarella into the ricotta mixture for a more indulgent filling. Or for a sharper flavor, add 1 to 2 tablespoons of grated vegetarian parmesan cheese.
Leftover marinara, spaghetti sauce, or pesto are all great pizza sauce substitutes. Just grab a jar of whatever sauce you've got open in the fridge.
Vegetarian Sausage. A link of spicy or Italian style tastes fantastic in this recipe. Similar to our stuffed acorn squash, you'll want to crumble and cook the sausage before adding it to the filling.
ALL the veggies. What kind do you like on your pizza? Try diced bell pepper or red onion, artichoke hearts, sliced mushrooms, leftover roasted eggplant…anything goes!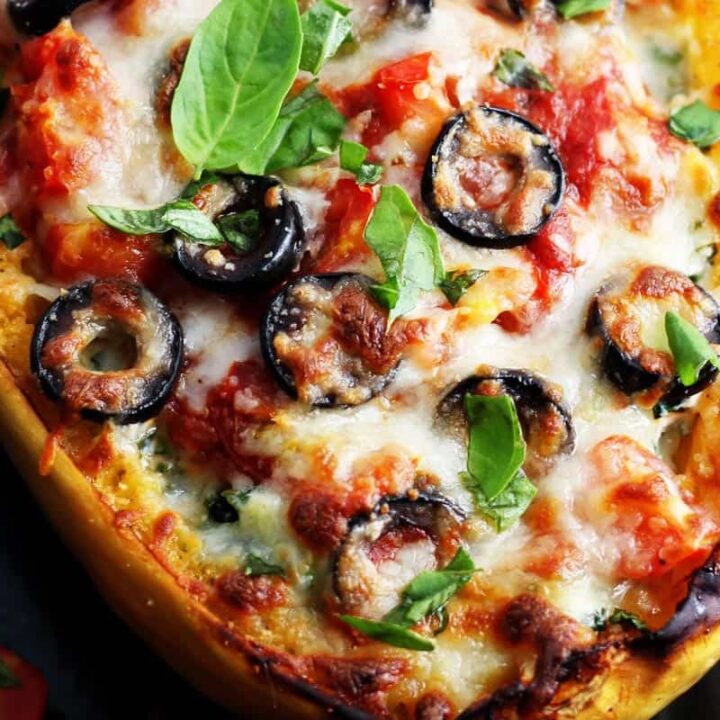 Vegetarian Spaghetti Squash Boats
Total Time:
1 hour
5 minutes
Stuffed spaghetti squash is a fun and tasty way to eat a lot of veggies. Use your favorite pizza toppings to make this recipe your own!
Ingredients
For The Spaghetti Squash:
1 Small Spaghetti Squash, about 30 ounces or 1.8 lb whole
1/2 teaspoon Olive Oil
Salt and Black Pepper, to taste
For The Filling:
6 ounces Frozen Chopped Spinach or Kale, thawed
½ cup Fresh Basil Leaves, plus more for serving
¾ cup Ricotta Cheese or Cottage Cheese
1 teaspoon Italian Seasoning
¼ teaspoon Fine Sea Salt
⅛ teaspoon Black Pepper
¼ cup Pizza Sauce
6 Grape Tomatoes, sliced in half, about ½ cup sliced
2 tablespoons Sliced Black Olives
½ cup Shredded Mozzarella Cheese, or more if you prefer
Instructions
Cook The Squash:
Preheat oven to 425°F. If using a toaster oven select the "BAKE" setting and use the bottom rack placement. Lightly oil a baking sheet.
Using a small paring knife carefully stab the squash a few times on each side, then microwave for 4 to 5 minutes. Watching out for steam, slice the squash in half and scoop out the seeds.
Rub each half with oil and season well with salt and black pepper. Place squash on the pan with the interior facing down and cook until fork-tender, about 30 to 45 minutes, depending on the size of your squash. Start checking on it after 30 minutes and add more time as needed.
Remove squash from the oven and cool for at least 5 minutes. Then, scrape a fork along the flesh to create spaghetti-like strands (leave a little behind to keep the 'boats' intact for stuffing later).
Prepare Filling:
While the squash cooks, place the thawed spinach in a colander (with small holes) and use the back of a spoon to press all of the water out of it. Add the spinach to a medium bowl.
Finely chop the fresh basil and add it to the bowl along with the ricotta cheese, Italian seasoning, salt, black pepper, and scraped spaghetti squash strands. Stir well to combine. Taste the mixture and adjust the seasoning as desired.
Assemble and Bake:
Stuff the squash bowls with the spinach ricotta mixture. Spread pizza sauce over the filling and top with tomatoes, olives, and mozzarella cheese.
Bake, uncovered, in a 350°F oven or toaster oven until warmed through and melty, about 10 minutes.
Then Broil for 1 to 2 minutes until the cheese is bubbly and browned.
Serve warm topped with more fresh basil.
Notes
Make-Ahead
The boats can be assembled and stored in the fridge for up to 3 days. When ready to bake let them sit on the counter while you preheat the oven or toaster oven to 350°F. Follow directions above for baking, increasing the cooking time by 10 to 15 minutes.
Reheating Leftovers
To reheat in an oven/toaster oven: Place leftover boats on a baking sheet and add to a 350°F oven or toaster oven until warmed through, about 25 minutes.
To reheat in the microwave: Place on a microwave-safe plate and heat for 1 to 2 minutes, stir the middles and continue heating in 30-second intervals until warmed through.
Nutrition Information:
Yield:

2
Serving Size:

1 Spaghetti Squash Boat
Amount Per Serving:
Calories:

426
Total Fat:

21.20g
Saturated Fat:

8.3g
Cholesterol:

43mg
Sodium:

545mg
Carbohydrates:

44.1g
Fiber:

10.2g
Sugar:

15.3g
Protein:

20g
More Tasty Vegetarian Dinner Ideas