Veggie Pizza Spaghetti Squash Boats
Veggie Pizza Spaghetti Squash Boats are roasted spaghetti squash halves stuffed with a creamy ricotta mixture and your favorite vegetarian pizza toppings. They're serious comfort food that's secretly wholesome!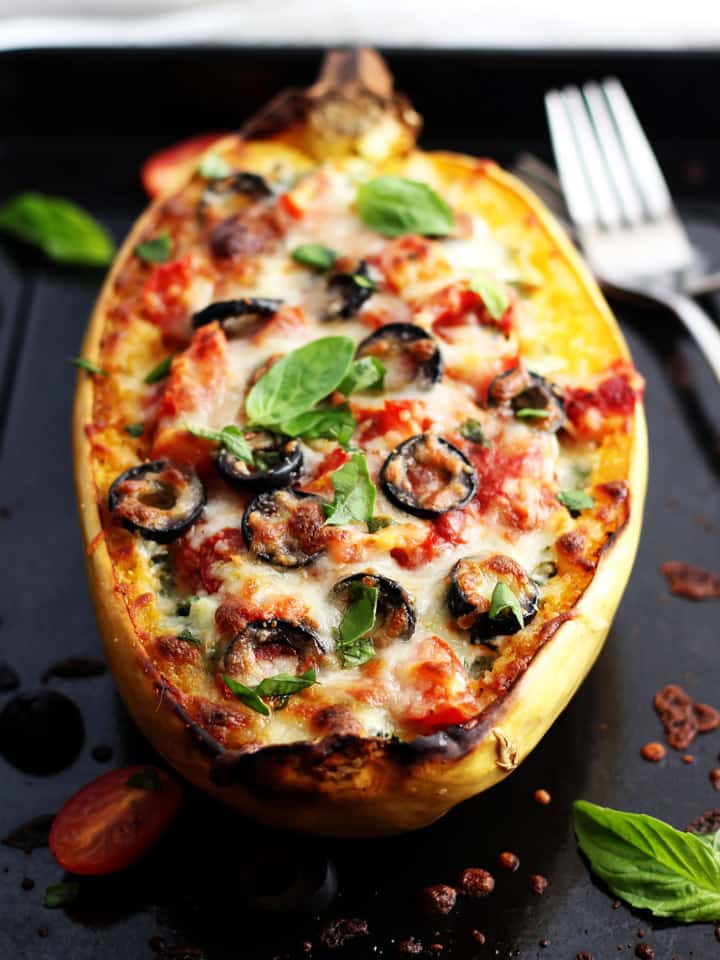 Sorry guys, we've been holding out on you. Even though we've been making these cheesy veggie boats for years, it never occurred to me we should add them to the site.
I guess it's because they're not really a recipe.
The base is just cooked spaghetti squash. We like to microwave the squash for a few minutes to soften it up before slicing.
If I'm making a double batch I'll roast the squash in our oven but since it usually the two of us I pop it in the toaster oven.
You can see step-by-step photos in our Ultimate Guide to Toaster Oven Spaghetti Squash.
Once you've got your squash cooked, it's more of a clean out the fridge, grab all your favorite veggies and toss them with cheese situation.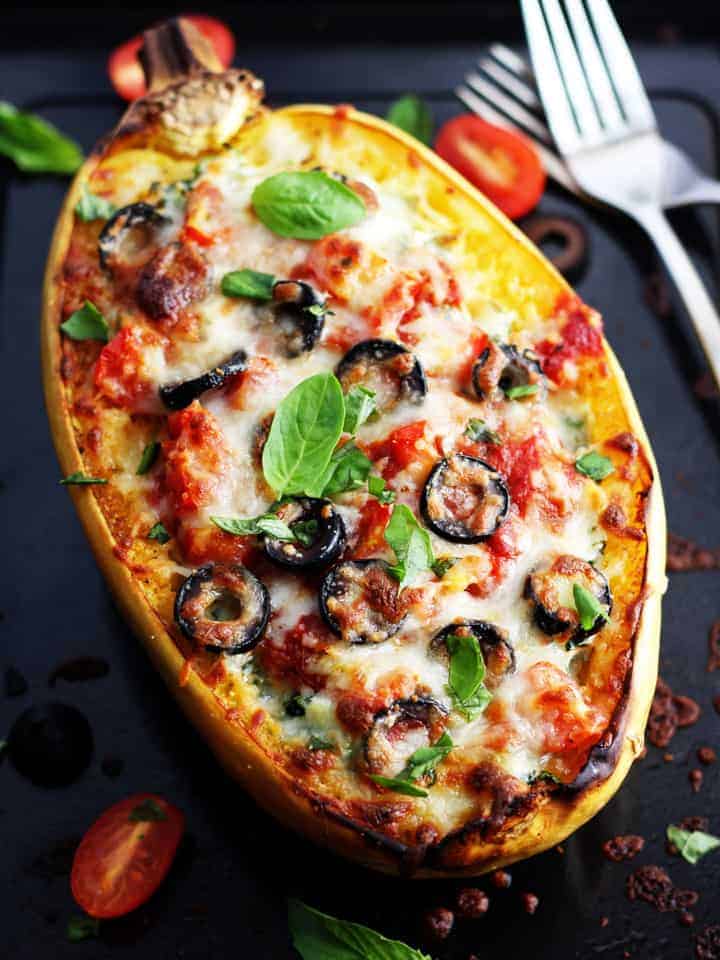 Feel free to use whatever ingredients you have on hand and change the flavors to fit your desires.
Hate kale? Use frozen spinach.
Don't have pizza sauce? Substitute marinara or a spaghetti sauce that's already open.
Go nuts on the toppings. Use mushrooms, chopped bell peppers, or sliced red onion.
Craving Mexican food? Try these Spaghetti Squash Burrito Bowls instead.
Have fun creating your own go-to version of this "Not a Recipe."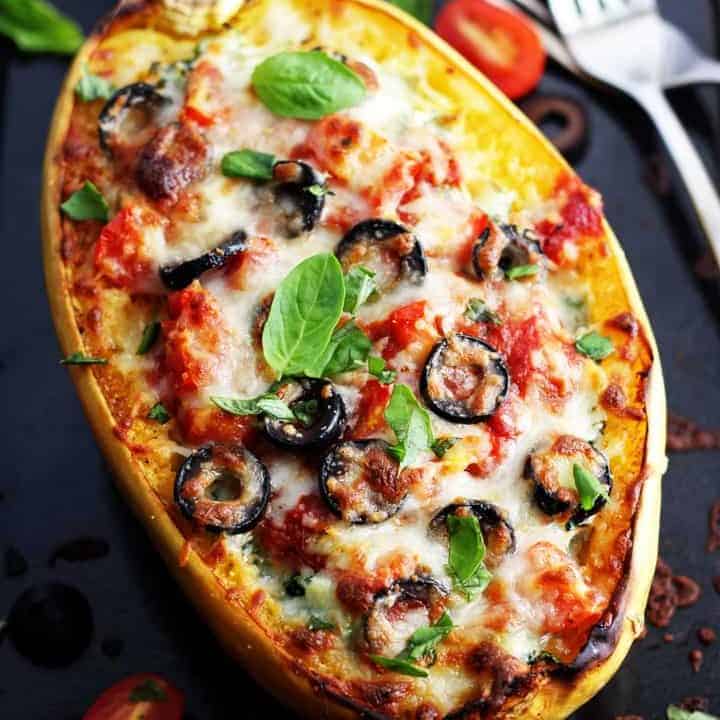 Veggie Pizza Spaghetti Squash Boats
Total Time:
1 hour
10 minutes
Stuff roasted spaghetti squash halves with creamy ricotta cheese and your favorite pizza toppings for a fun vegetarian dinner everyone will love!
Ingredients
For the Spaghetti Squash
1 small Spaghetti Squash, about 30 ounces or 1.8 lb whole
1/2 teaspoon Olive Oil
Salt and Black Pepper
For the Filling
1/2 cup Ricotta Cheese
8 ounces Frozen Chopped Kale (or spinach), thawed and squeezed dry
1/2 cup Fresh Basil, loosely packed (plus more for topping)
1 teaspoon Italian Seasoning
1/4 cup Pizza Sauce
1/3 cup Grape Tomatoes, sliced in half
2 tablespoons Sliced Black Olives
1/2 cup Shredded Mozzarella Cheese
Instructions
Cook The Squash:
Adjust the cooking rack in your toaster oven (or oven) to the bottom position and preheat to 425°F. Lightly oil a baking sheet or line with a silicone baking mat.
Use a sharp knife to carefully stab the squash a few times on each side, then microwave 4 to 5 minutes. Watching out for steam, slice the squash in half and scoop out the seeds.
Rub each half with oil and season well with salt and black pepper. Place squash on the pan and cook until fork-tender, about 30 to 45 minutes, depending on the size of your squash.
Remove squash from the oven and cool for at least 5 minutes. Then, scrape a fork along the flesh to create spaghetti-like strands (leave a little behind to keep the 'boats' intact for stuffing later).
Prepare Filling:
While the squash cooks, add the ricotta to a medium bowl.
Place the thawed kale (or spinach) in a clean towel. Gather the towel together and twist it to squeeze out all of the water. Add the kale to the bowl.
Finely chop the fresh basil and add it to the bowl along with the Italian seasoning. Stir well to combine, taste, and add salt and pepper as desired.
Assembly:
Add the loose spaghetti strands to the ricotta mixture, stir well. Load up the squash bowls with the filing.
Spread pizza sauce over the ricotta and top with tomatoes, olives, and mozzarella cheese.
Bake The Pizza Boats:
Bake the squash boats uncovered in a 350°F oven or toaster oven until warmed through and melty, about 10 minutes.
Then Broil for 1 to 2 minutes until the cheese is bubbly and browned.
Serve warm topped with more fresh basil if desired.

Notes
Make-Ahead
You can assemble the boats and store them in the fridge for up to 3 days. When ready to bake let them sit on the counter while you preheat the oven/toaster oven to 350°F. Follow directions above for baking, increasing the cooking time by 10 to 15 minutes.
Reheating Leftovers
To reheat in an oven/toaster oven: Place leftover boats on a baking sheet and add to a 350°F oven or toaster oven until warmed through, about 25 minutes.
To reheat in the microwave: Place on a microwave-safe plate and heat for 1 to 2 minutes, stir the middles and continue heating in 30-second intervals until warmed through.
Recommended Products
As an Amazon Associate and member of other affiliate programs, I earn from qualifying purchases.
Nutrition Information:
Yield:

2
Serving Size:

1 Spaghetti Squash Boat
Amount Per Serving:
Calories:

426
Total Fat:

21.20g
Saturated Fat:

8.3g
Cholesterol:

43mg
Sodium:

545mg
Carbohydrates:

44.1g
Fiber:

10.2g
Sugar:

15.3g
Protein:

20g
Quick Basil Tip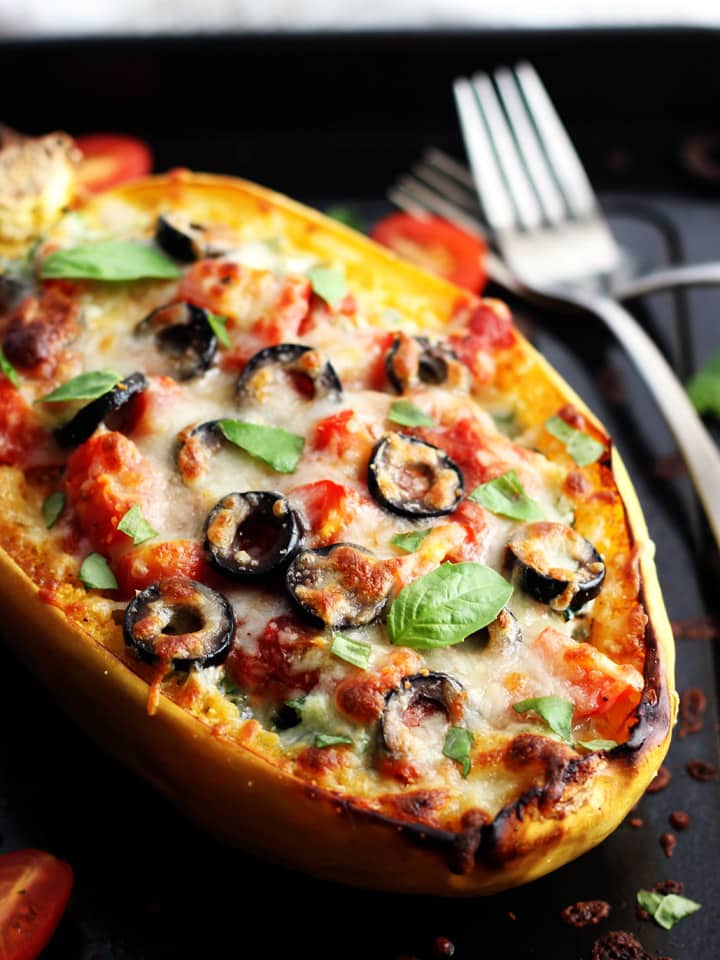 Now, if all this cheese is looking too heavy and rich, we've got a tip.
The secret to making your delectable overstuffed bowls feel decadent but lighter is…Fresh Herbs.
Sweet and peppery basil with its unmistakable fresh aroma will make your already fantastic veggie pizza spaghetti squash boats taste Ah-mazing! (it's also a great addition to a quick batch of Tortilla Pizzas with Sundried Tomatoes and Spinach)
The Problem Is…
Basil needs to be stored a little differently than other herbs. If you've been tossing it in the fridge, you're sentencing your basil to a limp death.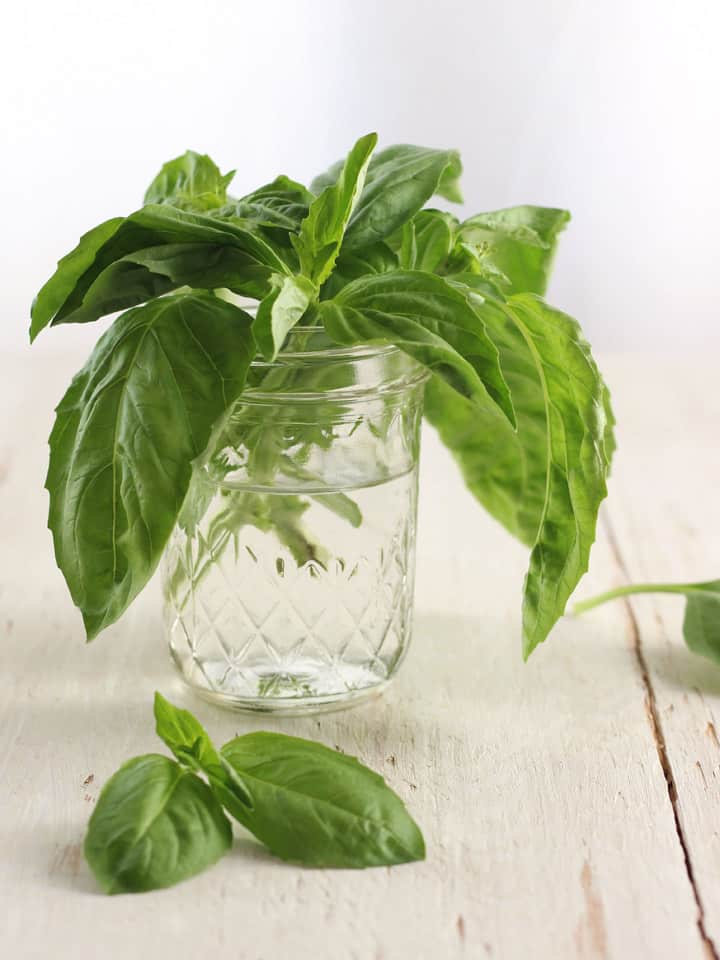 Instead, treat basil like a bouquet of fresh flowers:
Fill a mason jar or glass with cold water
Add the fresh basil
Place the jar near a window
Change the water every other day
The basil in the picture is almost two weeks old and it kept kicking for another week until we devoured it all with some Veggie Pita Pizza Bites. #nomorewastedbasil
If you're a serial herb murderer like I used to be, check out these tips for storing cilantro, parsley, rosemary, and mint.
Looking for more stuffed spaghetti squash inspiration?
Check out these Hummus Spaghetti Squash Bowls and Veggie Spaghetti Squash Bowls with Peanut Sauce.