This Jalapeño Popper Grilled Cheese is rich, creamy, crunchy, and loaded with spicy flavor. It's everything you love about the classic appetizer in grilled cheese form.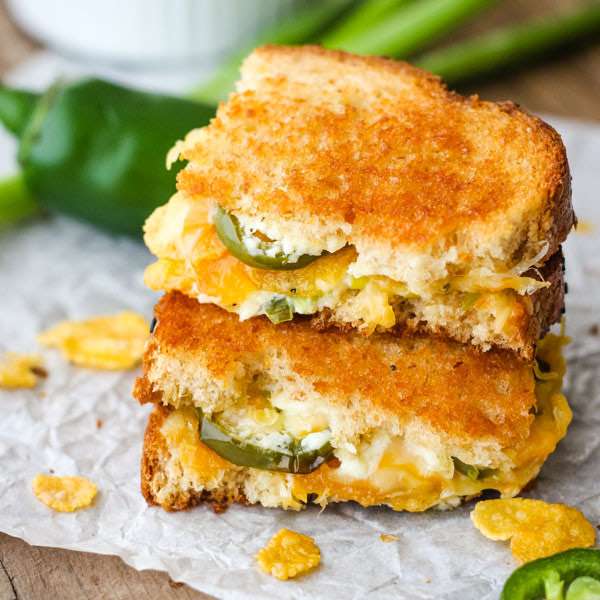 Calling all cheese-lovers, this fun Jalapeño Popper Grilled Cheese Recipe is for you! It's basically your second favorite cheesy appetizer (come on, nachos has to be #1) turned into a super satisfying toaster oven grilled cheese.
Yeah, it's a tiny bit over the top and not something I'd indulge in every day. But sometimes you just NEED a little straight-up comfort food.
Here's a quick preview of the splurge-worthy ingredients:
Broiled Jalapeño slices
Tangy cream cheese
Crisp green onion
2 types of shredded cheese
A drizzle of sweet honey
Crunchy cornflakes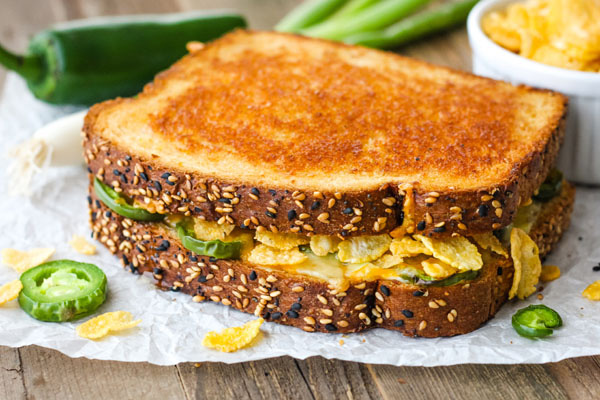 The honey may sound a little unconventional but trust me, it balances out the heat of the jalapeño perfectly.
Sandwiched between the gooey slices the crisp cornflakes make each bite taste amazing. If you're out of corn flakes, try substituting crushed potato chips. (FYI: Our cornflakes were crispy but some have reported theirs ended up soggy).
This gourmet sandwich is more work than our easy Baked Grilled Cheese, Toasted Caprese Sandwich or this popular Grilled Cheese with Apple and Havarti, but it's totally worth the extra effort.
~ Keep scrolling for step by step photos & tips after the recipe ~
3 Tips to Make The Best Jalapeño Popper Grilled Cheese

Tip #1 – Glove Up
If you've got a pair of plastic or latex gloves handy slip them on before you start prepping the pepper.
What if you don't have gloves? Make sure not to touch your eyes or face while handling the jalapeño and wash your hands well afterward.
Tip #2 – Adjust the Heat
Jalapeños range from mild to super spicy, take a small bite of your raw jalapeño to see how spicy it is.
Want less heat in your sandwich? Use a knife to slice away the membrane and seeds before broiling (that's where most of the pepper's heat comes from).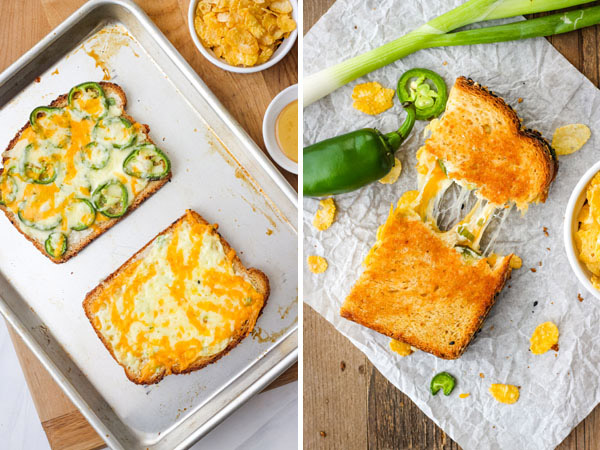 Tip #3 – Make a Faux-Griddle
Pop an empty sheet pan inside your toaster oven while it preheats.
When you add your bread to the preheated pan it will act as a griddle and immediately begin cooking the sandwich, giving it that gorgeous golden toasted color and irresistible crispy 'grilled' texture.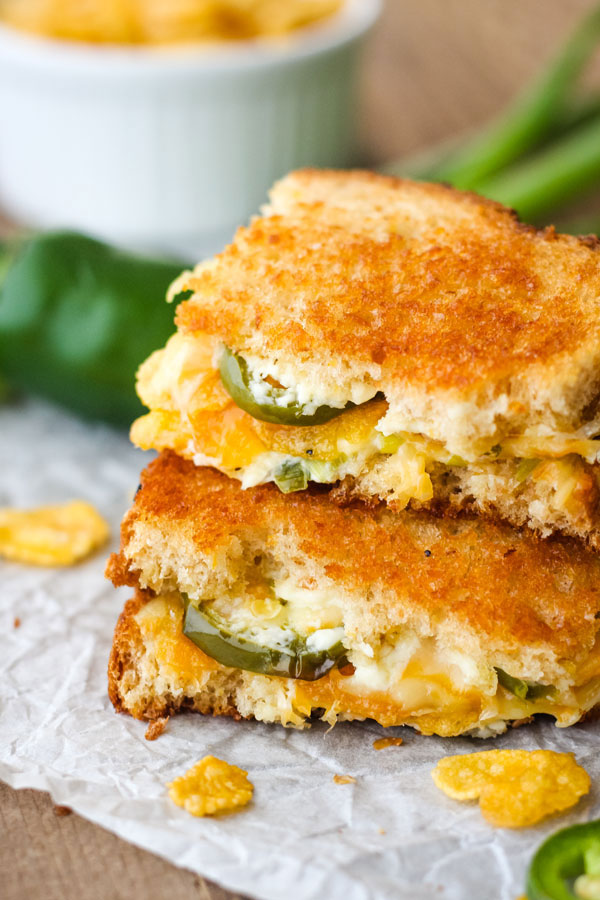 Looking for more vegetarian sandwich recipes?
Here are a few of my favorites: