Vegetarian Stuffed Acorn Squash
Perfect for the holidays, this Vegetarian Stuffed Acorn Squash with Apple and Sausage is bursting with delicious savory-sweet flavors. Ready in under an hour, it makes a satisfying fall dinner for two!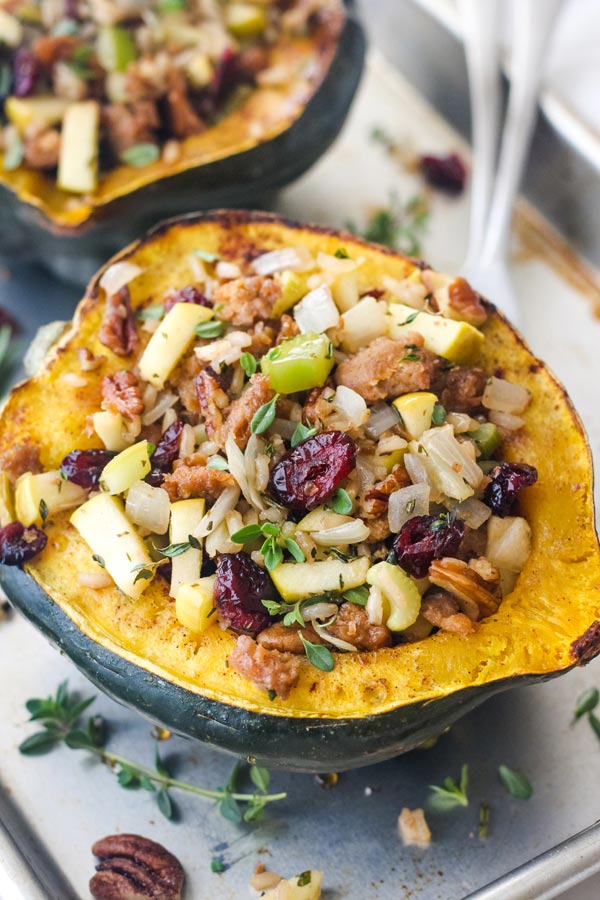 Warm, comforting, and always super filling stuffed squash makes a great chilly weather dinner. These vegetarian stuffed acorn squash with apple and sausage are no exception. They're the perfect balance of sweet and savory.
Each one is filled to the brim with tart apple, crunchy pecans, decadent veggie sausage, nutty brown rice, and fragrant thyme and rosemary. Every bite feels like a warm hug.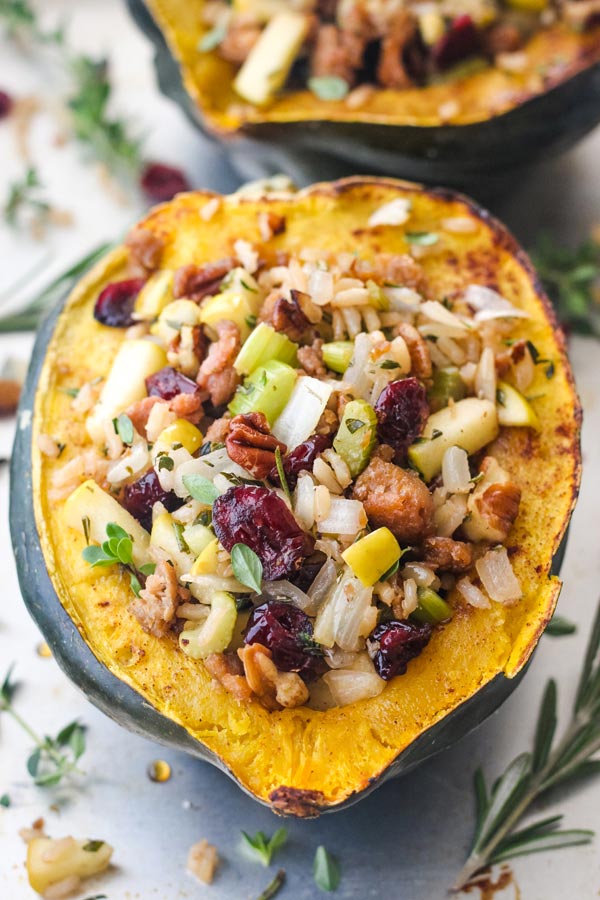 Like our popular spaghetti squash burrito bowls the ingredients list might feel a little overwhelming at first glance. While it's no 30-minute meal, the recipe is easier than it looks.
You can make the squash or the filling ahead of time if you want. Both hold up well in the fridge for a day or two.
The recipe uses leftover brown or wild rice but if you don't have any, work with what you've got! Quinoa, bulgur, farro, or barley are great options. You can even use rice from a shelf-stable packet. We always keep one on hand to make these roasted veggies and hummus bowls.
Cooking the sausage on its own first means you can use any variety that you want. We've made this recipe using Beyond Meat Brat-style sausage, Field Roast Smoked Apple Sage Sausage, and even Soy Chorizo. They all taste fantastic!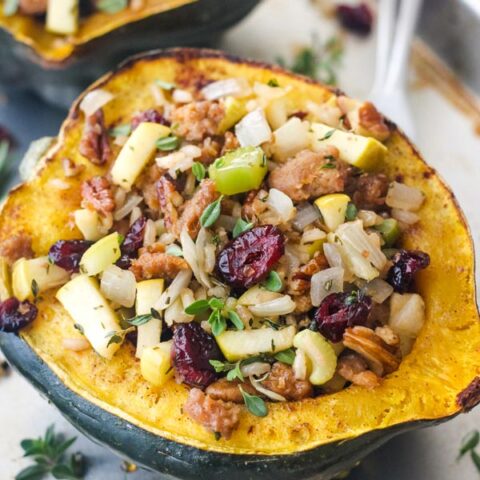 Vegetarian Stuffed Acorn Squash
Stuffed roasted acorn squash makes a great main dish (or side) for your holiday table. Loaded with savory vegetarian sausage, sauteed apple, brown rice, dried cranberries, fresh herbs, and more it's a flavor-packed dish that's easy to customize with the ingredients you have on hand.
Ingredients
For The Squash:
1 Large Acorn Squash (about 1.5 pounds)
1 teaspoon Olive Oil, plus more for the pan
Salt and pepper, to taste
1/8 teaspoon Ground Cinnamon (optional)
For The Filling:
2 teaspoons Olive Oil
1 Vegetarian Sausage (3.5 ounces), casing removed
1/2 cup Chopped Onion
1/2 cup Chopped Celery, about 1 large stalk
1/2 teaspoon Minced Garlic
3/4 teaspoon chopped Fresh Thyme
3/4 teaspoon chopped Fresh Rosemary
1/2 cup Chopped Granny Smith Apple, about half a small apple
1/2 cup Cooked Brown Rice
3 tablespoons Pecans Pieces
3 tablespoons Dried Cranberries
1 teaspoon Maple Syrup
Salt and Pepper, to taste
Instructions
Roast The Squash
Preheat the oven to 400°F. If using a toaster oven adjust the cooking rack to the lowest position and select the BAKE setting. Lightly oil a sheet pan or line with a silicone baking mat.
Carefully slice the squash in half. Scoop out the seeds and discard or save for roasting later.
Rub the inside of each squash half with the oil. Then season with salt, pepper, and cinnamon if using. Place the squash flesh side down on the pan.
Roast until tender and a fork easily slides through the skin and flesh, about 30 to 35 minutes. The total amount of time will depend on the size of your squash.
Make The Filling
Heat the oil in a large saucepan over medium heat. Crumble the sausage into the pan and cook until browned. * Refer to the directions on your sausage package for specific cooking times.
Once the sausage is cooked, transfer to a plate leaving any oil behind in the pan. (If needed add a splash more oil to the pan for the vegetables)
Add the onion and celery to the oil, season with a little salt and pepper, and cook until the onion is softened and lightly browned, about 5 to 6 minutes.
Stir in the garlic, thyme, rosemary, and chopped apple. Cook until the apple pieces just begin to soften about 3 to 5 minutes. Then stir in the rice, pecans, cranberries, and the cooked sausage. Drizzle mixture with the maple syrup and stir to coat.
Remove the pan from the heat, taste the mixture, and adjust the seasoning with salt and pepper as desired.
Stuff and Serve
Flip the roasted squash over, stuff with the apple rice mixture, and enjoy!
If your squash has gone cold or you just want everything warmer, return the stuffed squash to a 350°F oven until heated through, about 10 to 15 minutes.
Notes
To make slicing the squash easier, poke a few holes in the squash with a pairing knife and microwave for 1 to 3 minutes before slicing. Watch out for steam!
Rice - You can use any leftover cooked rice or grain that you have on hand. Quinoa, wild rice, bulgar wheat, or farro are all good options.
Herbs - 1/4 teaspoon dried thyme and 1/4 teaspoon dried rosemary can be substituted for the fresh herbs.
Apple - A crisp variety like Granny Smith, Pink Lady, or Honeycrisp is ideal but any firm apple will work.
Dried Fruit - You can use any type you prefer. We like the tart pop of cranberries but golden raisins, dried figs, or chopped apricots will pair nicely with the other ingredients.
Nuts - If you don't have pecans, chopped walnuts or almonds are good substitutes.
To Make Ahead
Roast the squash and prepare the filling. Allow both items to cool completely before stuffing the squash with the filling.
Refrigerate the assembled bowls in a covered container for up to 2 days.
When ready to eat, place the squash in a covered oven-safe container. Bake at 350°F until warmed through, about 20 to 25 minutes. Or microwave for 2 to 4 minutes, stirring the filling halfway through heating.
Nutrition Information:
Yield:

2
Serving Size:

1 Stuffed Squash Half
Amount Per Serving:
Calories:

508
Total Fat:

21.9g
Saturated Fat:

2.3g
Cholesterol:

0mg
Sodium:

364mg
Carbohydrates:

67.6g
Fiber:

9.7g
Sugar:

17.2g
Protein:

18.3g
How to Make Vegetarian Stuffed Acorn Squash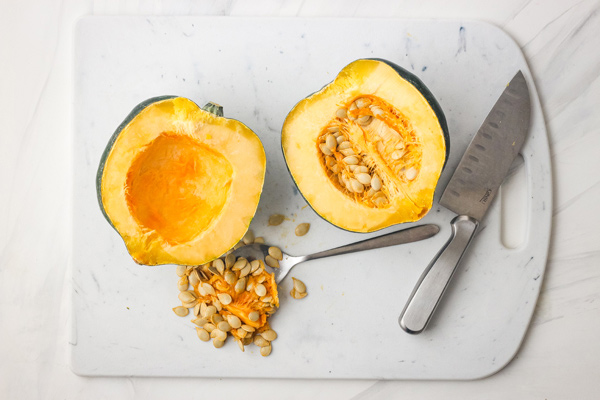 Step 1: Cook The Squash
Since we're only cooking a single acorn squash, I like to use our toaster oven. It preheats quickly and bakes the squash a little faster too. You can also use a traditional oven.
To make the squash super easy to slice, pop it in the microwave for 1 to 2 minutes. Just make sure to give it a few stabs with your knife first so the steam can get out (similar to a baked potato).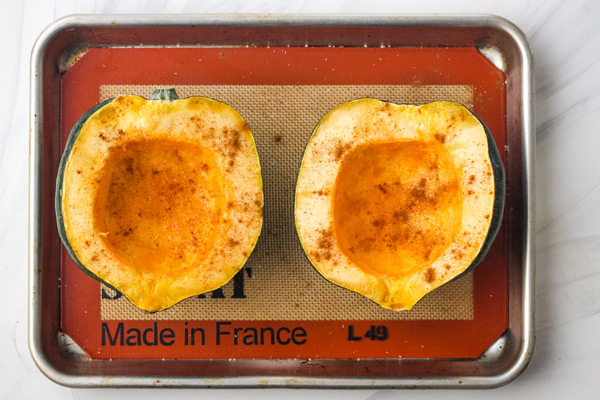 Carefully slice the softened squash in half (watch out for steam!) and scoop out the seeds. Coat both sides with a little oil, salt, and pepper. Then add a sprinkle of cinnamon, it goes great with the apple and sausage.
Now place the squash face down on a lightly oiled pan (or use a baking mat) and pop it in a 400°F preheated oven (or toaster oven) for 30 to 35 minutes. You'll know the squash is ready when the flesh is tender and you can easily stick a fork through the back of it.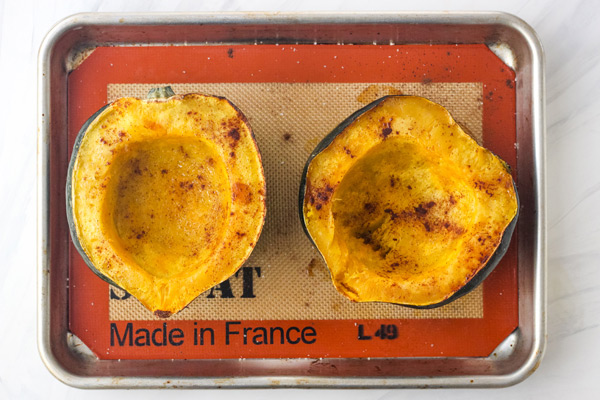 Step 2: Make The Filling
While the squash is roasting, chop up your vegetables and gather the other ingredients. About 15 minutes before the squash is done I usually start making the filling, beginning with the sausage.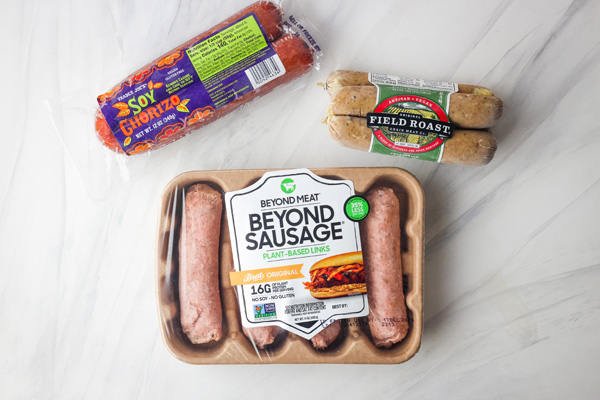 Vegetarian Sausage 101
There's a large variety of vegetarian and vegan sausages available these days. Some are ready to eat and just need to be browned like the Field Roast Sausage in this Vegetarian Sausage Sheet Pan Dinner. While others, like the Beyond Meat Brats that we're using today require a little longer cooking time.
Regardless of the type of veggie sausage used, the one thing you don't want to do is overcook it. The sausage will get dry and rubbery. In this recipe, we're going to avoid that by cooking the sausage separately and then adding it into the finished filling.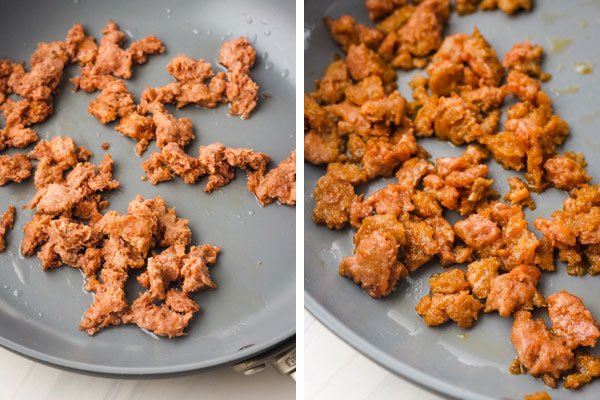 To Cook The Vegetarian Sausage:
Heat a little oil in a skillet over medium heat.
Remove any casing from the sausage.
Cook according to the packages directions using a spoon or spatula to break up the sausage into smaller chunks.
Resist the urge to try and get it super browned. You're just looking for the sausage to be darker in color and crispy on the edges. If I'm not sure the sausage has been cooked enough I'll use a thermometer to test a couple of the larger pieces and see if they've reached 165F.
Once the sausage is cooked through, transfer it to a plate. Important: Make sure to leave behind any of the oil. This is what you're going to cook the veggies in and it will add lots of extra savory flavor to your dish.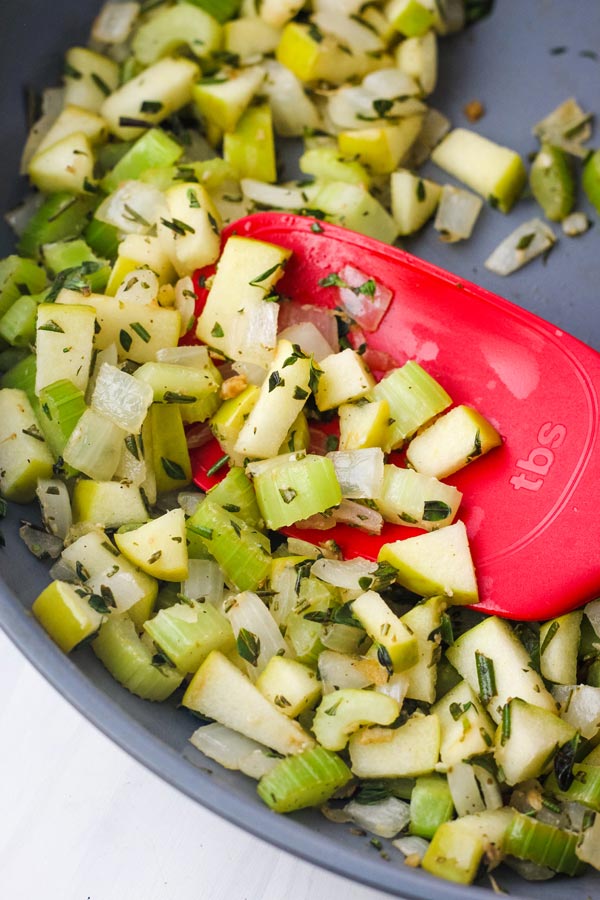 Now, add the onion and celery to the oil and cook until they are tender and starting to brown, about 5 to 6 minutes. Toss in the garlic, thyme, rosemary, and apple. Cook for about 3 to 5 minutes more. You're looking for the apple pieces to soften but not become mushy.
Next, stir in the rice (or your cooked grain of choice), pecans, cranberries, and the sausage. Lasty, give it all a quick drizzle of maple syrup.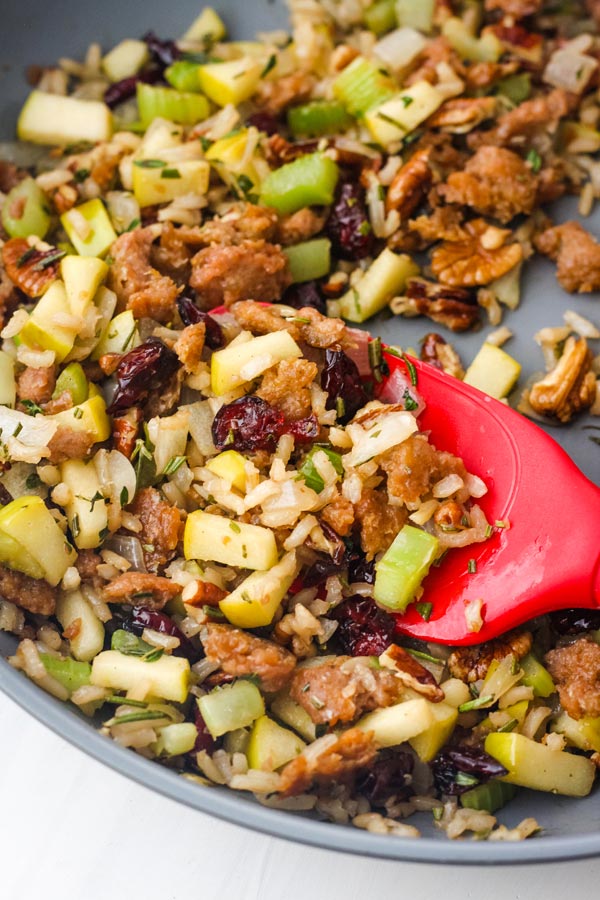 Take the pan off the heat and grab a spoon to take a taste. Adjust the seasoning, adding salt, pepper, or more herbs as desired.
Step 3: Bring It All Together
Now that you've got your cooked squash and your herby filling ready it's time to combine them.
If you want, you can scoop out some of the acorn squash and gently fold it into the filing. It makes for a moister stuffing.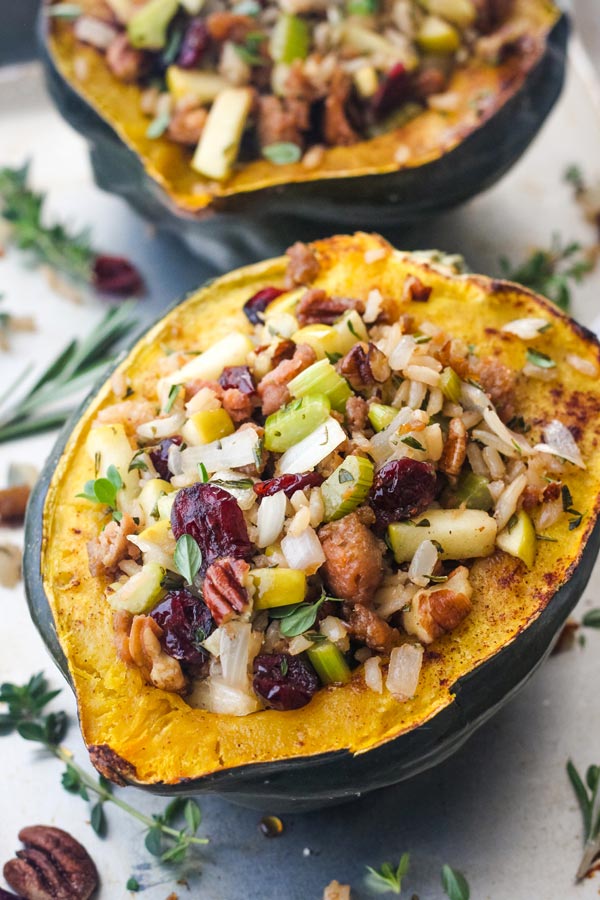 I like to just stuff the acorn squash and use my spoon to scrape the flesh from the sides. This way each bite is a little different. Some with just the filling or the squash, some with both.
This meal already has a lot going on but if you're looking to add some extra bells and whistles, we've got a few ideas.
Lighten up the stuffing by adding orange zest and a squeeze of fresh orange juice.
Add more savory flavor by topping the squashes with shredded cheese (a sharp cheddar would be yummy) and pop it under the broiler for a few minutes.
Go tangy with a drizzle of balsamic glaze.
Or make things sweeter with more maple syrup.