Toaster Oven Pans and Accessories
Did you get a toaster oven hoping to make smaller meals for one or two people? But now you're having trouble finding pans that will fit in it?
We've been there too and have tried A LOT of different pans and baking dishes. Some we already had but didn't consider at first and others we've picked up over the last 5 years.
Below are the toaster oven pans, baking dishes, and accessories we use. Hopefully, they'll give you a few ideas and help you get the most out of your little oven.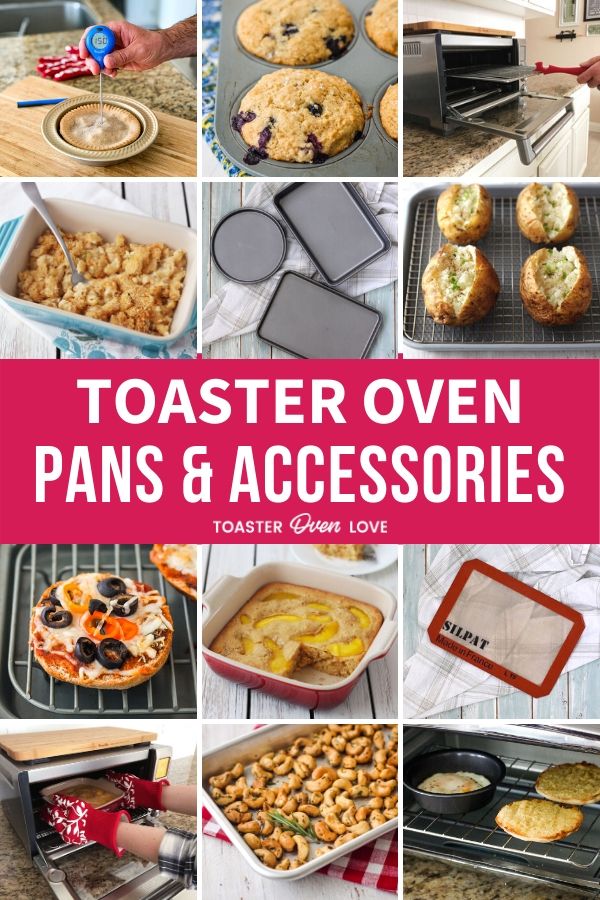 *As toaster ovens vary greatly, always review your manual and follow the manufacturer's recommendations for what materials are acceptable to use in your specific oven.
Toaster Oven Pans and Accessories
A Few Reader Suggestions
Over the years, our awesome readers have left comments or sent emails about baking dishes and pans from companies we hadn't heard of and have never used ourselves.
A reader named Trish alerted us to Temp-tations, they make a variety of stylish baking dishes. When I emailed them about using their dishes in a toaster oven or convection countertop oven they said "Temp-tations can be used in a Toaster Oven as long as the ceramics is 4-6 inches away from the heating element. Temp-tations can be used in a Convection oven."
After a reader named Tina left a question regarding enamelware I reached out to Falcon Enamelware. They responded that their enamelware is heat resistant up to 530°F / 270°C and is suitable for broilers and grills.
Similarly, Canyon Crow Home another maker of enamelware said "Our items can be used in a toaster oven. However, some toaster oven manufacturers recommend using the trays provided when cooking. Please note enamelware cannot be used in a microwave."
The best way to find out if a baking dish you own (or want to own) can be used in your toaster oven is to email or call the manufacturer of the item.
In my experience, it can take a few days to get a response (especially with emails) so try to be patient. While you're waiting to hear back check out this post for 4 Surprising Things I'll Never Use In Our Toaster Oven.