Nachos for one is the best way to satisfy your cheesy chip cravings without going overboard. The crunchy toaster oven baked corn tortilla chips makes them extra delicious!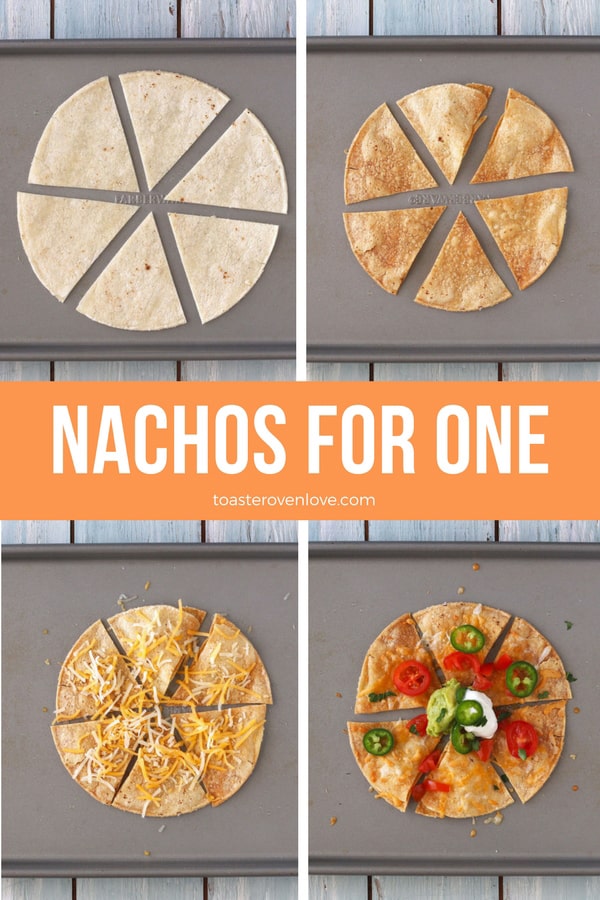 I don't know about you but I find the combination of melted cheese and corn tortilla chips IRRESISTIBLE.
Like eat until you're full and then keep eating because "it would be a sin to waste nachos" irresistible.
Sometimes I'll indulge my inner cheese lovin' beast with a half batch of healthy-ish veggie nachos or sweet potato nachos. But on the days where only a real, basic, Chip n' Cheese situation will do I throw together this nachos for one recipe.
The whole thing takes about 20 minutes and thanks to our toaster oven the tortilla chips are crispy, not soggy like microwaved nachos.
The secret to these tasty single-serving nachos is baking your own corn tortilla chips. They're portion-controlled, super easy, and make the perfect base for a small batch of nachos for one.
~ Keep scrolling, there's photos & tips after the recipe ~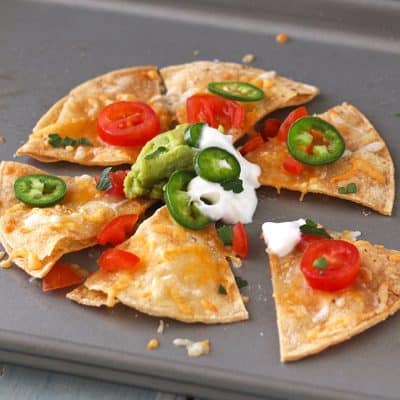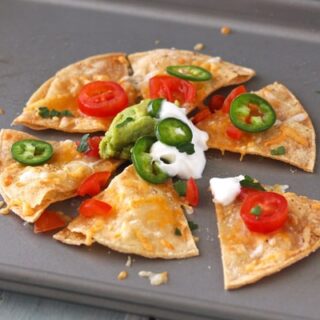 Nachos For One
This easy single-serving recipe is perfect for satisfying your salty snack cravings.
Ingredients
1 Corn Tortilla, 6 inches
Oil
Fine Sea Salt
3 tablespoons Shredded Cheese
Optional Toppings:
Jalapeño Slices
Chopped Tomatoes
Salsa
Guacamole
Plain Greek Yogurt or Sour Cream
Instructions
Bake the Chips
Adjust your toaster oven's cooking rack to the middle position and preheat to 350°F. Lightly grease your baking pan.
Spray or brush one side of the tortilla with a little oil and sprinkle generously with salt. Flip tortillas over, repeat oil and salt, then slice into six triangles
Arrange tortilla pieces in an even layer on your prepared pan.
Bake the chips for 8 minutes, remove the pan, flip the chips and return the pan to the toaster oven. Continue baking until the chips have crisped, about 3 to 4 minutes more. Remove pan and allow chips to cool for a few minutes and crisp further.
Make the Nachos
Sprinkle cheese over chips.
Switch toaster oven to BROIL, add pan and cook just until the cheese is melted about 1 to 2 minutes.
Add your favorite toppings and dig in!
Notes
You may need to adjust the cooking time for your chips (shorter or longer) as toaster ovens and tortilla brands vary.
Nutritional information is for a batch of nachos without toppings.
Recommended Products
As an Amazon Associate and member of other affiliate programs, I earn from qualifying purchases.
Nutrition Information:
Yield:

1
Serving Size:

1 nachos
Amount Per Serving:
Calories:

148
Total Fat:

8.8g
Saturated Fat:

4.7g
Cholesterol:

22mg
Sodium:

142mg
Carbohydrates:

11g
Fiber:

1.5g
Sugar:

0.3g
Protein:

6.7g
Step by Step Photos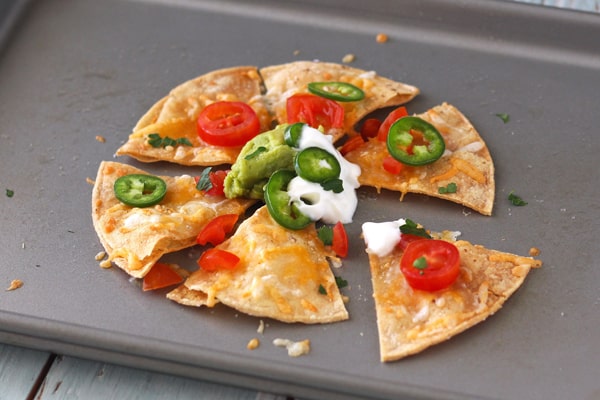 Step 1: Make The Chips
To make the chips you'll need a corn tortilla, oil and, salt. Spray both sides of the tortilla with a little oil, season well with salt and slice it into wedges.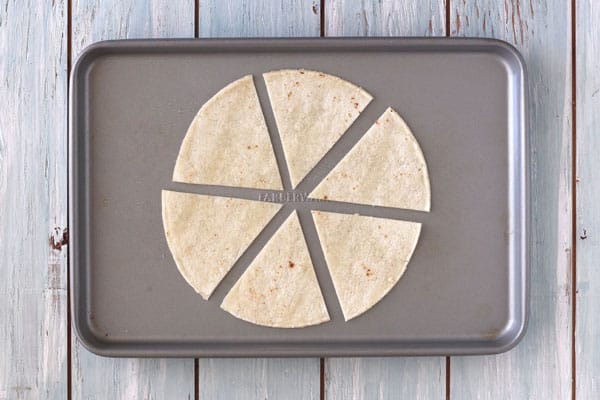 Bake the chips in a preheated 350F toaster oven for 8 minutes. Flip the chips over, and continue baking until crispy, about 3 to 4 minutes more.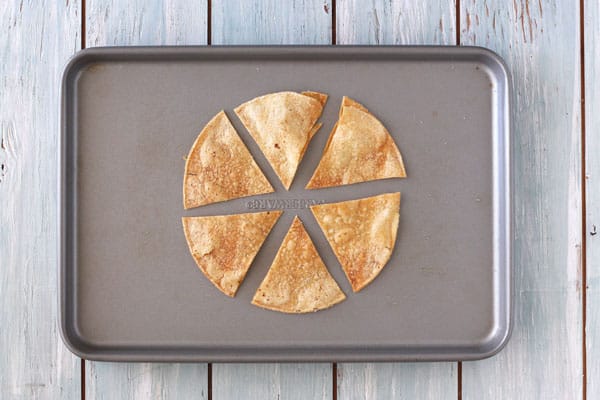 Let your chips cool on the pan for a few minutes, they'll get crispier as they cool. Then pile on the cheese.
Step 2: Top With Cheese
Block cheese you shred yourself will melt best. But I usually grab a few tablespoons of pre-shredded cheese and get on with it.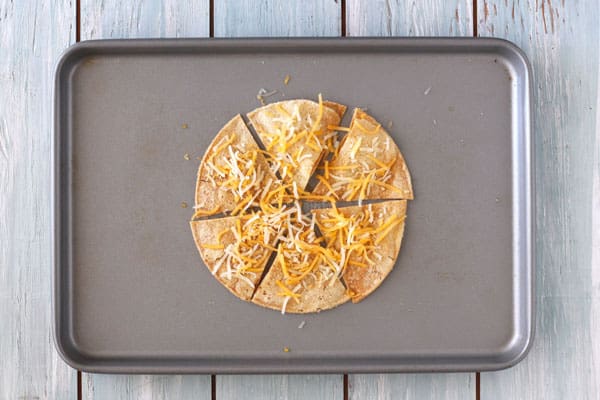 Top your chips with the cheese, turn your toaster oven to BROIL and pop the pan back in. It should only take a minute or two for the cheese to melt so don't wander off.
Step 3: Add Your Favorite Toppings
Finish those cheesy chips with a few teaspoons of your favorite toppings.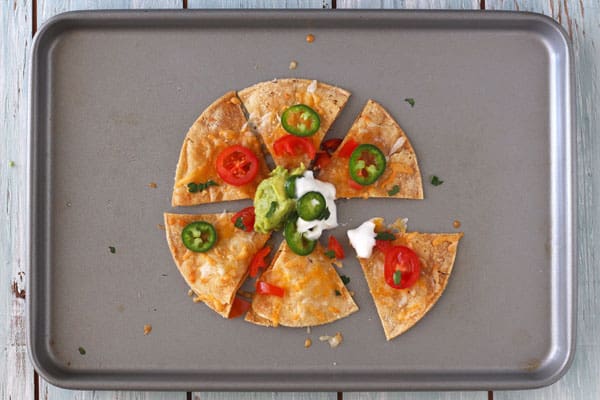 Then dig in before someone asks you to share!