Toaster Oven Crostini are little baguette slices brushed with olive oil and baked until golden and crispy. Add your favorite toppings for an easy appetizer!
Looking for more toaster oven appetizers? Try our baked pita chips, rosemary cashews, or any of these 25 toaster oven party appetizers.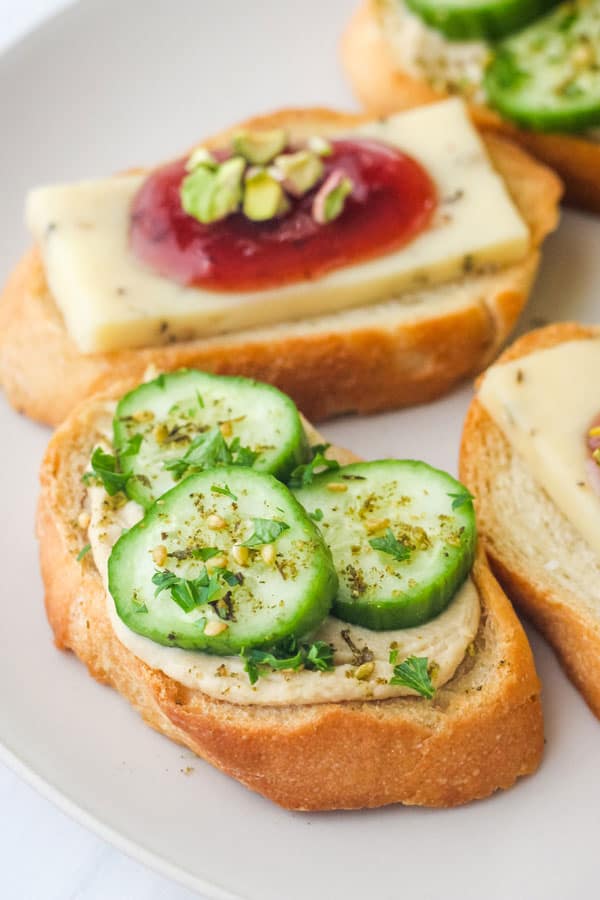 What You'll Need to Make Crostini
Bread – A crusty French baguette or rustic Italian loaf are good options. And don't worry about freshness, like toaster oven croutons and bagel chips, day-old (aka stale) bread works great.
Oil – We use Extra Virgin Olive Oil. For a fun variation try a flavored oil like roasted garlic or rosemary. Avocado oil works too and if you're trying to cut calories you can use an oil spray instead.
Kosher Salt or Sea Salt – Pairs wonderfully with the olive oil.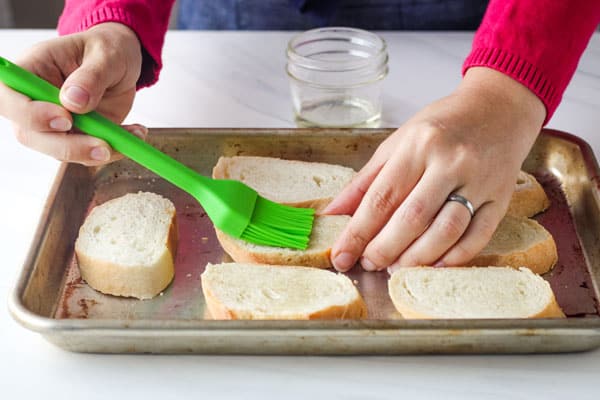 How to Make Crostini in the Toaster Oven
Since it's only the two of us I usually make a small batch of crostini using half a small baguette. If you need more little toasts, feel free to double or triple the recipe ingredients.
1. Slice the bread on an angle into 1/4-inch thick pieces. Then lay the pieces on a rimmed sheet pan.
2. Brush each slice with a little oil. Flip them over, brush with oil, and top with a sprinkle of salt.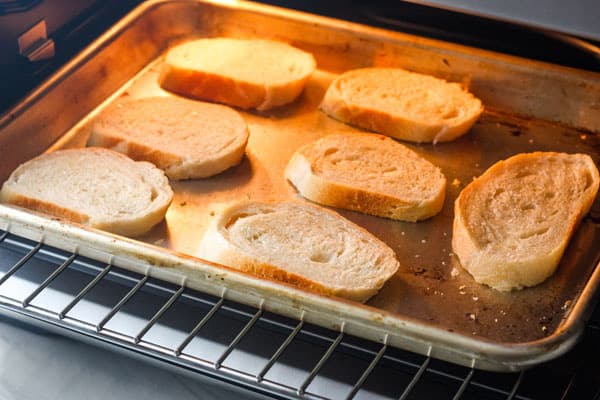 3. Bake in a 375°F toaster oven (or 350°F if you're using a convection toaster oven) until the bread is golden, toasty, and no longer chewy in the middle.
This should take about 10 to 15 minutes. But like most things, it will vary depending on your oven and the type of bread used.
4. Allow the toasts to cool completely on the pan before adding your favorite toppings.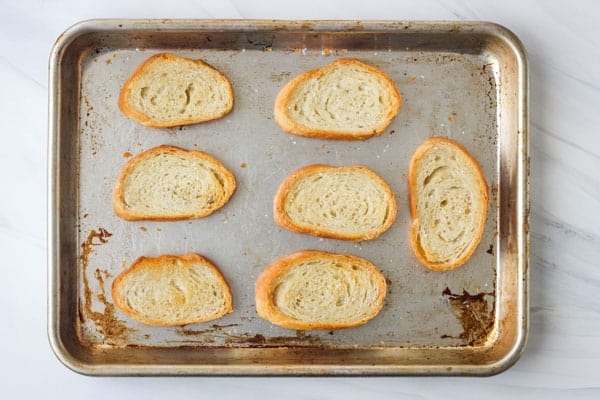 What About The TOAST and BROIL Settings?
There are a lot of ways you can bake crostini in a toaster oven. Some are definitely better than others.
While the TOAST, BAGEL, and BROIL settings did an okay job browning and crisping the edges, the middles were still quite chewy.
Conversely, the BAKED crostini were crisped throughout and had significantly better flavor.
Also, the toasted and broiled pieces got soggy the next day. While the baked pieces we stored were still crisp (even after 5 days!).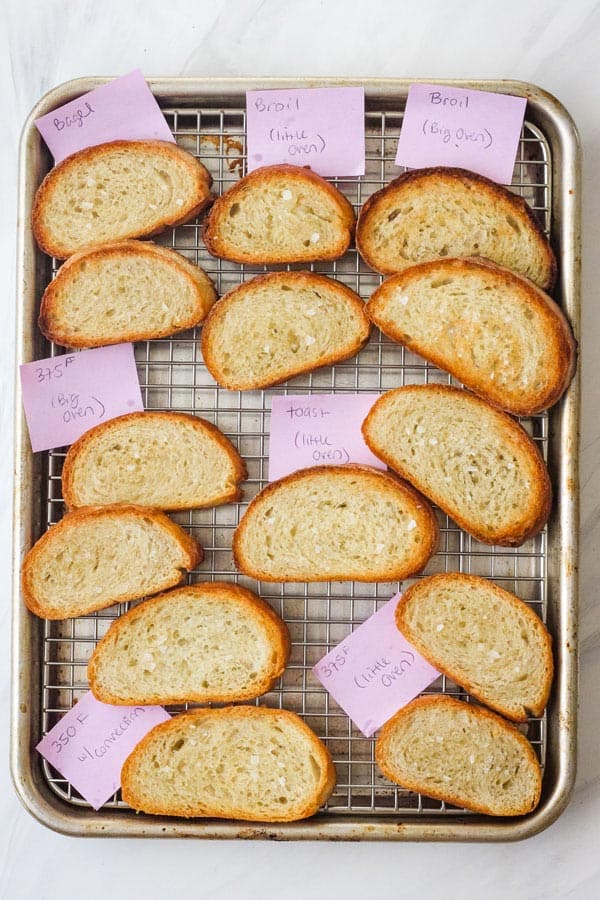 Tips, Toppings, and Variations
Garlic Rubbed: To give the toasts some extra oomph, rub them with half a peeled garlic clove while they're still a little warm.
Seasonings: Try sprinkling the bread with dried herbs or spices before baking. Here are a few of our favorites:
Dried Thyme or Rosemary
Za'atar (Not familiar with this delicious spice blend? The Mediterranean Dish breaks it down in this What is Za'atar post.)
Italian Seasoning Blend
Smoked Paprika (great for dipping in a bowl of Vegetarian Split Pea Soup)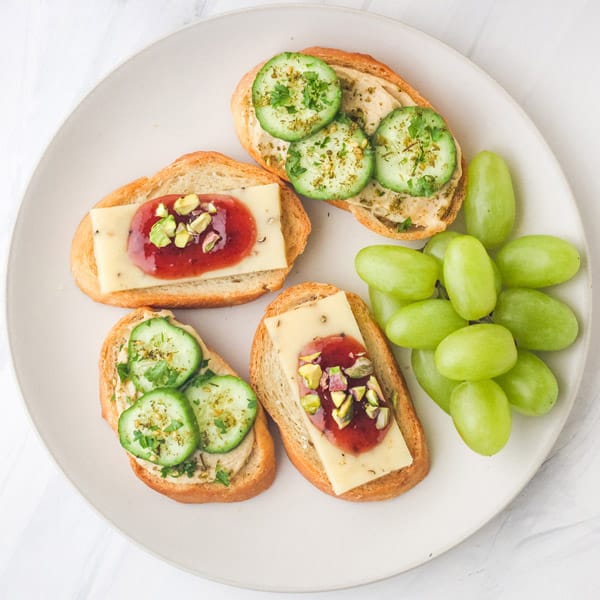 Make-Ahead Storage: Untopped crostini can be stored at room temperature in a covered container for 3 to 5 days. See the recipe notes for tips on reviving them if they've softened.
Toppings: Hummus, tapenade, all the cheeses (especially goat cheese, baked Brie, or these adorable mini cheese balls), balsamic roasted cranberries, jams, mashed avocado, pesto…seriously, your options are endless!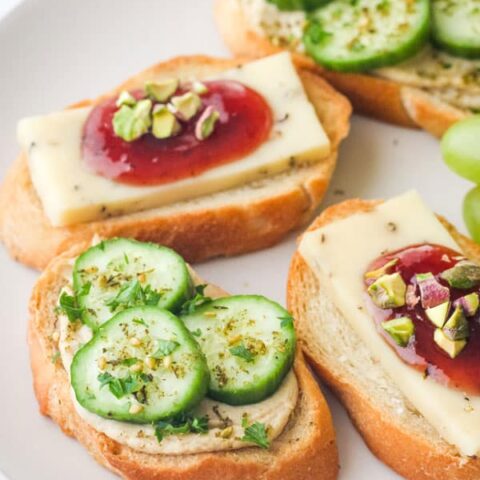 Toaster Oven Crostini
Great for topping, scooping up spinach dip, or dipping in a bowl of soup, these crispy toasts are easy to whip up in the toaster oven.
Ingredients
Half Small Baguette, sliced on an angle into 1/4-inch thick pieces (about 6 to 7 slices)
1½ to 2 teaspoons Olive Oil
Kosher Salt or Sea Salt (optional)
Instructions
Adjust the toaster oven cooking rack to the bottom placement, select the BAKE setting and preheat the oven to 375°F.
Arrange baguette slices in a single layer on a rimmed sheet pan.
Brush slices lightly with oil, flip, and brush the other sides. Sprinkle with salt, if using.
Bake for 8 to 9 minutes. Then carefully flip the slices and continue baking until both sides are golden and crisped through about 4 to 7 minutes more.
Cool completely before topping or storing.
Notes
Convection Adjustments: Reduce temperature to 350°F and check on the toasted baguette earlier.

Cooking Time: As toaster ovens vary, you may need to experiment and adjust the cooking time for your crostini (shorter or longer). To start, check on your toasts early and add more time as needed.

Storage: Untopped crostini can be stored in a covered container for 3 to 5 days. If the toasts soften, add them to a 350°F oven for a few minutes to crisp again.

Garlic Crostini: While the toasted bread is still slightly warm, gently rub it with half a peeled garlic clove.
Nutrition Information:
Yield:

7 pieces
Serving Size:

1 toast
Amount Per Serving:
Calories:

93
Total Fat:

1.3g
Saturated Fat:

0.2g
Cholesterol:

0mg
Sodium:

16mg
Carbohydrates:

16.3g
Fiber:

0.8g
Sugar:

0.1g
Protein:

3g