Making toaster oven bagel chips couldn't be easier! Perfectly crunchy and salty, they're so good you'll never buy the bagged stuff again.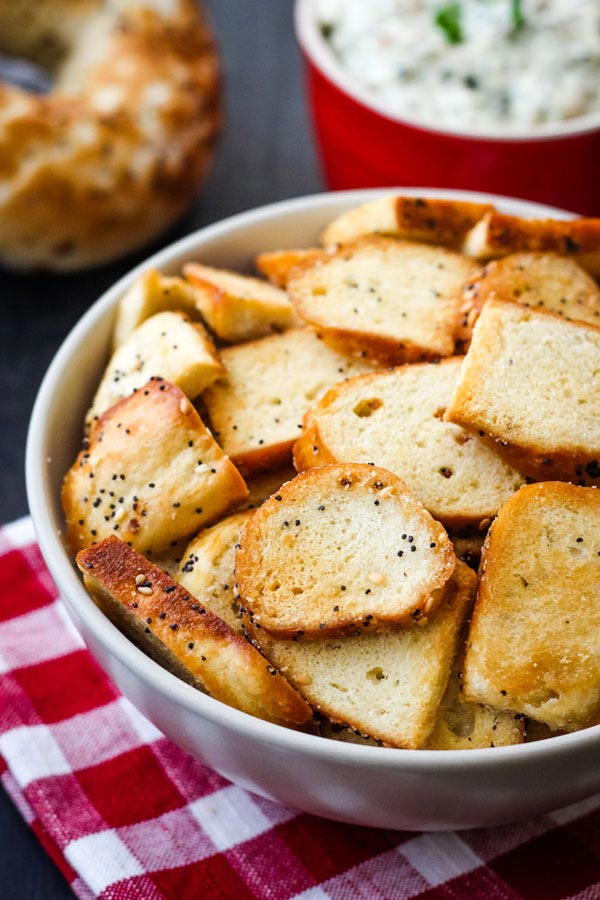 Have you made bagel chips before? It had never occurred to me as something I should do until I was making a batch of Toaster Oven Chex Mix and NEEDED bagel chips.
I checked 3 different stores before I finally found a bag. A huge, expensive bag that was also the saddest flavor: PLAIN. Nope. Not gonna do it.
That's when I realized that just like pita chips and baked corn tortilla chips, you can totally make your own bagel chips at home.
So I grabbed a bag of Everything bagels and used the directions from our toaster oven baked croutons as a jumping-off point. A few test batches later and tada! A simple small batch recipe for some seriously snackable toaster oven bagel chips.
If you've never made bagel chips before this recipe is for you. It's incredibly easy and requires just 3 ingredients.
~ Keep scrolling for step by step photos & cooking tips after the recipe ~
Slicing Your Bagel for Chips
Before you get baking, you need to slice your bagel. If you've got a serrated knife or bread knife grab it. The little 'teeth' on the knife will help you easily saw through your bagel and keep it from getting squished during slicing.
After trying a few methods, we found that slicing a bagel into long 1/4-inch thick slices and then slicing or tearing those pieces in half worked the best.
The important thing is that the slices are the same thickness. That way they will brown and toast at the same rate.
How to Make Bagel Chips in Your Toaster Oven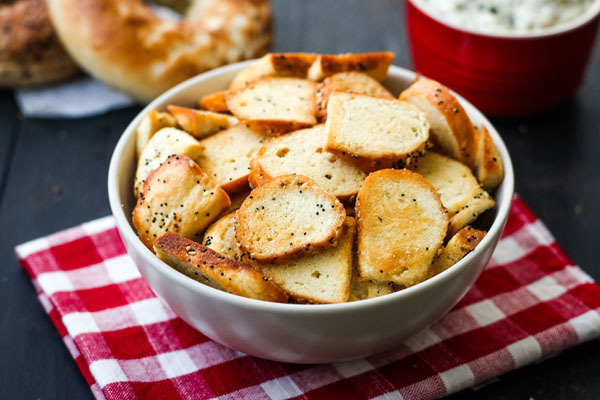 Once you've got your bagel sliced, it's time to get cooking.
Start by adjusting the cooking rack in your toaster oven to the bottom placement and preheating to 350°F on the BAKE setting.
In a medium bowl, add your bagel slices. Drizzle with oil, and season liberally with salt. Use your hands to toss the pieces and make sure they're all coated.
Arrange the bagel pieces in a single layer on an ungreased baking sheet. Make sure they aren't overlapping or touching.
Related: Toaster Oven Pans and Accessories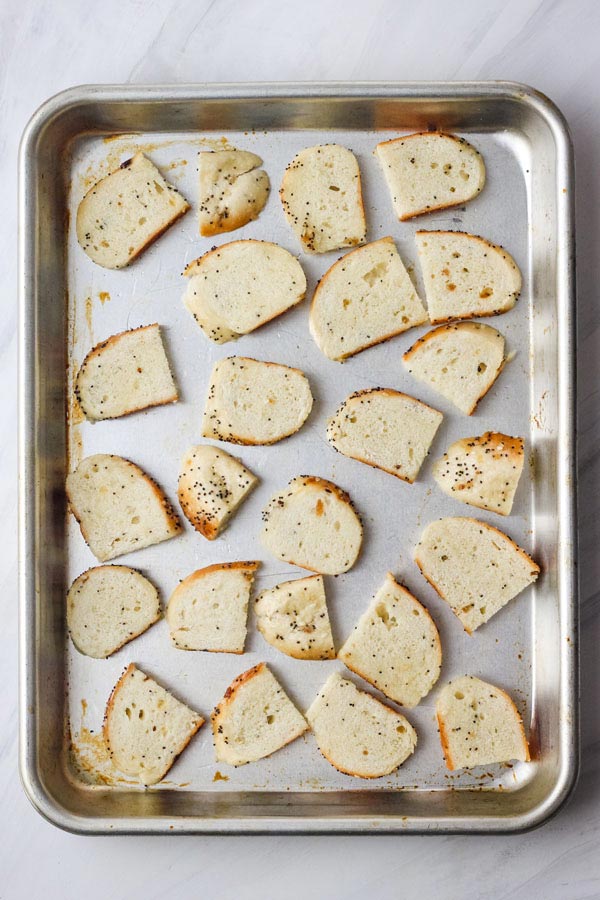 Add the pan to your toaster oven and bake for 10 minutes. Then, carefully remove the hot pan and flip the bagel pieces.
If your toaster oven has hot spots (areas that are warmer than others) rotate the pan 180° before returning it to the oven. This will help the chips brown more evenly.
Continue baking until the chips are golden and crisp, about 5 to 8 minutes.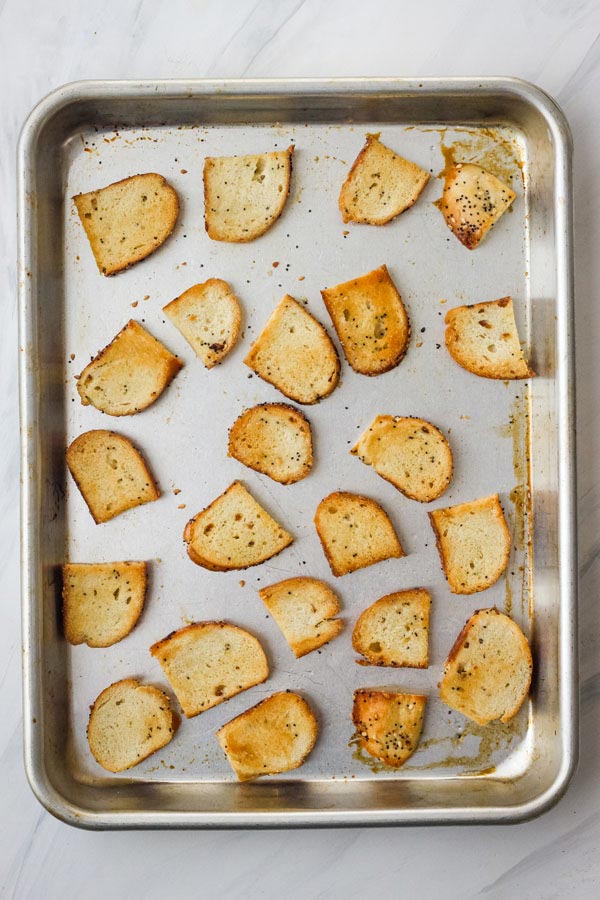 Once they're ready, let the chips cool completely on the pan. Like these seriously delicious rosemary cashews and curry spiced cashews, the chips will crisp further as they cool.
How To Make Bagel Chips in a Convection Toaster Oven
Reduce the temperature to 325°F. Flip the chips after 8 minutes of cooking and continue baking until browned about 3 to 5 minutes.
Can you make bagel chips in an Air Fryer Toaster Oven?
Yes, you can! Of all the test batches we made, the chips cooked in our Oster Air Fryer Toaster Oven were my husband's favorite. The texture was crispy, airy and lighter than the other baked bagel chips.
To make them in an Air Fryer Toaster Oven:
You don't need to preheat the oven.
Use the air fryer basket that came with your oven instead of the baking sheet.
Reduce the temperature to 300°F and select the Air Fry Function.
After 5 minutes of cooking, flip the chips and continue cooking for 1 to 2 minutes or until golden and crispy.
Storing Homemade Bagel Chips:
Leftover bagel chips can be stored at room temperature in a sealed container for up to 2 weeks. Though I sincerely doubt anyone could keep from eating them that long!