This Toaster Oven Chex Mix has all of the delicious flavors of your favorite snack mix in a small batch recipe! Perfect for small gatherings, holiday gifting, or game day snacking.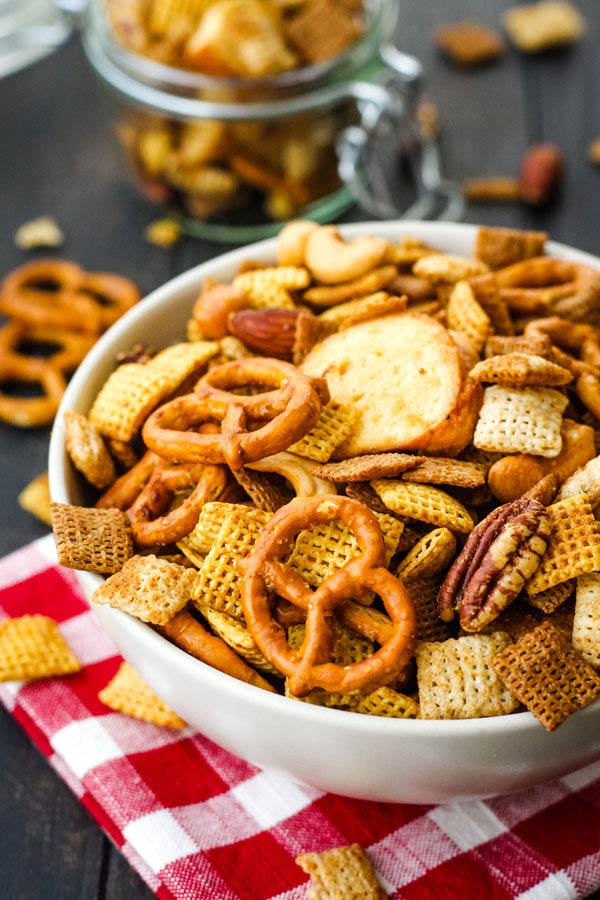 From these flavor-packed rosemary cashews to a small batch of toaster oven parmesan crisps, one can never have too many savory snack recipes. Especially during the holidays when it's chocolate and cookies 24/7!
Though I'm happy to eat it year-round, Chex mix is definitely one of my favorite holiday snacks.
When I was little, my mom would throw together huge batches every Christmas. They were so big the mixture only fit in a large roasting pan (you know, the kind used to cook a Turkey).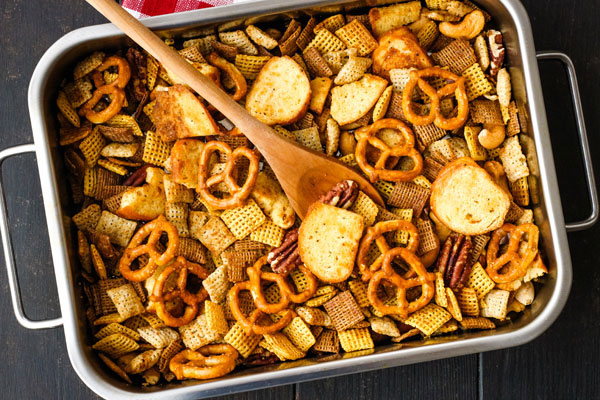 Since we're all about small-batch around here, I decided to downsize the traditional recipe. That way I could A) make it in our toaster oven and B) avoid eating myself into a salty snack mix coma.
Turns out small was definitely the way to go. Tim and I could not stop snacking on the first batch and the jar I sent to his office came back empty in just one day!
If you're looking for a fun snack mix that everyone will love, this toaster oven Chex mix recipe is a guaranteed winner.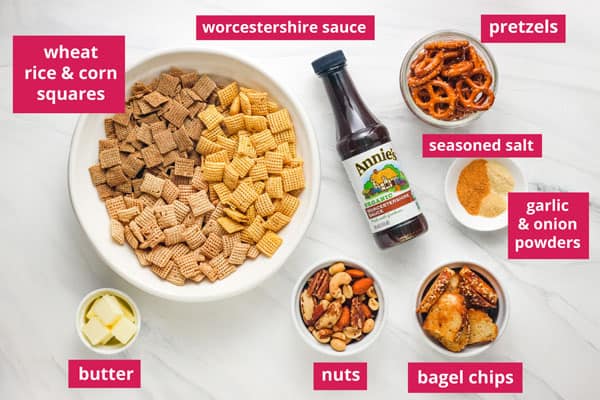 Ingredients
Cereal: We used equal amounts of corn, rice, and wheat Chex cereals. If you don't like one of the flavors or feel less than thrilled about the idea of storing a bunch of open cereal boxes it's okay to use only one or two varieties. You just want 3 cups of cereal in total.
Nuts: I like mixed nuts, some people prefer only peanuts – you do you. For a nut-free option, swap them for cheesy goldfish crackers or plain Cheerios.
Pretzels: Their salty flavor is a must!
Bagel Chips: If you can't find bagel chips (we actually ended up making our own toaster oven bagel chips) you can substitute melba toast, oyster crackers, or just leave them out.
Snack Mix Coating: A blend of melted butter (vegan stick butter also works), Worcestershire Sauce (for a vegetarian version use a vegan Worcestershire sauce – Annie's brand is very tasty), seasoned salt, garlic powder, and onion powder.
Seasoning Levels
We like our Chex mix bold with lots of Worcestershire Sauce and seasonings. If you prefer a more mild mix use the smaller measurements provided in the recipe card.
How to Make Chex Mix In A Toaster Oven
1. Start by combining the cereals, nuts, pretzels, and bagel chips in a large bowl. Then, melt the butter in a small bowl and stir in the Worcestershire sauce, seasoned salt, garlic powder, and onion powder.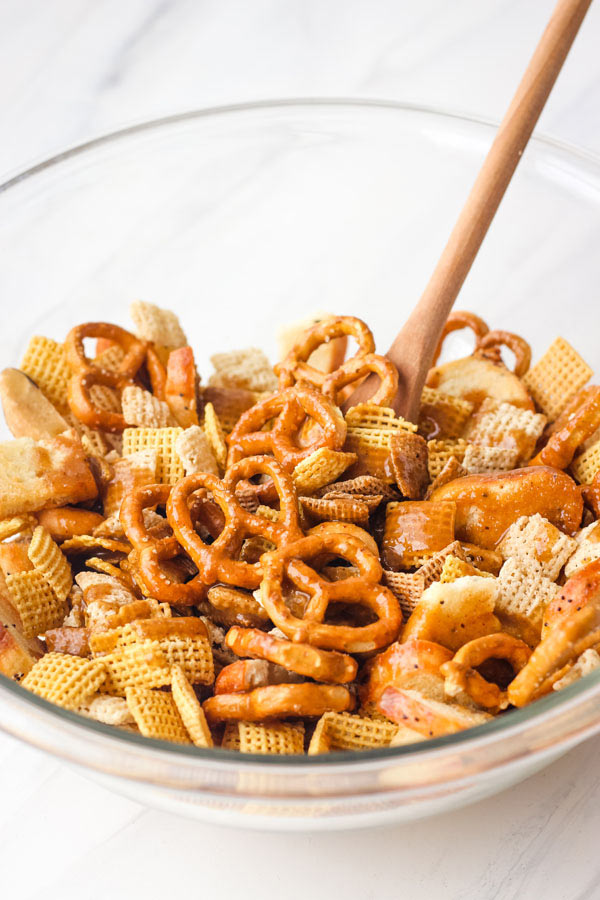 2. Pour the butter mixture over the snack mix and stir gently but well. Like really well. Spend at least a minute making sure all of the pieces get coated.
3. Next, add the mix to an ungreased pan. I used an old mini roasting pan we got from IKEA but you can use an 11×7 pan. A larger toaster oven sheet pan will also work but I find it's really hard to stir the mix without getting it everywhere.
4. Bake the mix in a preheated 250°F toaster oven for 1 hour. You'll need to stir the pan about every 15 minutes while it cooks.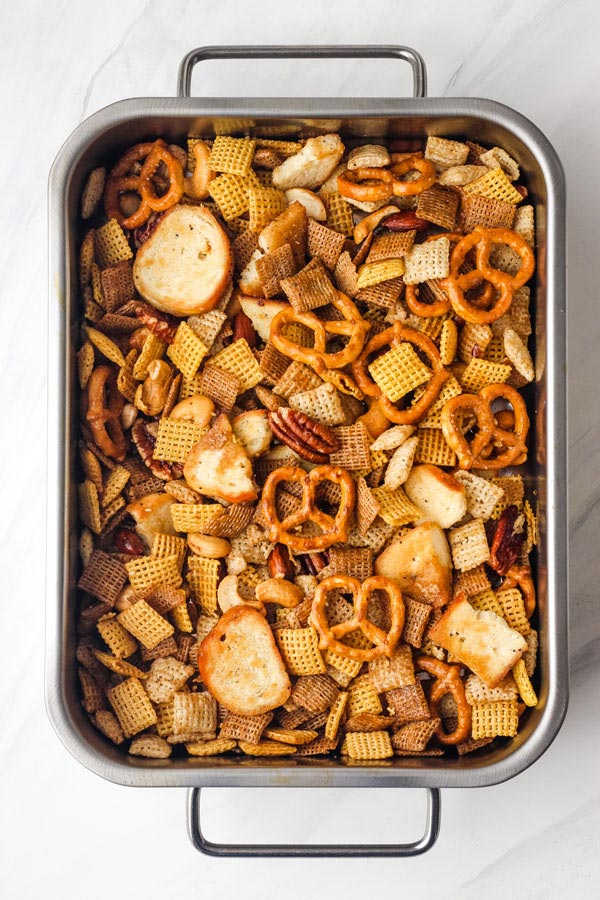 Don't try to rush things. Like making toaster oven kale chips, the low and slow cooking is essential for drying out the mix and crisping up everything. Set a timer and pop on a movie or wrap a few presents. The time will pass quicker than you think!
5. Once the mix looks dry (especially the pretzels, cereal, and bagel chips) it's ready. Remove the pan from the toaster oven and spread the snack mix onto a layer of paper towels to cool for about 15 to 20 minutes.
At this point, you may need to leave the room. I always have trouble resisting the urge to snack on the warm pieces!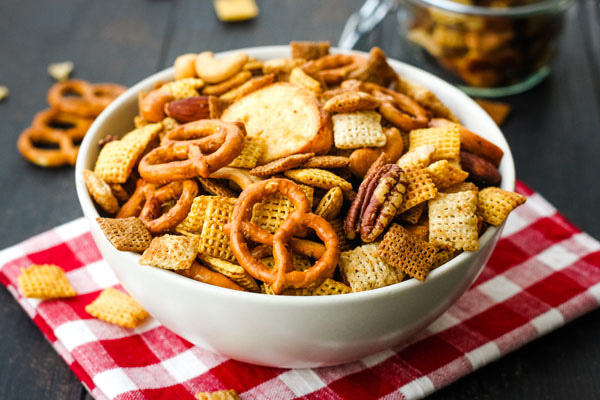 More Yummy Snack Recipes
Small Batch Chex Mix
Yield:
4 1/2 cups Snack Mix
Total Time:
1 hour
30 minutes
The delicious flavors of your favorite snack mix in a small batch recipe you can make in the toaster oven!
Ingredients
1 cup Corn Chex Cereal
1 cup Rice Chex Cereal
1 cup Wheat Chex Cereal
1/2 cup Mixed Nuts
1/2 cup Mini Pretzels
2 tablespoons Butter, melted (dairy-free stick butter will also work)
2-3 teaspoons Worcestershire Sauce, (we used a vegan version)
1/2-3/4 teaspoon Season Salt
1/4 teaspoon Garlic Powder
1/8-1/4 teaspoon Onion Powder
Instructions
Adjust the cooking rack to the lowest placement and preheat toaster oven to 250°F on the BAKE setting.
In a large bowl, combine the cereals, mixed nuts, pretzels, and bagel chips.
Add butter to a small microwave-safe bowl, and microwave until melted about 20 seconds. Stir in the Worcestershire sauce, seasoned salt, garlic powder, and onion powder.
Pour butter mixture over cereal and stir well to coat all of the pieces.
Pour mix into a small roasting pan or rimmed sheet pan.
Bake for 1 hour, stirring every 15 minutes during cooking.
Spread mix onto paper towels or parchment paper and cool completely (about 15 to 20 minutes) before storing it in an airtight container.
Notes
For a milder snack mix use the smaller seasoning and spice measurements.
To make this recipe in a traditional oven: Position rack in the center of the oven, then follow directions above for temperature and cooking time.
The number of servings will depend on the ingredient amounts used. As written, the recipe makes about 4½ cups or 9 ounces of snack mix.
Nutrition Information:
Yield:

9
Serving Size:

1/2 cup
Amount Per Serving:
Calories:

140
Total Fat:

7.4g
Saturated Fat:

2.2g
Cholesterol:

7mg
Sodium:

257mg
Carbohydrates:

16.6g
Fiber:

1.8g
Sugar:

2.1g
Protein:

3.1g