No-Stir Toaster Oven Granola. Save some money and make this chunky granola in your toaster oven.  Refined sugar-free and filled with rolled oats, chopped pecans, pumpkin seeds, flaked coconut and dried cranberries!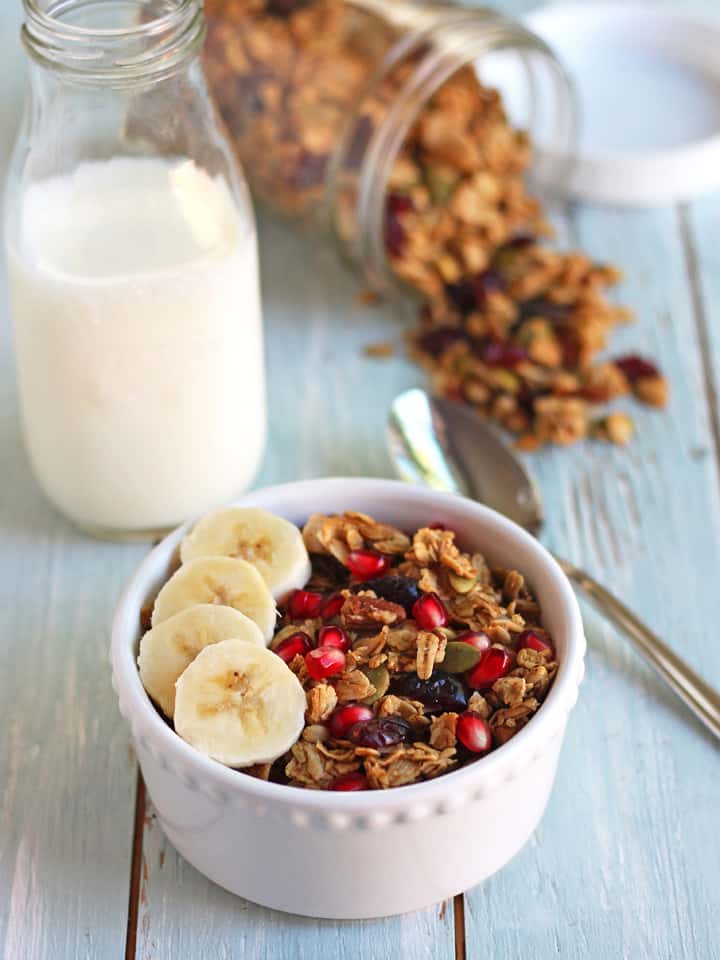 (this post contains affiliate links)
Do you like your granola lightly sweetened with a blend of clusters and flakes?  Then you will love this recipe and best of all like the name says there's no hanging around the kitchen stirring this No-Stir Toaster Oven Granola.

I've mentioned before our love of both eating and talking about food but big surprise we're also huge fans of watching people cook food.  One of our favorite shows is America's Test Kitchen or ATK.
In less than 30 minutes you get the occasional kitchen tool review, learn about the science of cooking/baking and watch the curmudgeonly yet likeable host Christopher Kimball taste test products trying to pick out the audience's top choice.

Recently we watched an episode from Season 14 on Amazon (another reason we love Amazon Prime) where they made Granola.  As a chronic snacker Tim gets on kicks where he's a wee-bit obsessed with having a particular snack on hand.  Previously it's been graham crackers, edamame and most recently granola.
Given the title of the post you already know where this is headed…he immediately decided we needed to make their granola.  Since we already owned America's Test Kitchen The Complete Cooking For Two Cookbook I skimmed it to see if they had included a small batch recipe for the one we had seen.  Of course they did!

It comes together in less than 10 minutes and cooks in about 30 minutes all with no stirring.  The only drawback is waiting an hour for it to cool before breaking it into big and little clusters, stirring in the dried fruit and tossing everything into a well-sealed jar.
If you don't mind stirring the granola every so often check out our Small Batch Almond Granola.  It's a simpler, quicker granola that's perfect for making a few Coffee Greek Yogurt Parfaits with!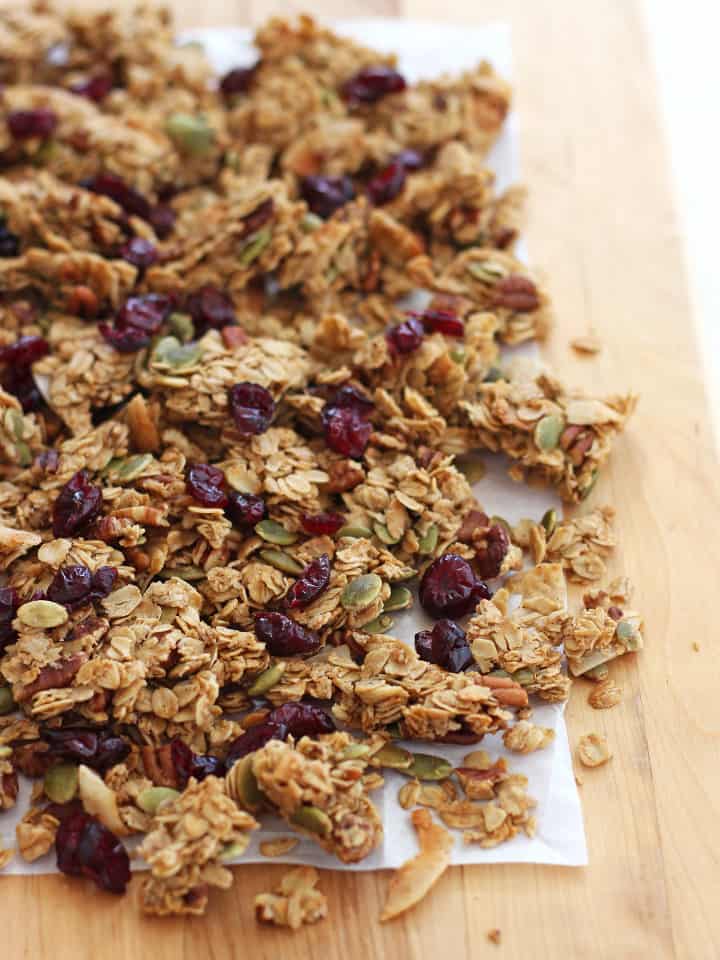 Like these Blackberry Cupcake Muffins adapted from another ATK recipe we made an effort to use less sugar.  We always try to start with the amount in the recipe and then see how low we can go before the sugar is missed.  This technique worked great for our indulgent but not ridiculously sugary Toaster Oven Double Chocolate Cookies.
America's Test Kitchen promises the best tasting recipe – no caveats.
At Toaster Oven Love our goals are to bring you:
The best tasting recipe
With less sugar
That will easily fit in your toaster oven.
This recipe is all of those things + it's super yummy.

I used the cake pan that came with our Chicago Metallic Toaster Oven Bake Set (you can read my full review on our Toaster Oven Essentials page) and it was the perfect size.
You'll need to line your pan with parchment for this recipe.  You will see parchment used in the photos, we no longer use parchment in our toaster oven as it can be a potential fire hazard.  If you want to line your pan with parchment instead of oiling it check your parchment paper box to see if it is safe to use in your toaster oven.  If it is not, use a lightly greased pan instead.
We hope you enjoy this slightly healthier recipe for No-Stir Toaster Oven Granola!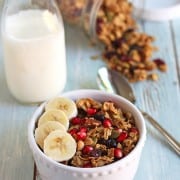 No-Stir Toaster Oven Granola
A chunky toaster oven granola made with maple syrup and filled with rolled oats, chopped pecans, pumpkin seeds, flaked coconut and dried cranberries!
Ingredients
1/4

cup

melted coconut oil

(measured into a glass 1 cup measuring cup)

2

tablespoons

Grade A dark amber maple syrup

1

tablespoon

coconut sugar

(sub light brown sugar)

2

teaspoons

real vanilla extract

1/4

teaspoon

fine grain sea salt

1/2

teaspoon

ground cinnamon

2

cups

old fashioned rolled oats

1/2

cup

unsweetened coconut chips/large flake coconut

1/3

cup

raw pepitas

(pumpkin seeds)

1/2

cup

raw pecan pieces

(you want pieces to be about 1/2 inch)

1/3

cup

dried cranberries

(or more if desired)
Instructions
Preheat toaster oven to 325 F. Lightly grease the the bottom and sides of an 11 x 7 pan with coconut oil.

In the glass measuring cup with coconut oil whisk together oil, maple syrup, coconut sugar, vanilla, salt and cinnamon. Whisk well until the oil is no longer separate and you have a cohesive syrupy mixture.

In a large bowl combine the oats, coconut, pepitas and pecan pieces stirring well to combine.

Pour maple mixture over oats and nuts, stir well to combine making sure all of the oats/seeds/nuts are coated. Pour mixture into the prepared pan. Using a spatula or heavy measuring cup press the mixture into an even layer making sure it's well compacted.

Bake granola at 325 F for 25 to 30 minutes, turning halfway through cook time until the granola is golden brown all over.

Allow granola to cool in the pan for at least 1 hour. Once cooled remove the granola and break into clusters and flakes, stir in dried cranberries.

Store granola in a well-sealed glass jar for 7 to 10 days.
Recipe Notes
If your toaster oven or oven runs hot start checking the granola for doneness around 23 minutes.

Cook time includes 1 hour cooling time.
Recipe makes 16 ounces (about 4 cups), Nutritional Information is an estimate for 2 ounces (about 1/2 cup).