Quite possibly the tastiest way to eat your veggies, these mini zucchini pizza bites are cheesy, fun, and delicious. Using your toaster oven, the easy single-serving recipe takes less than 15 minutes!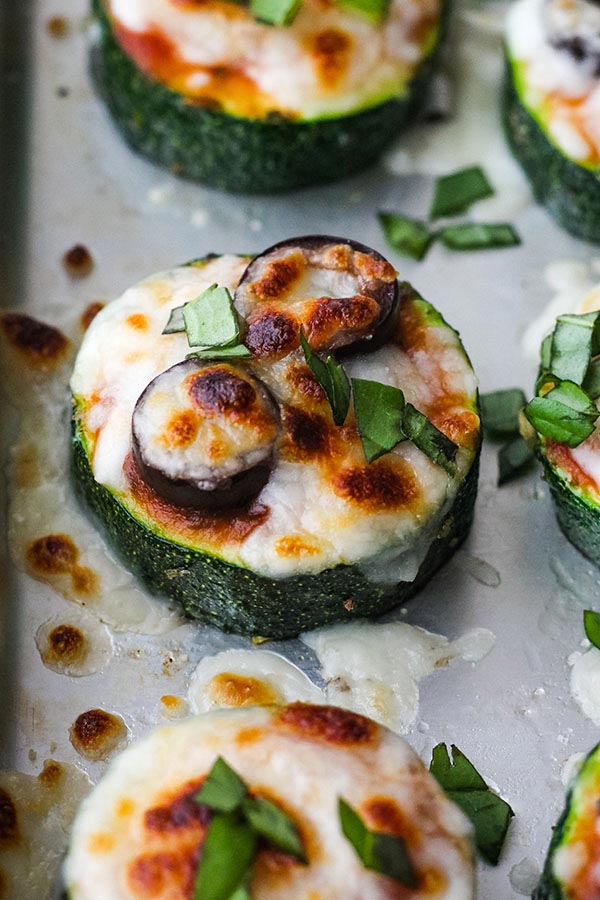 The easiest way to make any vegetable more desirable is to top it with sauce and melty cheese. Don't believe me? Check out our Veggie Pizza Spaghetti Squash Boats or these Addictive Roasted Sweet Potato Rounds (scroll past the recipe card for the pizza version).
And these Zucchini Pizza Bites are no exception! They're loaded with savory flavor and take just a few minutes to throw together.
Broiling the zucchini (instead of baking it) results in golden crisp-tender slices that are firm enough to load up with all of your favorite toppings. For most recipes that require broiling, we like to use our toaster oven. It takes just a few minutes, doesn't heat up the whole house, and it keeps me from having to get on the floor to access our big oven's broiler (yay!).
If you want to make a large batch of zucchini bites to feed more people, no worries. This recipe can easily be scaled up and works just fine in a standard oven.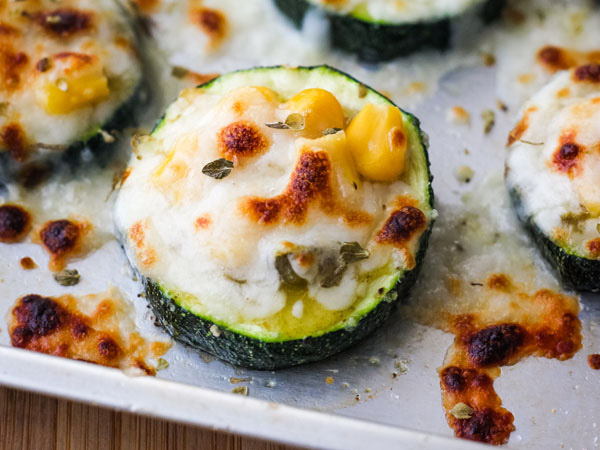 3 Quick Tips
1. As toaster ovens vary greatly, make sure to refer to your manufacturer's manual for instructions on how to use the broiler on your little oven. Some ovens require preheating while others do not.
2. We like our zucchini to be crisp-tender, meaning it still has a little bite to it and isn't soggy. If you prefer your zucchini softer, broil the second side for a few minutes before adding the toppings.
3. For pizzas with a little southwestern flair use a tomatillo salsa or salsa verde (instead of pizza sauce) and top with corn, jack cheese, and a sprinkle of dried oregano. Buffalo sauce and pesto make great pizza-sauce alternatives too!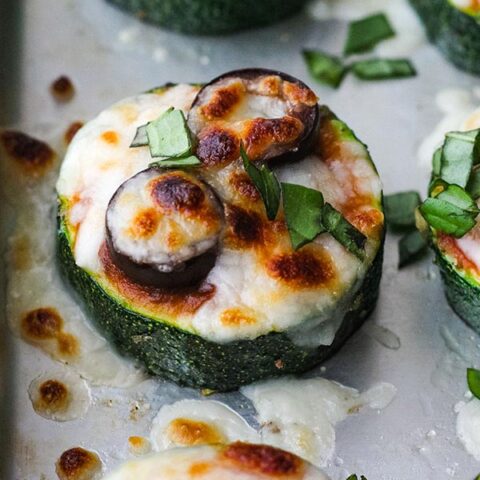 Zucchini Pizza Bites
These little veggie bites are cheesy, delicious, and ready in less than 15 minutes. Feel free to get creative and try them with a variety of different toppings. From salsa and corn to BBQ sauce and pineapple, use whatever toppings you like! 
Ingredients
1 small zucchini (about 5 to 6 inches long)
1/2 teaspoon Grapeseed Oil or Avocado Oil
Salt and Pepper, to taste
1/4 teaspoon Italian Seasoning, optional
1 tablespoon Pizza Sauce
4 tablespoons Shredded Mozzarella Cheese, use more or less as desired
Optional Garnishes: Dried Oregano, Red Pepper Flakes, Chopped Fresh Basil, Grated Parmesan Cheese
Instructions
Adjust your toaster oven's cooking rack to the top position (see note re preheating).
Slice the zucchini into ½-inch thick rounds.
Add zucchini to a small bowl and toss with oil, salt, pepper, and Italian seasoning if using.
Arrange slices in a single layer on an ungreased roasting pan.
Broil zucchini (on HIGH) until the zucchini is slightly tender with a few browned spots, about 3 to 5 minutes.
Using oven mitts, carefully remove the pan. Place on a heat-safe surface and flip the zucchini slices.
Top each slice with pizza sauce, then sprinkle with cheese.
Return the pan to the oven and broil until the zucchini is tender and the cheese is melted and bubbly about 2 to 3 minutes more.
Allow pizza bites to cool for a few minutes before sprinkling with fresh basil and digging in!
Notes
Preheating: Check your toaster oven's manual for specific directions on using the broiler. Some ovens require preheating while others do not.
Troubleshooting: If you find your zucchini is cooking too fast, reduce the cooking time or try broiling with the low setting or adjust your oven's cooking rack to the middle or bottom placement.
To Make Salsa Pizza Bites: Substitute 1 tablespoon of salsa verde for the pizza sauce. Omit the Italian seasoning and top with canned corn kernels, dried oregano, and jack cheese.
Reheating: The bites taste best when fresh but leftovers can be refrigerated in a covered container for 1 to 2 days. To reheat them we usually place the bites on an ungreased baking sheet, add them to our toaster oven and set it to 400°F with convection or 425°F without, and cook for about 5 to 6 minutes. The oven doesn't have to be hot first, it will gently warm the bites as it heats up.
Nutrition Information:
Yield:

1
Serving Size:

12 Pizza Bites
Amount Per Serving:
Calories:

131
Total Fat:

7.9g
Saturated Fat:

3.9g
Cholesterol:

16mg
Sodium:

250mg
Carbohydrates:

7.8g
Fiber:

1.8g
Sugar:

2.6g
Protein:

8.7g
How to Make Zucchini Pizza Bites in The Toaster Oven
To make the mini pizzas, start by slicing a small zucchini (about 5 or 6 inches long) into ½-inch thick rounds. You can slice them thinner if you want but I've found this thickness makes for a sturdy pizza base and helps to keep the zucchini from overcooking.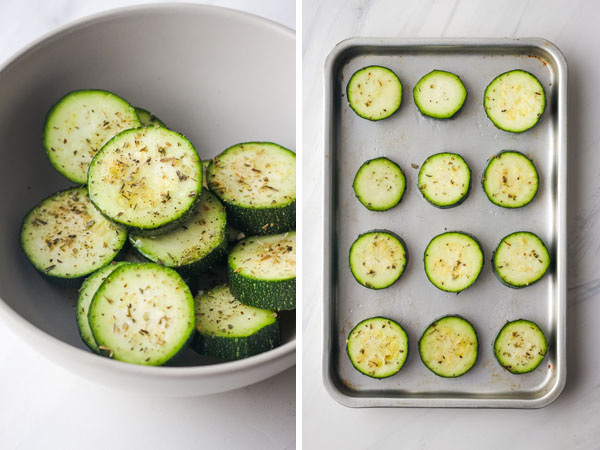 Next, toss the slices with oil, salt, and black pepper. I also like to throw on a little Italian Seasoning or dried oregano too.
Arrange the slices in a single layer on your toaster oven's sheet pan. Broil on high just until the zucchini is starting to soften and has a few brown spots, about 3 to 5 minutes. *The total time will depend on your specific toaster oven so begin checking after 3 minutes, and add more time as needed.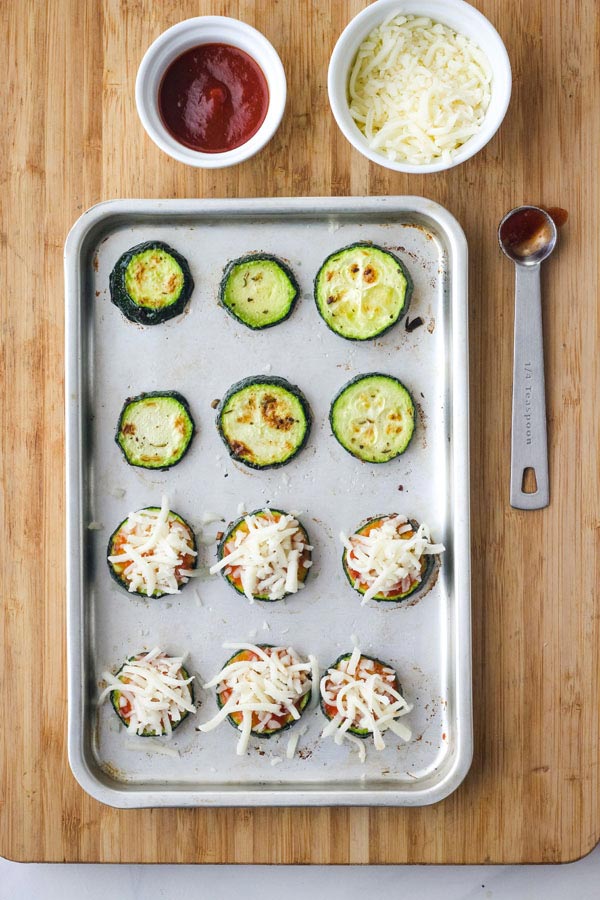 The pan is going to be wicked hot so put on a pair of oven mitts before carefully removing the warm pan. Then set it on a wooden cutting board or another heat-safe surface.
Use a fork to flip the slices over and top each one with 1/4 teaspoon of pizza sauce. I like to use the back of the teaspoon to spread the sauce around the zucchini.
Next, pile about a teaspoon of cheese onto each slice. Use more or less cheese depending on your preference. This is also the time to add any extra toppings if you want. Things like olives slices, veggie pepperoni, or chopped bell pepper.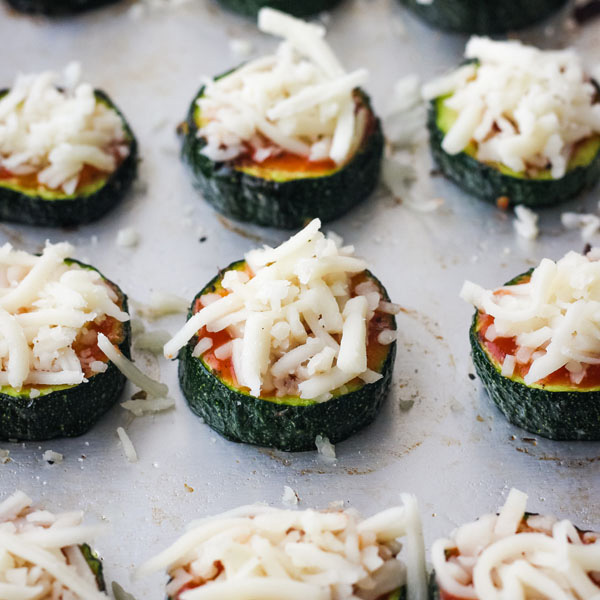 Once you've got your veggie bites sauced and topped return the pan to the toaster oven and broil until the cheese is melted, bubbly, and browned, about 2 minutes more. Again, the time will vary depending on your toaster oven. So make sure to check early and often so they don't get burned.
Carefully remove the hot pan and let the bites cool for a few minutes. We like to top ours with fresh basil and sometimes a sprinkle of red pepper flakes or a few shakes of grated parmesan cheese before digging in.