These Triple Ginger Cookies are crispy, chewy, and absolutely irresistible! Go ahead and indulge, the recipe makes only six cookies – so no leftovers.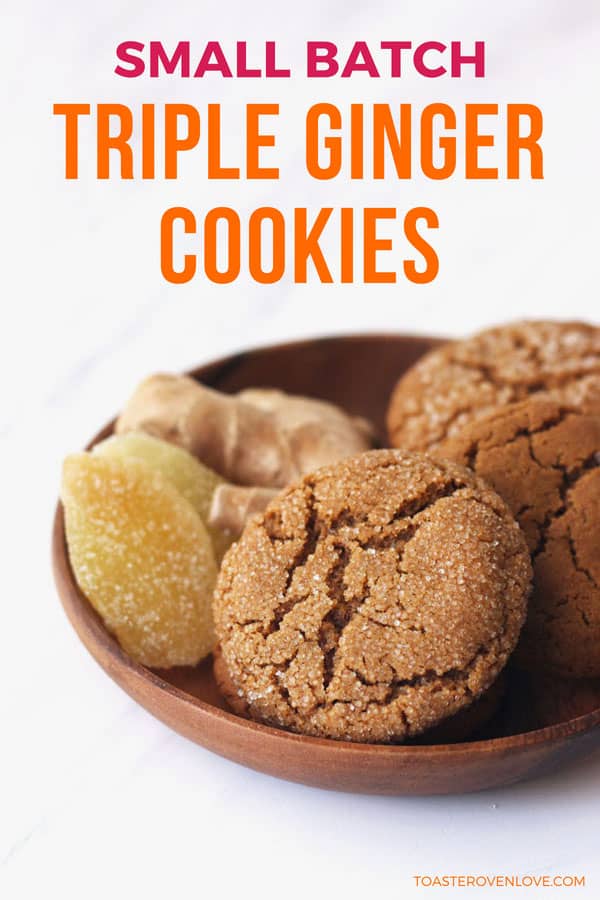 Around here we love a good ginger cookie. But making a homemade batch usually means lots of leftovers for our 2-person household.
So I was thrilled when a reader (Hi, Cheryl!) requested a small batch version and immediately got to work resizing my favorite Joy of Cooking recipe.
Our little downsized recipe makes just six triple ginger cookies. They have soft and chewy middles with crispy edges. But the real superstar is the three types of ginger: ground, fresh, and crystallized.
Each cookie is packed with so much warm and spicy flavor it will stay with you long after the last bite!
Ingredient Notes
1 Tablespoon Beaten Egg: Please don't add a whole egg, it will not be pretty. If you're looking for ways to use up the leftover egg try these toaster oven chocolate chip cookies or cake mix mini cakes.
Fresh Ginger: Peeled and finely grated using a citrus zester or the smallest holes on a box grater.
Crystallized Ginger (aka candied ginger): Chopping it into tiny pieces helps to spread out that unique in-your-face spicy flavor. When shopping, check your grocery store's bulk bins. The ginger is usually a better price and you can buy just what you need.
Step-By-Step Instructions
1. Start by adjusting your oven's cooking rack to the middle position and preheating it to 350°F. Since we're baking just a few cookies, I like to use our toaster oven. Then, grab a quarter sheet pan and lightly grease it or line it with a silicone baking mat.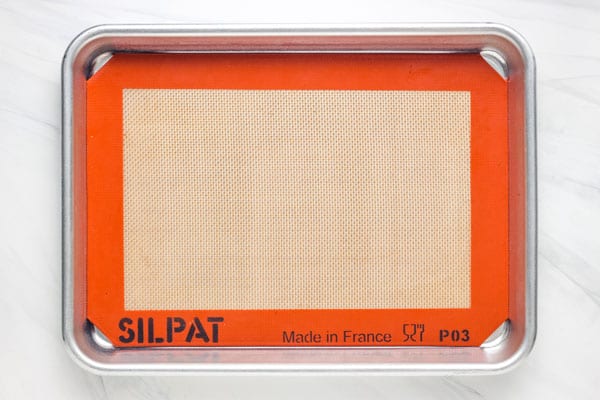 2. To make sure the spices get evenly distributed through each cookie, add the flour, baking powder, baking soda, ground ginger, cinnamon, and salt to a small bowl and whisk it together. Then set the bowl aside for a minute.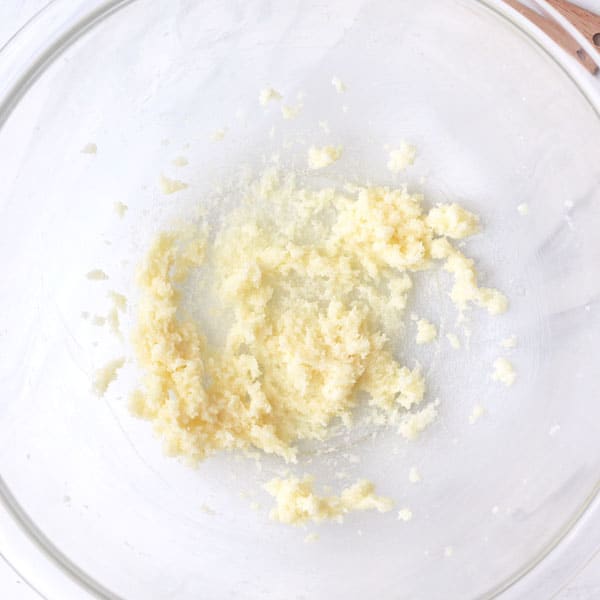 3. Next, beat the butter and sugar until light and fluffy (about 1 to 2 minutes). You can do this with a mixer but I usually just use a fork.
4. Stir in the tablespoon of egg, the molasses, and the grated ginger. Lastly, add in the flour mixture and candied ginger and mix until a soft dough forms.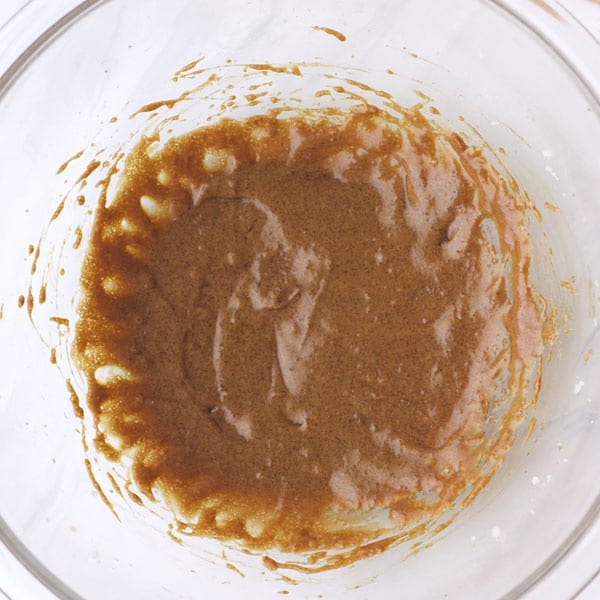 5. At this point the dough will be pretty soft but using damp hands you should be able to roll it into 6 equal balls. *If the dough is too sticky to roll, pop it in the fridge for 10 minutes and then try again.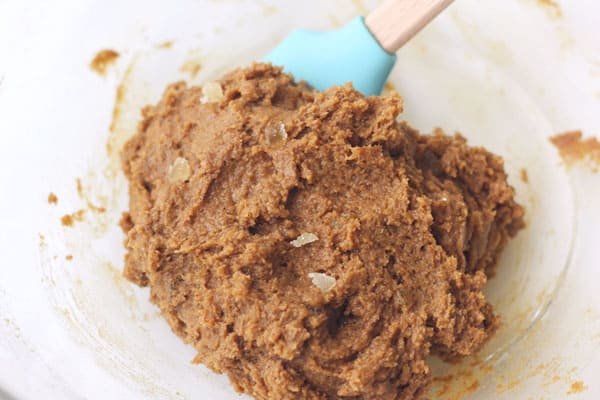 For a premium bakery-style cookie experience you can roll the dough balls in sugar before baking. Though my sister (a fellow ginger fanatic) actually liked the ones without sugar better so maybe try it both ways.
5. Place the cookie balls about 2-inches apart on the prepared pan. You want to give them some space because they will spread during baking.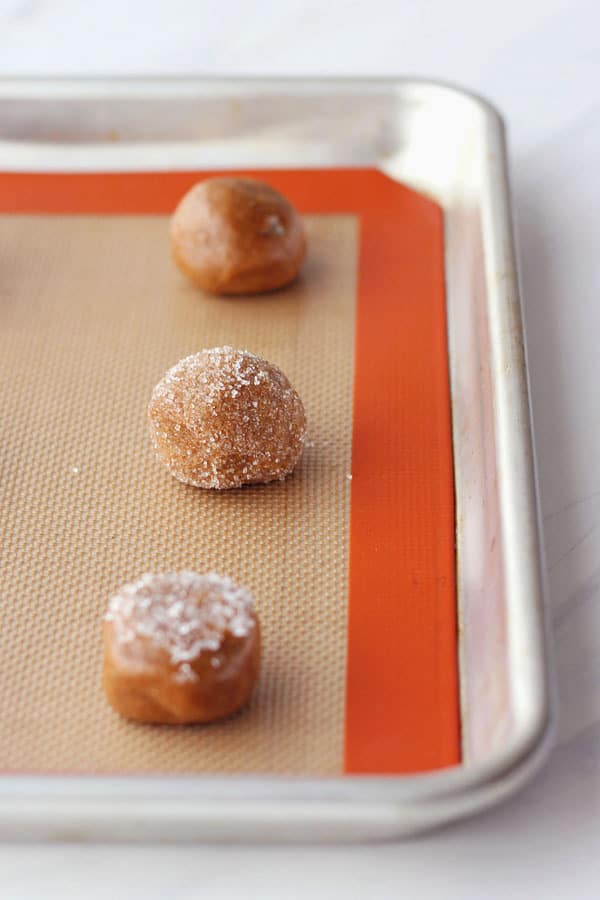 6. Bake the cookies for 8 to 10 minutes. You're looking for firm edges but for the middles to be slightly underdone.
7. The kitchen is going to smell pretty fantastic at this point but before you gobble up your cookies you need to let them cool. Leave them on the pan for a few minutes, then use a cookie spatula to transfer the cookies to a wire rack to cool completely before devouring.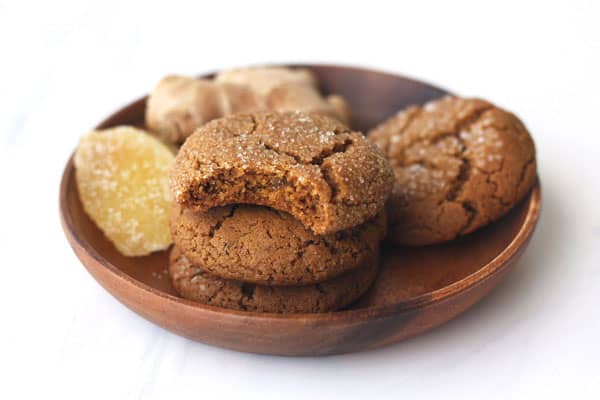 Recipe FAQs
Can the cookies be made without the egg?
Sure! You can substitute a small flax egg:
Combine 1 teaspoon of flax meal and 1 tablespoon of water.
Stir well and let the mixture sit for 5 minutes to thicken.
Give it a stir and add to the recipe where the egg is called for.
The cookies we baked with the flax egg were more delicate right out of the oven. To keep them from breaking, we let the cookies cool on the pan for 10 minutes before moving them to the cooling rack. 
Why are my cookies turning out flat?
This is usually because the butter was too soft. I made the cookies pictured above on a warm day and the dough was super sticky.
Once I popped the pan into the oven, the butter melted quickly and caused the cookies to spread out flat. They still tasted great but weren't as thick and chewy.
If your cookies are coming out flat, try chilling the dough for 10 to 15 minutes before rolling and baking.
I want to make a dozen cookies, can the recipe be doubled?
Yes, it can. We tried making a bigger batch doubling all of the ingredients. That dough was a little softer and needed to be refrigerated for about 10 minutes before baking. Otherwise, the cookies turned out the same.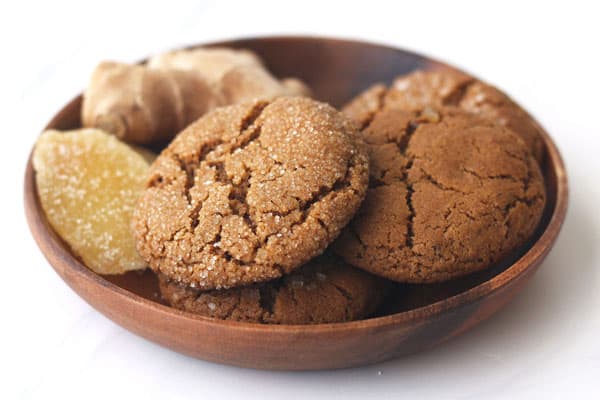 More Small Batch Baking Recipes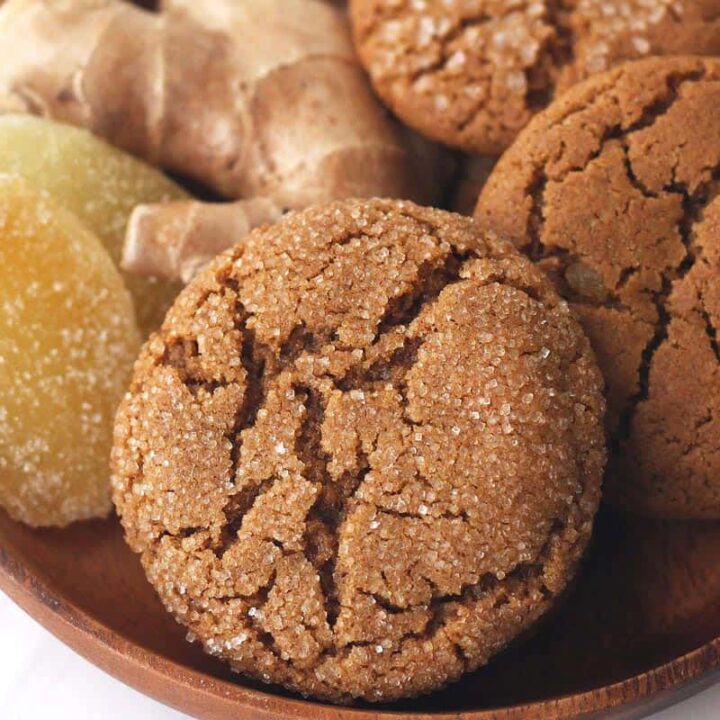 Small Batch Ginger Cookies
Don't skip the candied ginger, it gives these delightfully soft and chewy cookies a fun spicy kick.
Ingredients
¼ cup plus 2 tablespoons (47 grams) All Purpose Flour or White Whole Wheat Flour
½ teaspoon Ground Ginger
¼ teaspoon Ground Cinnamon
⅛ teaspoon Baking Powder
1/16 teaspoon Baking Soda (half of ⅛ teaspoon)
1/16 teaspoon Salt
1½ tablespoons (21 grams) Unsalted Butter, at room temperature
3 tablespoons (36 grams) Granulated Sugar
1 tablespoon (13 grams) Well-Beaten Egg, do not add the whole egg
1 tablespoon (15 grams) Dark Molasses, not blackstrap molasses
¼ teaspoon finely grated Fresh Ginger (from a ½-inch piece, peeled)
1 tablespoon finely chopped Crystalized Ginger
Instructions
Adjust the oven's cooking rack to the middle position and preheat to 350°F. If using a toaster oven, select the BAKE setting and use the center or bottom rack placement.
Lightly grease a quarter sheet pan or line with a silicone baking mat.
In a small bowl, whisk together the flour, baking powder, baking soda, ground ginger, cinnamon, and salt. Set aside.
In a medium bowl, beat together the butter and sugar until light and fluffy, about 1 to 2 minutes. Add the measured egg, molasses, and grated ginger and stir until smooth. Add in the dry ingredients and candied ginger and mix until a soft dough forms.
Divide dough into 6 equal portions and roll into balls. Place about 2-inches apart on the prepared pan.
Bake cookies until the edges are set and the tops are cracked about 8 to 10 minutes. For soft and chewy cookies, remove the pan from the oven while the middles are still slightly undercooked.
Cool cookies on the pan for a few minutes before transferring them to a wire rack to cool completely.
Notes
Convection Toaster Ovens: Reduce temperature to 325°F and bake cookies for 7 to 9 minutes.

To Measure The Egg: Crack an egg into a small bowl, beat with a fork just until blended about 30 seconds, and measure out 1 tablespoon of egg. Store any leftover egg refrigerated in a sealed container for up to 24 hours.

Recipe adapted from Joy of Cooking
Nutrition Information:
Yield:

6
Serving Size:

1 Cookie
Amount Per Serving:
Calories:

94
Total Fat:

3.2g
Saturated Fat:

1.9g
Cholesterol:

17mg
Sodium:

43mg
Carbohydrates:

15.7g
Fiber:

0.9g
Sugar:

8.8g
Protein:

1.4g