Chocolate Chip Pecan Oatmeal Cookies
Chocolate Chip Pecan Oatmeal Cookies, super satisfying toaster oven cookies made with whole grains, rich chocolate chips and toasted pecan pieces.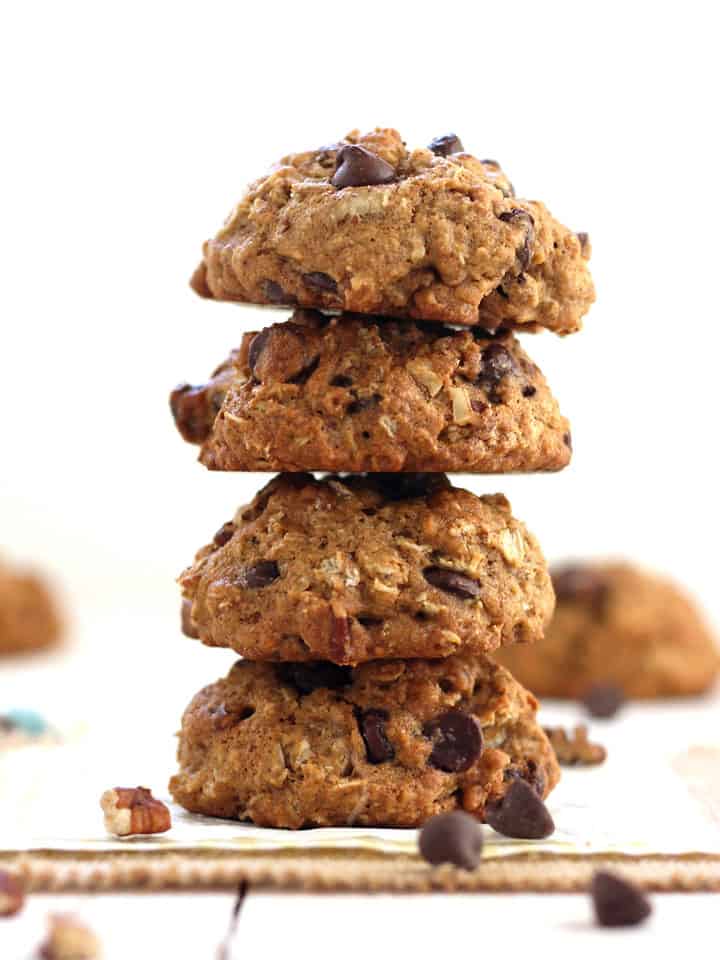 Hey guys, before we dive into a plate of these easy to customize and all kinds of yummy chocolate chip pecan oatmeal cookies we have a tiny favor to ask…
See last month our growing list of Toaster Oven Cookie Recipes became the most popular page on the website unseating the always reliable baked potato. Since we know you like cookies and one of us really likes eating batches of test cookies 🙂 we've decided to create a new toaster oven cookie recipe every month, Yay!
Toaster Oven Love already has recipes for splurge-worthy Double Chocolate Chip Cookies, lighter Cranberry Orange Oatmeal Cookies, and a few über-healthy fruit + oat "cookies" like these easy Banana Oat Cookies.
What we need to know is what other kinds of cookies do you want to bake in your toaster oven?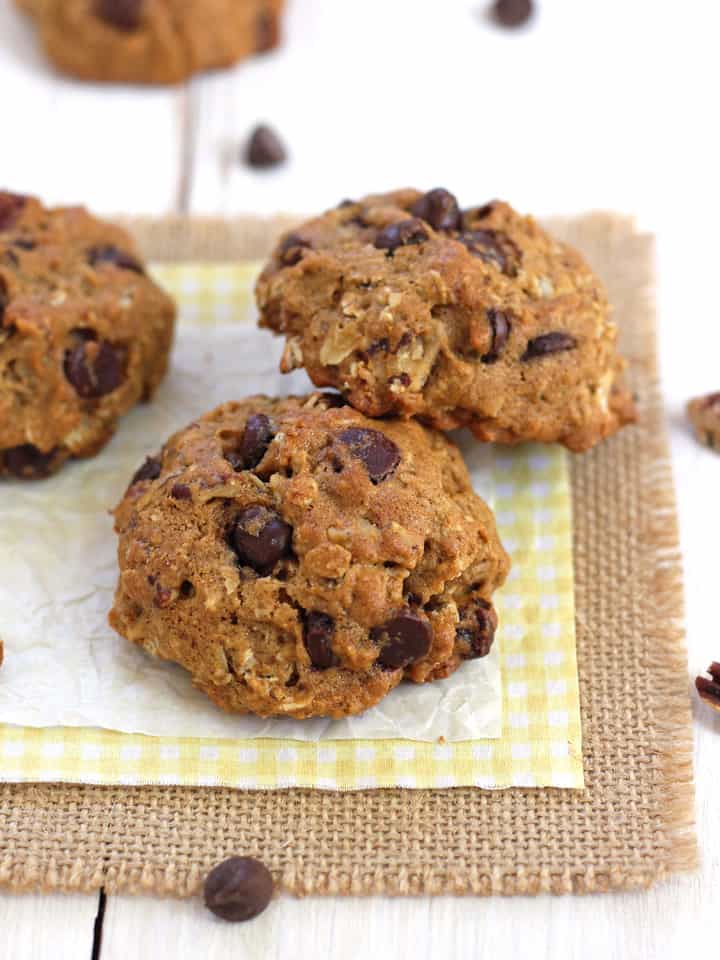 Our goal is for Toaster Oven Love to always have great recipes that fit your toaster oven cooking desires. So, we thought you could help us do that by picking next month's cookie recipe! This month's poll will close in two weeks on August 10th. The poll has officially closed! It was a close race but in the end Mini Lemon Lime Coconut Sugar Cookies came out on top capturing 42% of the vote.
Now about these deliciously crispy on the outside chewy on the inside addictive chocolate chip pecan cookies!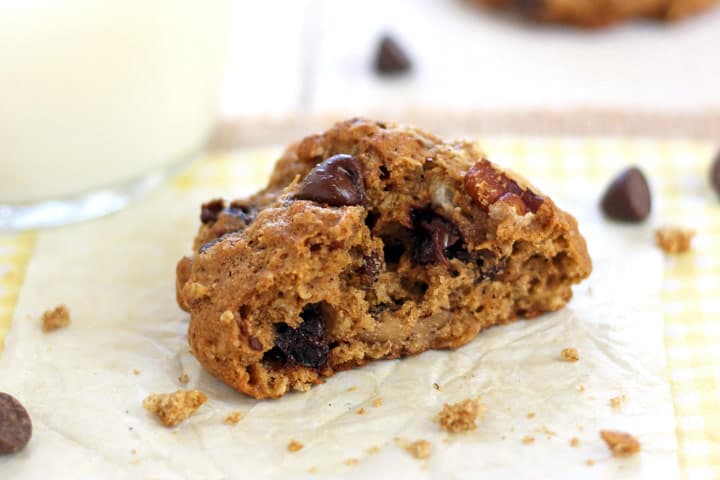 You are going to love how hearty these cookies are, each one is stuffed with:
chewy old-fashioned oats
melty chocolate chips
and buttery toasted pecans!
And you can easily substitute any of your favorite oatmeal cookie mix-in's like dried apricots (I tossed a few in the batch below), peanut butter chips, or chopped almonds.
In toaster oven terms they're on the larger side (about 2 tablespoons each). We used a medium ice cream scoop to portion them.
If your cookie sheet is a little hammered like ours you might want to treat yourself to a toaster oven-sized silicone baking mat.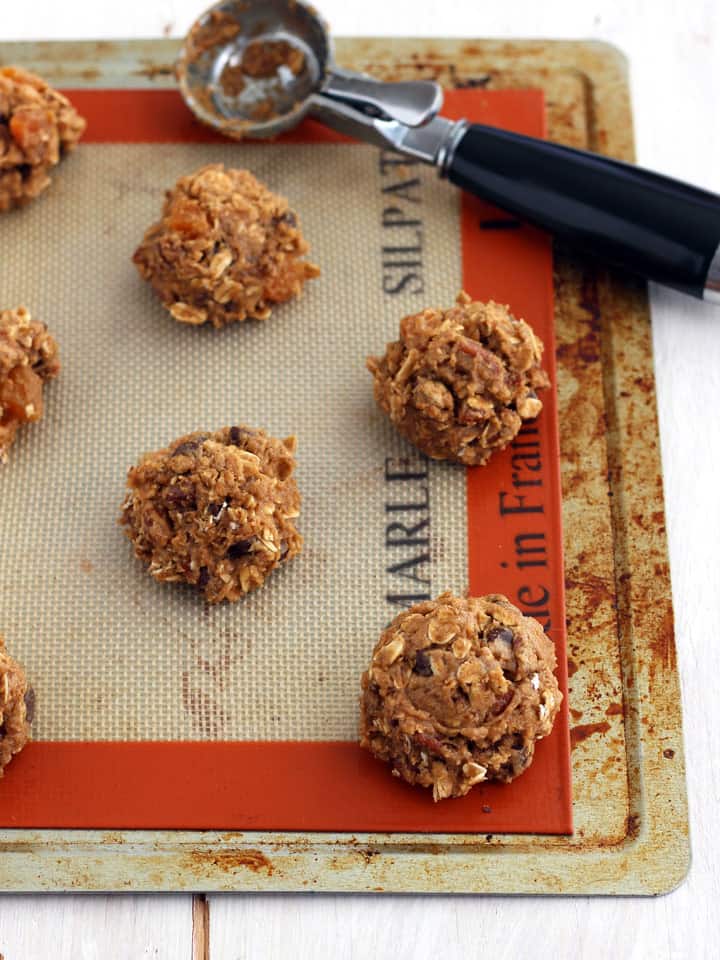 Two quick things…first the recipe calls for just half of a well-beaten large egg (1 tablespoon + 1 ½ teaspoons). What to do with the rest of the egg? You can store it in the fridge for up to 24 hours, throw it in a skillet with veggies for a quick snack or my favorite option make another batch of these yummy cookies.
The second snag is that the cookies taste best if the dough has been chilled for at least 30 minutes. But we want cookies now!
May I suggest a cookie compromise? Scoop and bake a single cookie while the remaining dough chills. That cookie will spread more and may not have the same awesome flavor as the chilled batch but it will absolutely satisfy your "Grrr…Argh..Must Have Cookies Now" craving 🙂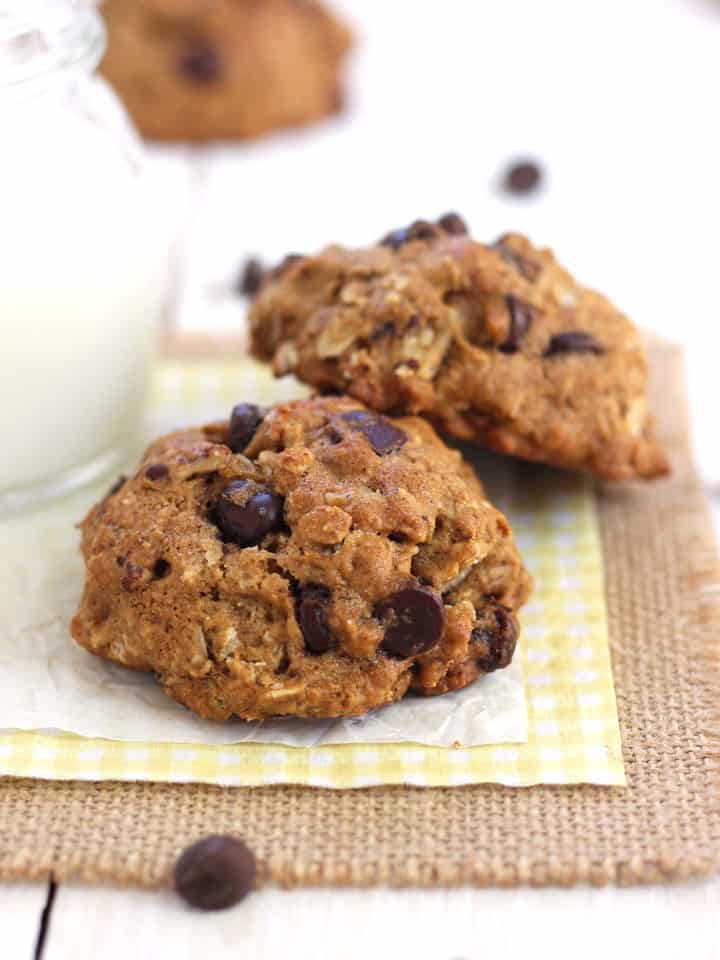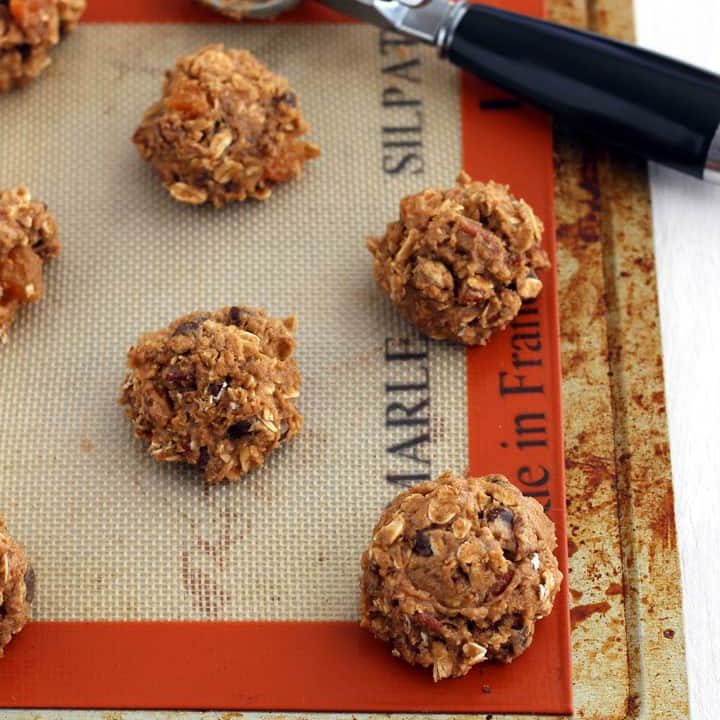 Chocolate Chip Pecan Oatmeal Cookies
Total Time:
1 hour
5 minutes
Super satisfying toaster oven cookies made with whole grains, semi-sweet chocolate chips and toasted pecans.
Ingredients
1/3 cup pecan pieces
2 tablespoons unsalted butter, , softened
1/4 cup + 1 tablespoon packed organic brown sugar
1 tablespoon and 1 ½ teaspoons well-beaten egg*
1/2 teaspoon pure vanilla extract
2 tablespoons unsweetened applesauce
1/2 cup white whole wheat flour, (or all-purpose)
3/4 teaspoon ground cinnamon
1/4 teaspoon baking soda
1/8 teaspoon baking powder
1/8 teaspoon salt
1/2 cup old fashioned rolled oats
1/3 cup semi-sweet chocolate chips
Instructions
Preheat your toaster oven to 350 F.
Spread pecan pieces on a cookie sheet and cook for 5 to 6 minutes until golden and fragrant. Set nuts aside to cool and turn off toaster oven.
In a medium bowl use a hand mixer to beat the butter and brown sugar until light and fluffy. Beat in egg, vanilla and apple sauce until combined. Sprinkle flour over mixture, then cinnamon, baking soda, baking powder and salt. On low speed beat just until combined. Stir in oats, chocolate chips and cooled pecan pieces.
Chill cookie dough in the refrigerator for at least 30 minutes.
When ready to bake, preheat the toaster oven to 375 F and line your cookie sheet with a silicone baking mat or lightly grease it. Drop dough into 9 mounds that are about 2 tablespoons each, at least 2 inches apart (the cookies will spread while baking) onto the prepared cookie sheet.
Bake for 13 to 15 minutes until lightly browned and golden. Let cool at least 5 minutes on the cookie sheet and then transfer to a baking rack to cool completely.
Notes
**To measure the egg, crack your large egg into a small bowl (use a bowl that has a lid for easily storing the leftover egg). Beat the egg with a fork or small whisk just until blended, about 20 to 30 seconds. Measure out the egg required for the recipe and store leftover egg in the fridge for up to 24 hours.
Prep Time includes 30 minutes of inactive time chilling the cookie dough.
Nutritional Information is an estimate for one cookie.
Nutrition Information:
Yield:

9
Serving Size:

1 Cookie
Amount Per Serving:
Calories:

144
Total Fat:

7.4g
Saturated Fat:

2.9g
Cholesterol:

17.3mg
Sodium:

82.5mg
Carbohydrates:

18.2g
Fiber:

1.8g
Sugar:

9.4g
Protein:

2.5g