Learn the secret for evenly baked cookies and how to keep from making the driest cake ever with these 7 Things You Should Know About Convection Toaster Ovens.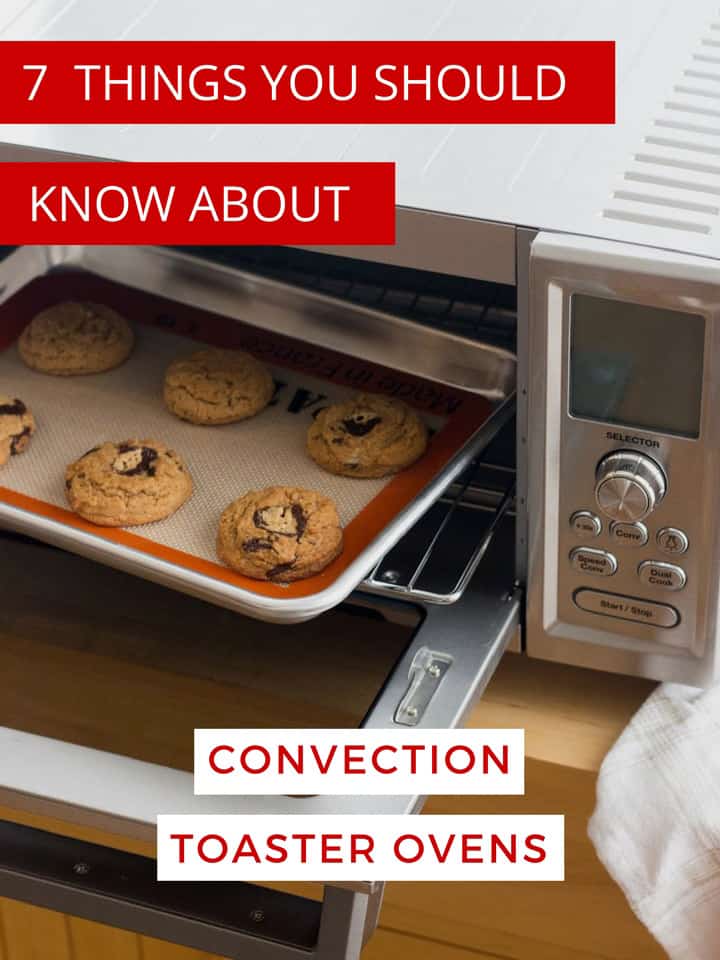 Blame our inner cookie monsters.
For years Tim and I have focused only on creating toaster oven recipes. But small-batch recipes are just part of toaster oven cooking.
Knowing how your toaster oven works is important too. And we want to help you understand all of the functions, settings and features packed into your little countertop oven.
Are you excited? Us too! But let's go easy, one step at a time. Beginning with "What the heck is convection cooking?"
1. It's A Fan Baby!
A convection toaster oven has a built-in fan circulating heated air around the inside of your toaster oven. The warm air is supposed to remove moisture, cook your food quicker and lead to more even browning.
2. Womp Womp…Not Every Toaster Oven Has Convection
If yours does it might have a separate function setting labeled "Convection" or "Turbo" like our old Oster toaster oven.
Others, like some KitchenAid toaster ovens activate the fan every time it's used and the fan cannot be turned off.
The Cuisinart Chef's Convection has a separate button you can press to start the fan (if you choose) for most of their cooking functions.  While the popular Breville Smart Oven Pro has an automatic convection feature on their Bake, Roast, Pizza, Cookie and Reheat functions that can be turned on and off with a button.
3. You Might Be Using It Wrong (We Were)
Are your toaster oven dishes missing a crispy on the outside-tender on the inside finish? If you switch to the convection setting and proceed with business as usual that might be the reason.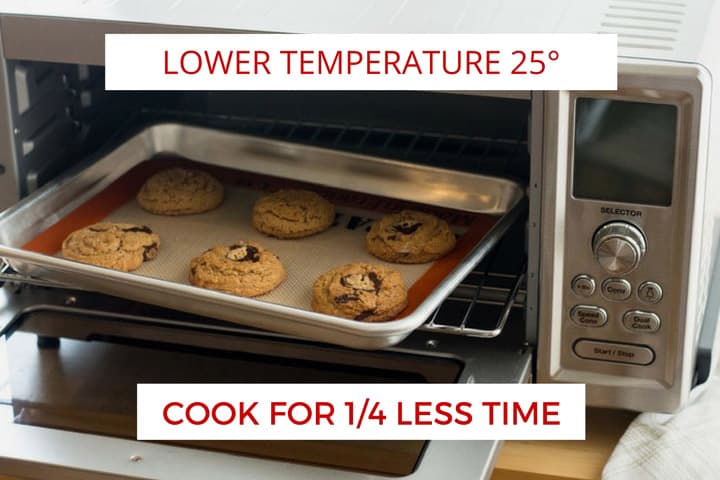 The directions for temperature and time conversions when using a convection toaster oven vary across brands.
But the majority suggest reducing your toaster oven's temperature by 25 degrees and begin checking for doneness 3/4 through the cook time called for in your recipe. Then adding time as needed.
More Isn't Always Better – Also, try not to overload your toaster oven with huge amounts of food. If there isn't space between your food and the top of the toaster oven the air can't do it's job and circulate.
4. Does It Really Work?
Using the "Lower Temperature 25° and Cook for 1/4 Less Time" directions we switched our toaster oven to Turbo/Convection and tried the top recommended uses.
Pastries: We baked half a batch of these Cookie Roll-Ups substituting peanut butter and a prepared pie crust from Trader Joe's. The result was browned, buttery, flaky tasty little bites of peanut buttery goodness.
Roasted Vegetables: These sriracha roasted red potatoes were The Best Tasting roasted potatoes to ever come out of our toaster oven. Crispy on the outside and ultra creamy on the inside.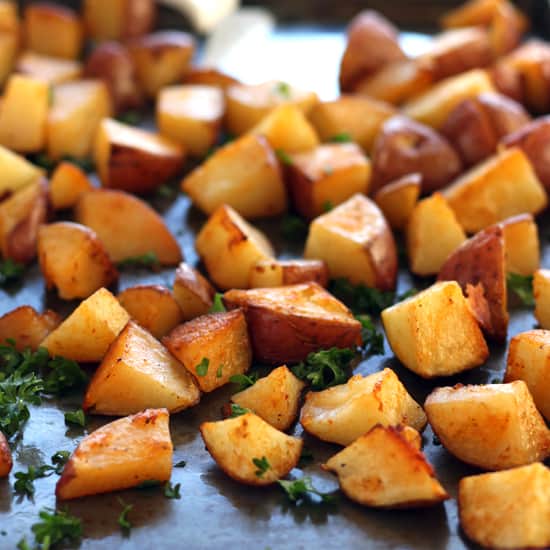 Frozen Pizza / Appetizers: After digging around our freezer I came up with a box of Spanakopita. They turned out golden browned and crispy with a warm (not-one-bit-still-frozen) spinach and cheese filling.
Cookies: Already a favorite, these Double Chocolate Chip Cookies tasted even better baked using the convection feature: slightly crispy on the outside, fudgy inside and evenly baked (no burnt bottoms).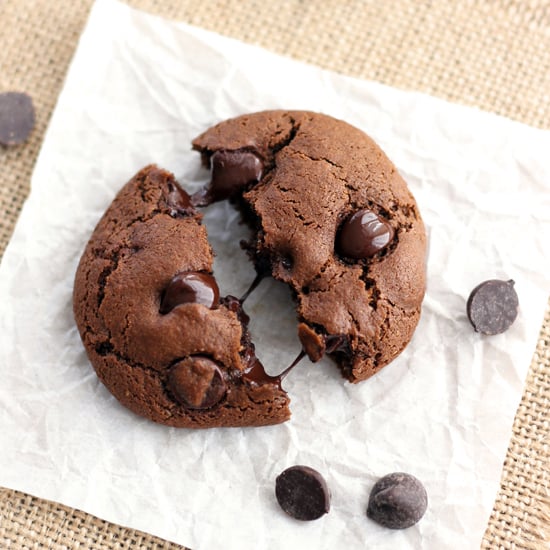 5. But Here's The Problem
There's no magical rule for all toaster ovens. Our testing went great but we did hit a few snags:
The Spanakopita Took Longer: With the reduced settings we had to increase the cook time. The added 10 minutes ended up being the same amount of time as the original directions.
Roasted Vegetables Took Longer: The batch made using the reduced settings took an additional 15 minutes (5 minutes more than the original recipe). For the second batch we used the original time and temperature and our convection cooked veggies came out perfect.
The "Lower Temperature 25° and Cook for 1/4 Less Time" is a good starting place.  But you'll still need to do some tasty experimenting to discover what works best for your little oven.
6. Warning: It's Not Right For Every Recipe
Because of its drying effect convection cooking is not recommended for baking muffins, cakes and moist quick breads like pumpkin or banana bread. Uncovered casseroles and smaller protein portions can get dried out too so watch them closely.
7. Seriously, Read The Manual
Yeah, we know some manuals are as helpful as the instructions for your NORDLI dresser from IKEA. But others are useful for figuring out the best way to use your convection toaster oven's features.
What if I Can't Find My Manual?
Google it! Most major manufacturers now offer appliance manuals for free on their company websites (even for older models). Search in Google for your toaster oven's manufacturer name and the model number. Example: Oster Toaster Oven Model TSSTTVCG02 Manual
Got Questions or A Tip To Share?
Do you use the convection feature in your toaster oven?  Will you help us out and share your tips in the comments below?