Small Batch Lemon Olive Oil Cupcakes
Lemon olive oil cupcakes are light, tender, simple to throw together (no mixer required!), and bake up in just 15 minutes. Are six cupcakes too much for your small household? Don't worry, the leftovers freeze great!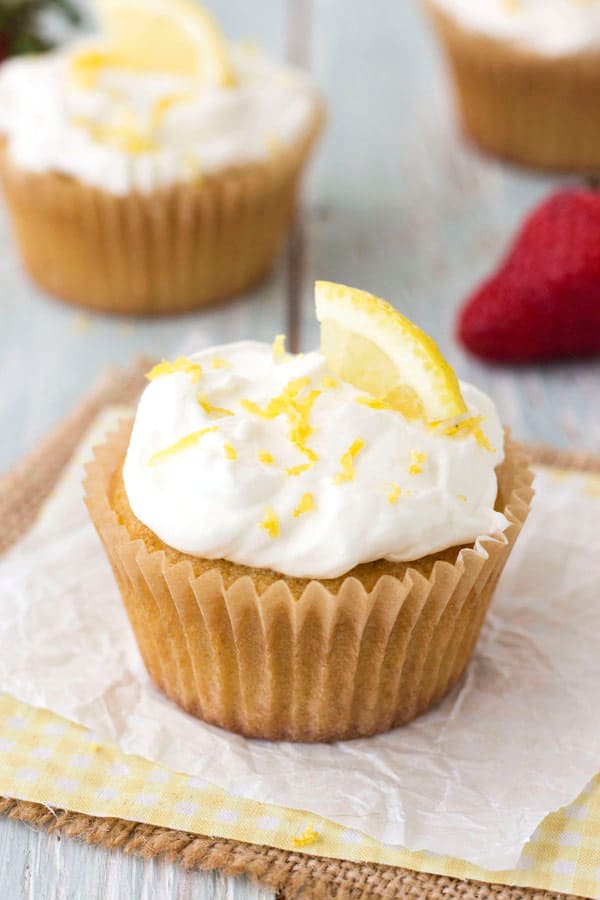 If you've got a small household you're going to love this easy lemon olive oil cupcakes recipe. It's the perfect size for just one or two people.
The recipe's adapted from my favorite Christmas gift, Mark Bittman's How To Bake Everything Cookbook. His original Olive Oil Cake recipe tastes fantastic.
But it makes 12 to 16 servings!
The responsibility to dispatch ALL of that cake before it goes stale is too much for the two of us.
Plus, I don't know about you but I can't trust myself with that many sweets in the house.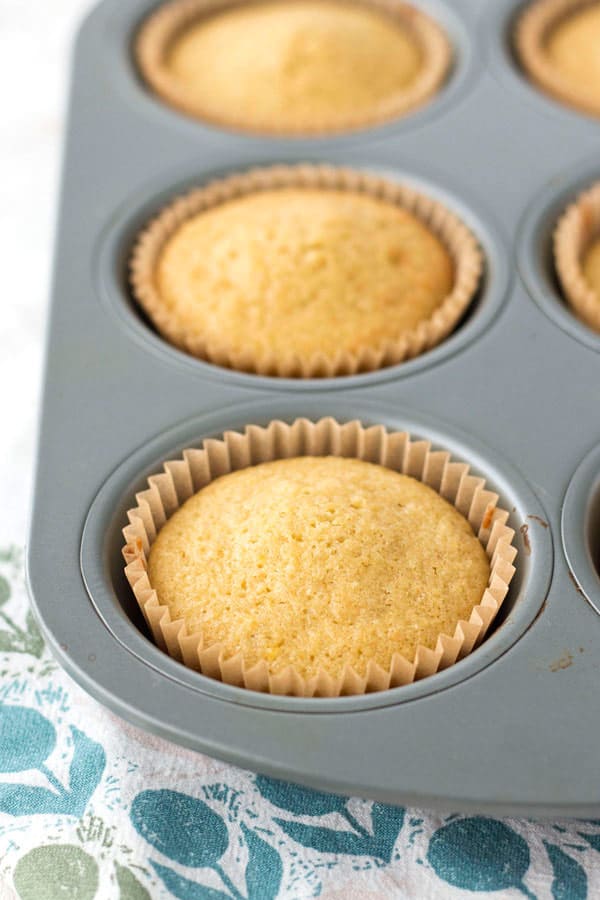 But just six light and tender, not-too-sweet cupcakes featuring the lovely combination of olive oil and lemon?
That's the right amount.
You can enjoy one or two today and then freeze the rest.
Simply wrap any leftover plain cupcakes individually in plastic wrap and toss in a freeze-style plastic bag. The bag will take up less space than your ice tray and you'll have a sweet treat ready when a craving strikes!
~ Keep scrolling for step by step photos & toaster oven baking tips after the recipe ~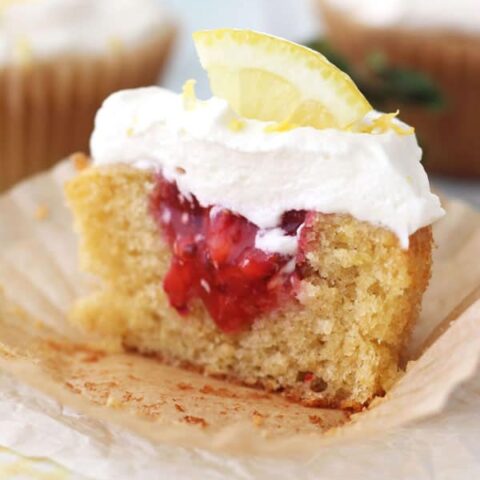 Small Batch Lemon Olive Oil Cupcakes
Perfect for small households, this recipe makes just 6 delicate and light cupcakes. Unfrosted leftovers will keep well in the freezer for up to 3 months.
Ingredients
For the Cupcakes:
1/2 cup White Whole Wheat Flour, or all-purpose flour
1/4 teaspoon Baking Powder
1/8 teaspoon Baking Soda
1/8 teaspoon Fine Sea Salt
1/4 cup Olive Oil
1/4 cup Granulated Sugar
1 large Egg
2 tablespoons Whole Milk
1/8 teaspoon Pure Vanilla Extract
1 1/2-2 teaspoons Lemon Zest, about 1 medium lemon
1 tablespoon Fresh Lemon Juice
For the Strawberry Filling:
1 tablespoon Low-Sugar Strawberry Preserves
1/4 cup Finely Chopped Strawberries, 2-3 large strawberries
For the Whipped Cream:
1/2 cup Heavy Whipping Cream, well chilled
1 teaspoon Honey
1/8 teaspoon Pure Vanilla Extract
Instructions
For the Cupcakes:
Adjust your toaster oven's baking rack to the bottom position and preheat to 350°F on the BAKE setting.
Line a 6-cup muffin tin with cupcakes liners or spray with oil.
Whisk together the flour, baking powder, baking soda and salt in a small bowl.
In a medium bowl whisk together the olive oil, sugar, egg, milk, vanilla, lemon zest, and juice until well combined.
Gently fold the flour mixture into the wet ingredients. Mix just until combined and no large lumps remain.
Divide the batter evenly among the prepared liners, filling each about 1/2 full.
Bake until a toothpick inserted in the center of a cupcake comes out clean or with a few small crumbs attached. About 13 to 15 minutes.
Transfer cupcakes to a wire rack and cool completely.
For the Filling:
Combine the preserves and chopped strawberries in a small bowl and lightly mash with a fork.
For The Whipped Cream:
In a medium bowl, whip the cream with a whisk or an electric hand-mixer until peaks begin to form.
Add the honey and vanilla and whip until stiff peaks form.
To Assemble Cupcakes:
Gently scoop out a little of the center of each cupcake using a melon baller or spoon.
Divide strawberry filling evenly among cupcakes.
Generously top with whipped cream and a sprinkle of fresh lemon zest if desired.
Notes
Convection Toaster Ovens, bake at 325°F for 11 to 14 minutes.
Nutrition Information:
Yield:

6
Serving Size:

1 Filled and Topped Cupcake
Amount Per Serving:
Calories:

175
Total Fat:

13.2g
Saturated Fat:

3.9g
Cholesterol:

45mg
Sodium:

84mg
Carbohydrates:

14.3g
Fiber:

0.6g
Sugar:

11.3g
Protein:

1.9g
Steps and Tips
This recipe uses simple ingredients with lots of room to customize and make these cupcakes your own. So have fun experimenting with different types of citrus like oranges, limes, grapefruit, or clementines.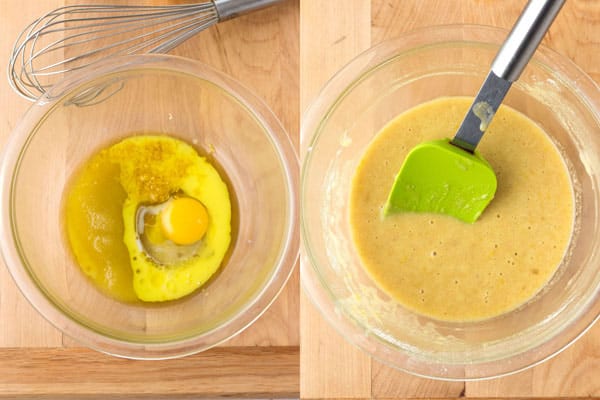 The batter couldn't be easier to throw together:
Whisk the dry ingredients.
Whisk the wet ingredients.
Fold them together and bake. Easy, peasy.
Two important things to note about the batter 1) it will be thinner and 2) it will have tiny lumps.
I'm notorious for over-mixing cake batter. The Virgo in me wants a perfectly smooth batter. All that mixing though leads to a tough cake with LOTS of large holes.
So just make sure there are no big lumps and then get that batter in your pan and quickly into the toaster oven.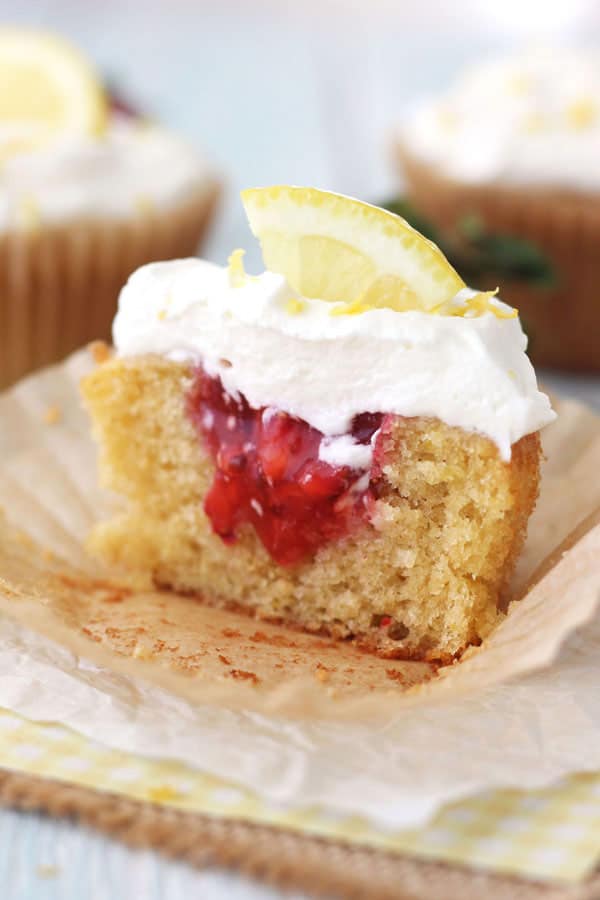 Once your baked cupcakes have cooled you can finish them off with a light glaze of lemon juice and honey, strawberries, and whipped cream or Tim's favorite a scoop of vanilla ice cream.
Give yourself permission to go a little overboard, after all, it's only one special cupcake.
Baking With Convection
Like all of our recipes, this one was originally written and developed using a conventional toaster oven but we've included directions for using a convection toaster oven too.
If you've never tried baking with your toaster oven's convection function check out this post for Everything You Need to Know About Convection Toaster Ovens and you'll be set.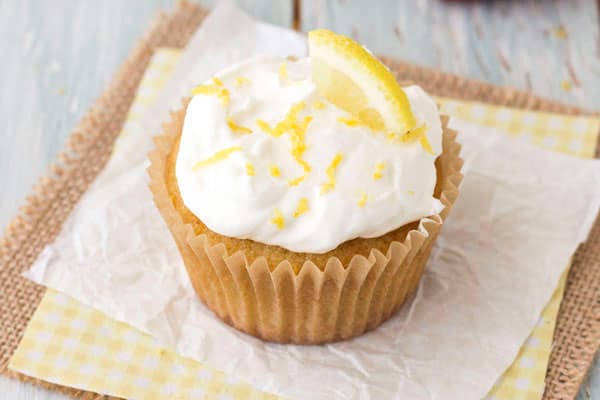 3 Convection Tips
Use the lower rack placement. (We tried a batch on the middle rack and it was too close to the fan, the cupcakes did rise more but they were dried out and cracked on top)
Reduce the temperature by 25 degrees to 325℉
Start checking for doneness 2/3 through the cooking time (about 10 minutes).