Spicy Sriracha Roasted Red Potatoes
Spicy Sriracha Roasted Red Potatoes are the ultimate brunch upgrade. They're crispy on the outside, creamy on the inside, and loaded with flavor. Give your usual breakfast potatoes a deliciously spicy twist with just a few basic ingredients and your favorite bottle of sriracha sauce!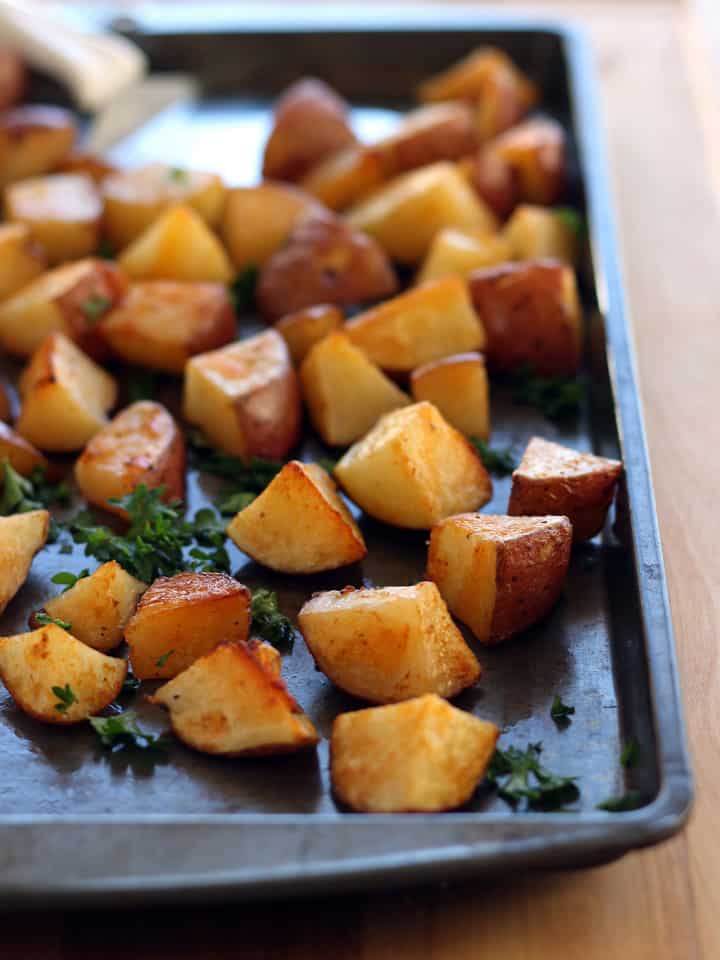 How to Make Spicy Roasted Potatoes
These versatile little spuds are super easy to make.
Chop a pound of red potatoes into cubes.
Toss with a little olive oil, Sriracha sauce, and a tiny bit of garlic powder.
Add to a sheet pan and pop it in your oven or toaster oven until they're golden, tender, and delicious!
You'll want to make sure to stir the potatoes a few times while they cook, about every 10 minutes or so. This helps to keep them from sticking and ensures all of your potatoes have golden crispy edges.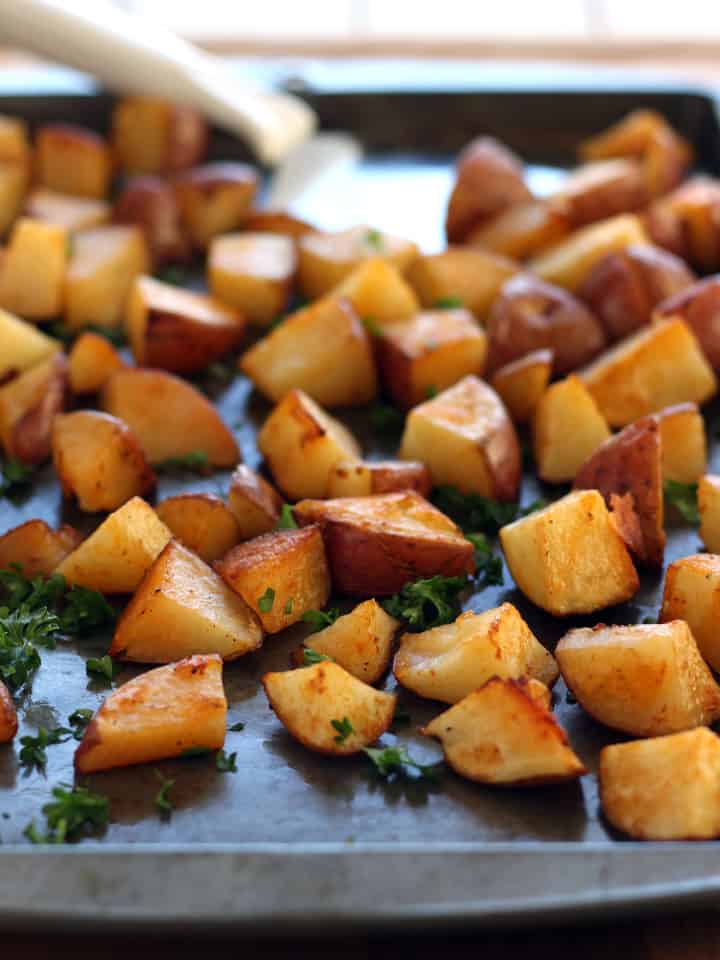 How do you know when they're ready?
The potato chunks will be crispy and browned on the outside.
Stick a fork into the middles of a few pieces, it should slide in easily.
These spicy roasted potatoes make a great side dish for any meal, from breakfast to dinner. We also like to toss them into salads or go all out with these Mango Sriracha Potato Veggie Bowls.
Like our Toaster Oven Rosemary Potatoes, the leftovers are easy to reheat and make for a premium breakfast when paired with a Toaster Oven Breakfast Sandwich or tossed in a Frittata for Two.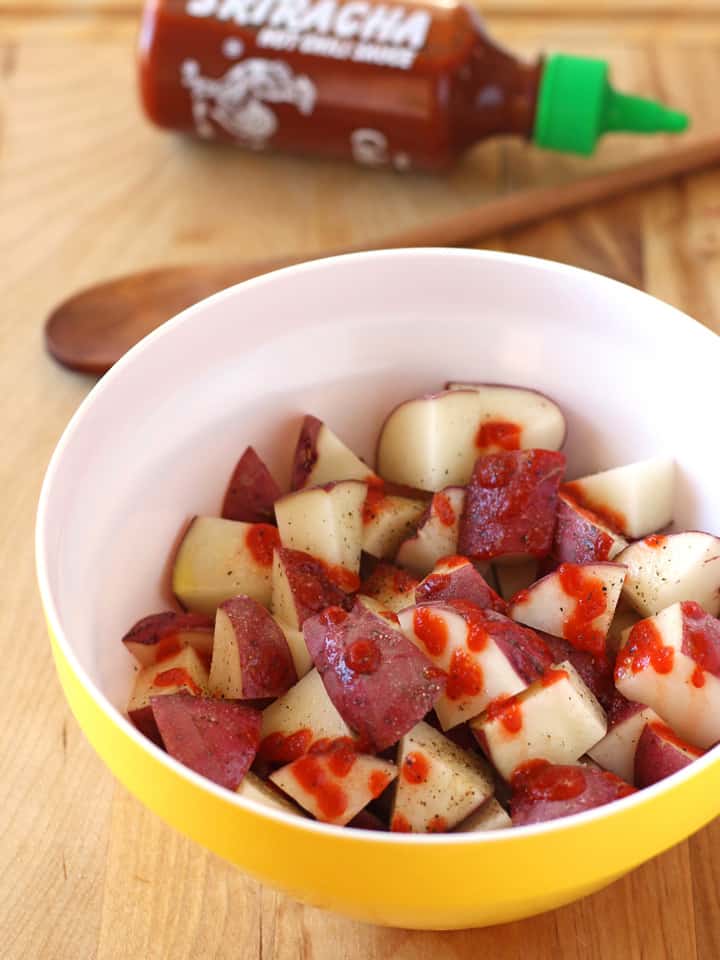 Whatever way you choose to serve them I guarantee you're going to love these perfectly crispy creamy Spicy Sriracha Roasted Red Potatoes.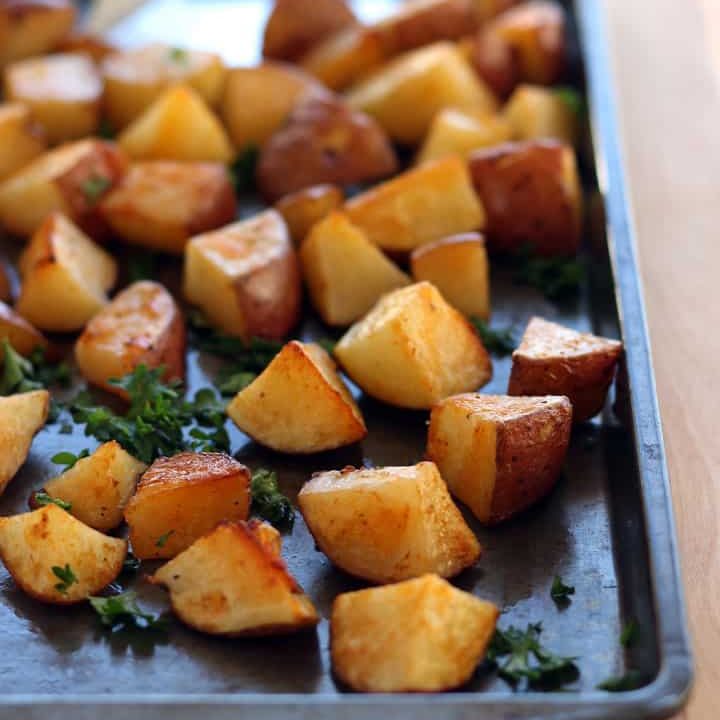 Spicy Sriracha Roasted Red Potatoes
Jump-start your taste buds with these spicy roasted potatoes. Each piece is lightly crisped on the outside and creamy inside.
Ingredients
16 ounces Red Potatoes, washed dried and cut into 1-inch pieces
4 teaspoons Olive Oil, divided
2 to 3 teaspoons Sriracha sauce
1/4 teaspoon Garlic Powder
Salt and Pepper, to taste
1 tablespoon finely chopped Fresh Parsley (optional)
Instructions
Preheat oven to 425°F (see temperature note below). If using a toaster oven, adjust rack to the bottom placement and select the BAKE setting.
Rub a quarter sheet pan with 1 teaspoon of the oil.
In a large bowl whisk together the remaining olive oil, sriracha sauce, and garlic powder. Add the potatoes and stir well to coat all of the chunks. Lightly season with salt and pepper if desired. Add to the prepared pan and arrange the potatoes in a single even layer.
Cook until the potatoes are browned, crisped outside, and fork-tender, about 30 to 35 minutes. During cooking, flip the potatoes two or three times to keep them from sticking to the pan.
Once ready, remove potatoes from the oven and sprinkle with fresh parsley before digging in.
Notes
If your oven runs hot, is a convection oven, or you are using a dark-colored roasting pan reduce the temperature to 400°F.
Nutrition Information:
Yield:

3
Serving Size:

1/3 of Recipe
Amount Per Serving:
Calories:

147
Total Fat:

4.7g
Saturated Fat:

0.7g
Sodium:

155mg
Carbohydrates:

24.4g
Fiber:

2.6g
Sugar:

2g
Protein:

3g