Halloween Baked Egg Eyeballs are a ghoulish breakfast perfect for kids and kids-at-heart. Serve them with a toasted whole-grain English muffin, avocado, spinach, and tomatoes for a fun and healthy start to everyone's favorite candy-filled holiday.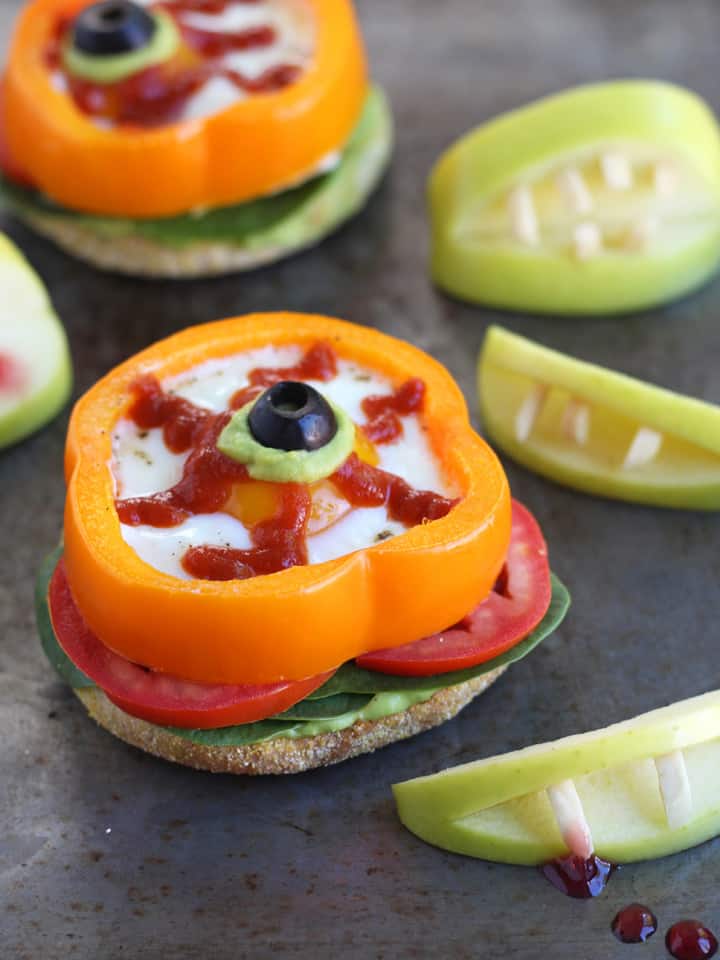 Halloween is the best time of year. There's so much to like: masks, candy, makeup, candy, costumes…did I mention the candy?
The trick to feeling good and having fun while indulging your sweet tooth is to balance out all that sugar with a few healthier choices too. But healthy doesn't have to mean boring, especially on Halloween.
It's the best holiday to scare up a few smiles with a spooky and wholesome breakfast of bloodshot baked egg eyeballs. They're easy to make and with a few extra ingredients you can turn them into a filling open-faced breakfast sandwich too.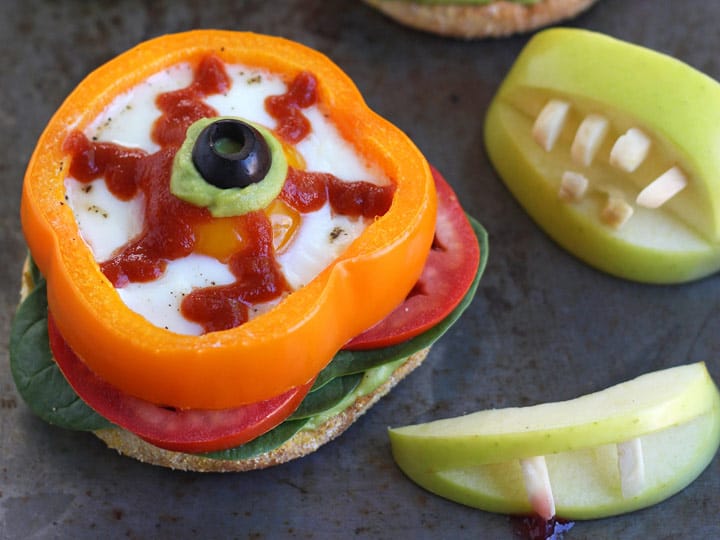 How to make Bell Pepper Baked Egg Eyeballs
Start by preheating your oven (or toaster oven) to 400°F and placing the cooking rack in the middle position.
Next, slice your bell pepper into thick rings. If the peppers are evenly sliced they'll lay flat on the bottom of the baking dish and be able to contain the eggs better. Don't worry if they leak though – we've got a tip for that below!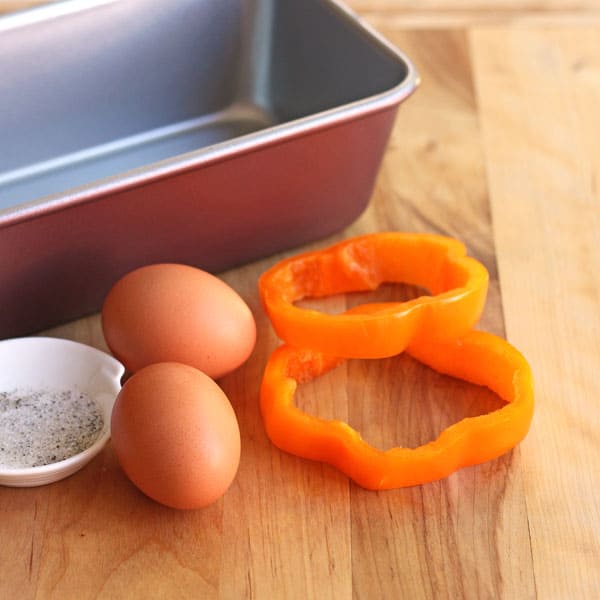 Add the bell peppers to a well-greased pan and crack an egg into the center of each one.
Bake until the yolk and egg whites are cooked (no wobbles), about 10 to 12 minutes.
Let the pan cool briefly. If any egg leaked out from the peppers during cooking this is a great time to cut it away (ours usually just separate from the pepper when removing it from the pan).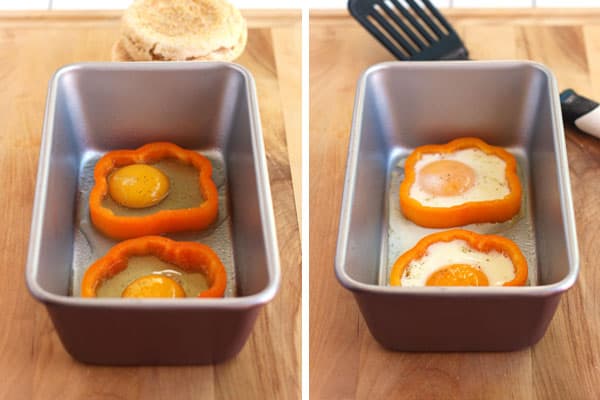 Turn Your Eggs Into Eyeballs
Use ketchup, pizza sauce, or Sriracha (for the grown-ups) to draw "veins" from the yolk outward.
Dollop a circle of mashed avocado in the center of the yolk.
Then top the avocado with an olive slice "pupil" to finish.
Related: Baked egg tostadas are great for making eyeballs with too.
For a super filling breakfast, layer both halves of a toasted English muffin with the remaining mashed avocado, baby spinach leaves, tomato slices and top each one with an egg eyeball.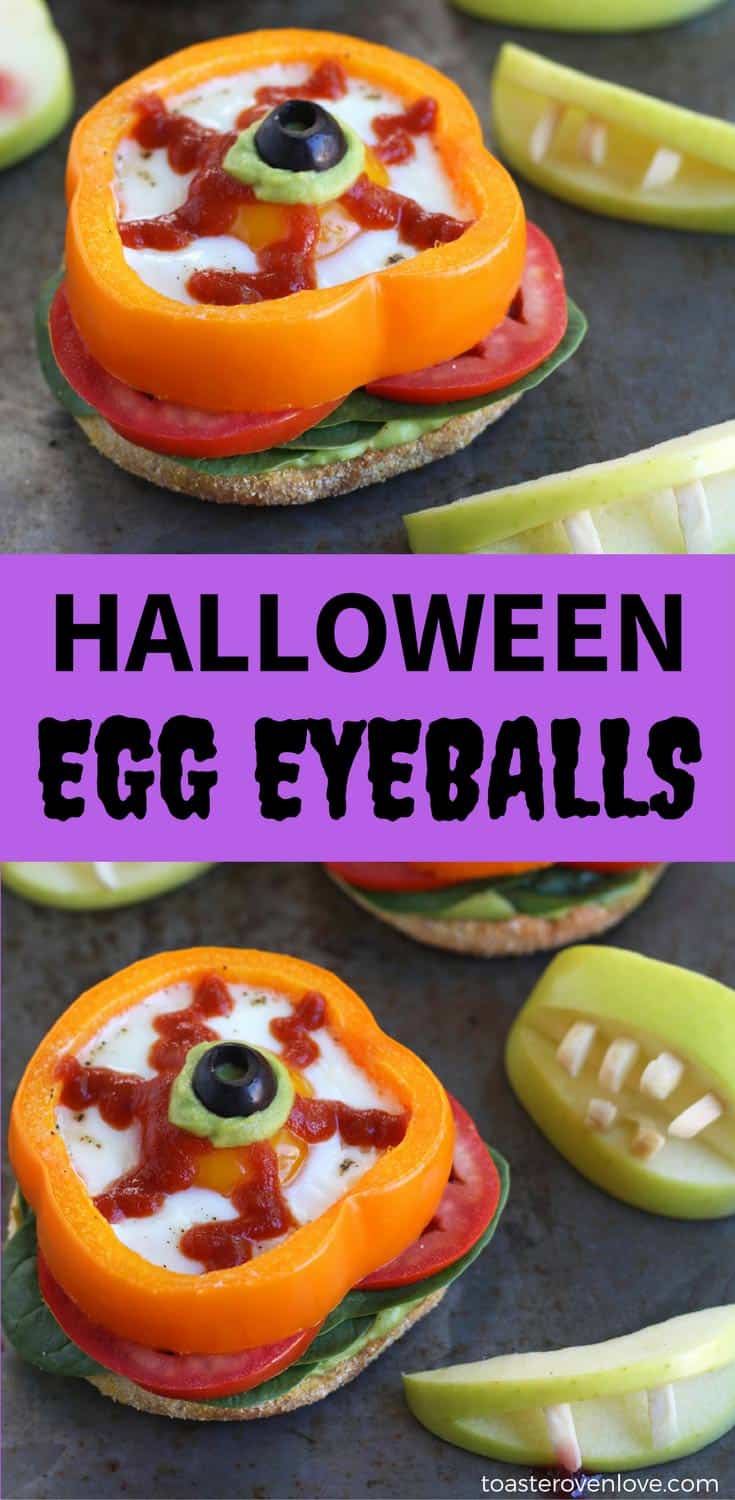 Want to make your breakfast more fun and healthy?
Throw together a batch of silly apple vampire teeth while the eggs bake! To make them, you'll need an apple, slivered almonds, and a little berry jam to drip on the "fangs." I used the instructions for making kid-friendly Halloween apple teeth found here.
Happy Halloween!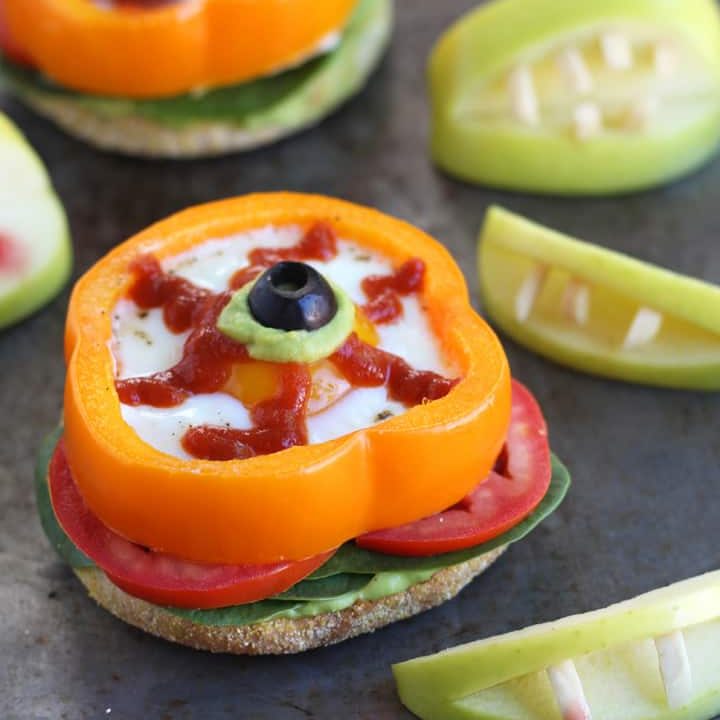 Halloween Baked Egg Eyeballs
Yield:
2 Opened-Face Sandwiches
Scare up a few smiles with eggs baked in sweet bell pepper slices and turned into bloodshot eyeballs. They're a healthy Halloween breakfast that's creepy and fun!    
Ingredients
1 Orange Bell Pepper, sliced into thick rings (see note for ring size)
Cooking Oil Spray
2 Large Eggs
Salt and Pepper
1 Medium Avocado, seeded and mashed
1/2 teaspoon Lemon Juice
2 teaspoons Ketchup, or another red sauce like pizza sauce or Sriracha sauce
2 Black Olive Slices
1 Whole-Wheat English Muffin, split and toasted
1/2 cup Baby Spinach Leaves
1 Small Tomato, thinly sliced
Instructions
Bake the eggs:
Preheat your oven to 400°F. If using a toaster oven, adjust the cooking rack to the middle position and select the BAKE setting. Generously oil the bottom of a baking dish or loaf pan.
Add the bell peppers to the bottom of the pan and crack an egg into the middle of each one, then season with salt and pepper.
Bake until the whites and yolk of the eggs are cooked, about 10 to 12 minutes.
Make the Eyeballs:
Mash the avocado with the lemon juice, season with salt and pepper.
Use the ketchup to add veins to the egg eyes by drawing squiggly lines from the yolk outward towards the bell pepper. Dollop a little of the avocado mash in the center of the yolk and top with an olive slice.
Layer both halves of the English muffin with the remaining avocado, baby spinach leaves, tomato slices, and top each one with an egg eyeball.
Notes
Slice large bell peppers into thick 1/2 inch rings. Slice medium bell peppers into thick 3/4 inch rings. It's better to have too much bell pepper then have your eggs spilling over and out of the rings.
Pan Options: Use an 8 or 9-inch loaf pan or an 8 x 8-inch pan to bake the eggs.
Rack Placement: If your toaster oven only has two placements, use the bottom one. Your eggs may cook faster so check on them early and add more time as needed.
Nutrition Information:
Yield:

2
Serving Size:

1 Sandwich
Amount Per Serving:
Calories:

294
Total Fat:

17.5g
Saturated Fat:

3.3g
Cholesterol:

186mg
Sodium:

416.8mg
Carbohydrates:

25.8g
Fiber:

9g
Sugar:

7.2g
Protein:

11.9g