Toaster Oven Pizza Bagels
Toaster Oven Pizza Bagels make a great appetizer, snack, or dinner. These quick and easy mini pizzas take just 15 minutes and have a crispy-chewy bagel crust that's covered with gooey melted cheese. Add your favorite toppings and fire up the toaster oven tonight!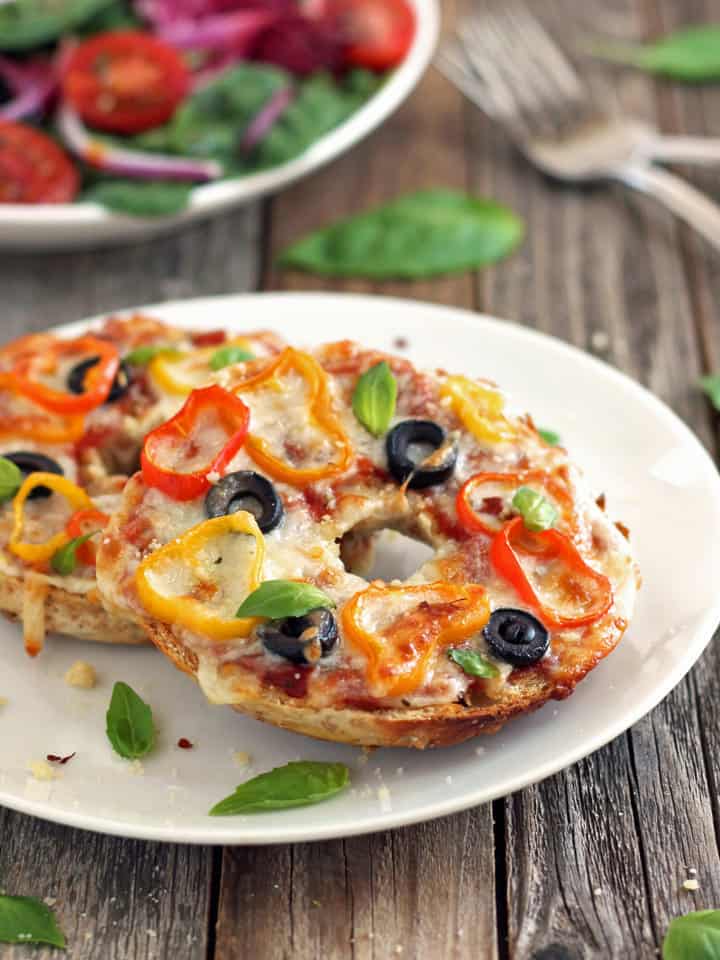 Step-By-Step Instructions
1. Adjust the cooking rack to the middle placement and preheat the toaster oven to 375°F on the BAKE setting. If your toaster oven only has two rack settings, use the bottom one.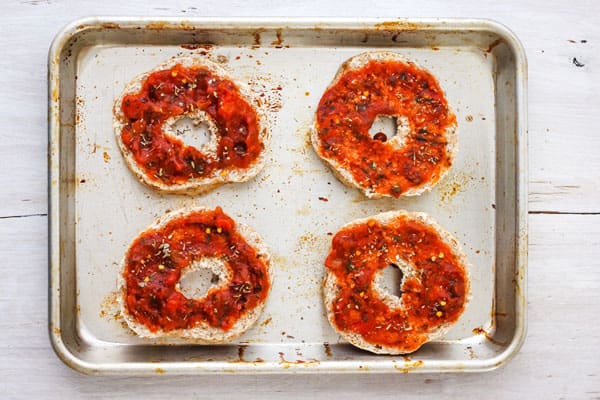 2. Split the bagels or slice them in half and separate. Arrange the bagel pieces on a small sheet pan with the cut sides facing up. Use a spoon to spread a layer of the sauce onto each bagel half (about 1 tablespoon or more if you like a lot of sauce).
To add some extra flavor, I like to sprinkle Italian seasoning and a pinch of red pepper flakes over the sauce.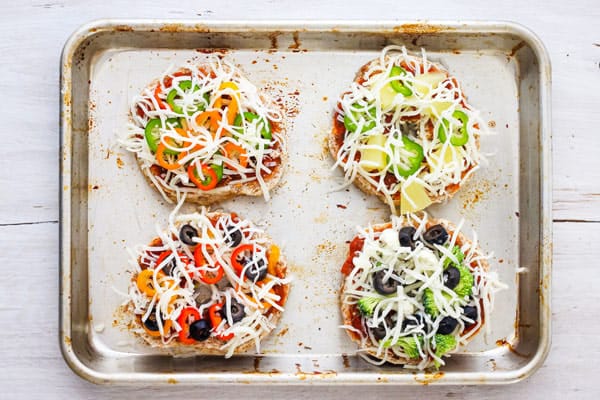 4. Then top each bagel half with some shredded cheese (about 2 to 3 tablespoons per bagel) and add your favorite toppings.
5. Cook the pizza bagels until the cheese is melted and everything is warmed through, about 8 to 10 minutes.
If you'd like more browning on the cheese and toppings, switch to the toaster oven's BROIL setting for a minute. Just make sure to keep an eye on your bagels. They can go from golden to burnt super fast.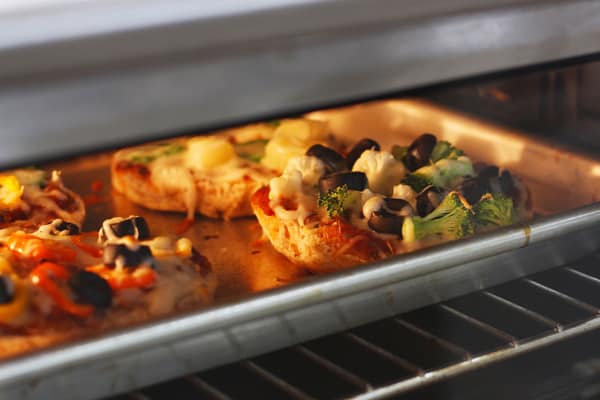 5. Let your mini pizzas cool for a few minutes. Then add a sprinkling of parmesan and fresh basil leaves, and dig in!
Want to balance out all that cheesy goodness? Enjoy your pizza bagels alongside a large green salad drizzled with our zesty Italian salad dressing for two or this tangy dijon vinaigrette.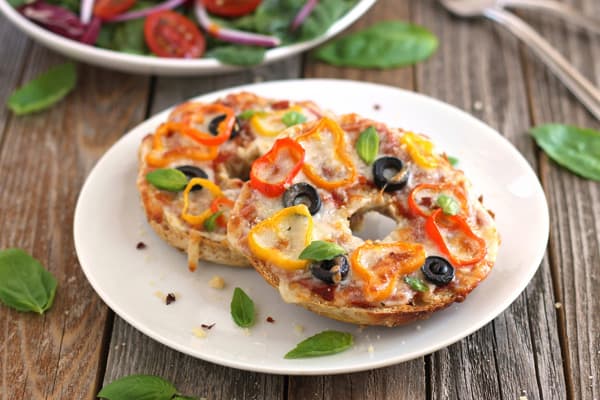 Pizza Bagel FAQs
Should You Toast The Bagel Before Assembling Your Pizzas?
It depends on how you like your pizza bagels. Pre-toasting and then baking the topped bagels results in more of a thin crust style texture (think lots of crunch with very little chew).
We like our pizza bagels to have soft and chewy middles so we don't toast them before topping.
If you're worried about soggy middles, instead of toasting the bagels, try broiling them:
After you split the bagels in Step 2, pop them into the toaster oven with the cut sides facing up. Select the BROIL function and press START.
Cook until the insides of bagels are golden, about 1 to 2 minutes (don't walk away).
Let the bagels cool completely before adding your toppings and baking.
This will help to keep the bagel's soft doughy center from getting soggy without making the crust hard and crunchy!
Can I Use A Different Type of Bread For The Crust?
If you find yourself out of bagels, grab some English muffins, pitas, naan bread, tortillas, or even leftover sliced bread (pizza toast is super yummy!).
Recipe Tips and Variations
Get Saucy: Leftover marinara sauce, pizza sauce, pesto, or BBQ sauce will work. If you're jarred sauce is kind of meh, stir in some minced garlic or a little hot sauce to amp up the flavor.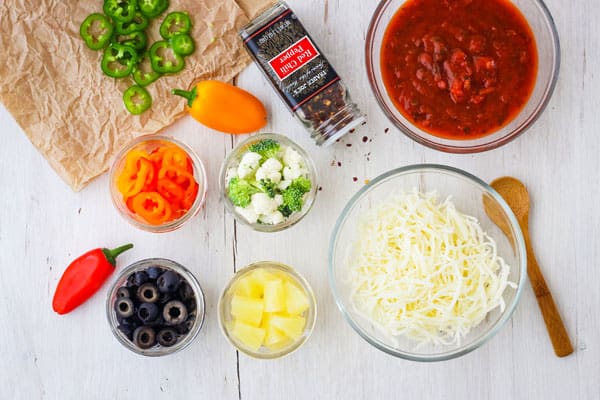 Feeling Cheesy: Mozzarella and parmesan are a traditional combo but you can change things up and add some spicy pepper jack or crumbled feta cheese.
Veg Out: Your options are pretty endless in this category. Black olives, roasted red peppers, artichoke hearts, and finely chopped fresh veggies (like mini bell peppers, broccoli, or mushrooms) all taste delish. One of my favorite combos is sliced jalapeno with pineapple. Basically, you do you.
Make-Ahead: You can assemble the pizza bagels and freeze them before baking. For helpful tips, check out these Homemade Bagel Bites. They're great to have on hand for a quick snack or lunch!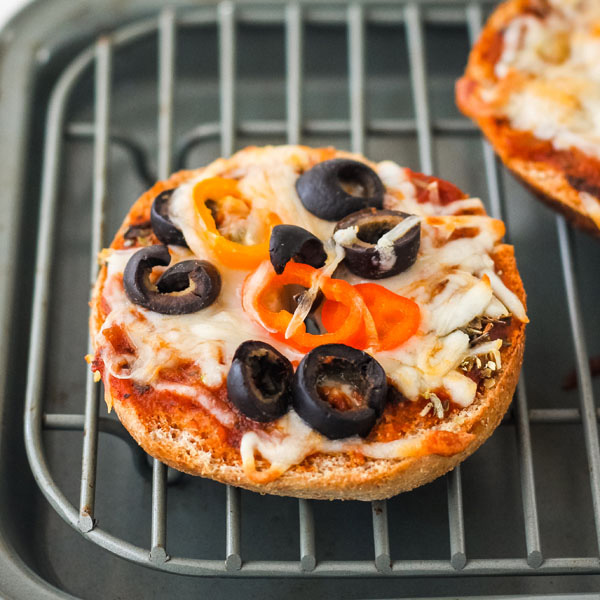 More Toaster Oven Pizza Love
Toaster Oven Pizza Bagels
From the toppings to the sauce, these personal pizzas are easy to customize. You can fancy them up with whatever leftovers you've got in the fridge! 
Ingredients
2 Bagels, split in half
¼ cup (62 grams) Pizza Sauce or Marinara Sauce
¼ teaspoon Italian Seasoning, optional
⅛ teaspoon Red Pepper Flakes, optional
¾ cup (84 grams) Shredded Mozzarella Cheese
4 Mini Sweet Peppers, thinly sliced (or 1/4 cup Chopped Bell Pepper)
3 tablespoons Sliced Black Olives
Fresh Basil
Grated Parmesan Cheese
Instructions
Adjust the cooking rack to the middle (or bottom) placement and preheat the toaster oven to 375°F on the BAKE setting.
Split or slice bagels in half. Place haves with the insides facing up on a small sheet pan.
Spread each half with 1 tablespoon of sauce and sprinkle with Italian seasoning and red pepper flakes if using.
Cover each bagel with 2 to 3 tablespoons of cheese and top with the peppers and olives.
Bake until the cheese is melted, about 8 to 10 minutes. Switch to the BROIL setting and cook for another 1 to 2 minutes until the edges are crispy and the cheese is bubbly and browned.
Carefully remove from the toaster oven and let the bagels cool for a few minutes. Then top with fresh torn basil and Parmesan cheese and devour.
Notes
Nutritional information is an estimate for one serving of two pizza bagels.
Nutrition Information:
Yield:

2
Serving Size:

2 Pizza Bagels
Amount Per Serving:
Calories:

423
Total Fat:

15.7g
Saturated Fat:

7.5g
Cholesterol:

38mg
Sodium:

760.5mg
Carbohydrates:

48.4g
Fiber:

7.7g
Sugar:

8g
Protein:

22.2g