Toaster Oven Oatmeal Cookies
This small-batch recipe for toaster oven oatmeal cookies makes just 12 small cookies! Each one is packed with little bites of dried cranberries and lots of vibrant orange flavor.
Craving cookies? Around our house, the answer to that question is always yes!
But if you're like us and cooking for just one or two people, you're probably only craving a few cookies and not 3 or 4 dozen.
That's why we came up with this easy toaster oven cookie recipe. It makes 12 small, chewy, cakey, super flavorful cranberry orange oatmeal cookies.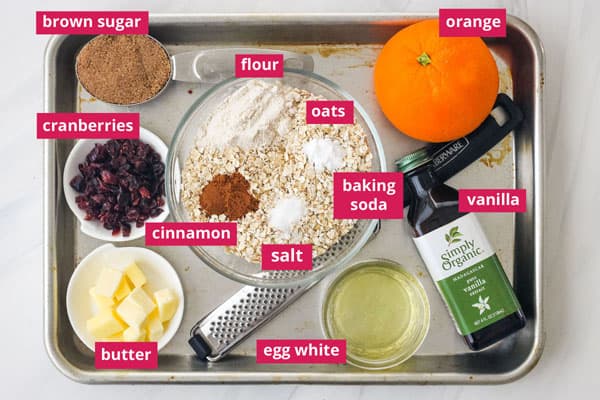 Recipe Ingredients
Quick oats, baking soda, salt, vanilla, and cinnamon.
Flour (we've had success with white whole wheat, all-purpose, and even a gluten-free blend).
Brown sugar for sweetness and chew.
1 egg white and a bit of butter (if both are at room temperature, they'll be easier to incorporate).
A fresh orange – zest first, then juice.
Dried cranberries, roughly chopped to spread out that great sweet-tart flavor.
Step-By-Step Instructions
1. Start by using a whisk or spoon to cream the butter and sugar together. Next, stir in the orange juice, zest, a splash of vanilla, and the egg white.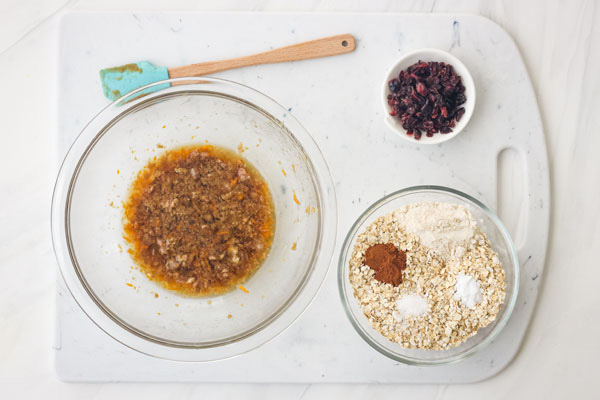 The mixture will look kind of funky, maybe even a little curdled. Don't worry. Keep calm and cookie on!
2. Stir in the flour, oats, baking soda, and cinnamon. When you see just a few flour streaks remaining, mix in the dried cranberries.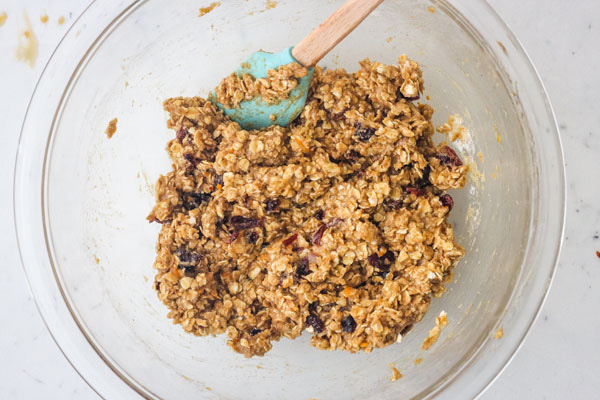 3. Next, line a quarter sheet pan with a silicone baking mat or lightly oil. Set your toaster oven or countertop oven to the BAKE setting and preheat to 350°F or 325°F if you're cooking with convection.
While your little oven preheats, stick the cookie dough in the refrigerator so all of the flavors can incorporate.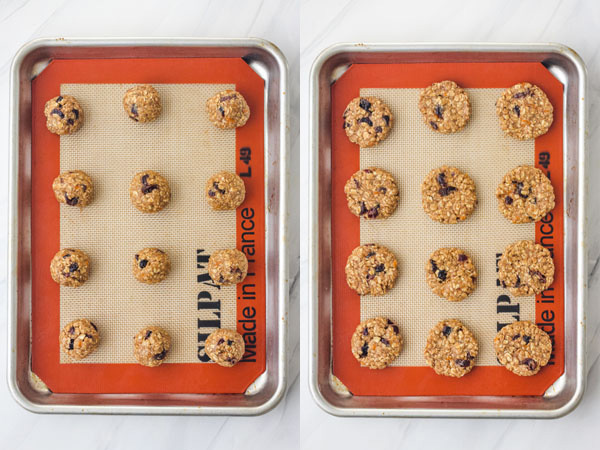 4. Once the oven is preheated, scoop the dough into heaping tablespoon-sized balls and place them on the prepared pan.
Because this is a lower-fat recipe you'll want to gently flatten the dough with your fingers as the cookies won't spread while baking.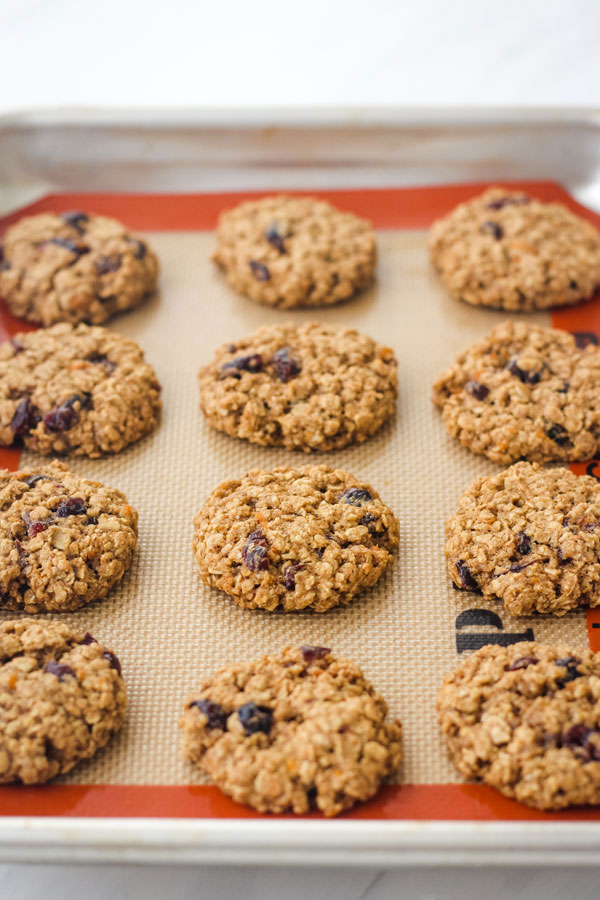 5. Bake until the cookies are set and start to turn golden brown around the edges, about 12 to 15 minutes. If you're baking with a convection oven, begin checking on them after 9 or 10 minutes. Cool on the pan for at least 5 minutes, then dig in!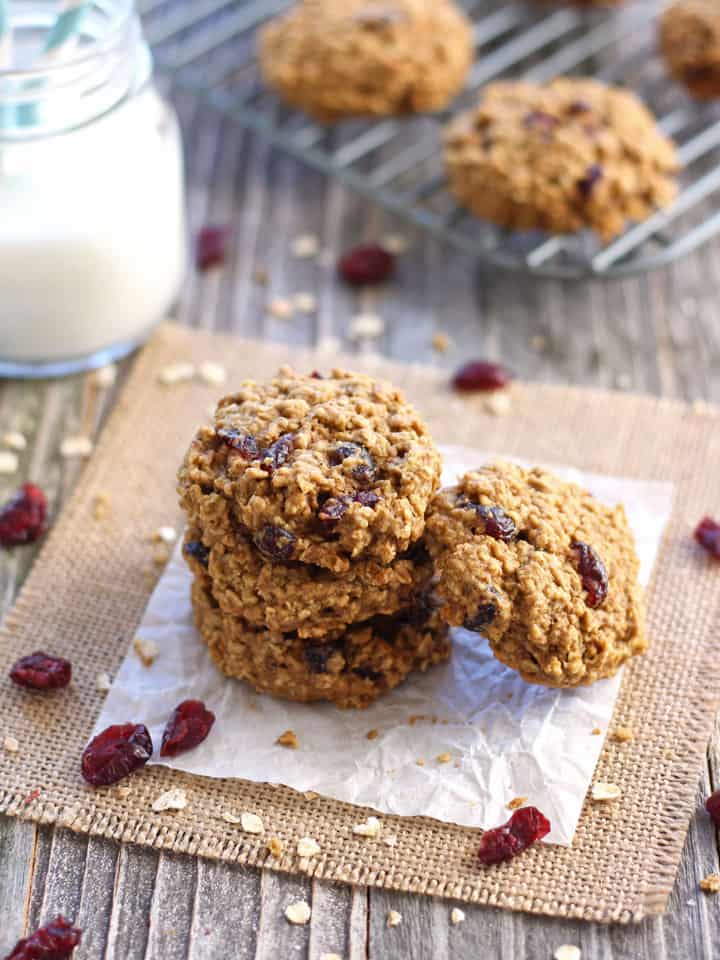 More Yummy Toaster Oven Cookie Recipes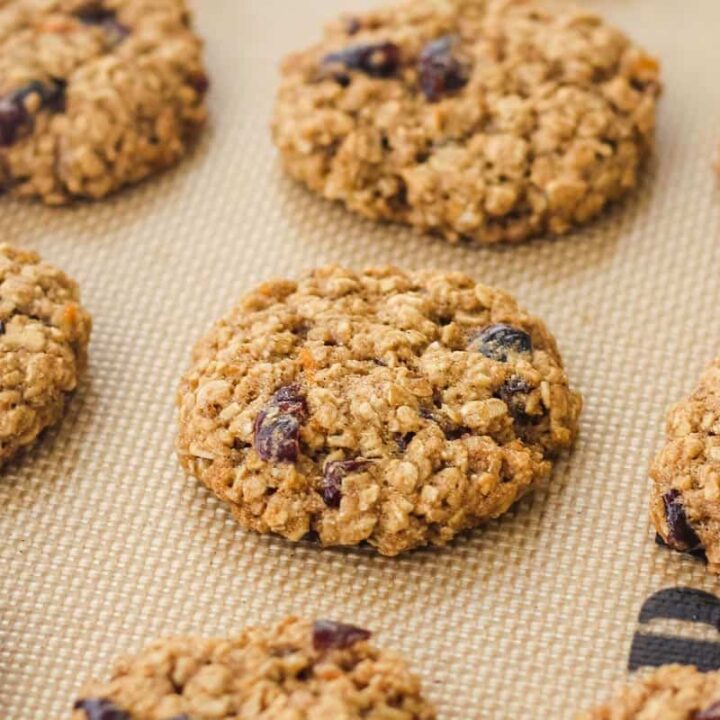 Toaster Oven Oatmeal Cookies
A small batch of soft and chewy oatmeal cookies with the bright flavors of zesty orange and tart cranberry.
Ingredients
1 ½ tablespoons (21 grams) Unsalted Butter, softened
¼ cup (50 grams) Packed Brown Sugar
½ teaspoon Orange Zest
2 tablespoons (1 fl. oz.) Orange Juice
¼ teaspoon Vanilla Extract
1 Egg White (about 25 to 30 grams)
¼ cup (30 grams) All-Purpose Flour or White Whole Wheat Flour
¾ cup (75 grams) Quick Oats
½ teaspoon Ground Cinnamon
¼ teaspoon Table Salt
¼ teaspoon Baking Soda
2 tablespoons (20 grams) Dried Cranberries, roughly chopped
Instructions
In a medium bowl whisk together the butter and sugar. Add the orange juice, zest, vanilla, and egg white and whisk to combine.
Stir in the flour, oats, cinnamon, salt, and baking soda. Mix in the dried cranberries.
Put the bowl in the fridge while you clean up and preheat the toaster oven. Adjust the cooking rack to the middle or bottom position, select the BAKE setting and preheat to 350°F.
Lightly oil a baking sheet or line with a silicone baking mat. Drop dough by heaping tablespoons onto the prepared pan and gently press with your fingers to flatten.
Bake until the cookies are set and lightly browned on the sides, about 12 to 15 minutes.
Cool cookies on the pan for at least 5 minutes and then enjoy.
Notes
Convection Adjustments: Bake at 325°F and begin checking for doneness after 9 minutes, adding more time as needed.
Recipe adapted from foodnetwork.com
Nutrition Information:
Yield:

12
Serving Size:

1 Cookie
Amount Per Serving:
Calories:

42
Total Fat:

1.5g
Saturated Fat:

1g
Cholesterol:

4mg
Sodium:

68mg
Carbohydrates:

6.5g
Fiber:

0.3g
Sugar:

4.8g
Protein:

0.6g