A whole grain recipe for Toaster Oven Oatmeal Cookies that's lighter on sugar but full of cranberry orange flavor!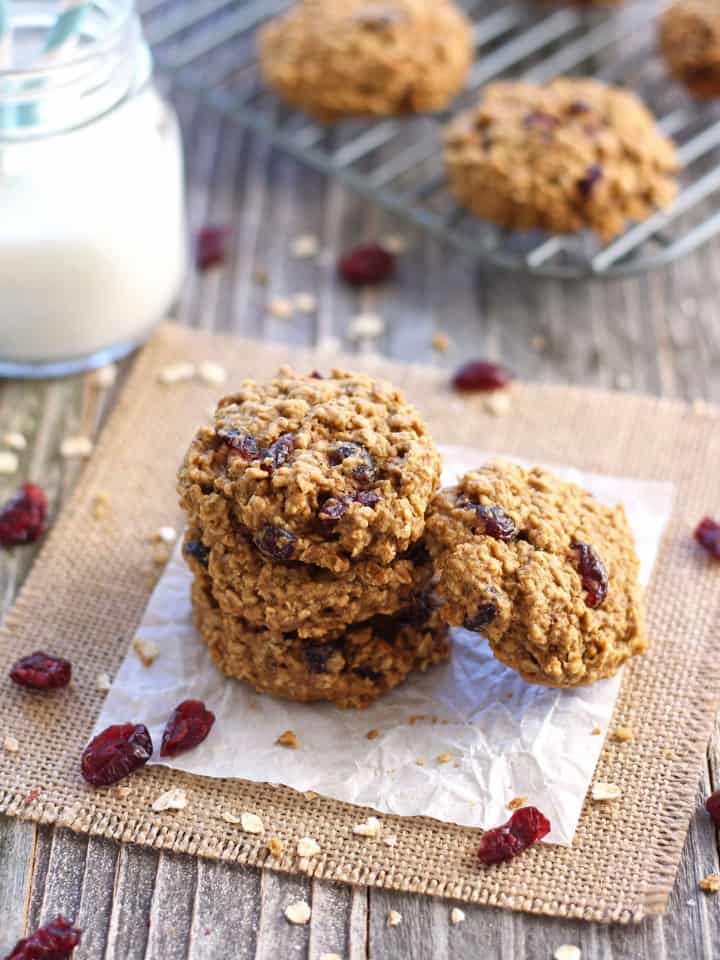 This small batch oatmeal cookie recipe is simple, lighter on sugar and made with whole wheat flour.  No worries though, even with it's healthy-ish attributes it does not skimp in the flavor department.
How Toaster Oven Cookies = Easy Portion Control
We in the Toaster Oven Love household are big fans of cookies.  Like HUGE fans of cookies.  Tim's nickname is actually Cookie Monster, a well earned title!
Last week while goofing off on YouTube I saw this adorable "Share It Maybe" music video where Cookie monster sings about sharing his chocolate chip cookies.  I love how he's all about moderation now.
Trying to practice cookie moderation is way easier when your recipe only makes ten cookies.
Ten delicious, wholesome and flavorful cookies but still just ten and not two or three dozen.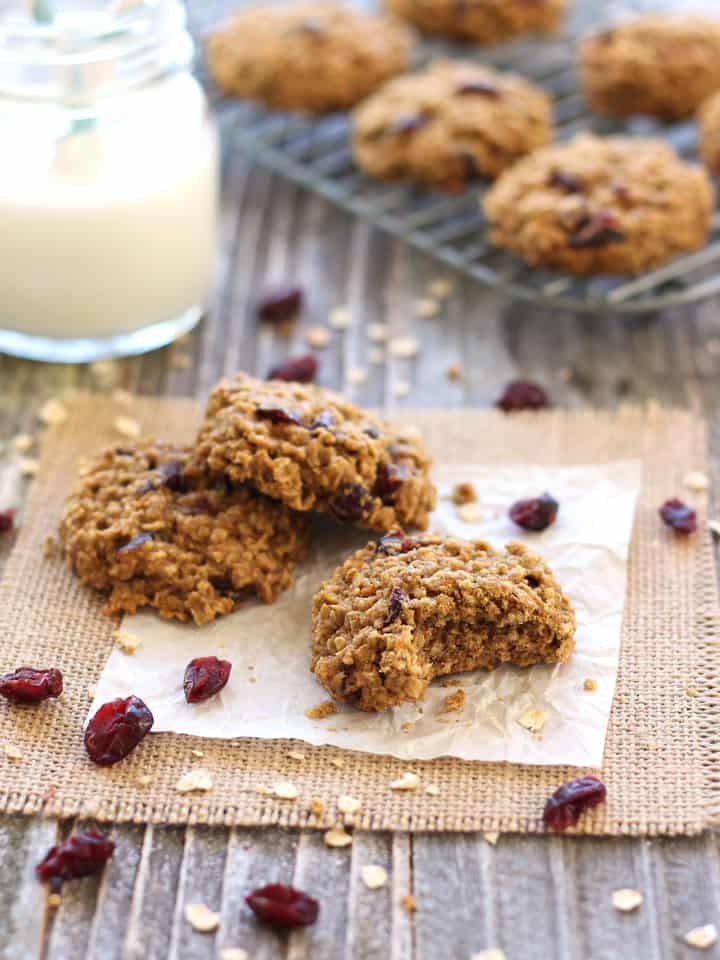 *When I made a batch of cookies for the new photos I used this great tip from Food52 to chop the dried fruit before adding it to the dough.  It stretches that sweet dried cranberry flavor into almost every bite.  And in such a small recipe it makes the cookies look nicer too.
The best part about this quick recipe for toaster oven oatmeal cookies is how versatile it is.
Way To Customize Your Cookies
Substitute chopped dark chocolate for the cranberries
Throw in a little lime zest for a Cosmopolitan style flavor
Add a handful of chopped pecans
Mix in ground flax or chia seeds for added nutrition
Drizzle the cookies with melted white chocolate
The options are pretty limitless so what are you waiting for?
Grab a bowl (yep you only need a single bowl) and let's make some cookies!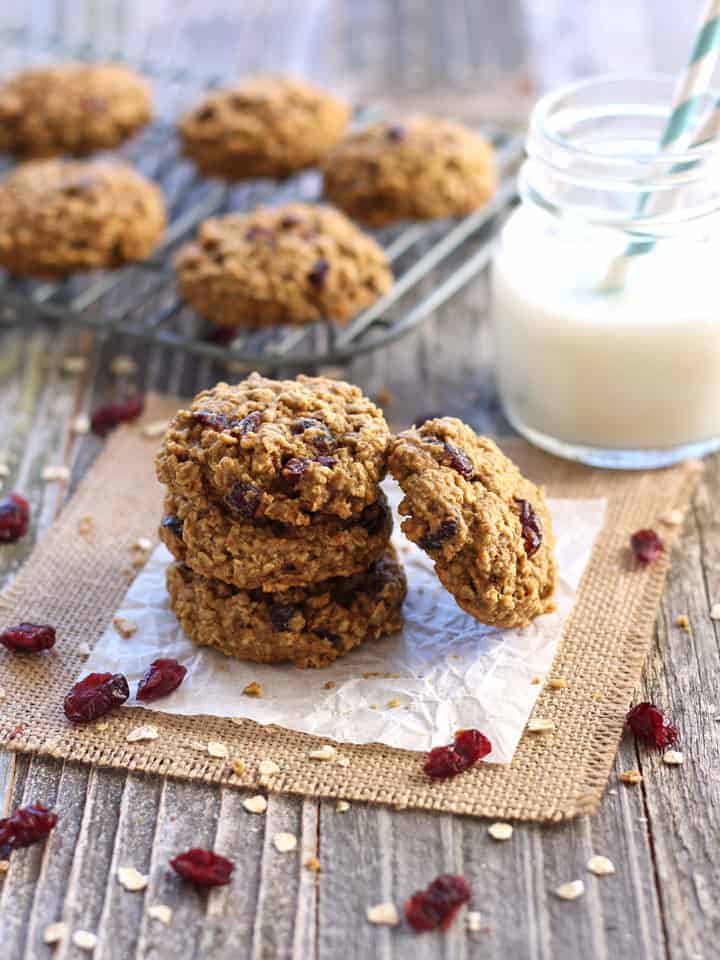 Psst…want to go super small batch?  I mean like zero leftovers!  Check out these Whole Grain Soft Oatmeal Raisin Cookies for Two.
Looking for even more toaster oven cookie recipe inspiration?  Check out these 10 14 Cookie Recipes for Your Toaster Oven.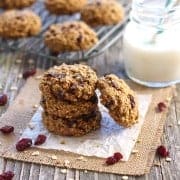 Cranberry Orange Toaster Oven Oatmeal Cookies Recipe
Soft and chewy whole wheat oatmeal cookies with the bright flavors of zesty orange and tart cranberry.
Ingredients
1

tablespoon

and 1/2 tablespoons unsalted butter

, softened

1/4

cup

packed brown sugar

2

tablespoons

fresh squeezed orange juice

1/2

teaspoon

orange zest

1/4

teaspoon

vanilla extract

1

egg white

1/4

cup

whole wheat flour

3/4

cup

quick oats

(not instant)

1/4

teaspoon

table salt

1/4

teaspoon

baking soda

1/2

teaspoon

cinnamon

2

tablespoons

dried cranberries

(roughly chopped if desired)
Instructions
In a medium bowl cream the butter and sugar (you can use a mixer but I prefer a wooden spoon).

Mix in the orange juice, zest, vanilla and egg white.

Stir in the flour, oats, salt, baking soda and cinnamon just until combined.

Lastly, mix in the dried cranberries.

Put the bowl in the fridge while you clean up and preheat the toaster oven to 350 degrees F, this usually takes my toaster oven about 5 to 10 minutes.

On a lightly oiled or toaster oven baking mat covered baking sheet drop the cookies by round 1 to 1 & 1/2 Tablespoons.

The cookies don't spread so if you would like them to not be so dome shaped give them a gentle 3 finger press.

Bake for 12 to 15 minutes until lightly browned on the bottom.

Allow to cool on the cookie sheet for at least 5 minutes and then enjoy.
Recipe Notes
The longer you refrigerate the dough before baking the crispier the outside edges will be. You can leave it in the fridge for up to 24 hours just let it soften at room temp for 15 mins before scooping and baking.
Original Oatmeal Cookie recipe adapted from foodnetwork.com
Nutritional information is an estimate for one cookie.