Raspberry Lemon Corn Muffins
This raspberry lemon corn muffins recipe is lightly sweetened, bursting with citrus, full of juicy berries, and perfect for any occasion. Use your toaster oven to bake this small-batch recipe, it'll take less than 30 minutes start to finish!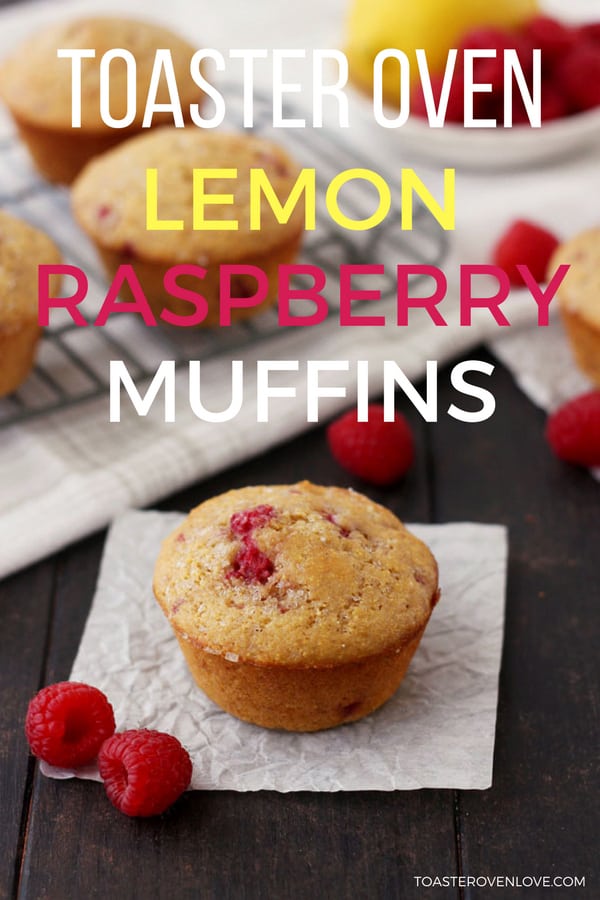 Last week I found myself with an abundance of buttermilk. I don't know about you but in my book, that's one of those good problems to have.
That's because leftover buttermilk is the perfect excuse to whip up lots of tasty baked goods. Treats like baked buttermilk donuts, a lemon blackberry baked pancake, toaster oven banana bread, and these deliciously sweet-tart raspberry lemon corn muffins.
Each muffin is loaded with chopped fresh raspberries and fragrant lemon zest. While a small amount of cornmeal gives them golden crispy edges and a toothier texture.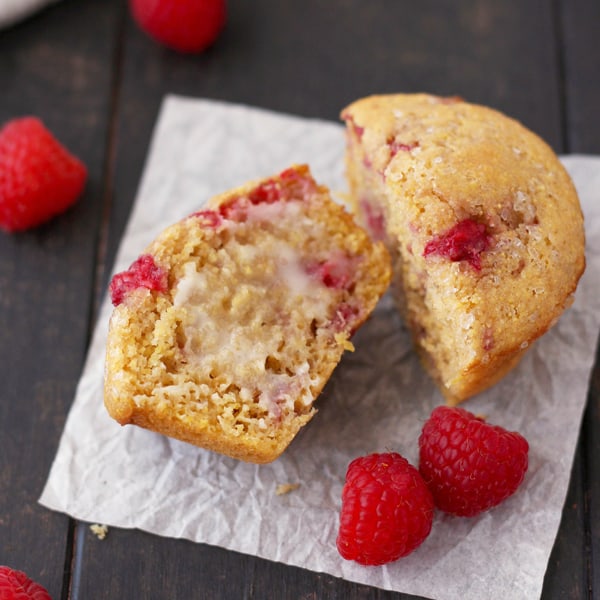 They make a great afternoon snack, served warm with salted butter and a fresh cup of coffee or tea.
~ Keep scrolling for convection & muffin baking tips after the recipe ~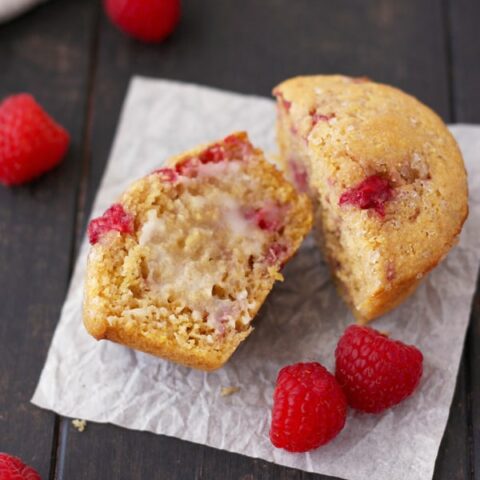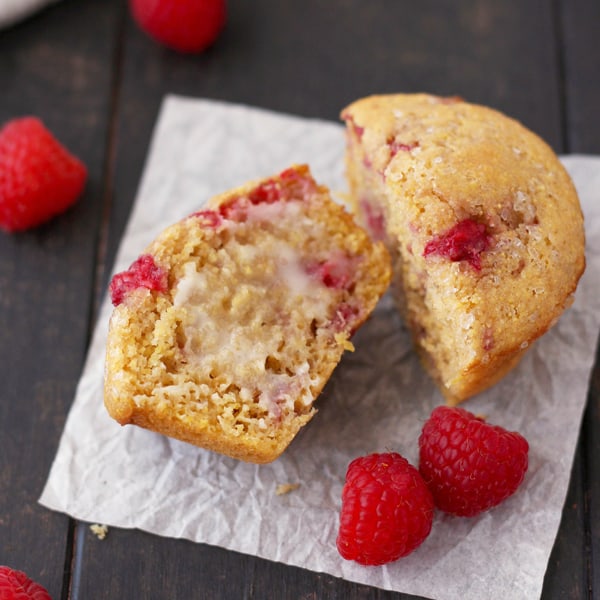 Raspberry Lemon Corn Muffins
Bursting with citrus and full of juicy berries, these lightly sweetened muffins make a great snack or brunch addition.
Ingredients
3 tablespoons Granulated Sugar
zest of one Lemon, large, about 1 1/2 teaspoons
3/4 cup White Whole Wheat Flour or All-Purpose Flour
1/4 cup Yellow Cornmeal
3/4 teaspoon Baking Powder
1/4 teaspoon Baking Soda
1/8 teaspoon Fine Sea Salt
3 ounces Fresh Raspberries, about 2/3 cup
1 large Egg, beaten
1/2 cup Low-Fat Buttermilk
2 tablespoons neutral oil, like Canola Oil
Sparkling Sugar, for topping, optional
Instructions
Adjust the toaster oven cooking rack to the middle position and preheat to 425°F on the "Bake" setting. Grease a 6-cavity muffin tin with cooking oil spray.
In a small bowl combine the sugar and lemon zest. Using your fingers, rub the sugar and zest together until the sugar turns a light yellow color. Set aside.
In a large bowl whisk together the flour, cornmeal, baking powder, baking soda, and salt. Roughly chop the raspberries, add them to the flour mixture and toss gently to coat the berries.
Whisk the egg, buttermilk, and oil into the bowl of lemon zest and sugar. Gently fold the wet ingredients into the flour mixture until combined.
Divide batter among prepared pan and sprinkle with sparkling sugar if desired.
Reduce the temperature to 400°F and bake the muffins until they are golden around the edges and a toothpick inserted in a few comes out clean, about 12 to 13 minutes.
Notes
To bake in a Convection Toaster Oven, place the cooking rack in the lowest position and preheat to 400°F. When ready to bake, reduce the temperature to 375°F. Bake muffins for about 12 to 13 minutes.
To substitute frozen raspberries for the fresh berries, don't thaw them. You may need to increase the baking time by 2 to 3 minutes or longer.
Nutrition Information:
Yield:

6
Serving Size:

1 Muffin
Amount Per Serving:
Calories:

158
Total Fat:

6.2g
Saturated Fat:

0.7g
Cholesterol:

32mg
Sodium:

127mg
Carbohydrates:

22.9g
Fiber:

2.7g
Sugar:

8.2g
Protein:

4.2g

Step by Step Photos and Tips
Tip #1 – Rub your lemon zest and sugar together. It will make your kitchen SMELL AMAZING and help release more oil/flavor from the lemon's peel.
Tip #2 – Roughly chopping the raspberries will ensure you get a good berry-to-muffin ratio in each bite. Just make sure to toss your freshly chopped berries with the dry ingredients and be a little gentle stirring the batter.
You can use frozen raspberries too! Don't thaw them, just toss the frozen berries in with the flour. The batches we made with frozen raspberries did need to bake about 2-3 minutes longer.
Tip #3 – Sprinkle sparkling sugar (or raw sugar) on top of the batter right before baking. It'll give your muffins a premium bakery style feel and an extra bit of crunchy sweetness.
Tip #4 – These muffins taste best the day they're baked but you can freeze the leftovers. Here are a few ways you can Reheat Muffins in a Toaster Oven.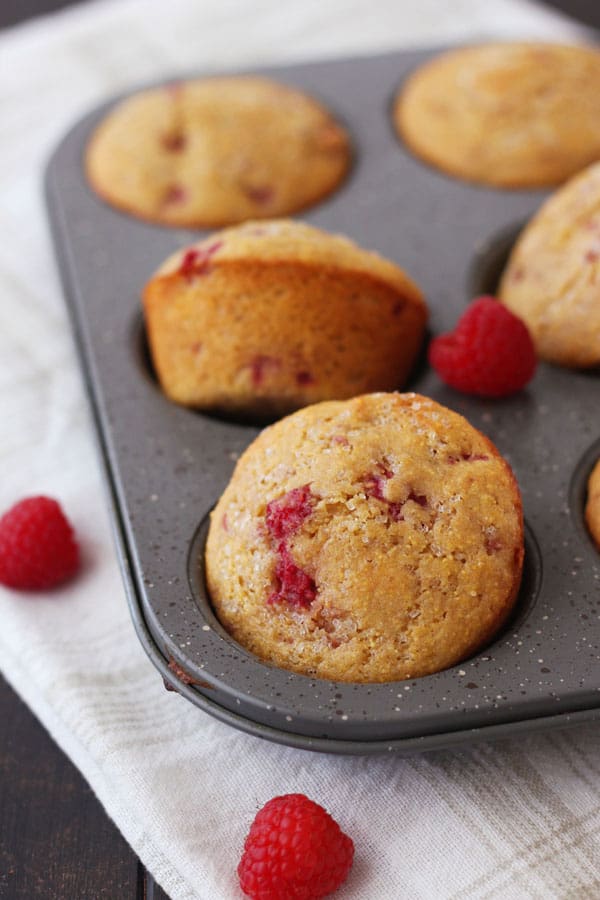 Lastly, if you're baking this recipe with a convection countertop oven you'll want to make the following adjustments:
Place the cooking rack in the lowest position (not the middle).
Reduce the preheating temperature to 400°F.
Reduce the final baking temperature to 375°F.
Baking muffins with a convection toaster oven can be a little tricky at first. Reducing your recipe's temperature by at least 25 degrees is always a good starting point. For more toaster oven muffin baking tips check out Our Big Fat Toaster Oven Muffin Experiment.
For a little quick bread inspiration check out our Toaster Oven Baking Board on Pinterest, it's regularly updated with delicious small-batch recipes that are perfectly sized for baking in your toaster oven.