This raspberry lemon corn muffins recipe is lightly sweetened, bursting with citrus, full of juicy berries, and absolutely perfect for summer. Use your toaster oven to bake this small batch recipe, it'll take less than 30 minutes start to finish!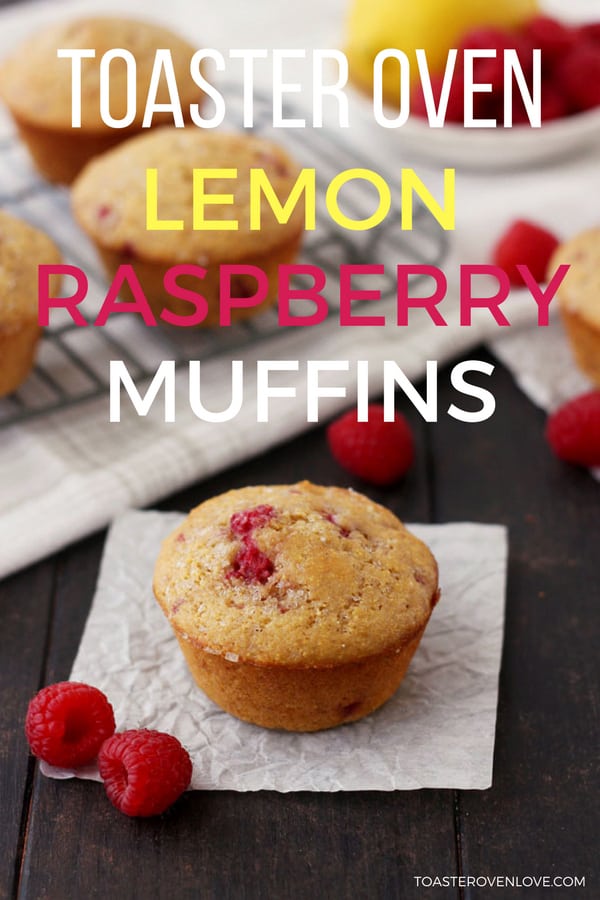 Last week I found myself with an abundance of buttermilk. I don't know about you but in my book, that's one of those GOOD PROBLEMS to have.
That's because leftover buttermilk is the perfect excuse to whip up lots of tasty baked goods. Treats like baked buttermilk donuts, a lemon blackberry baked pancake, toaster oven banana bread, and these deliciously sweet-tart raspberry lemon corn muffins.
Each muffin is loaded with chopped fresh raspberries and fragrant lemon zest. While a small amount of cornmeal gives them golden crispy edges and a toothier texture.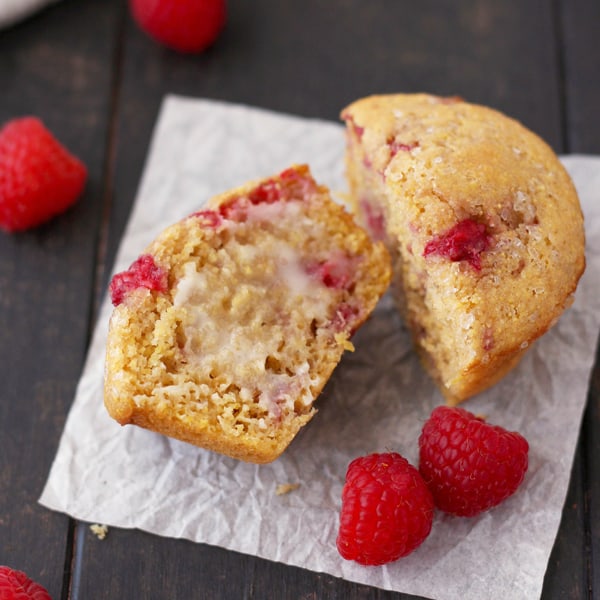 They make a great afternoon snack, served warm with salted butter and a fresh cup of coffee or tea.
~ Keep scrolling for convection & muffin baking tips after the recipe ~

4 Tips for your Raspberry Lemon Corn Muffins:
Tip #1 – Rub your lemon zest and sugar together. It will make your kitchen SMELL AMAZING and help release more oil/flavor from the lemon's peel.
Tip #2 – Roughly chopping the raspberries will ensure you get a good berry-to-muffin ratio in each bite. Just make sure to toss your freshly chopped berries with the dry ingredients and be a little gentle stirring the batter.
You can use frozen raspberries too! Don't thaw them, just toss the frozen berries in with the flour. The batches we made with frozen raspberries did need to bake about 2-3 minutes longer.
Tip #3 – Sprinkle sparkling sugar (or raw sugar) on top of the batter right before baking. It'll give your muffins a premium bakery style feel and an extra bit of crunchy sweetness.
Tip #4 – These muffins taste best the day they're baked but you can freeze the leftovers. Is it just me or does finding baked goods in the freezer always feels like you've won a secret treat lottery?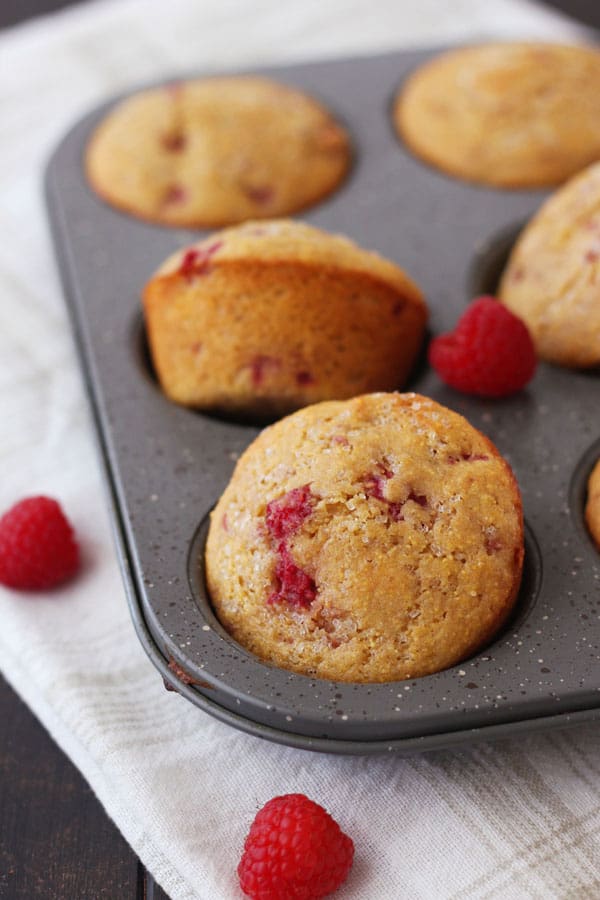 Lastly, if you're baking this recipe with a convection countertop oven you'll want to make the following adjustments:
Place the cooking rack in the lowest position (not the middle).
Reduce the preheating temperature to 400°F.
Reduce the final baking temperature to 375°F.
Baking muffins with a convection toaster oven can be a little tricky at first. Reducing your recipe's temperature by at least 25 degrees is always a good starting point. For more toaster oven muffin baking tips check out Our Big Fat Toaster Oven Muffin Experiment.
For a little quick bread inspiration check out our Toaster Oven Baking Board on Pinterest, it's regularly updated with delicious small-batch recipes that are perfectly sized for baking in your toaster oven.