Toaster Oven Banana Bread
This toaster oven banana bread recipe is perfect for baking in a medium or large oven. You can make a single moist and sweet loaf or 3 mini loaves, either way, they'll be full of great banana flavor. If you've got a smaller toaster oven, no worries we've included some little oven baking tips too!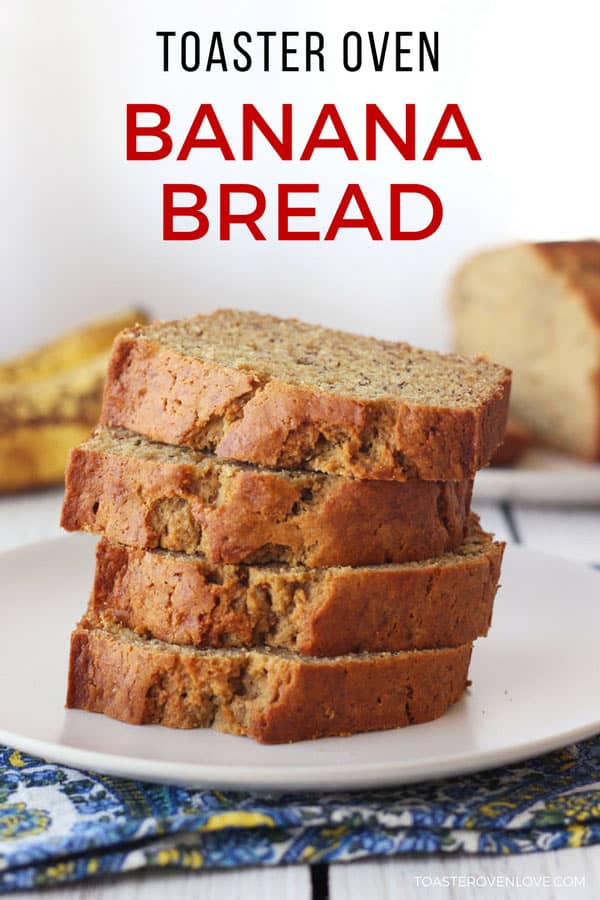 You know how everyone has a go-to quick bread recipe they swear by? This is ours.
Just like with our popular Mini One Banana Banana Bread and our new Mini Eggless Banana Bread, the secret to this tasty recipe is using over-ripe bananas. Ones that are spotted brown all over, easy to mash, and so fragrant you can smell them through the peel.
This not a quick recipe, it takes about 45 to 50 minutes to cook but I'd say it's more than worth the wait.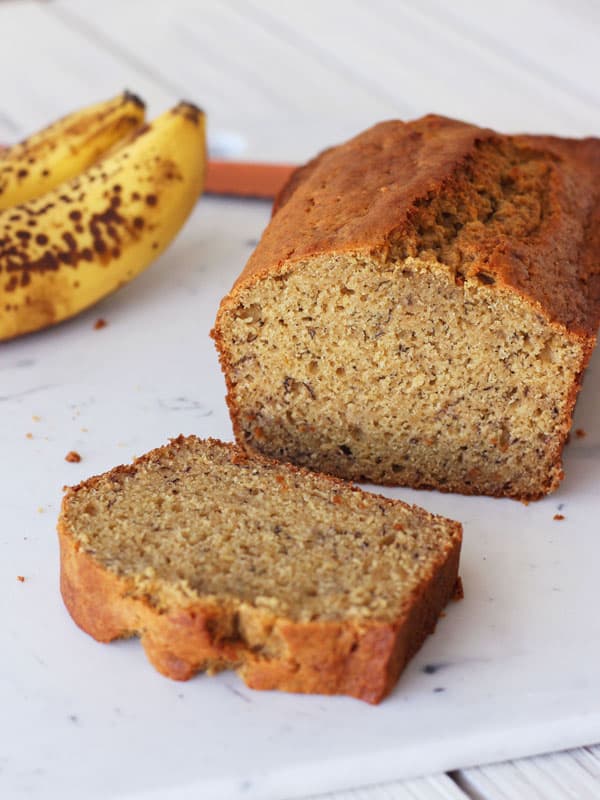 Mini Loaves
But if you want to speed things up, you can split the batter into three mini loaf pans and increase the baking temperature by 25 degrees to 350°F.
For us, the petite loaves usually only need about 25 to 30 minutes to cook through all the way.
Aside from the faster bake time, another bonus of making the recipe this way is getting to customize each of the loaves.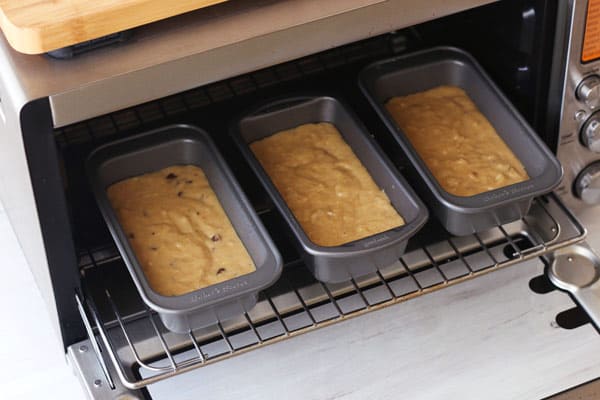 We usually make:
a plain banana mini loaf (my favorite)
one banana walnut option
and a chocolate chip banana walnut mini loaf (this one's all for Tim).
I know, kind of a tame blend.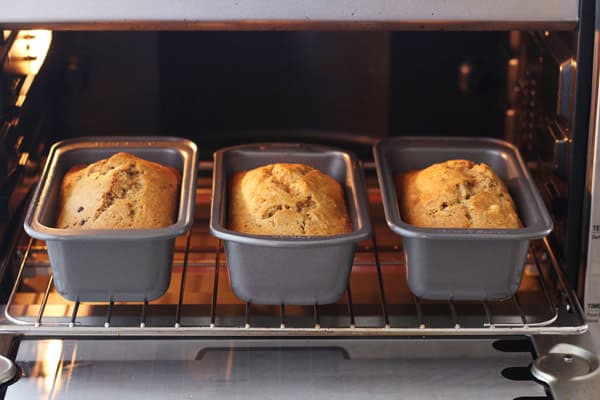 Feel free to get creative and use your favorite mix-ins, the batter is super forgiving and flexible. Just divide the batter into thirds and stir them in.
It's really hard to mess this bread up. I promise.
Tips For Smaller Toaster Ovens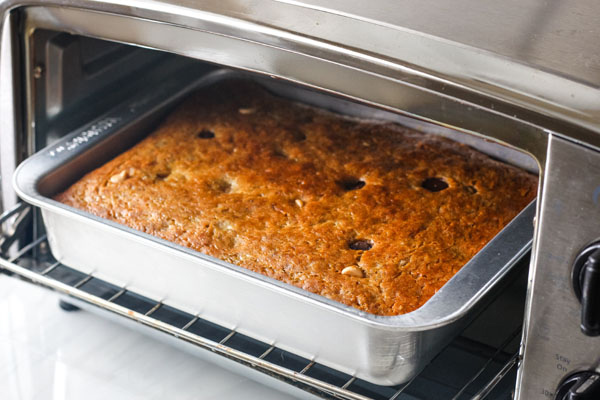 Unfortunately, the loaf pan is too tall for our smaller toaster oven. Although I can get it to fit inside, as the bread rises there's a chance it could come in contact with the heating elements and cause a fire.
So to make this recipe fit, I use a cake pan that holds a similar capacity (volume) as the original loaf pan.
An 8½" x 4½" loaf pan holds 6 cups.
The cake pan from our Farberware toaster oven pan set holds 6 cups.
Our Nordic Ware Compact Oven Cake Pan also holds 6 cups.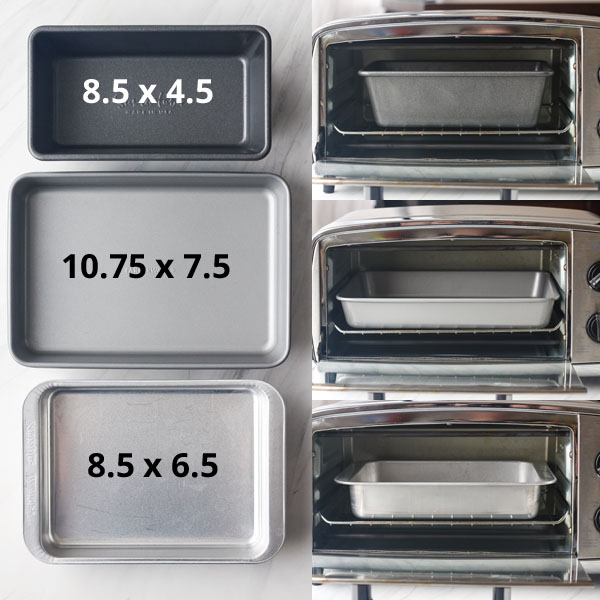 If you're curious about how to find the volume of a baking pan check out this post on Baking Pan Sizes from the website Joy of Baking.
I like to use the Nordic Ware pan because it's a little deeper. The slices come out fat and thick, like a banana bread snack cake.
Since the pan is wider/shallower than the loaf pan, the batter bakes faster. I find that increasing the temperature to 350°F helps it to bake more evenly.
As all ovens bake differently, you should start checking on your bread after 25 minutes. Then add more time as needed.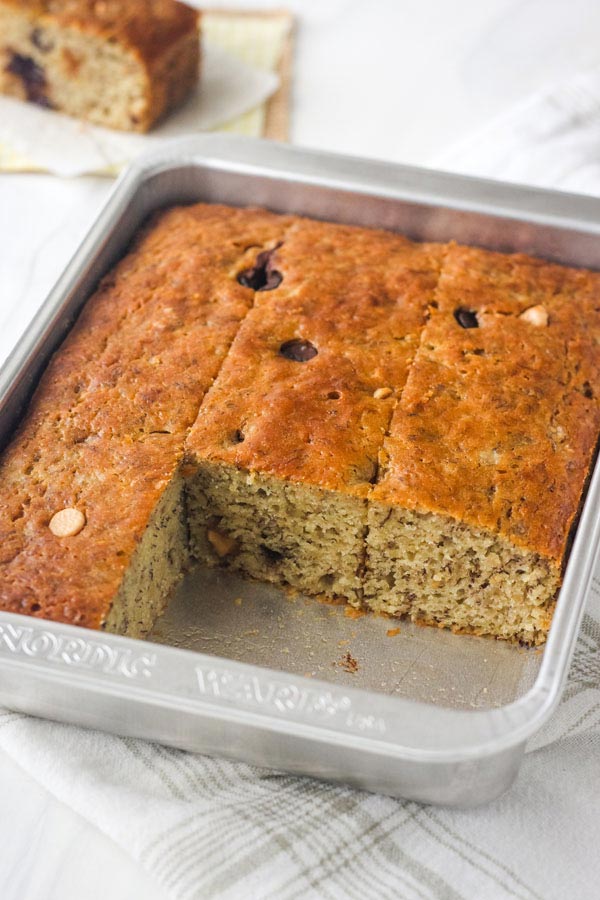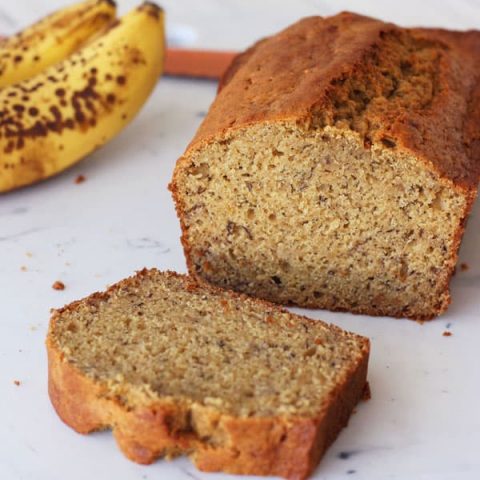 Two Bananas Toaster Oven Banana Bread
Designed for a large toaster oven, this 2 banana recipe is perfect for feeding a group or stashing in the freezer to satisfy late-night sweets cravings.
Ingredients
Dry Ingredients:
1 cup plus 1/2 cup (180 grams) white whole wheat flour, or all-purpose flour
1/2 cup (96 grams) organic pure cane sugar
1 teaspoon baking soda
1/4 teaspoon fine sea salt
Wet Ingredients:
1 cup mashed banana, about 2 medium overripe bananas (150 to 160 grams peeled)
1 large egg, at room temperature
1/4 cup melted coconut oil (see note)
1/2 cup (4 ounces) low-fat buttermilk, at room temperature (see note)
1/2 teaspoon real vanilla extract
Instructions
Adjust your toaster oven's cooking rack to the lowest position and preheat to 325F on the "Bake" setting.
Grease only the bottom of an 8½" x 4½" loaf pan.
In a large bowl whisk together the flour, sugar, baking soda and salt. In another bowl combine the mashed bananas, egg, oil, buttermilk, and vanilla. Add the wet ingredients into the dry ingredients and mix just until combined.
Pour batter into the prepared pan and bake until a toothpick or skewer inserted into the center of the loaf comes out clean, about 40 to 50 minutes.
Allow pan to cool for a few minutes and then carefully tip the loaf out and transfer it to a baking rack to cool completely.
Notes
Buttermilk Substitute: Pour 1½ teaspoons apple cider vinegar (or lemon juice) into a glass measuring cup. Then fill with milk to the 1/2 cup mark. Stir and let sit for 5 minutes before adding to the recipe.

Oil Options: In addition to the melted coconut oil, we've used canola oil and grapeseed oil without any issues. Personally, I think the coconut oil tastes the best but you do have to make sure the dairy and egg are at room temperature or else the coconut oil will harden in the batter.

To Make Mini Loaves: Increase the oven temperature to 350°F. Grease the bottom of three 5-3/4" x 3" x 2" mini loaf pans. Divide batter evenly between the pans and bake until a toothpick inserted into the center of the loaves comes out clean, about 25 to 30 minutes.

Alternative Pans:
An 8.5 x 6.5 pan or 10.75 x 7.5 pan can be substituted for the 8.5 x 4.5 loaf pan. Increase the temperature to 350°F and bake until browned and a toothpick comes out clean, about 28 to 35 minutes. The total time will depend on your oven and the pan used. For the best results, begin testing after 25 minutes and add time as needed.
Recipe adapted from the Banana-Walnut Muffins recipe in The Gourmet Toaster Oven Cookbook.
Nutrition Information:
Yield:

10
Serving Size:

1 slice
Amount Per Serving:
Calories:

129
Total Fat:

6.3g
Saturated Fat:

5.7g
Cholesterol:

19mg
Sodium:

193mg
Carbohydrates:

17.2g
Fiber:

0.8g
Sugar:

12.6g
Protein:

1.8g