This Mini Eggless Banana Bread is moist, tender, and flavorful – no one will guess it's made without eggs or dairy! With one banana and a few pantry staples, it's easy to throw together and perfectly sized for baking in a toaster oven.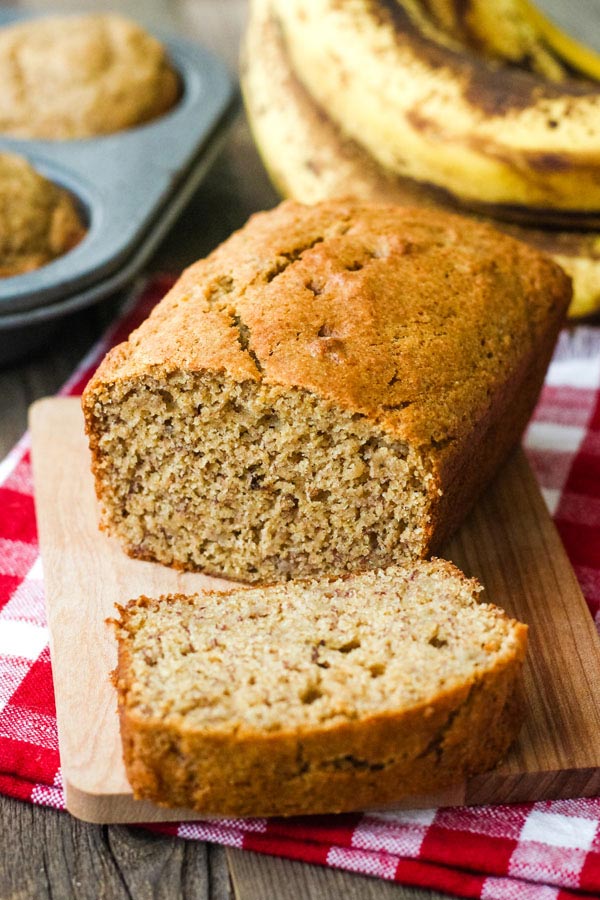 When I have an overripe banana to use up I usually make our popular one banana banana bread. It's a simple recipe that comes together quickly and tastes delicious.
The problem is, I haven't had much luck substituting the egg in it.
So last month I set out to create an egg-free version. One that was easy to whip up and didn't require any funky or unusual ingredients.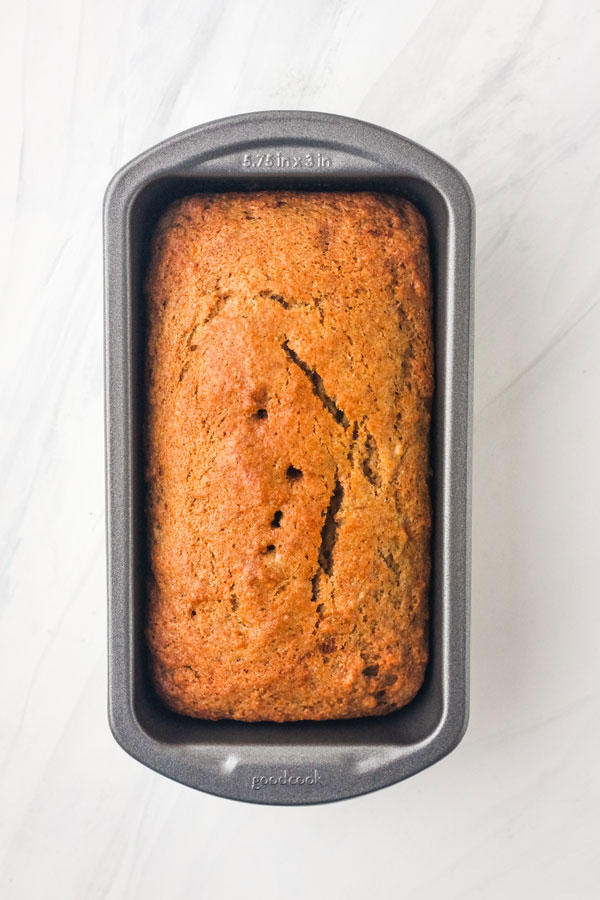 The result: A mini eggless banana bread recipe that is moist and tender without being soggy, has a great banana flavor and makes the perfect amount for one or two people.
The slices are pretty tasty on their own but even better toasted and slathered with peanut butter for a decadent treat!
Tips for Mini Banana Bread Success

Choose Your Banana Wisely
For the best banana flavor, use an over-ripe large banana. One that's spotted all over, has a sweet aroma you can smell through the peel, feels very tender when pressed, and mashes easily.
Customize the Spices and Sugar
From tossing in a handful of chopped toasted walnuts or chocolate chips to playing around with different spices like ginger, nutmeg, and cloves – you can have a lot of fun personalizing this little quick bread.
Just try to use a light touch with the spices, they can quickly overwhelm such a small recipe.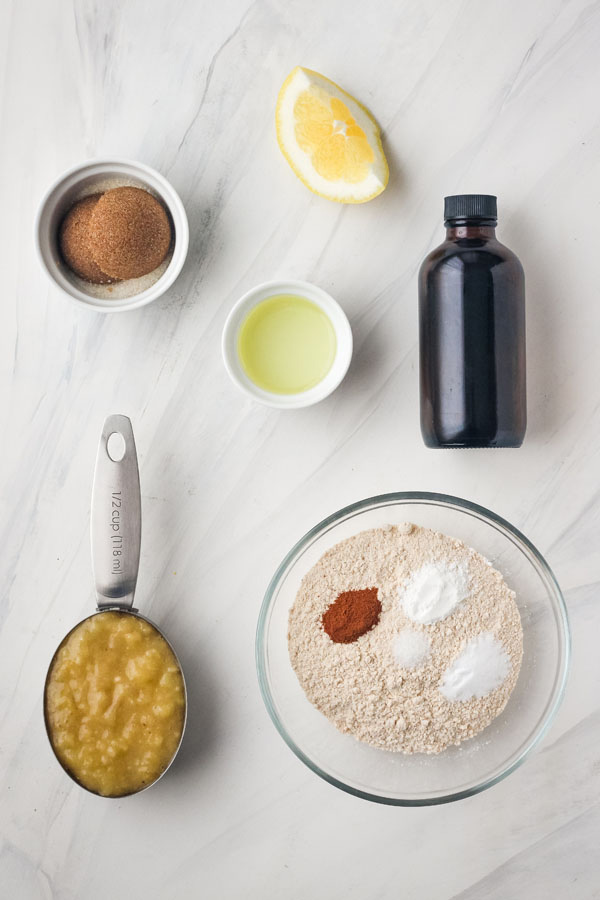 My go-to combination for the sugar is 1 tablespoon granulated white sugar and 2 tablespoons dark brown sugar. The molasses-rich dark brown sugar pairs well with the banana to give the bread a stronger flavor and better texture IMHO.
For an extra special loaf, sprinkle the top of the bread with a little sparkling sugar or raw sugar. Like these Raspberry Lemon Corn Muffins it gives the bread a fun crunch and premium appearance.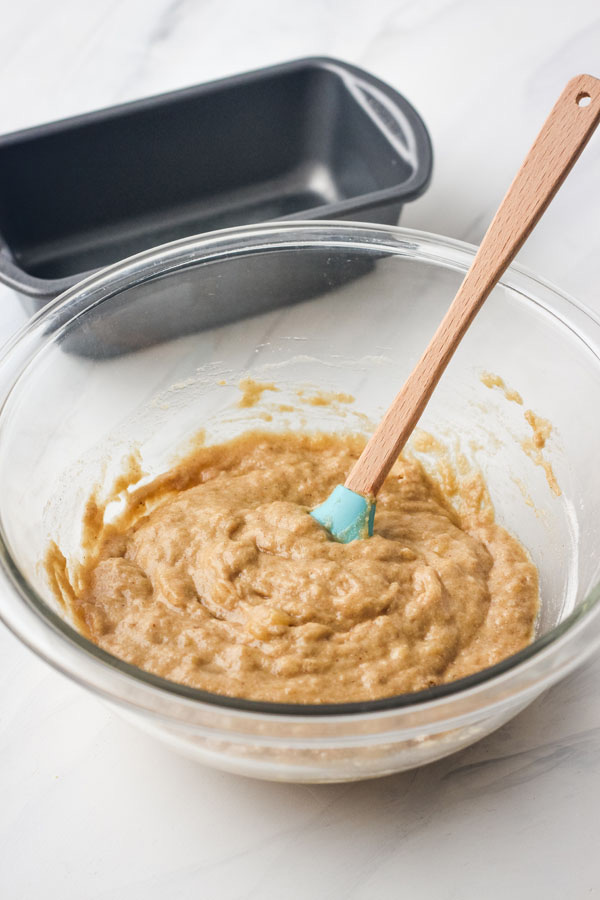 Avoid Overmixing
Speaking of texture, aggressively stirring the batter will cause the bread to turn out tough and dense. For a tender bread, keep the mixing to a minimum once you add the flour.
How to Tell When Your Bread is Done Baking
Recently, I came across this article from King Arthur Flour on How to Tell When Banana Bread Is Done. One of the tips is to use an instant-read thermometer.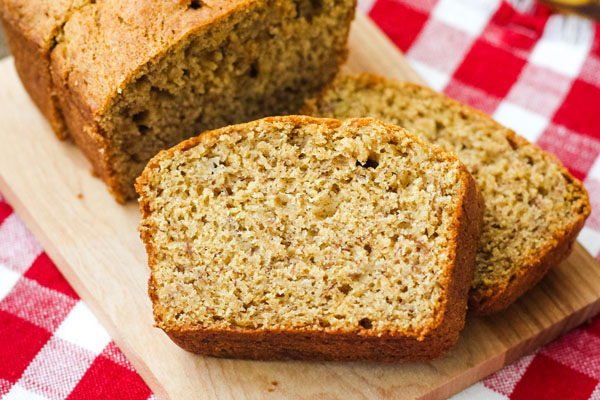 I started using our Thermopop thermometer when making quick bread and each time it has turned out great. You just stick the thermometer in the center and look for it to be between 200°F to 205°F.
If you don't have a thermometer, you can poke a wooden skewer in a few places. When it comes out clean or with only a few crumbs attached, the bread is ready. If you see wet batter, keep baking!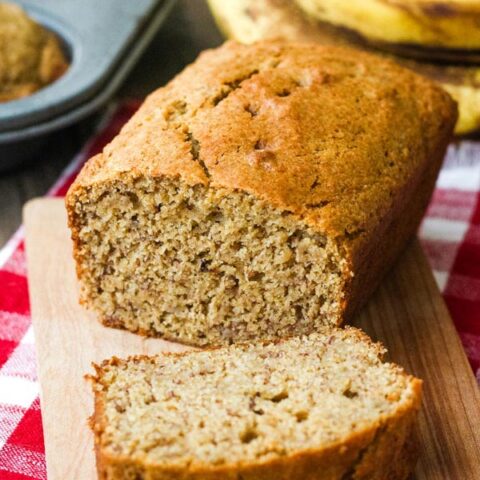 Mini Eggless Banana Bread
Yield:
1 Mini Loaf (about 5 small slices)
Banana is the star of this downsized quick bread! It's so moist and flavorful no one will believe you made it without dairy or eggs.
Ingredients
Dry
1/2 cup White Whole Wheat Flour (or Unbleached All-Purpose)
1/4 teaspoon Baking Powder
1/4 teaspoon Baking Soda
1/4 teaspoon Cinnamon
1/8 teaspoon Table Salt
Wet
1/2 cup Mashed Banana, about 1 very ripe large banana (125 to 130 grams peeled)
1 tablespoon Organic Cane Sugar
2 tablespoons Packed Brown Sugar (see note)
2 tablespoons Canola Oil (see note)
1/2 teaspoon Lemon Juice
1/4 teaspoon Pure Vanilla Extract
Instructions
Preheat your oven or toaster oven to 350°F. If using a toaster oven, adjust the cooking rack to the lowest placement, and select the "Bake" setting.
Grease only the bottom of a 3 x 5.75 x 2.5-in mini loaf pan.
In a small bowl, combine the flour, baking powder, baking soda, cinnamon, and salt. Set aside.
In a medium bowl, stir together the mashed banana, granulated sugar, brown sugar, oil, lemon juice, and vanilla.
Fold the flour mixture into the banana mixture just until combined. You don't want it smooth, there should be some small lumps.
Pour the batter into your prepared pan and smooth the top.
Bake until the loaf is browned and the internal temperature of the bread reaches 200°F to 205°F or a skewer inserted in multiple spots comes out clean about 22 to 26 minutes.
Allow the bread to cool for at least 10 minutes before removing from the pan and transferring to a baking rack. Cool the bread completely before slicing and devouring!
Notes
Banana: Make sure to use a very ripe banana that is soft and spotted brown. Mash it well with a fork and measure it into a 1/2 cup measuring cup before adding to the recipe.

Sugar: We've had success using organic dark brown sugar, light brown sugar, and cane sugar in a variety of different combinations. Also, this bread is not overly sweet. If you prefer a sweeter banana bread, you can increase the sugar to 4 tablespoons in total.

Oil: Canola oil is what I usually use because of its neutral flavor. Melted coconut oil, grapeseed oil, and olive oil also work, though the olive oil's flavor was noticeable.

Convection Adjustments: Reduce the temperature to 325°F and begin testing for doneness after 20 minutes, adding more time as needed.

Storing Leftovers: The cooled banana bread can be stored in a covered container at room temperature for 2 to 3 days.

Freezing Leftovers: I like to slice the loaf before freezing so it's easier to just grab a single piece. To freeze, wrap the sliced loaf in plastic wrap and place it in a plastic freezer bag. To defrost remove a few pieces and leave at room temperature for 15 to 20 minutes.

Mini Muffins: Grease a mini muffin pan and fill the cavities halfway full. Bake at 375°F until the muffin tops bounce back when pressed and a toothpick inserted in the middle comes out clean about 7 to 10 minutes. Recipe makes around 15 mini muffins.

Muffins: Preheat oven to 375°F, grease 4 cavities in your muffin pan, and distribute the batter evenly. Add pan to the oven and bake for 5 minutes. After 5 minutes, reduce the temperature to 350°F and bake until muffins are browned and a toothpick inserted in the center comes out clean, about 10 to 12 minutes more. The muffins will be a little heartier and not as light and fluffy as the mini muffins.
Nutrition Information:
Yield:

5
Serving Size:

1 Slice
Amount Per Serving:
Calories:

138
Total Fat:

5.9g
Saturated Fat:

0.4g
Cholesterol:

0mg
Sodium:

122mg
Carbohydrates:

21g
Fiber:

1.9g
Sugar:

10.4g
Protein:

1.9g