Roasted Carrots with Lime, Garlic and Ginger
These roasted carrots with lime are the easiest veggie side dish. Smoky sweet roasted carrots with garlic, ginger and a pop of bright lime flavor.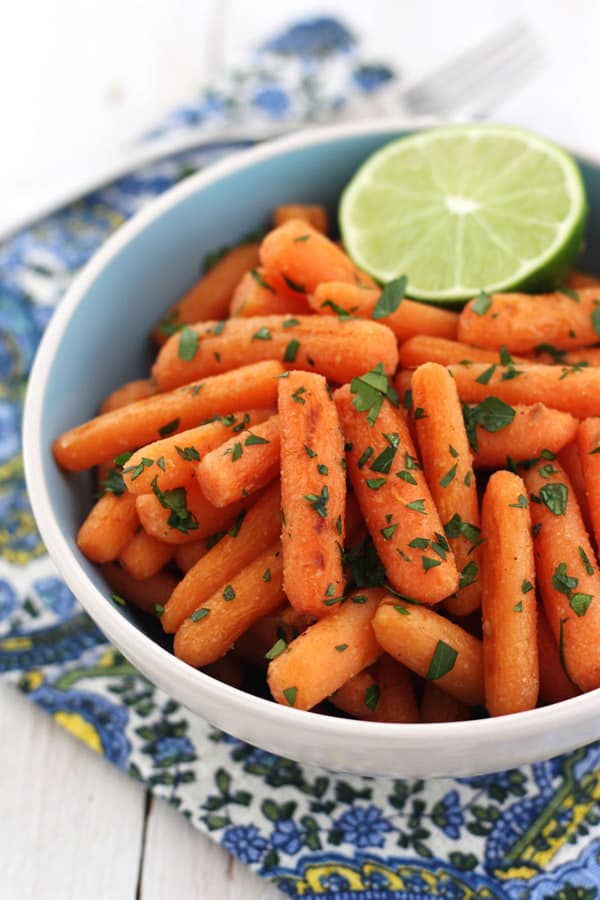 Did you know you can cook any vegetable in your toaster oven?
Some veggies, like spaghetti squash and baked potatoes, can take an hour or more.
Thankfully, not all roasted vegetables take that long.
Our popular sweet potato rounds and cabbage wedges are ready in 30 minutes, you only need 15 minutes for a batch of balsamic asparagus spears and these irresistible roasted carrots are super quick too.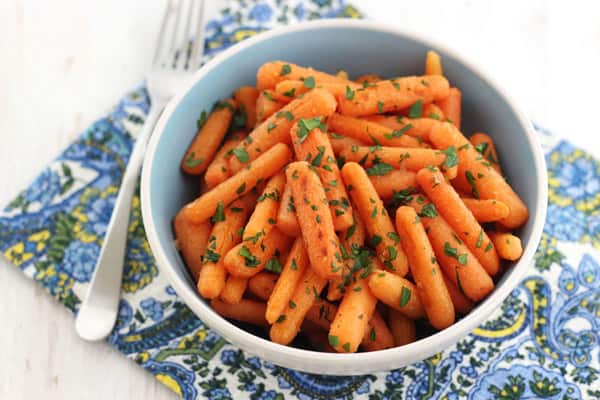 From start to finish, whipping up a tasty pan will take you about 20 to 25 minutes (depending on how big your carrots are).
The secret to this ultra-easy recipe is using a bag of baby-cut carrots. I bet you've got one sitting in your fridge right now.
Quick, go check!
~ Keep scrolling for tips & seasoning ideas after the recipe ~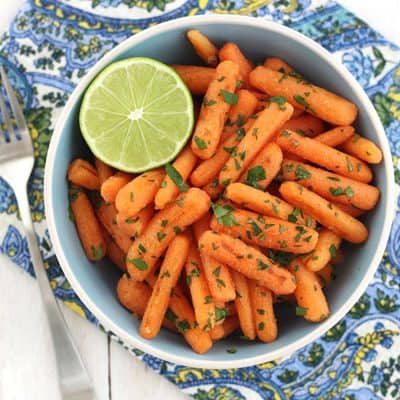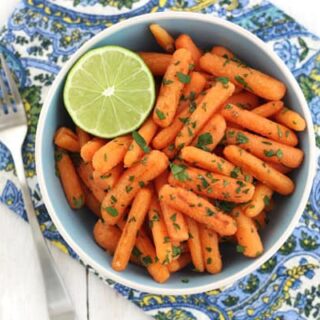 Roasted Carrots with Lime
A squeeze of lime adds a pop of brightness to a small batch of smoky roasted baby carrots.
Ingredients
16-ounce bag Baby Cut Carrots, drained and dried well
1 tablespoon Melted Coconut Oil, Olive Oil, or Grapeseed Oil
1/2 teaspoon Fresh Ginger Root, peeled and chopped
1/4 teaspoon Granulated Garlic
Salt and Pepper, to taste
1 medium Lime, sliced in half
Fresh Parsley Leaves, chopped, for garnish
Instructions
Adjust the cooking rack to the bottom placement and preheat toaster oven to 425°F on the BAKE setting.
Place dried carrots on your toaster oven roasting pan and add oil, salt, pepper, ginger, and garlic. Toss to combine.
Roast for 15 to 20 minutes, shaking the pan halfway through cooking until the carrots are browned and fork-tender.
Squeeze lime halves over carrots and sprinkle with parsley before serving.
Notes
Cook time will vary depending on the size of your carrots. About 15 minutes for small carrots and 20 to 25 minutes for large or wide carrots.
To cook in a Convection Toaster Oven, reduce temperature to 400°F and begin checking for doneness at 12 minutes, adding more time as needed.
Nutrition Information:
Yield:

4
Serving Size:

1/4 of Recipe
Amount Per Serving:
Calories:

84
Total Fat:

3.5g
Saturated Fat:

3g
Cholesterol:

0mg
Sodium:

90mg
Carbohydrates:

12.9g
Fiber:

3.2g
Sugar:

7.2g
Protein:

1.5g
Top Tips
Drain and dry your carrots well. Baby cut carrots are packed with water to keep them moist. One time, without thinking I accidentally dumped the whole bag (water and all) into a baking dish. It was a soggy carrot city.
Use a roasting or baking pan. The high sides of a baking dish make it hard for the dry heated air in your toaster oven to circulate. To achieve a nice crisp-tender veggie use a dark roasting pan and if your toaster oven has a convection fan make sure to turn it on! (see recipe notes for time and temperature adjustments)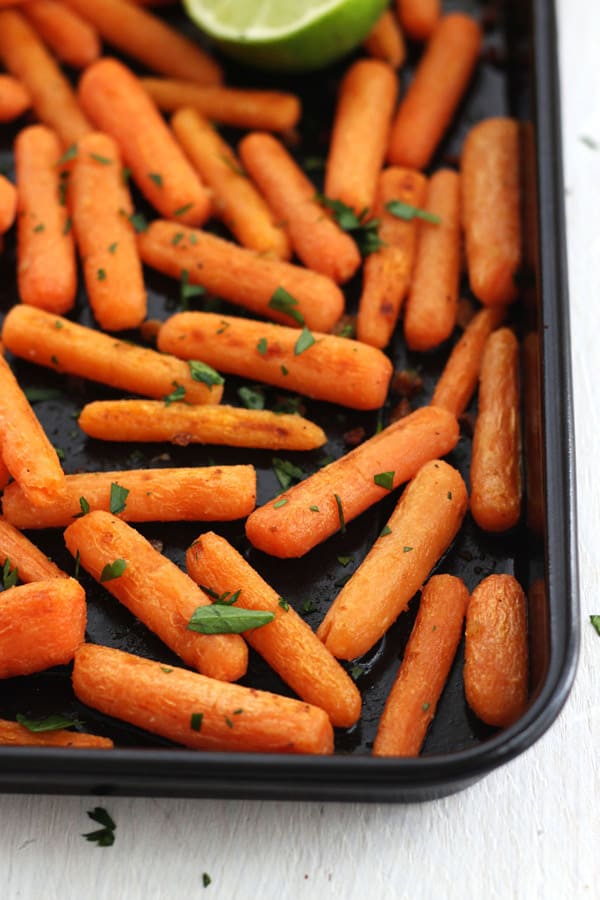 When it comes to the oil, rich and savory olive oil tastes fantastic in the cooler months. While summer is a great time to give melted coconut oil a try.
It's lighter with a hint of sweet coconut flavor.
If you're new to cooking with coconut oil you might find yourself saying"OMG, my carrots just turned white!" That's because the melted oil will harden when it hits cold veggies. Like, say carrots that are fresh from the fridge.
Don't panic, once you pop the pan in your toaster oven it'll quickly melt again.
Warning: Before I go and ruin your future coconut oil baking adventures, know that tossing cold items (like milk or eggs) with coconut oil in a baking recipe will not turn out good. Let them come to room temperature first and everything will be fine.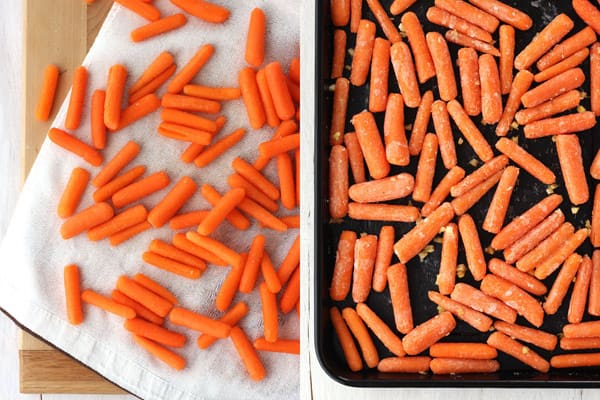 Seasonings Ideas
Dig around in your pantry and see what sounds good.
Plain salt and pepper are pretty tasty, cumin is another winner but garlic and fresh ginger are the BEST combo.
We used dried garlic and defrosted fresh-ish ginger. (Did you know you can freeze ginger root?) But any mix of fresh and dried will work, just remember to reduce the amounts when substituting dried for fresh.
Whatever you do, Don't Skip The Lime!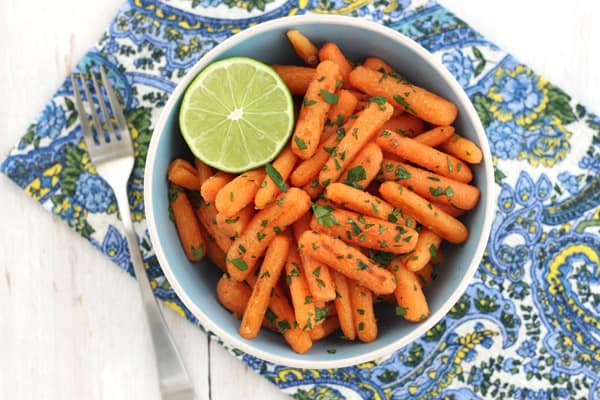 When roasted, the natural sugars in carrots are intensified. A little acid like balsamic vinegar or citrus helps to balance out the sweetness.
These quick and easy carrots are a great snack or side dish. You can even throw them into a crisp salad.
Ours rarely make it to the table though, we just eat them straight off the pan.
I know. We're basically animals.