Roasted eggplant cooks up caramelized and buttery in just 30 minutes! It's easy, delicious, and a great veggie side dish for any meal.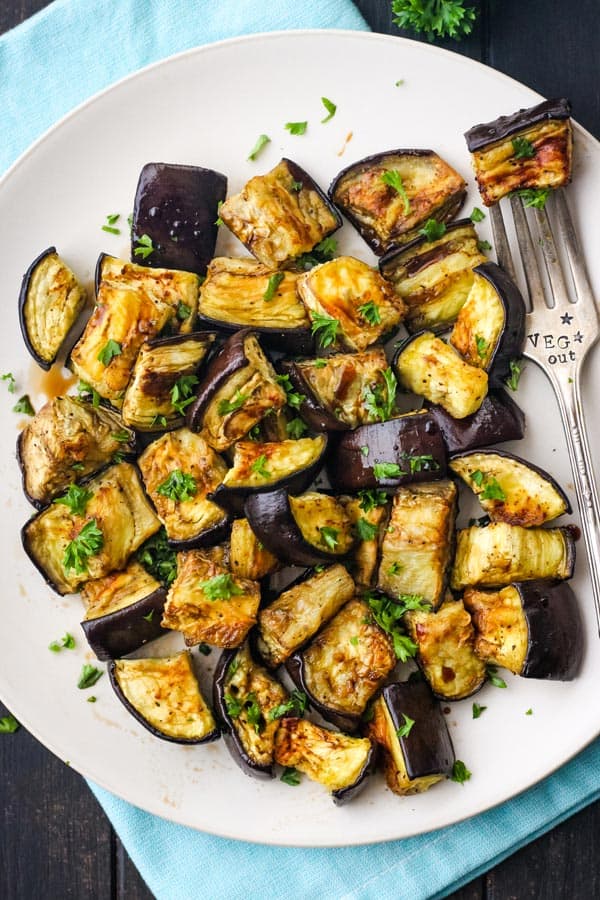 Want to try eggplant but aren't sure how to cook it? Then today's recipe is for you! It's a simple method for turning that glossy purple fruit (yes, it's technically a fruit) into little nuggets of yum.
How to Cut an Eggplant
Given its odd shape, it may seem intimidating at first to cut an eggplant. But it's actually pretty easy.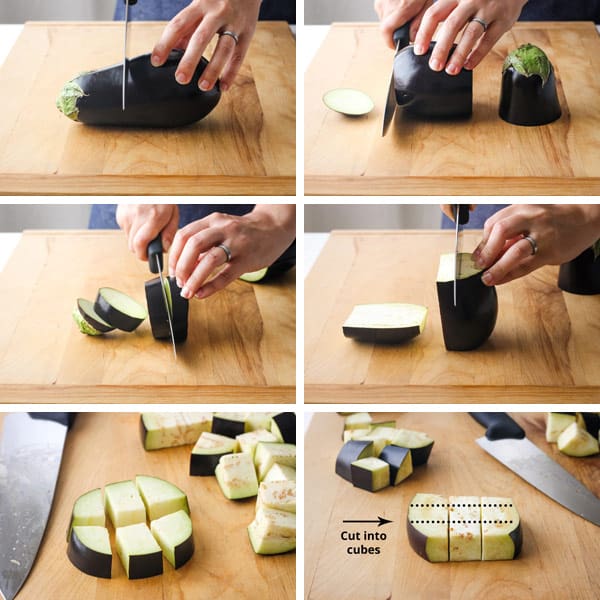 Here's how we do it so the pieces are about the same size:
1. Slice the eggplant in half where the top part starts to widen in the middle. You should have two pieces, a thinner cylindrical half and a rounder bottom.
2. Trim the green top off the cylindrical "neck" half and cut into ¾-inch thick rounds. Then cut each round into thick evenly sized pieces.
3. Slice the end off of the bottom half and place standing upright on a cutting board. Cut into ¾-inch thick planks. Cut the planks into strips, then cut the strips into cubes.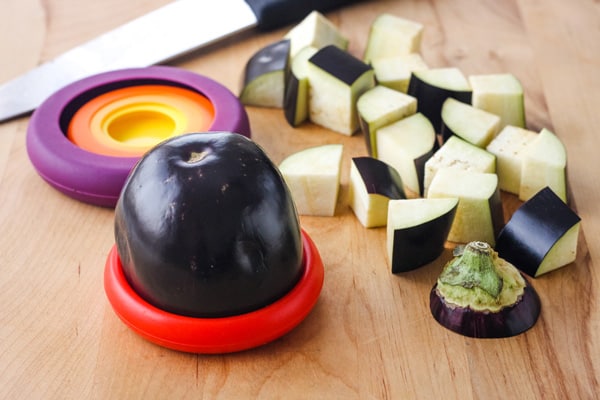 The eggplant pictured above was about 10 ounces, so I used the whole thing. If you've got a larger eggplant and only want to cook half, do not cut up the other half (it will start browning right away).
Instead, cover the exposed end with plastic wrap, foil, or a reusable Food Hugger (they fit on cans and other veggies too!). Then refrigerate the leftover eggplant half and use it within 2 to 3 days.
What seasonings taste good with eggplant?
Pretty much all of them! Similar to tofu, eggplant has a neutral flavor and spongy flesh that will soak up any oil and seasonings you toss it with.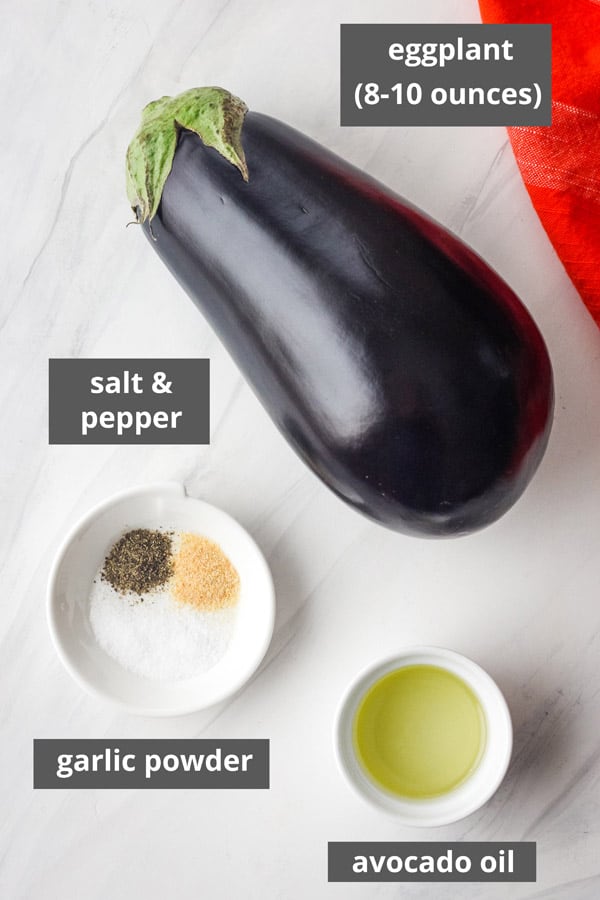 For this recipe, we kept it simple with salt, pepper, and garlic powder. If you're looking to spice things up, here are a few other ideas for seasoning eggplant:
Curry powder
Italian seasoning
Ground cumin
Smoked paprika
Za'atar spice blend
Everything bagel seasoning
You can also season the eggplant after roasting with lemon juice and zest, a drizzle of tahini, or a splash of aged balsamic vinegar or soy sauce.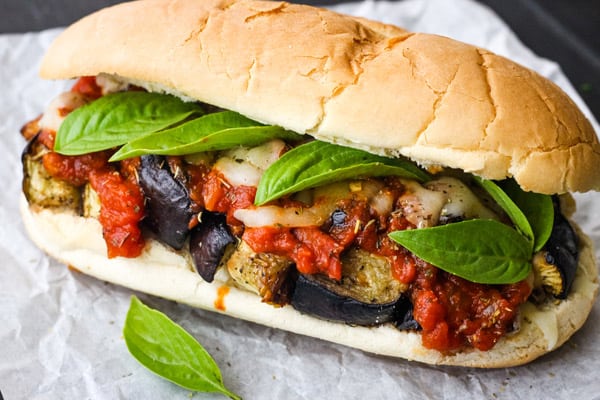 Turn this side dish into a meal
Eggplant Subs – Top hoagie rolls with roasted eggplant, marinara sauce (or pesto), and mozzarella cheese. Pop in the toaster oven at 350°F for 7 to 10 minutes. Finish with a sprinkle of Italian seasoning and fresh basil.
Veggie Bowls – Top noodles or rice with eggplant and shelled edamame. Drizzle with soy sauce or our peanut lime sauce for two. Garnish with sesame seeds, chopped cashews, and sliced scallions.
Eggplant Wraps – Slather pita bread with hummus or our small batch tzatziki sauce. Top with the cooked eggplant, crumbled feta, tomato slices, and lettuce.
These are just a few easy ways you can level up your roasted eggplant, feel free to clean out the fridge and get creative!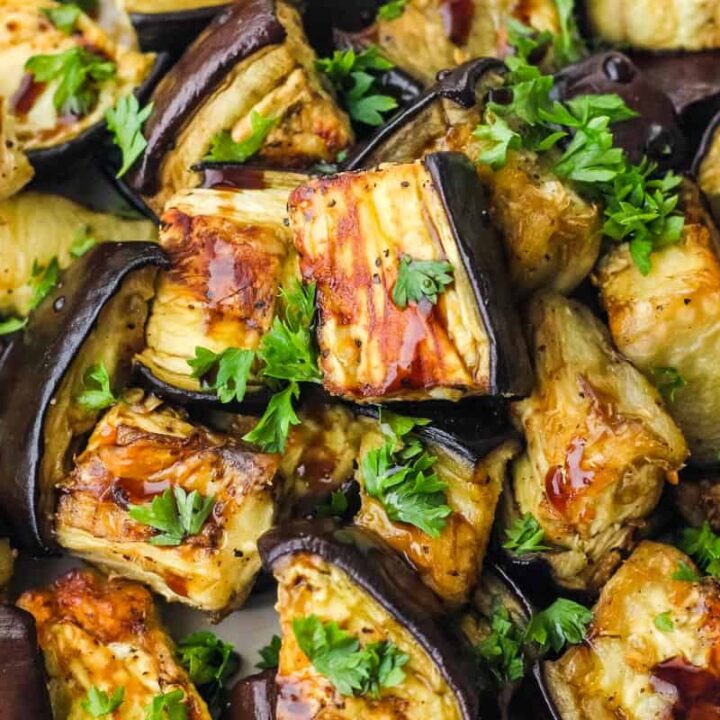 Roasted Eggplant Recipe
To make a recipe that would feed two people and fit in most toaster ovens we used 8 ounces of raw eggplant (about half a medium one). If you've got the room and are craving more of this tasty veggie feel free to double the ingredients, the leftovers reheat well. 
Ingredients
8 ounces (225 grams) Eggplant aka Aubergine, cut into ¾-inch pieces
3 teaspoons plus ½ teaspoon Avocado Oil or Olive Oil, divided
¼ teaspoon fine sea salt
⅛ teaspoon black pepper
⅛ teaspoon garlic powder, optional
For Serving:
Aged Balsamic Vinegar
Chopped Fresh Parsley
Instructions
Preheat the oven to 425°F. If using a toaster oven, adjust the cooking rack to the bottom position and select the BAKE setting.
Rub a small rimmed sheet pan with ½ teaspoon of the oil.
Add the chopped eggplant to a large bowl and drizzle with the remaining 3 teaspoons of oil. Toss well to coat. Sprinkle over the salt, black pepper, and garlic powder. Toss again.
Pour the eggplant onto the prepared pan and arrange in an even layer.
Roast for 15 minutes. Then carefully remove the pan and turn the eggplant with a spatula. Continue cooking until softened and browned, about 10 to 15 minutes more.
Serve warm topped with fresh herbs and a drizzle of balsamic vinegar if desired. Then dig in!

Notes
Oil: We like to use about 1 to 1½ teaspoons of oil for every 4 ounces of eggplant. This amount keeps the eggplant from drying out without making it greasy.

Convection: Reduce temperature to 400°F and check for doneness early.

Air Fryer Toaster Oven: Preheat to 375°F on AIR FRY setting. Place seasoned eggplant on the mesh basket and cook for 10 minutes. Carefully toss eggplant and continue cooking until browned and fork-tender, about 5 to 7 minutes more.

Storage: Leftovers can be refrigerated in an airtight container for 3 to 4 days.

Reheating: The toaster oven is great for reheating eggplant. Add the leftovers to an ungreased sheet pan and heat at 350°F / 325°F Convection until warmed through, about 8 to 12 minutes. *You do not need to preheat the toaster oven when reheating food.

Nutrition Information:
Yield:

2
Serving Size:

About 1/2 cup
Amount Per Serving:
Calories:

99
Total Fat:

7.8g
Saturated Fat:

1.1g
Cholesterol:

0mg
Sodium:

61mg
Carbohydrates:

6.8g
Fiber:

4g
Sugar:

3.4g
Protein:

1.1g
How to Roast Eggplant – Step by Step Photos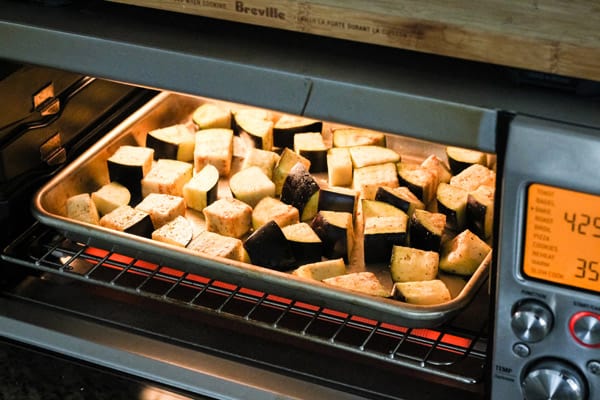 Step 1. Warm Up The Oven
In our full-sized oven and toaster oven, we like to roast eggplant at 425°F. The high heat causes the eggplant pieces to brown and caramelize outside while remaining tender (but not mushy) inside.
If your toaster oven runs warm, you are using a dark-colored pan, or are cooking with a convection toaster oven you'll want to lower the temperature to 400°F.
Next, lightly oil a rimmed sheet pan with about ½ teaspoon of oil. This helps to prevent the pieces from sticking.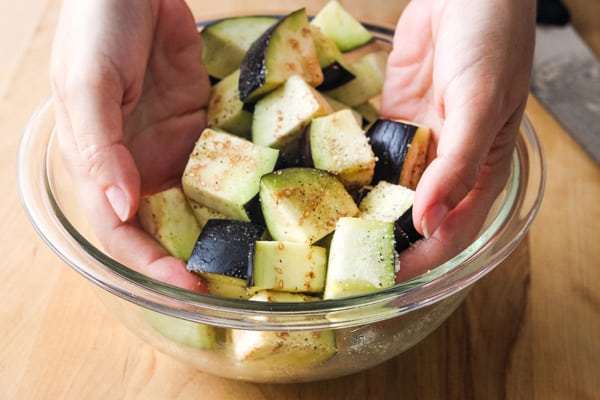 Step 2. Add Some Flavor
Place the chopped eggplant in a large bowl and drizzle with 3 teaspoons of oil. With clean hands, toss the eggplant and oil together trying to get each piece well coated.
Sprinkle it with salt, pepper, and garlic powder. Then toss again.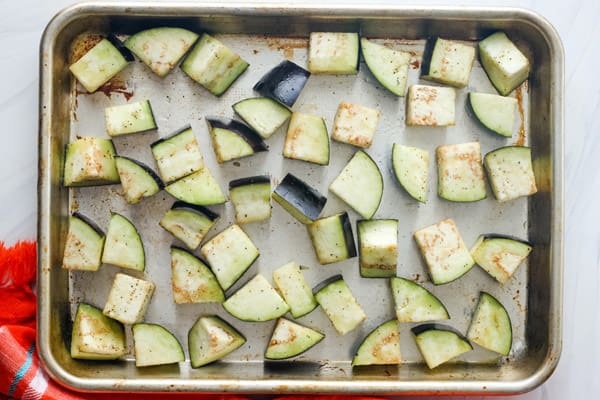 Step 3. Get Cooking
Dump the eggplant onto the pan and arrange the pieces in a single layer. During cooking, the eggplant will release a lot of moisture and shrink in size.
If the pieces are piled on top of each other they will end up steaming instead of roasting.
Roast the eggplant for 15 minutes. Then carefully remove the hot pan and gently flip the pieces with a spatula. This way they will get browned all over.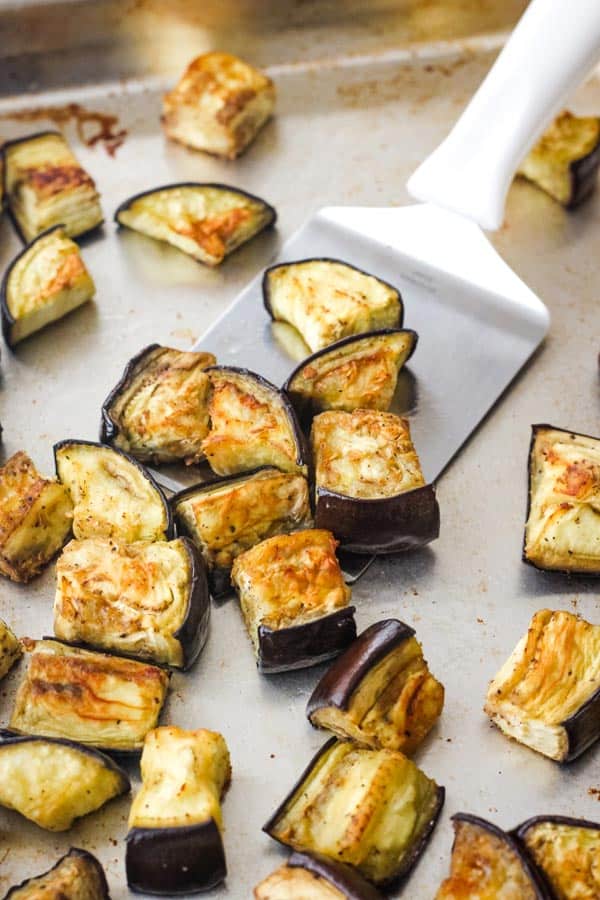 Continue roasting until the eggplant is browned and fork-tender, about 10 to 15 minutes more. The total amount of time will depend on how thick your pieces are.
Step 4. Finishing Touches
Lastly, garnish with fresh herbs and a drizzle of balsamic vinegar for a delectable side dish.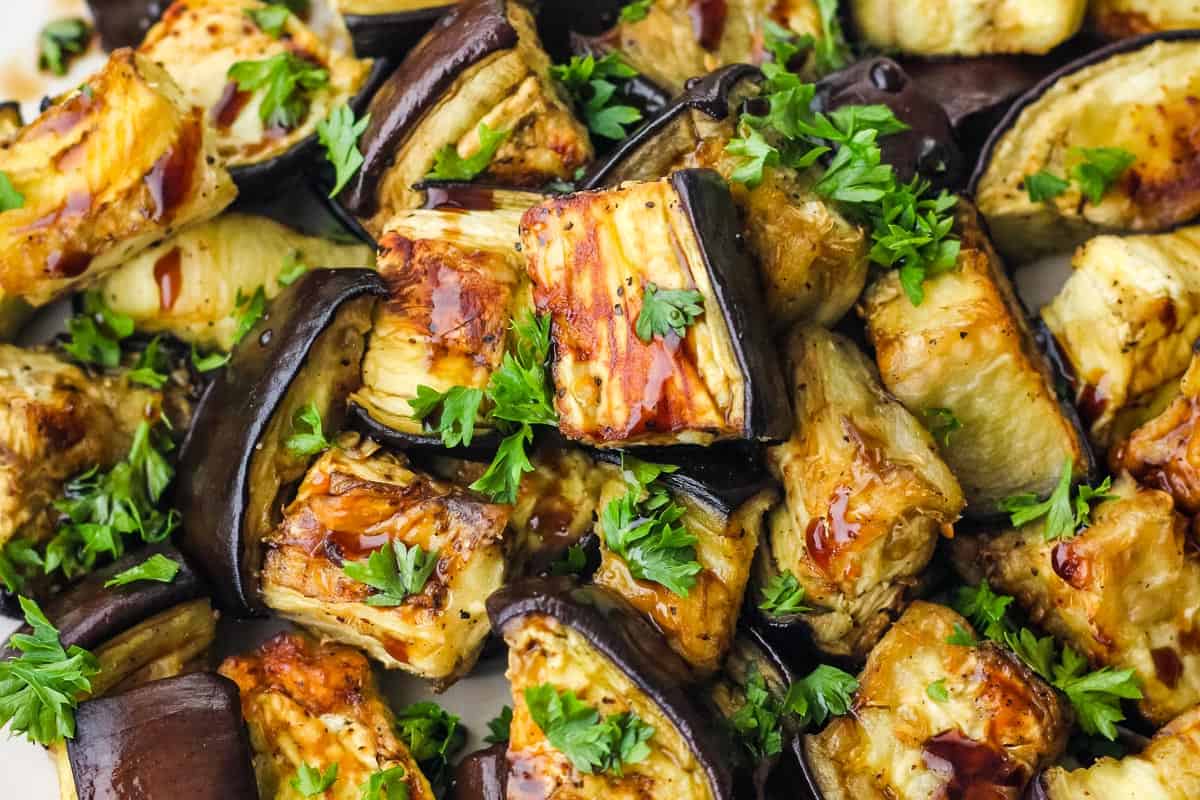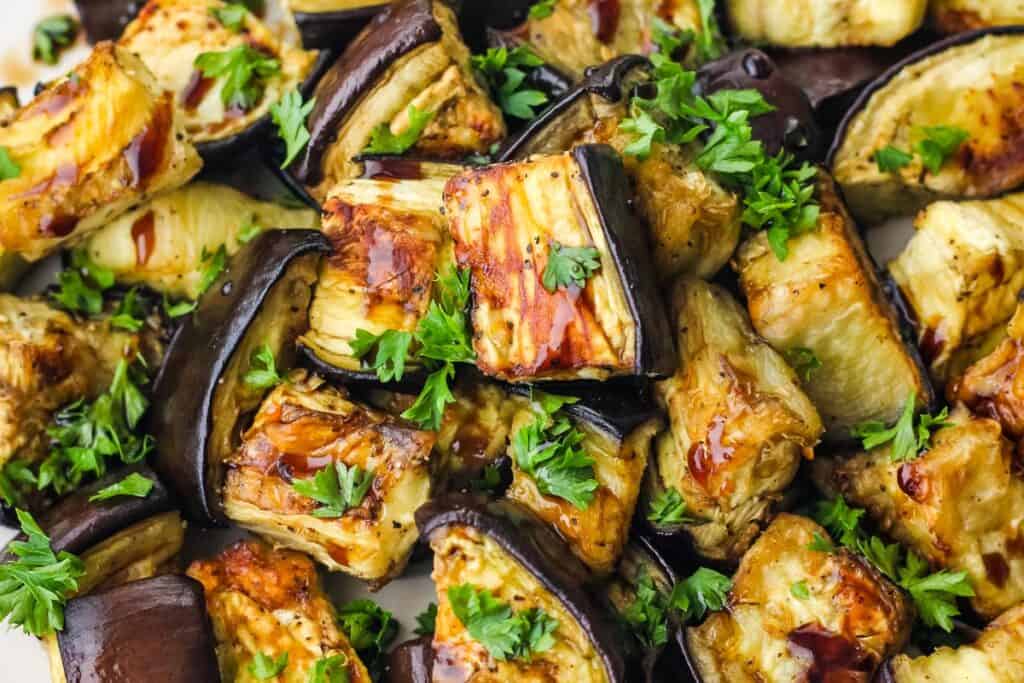 Can you make this recipe in an air fryer toaster oven?
Sure, just reduce the temperature to 375°F. Select the Air Fry setting and use the basket instead of a sheet pan. Flip or toss the eggplant after 10 minutes of cooking and then cook for another 5 to 7 minutes until it's fork-tender.
More Tasty Vegetable Recipes