Small Batch Berry Banana Bread
This Small Batch Berry Banana Bread Recipe is lightly sweetened, stuffed full of berries, and perfectly sized for baking in your toaster oven. You can make the easy recipe in ramekins, mini pans, or even as muffins – it's the perfect weekend treat for two!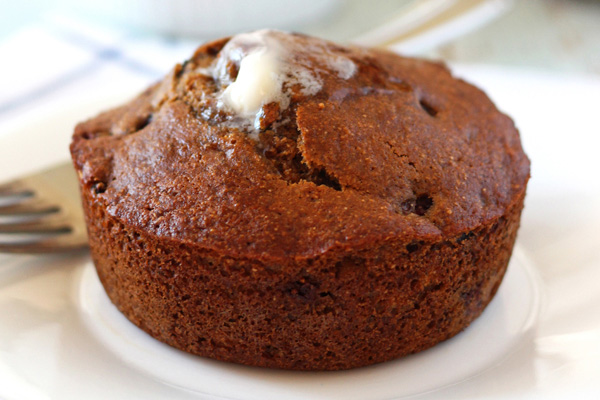 This simple recipe combines two fantastic flavors: banana + blackberry. The banana makes the bread tender and sweet while the berries are bright, tart, and juicy. Each bite is moist and delicious.
Like our toaster oven blueberry muffins, this recipe is really a jumping-off point for your own creativity. Here are a few ideas you might want to try.
Swap the blackberries for strawberries, blueberries, or raspberries.
Sprinkle the top of the batter with a little sugar before baking.
Swirl a tablespoon of peanut butter into the batter.
Add a few tablespoons of mini chocolate chips or chopped walnuts.
It's really hard to go wrong.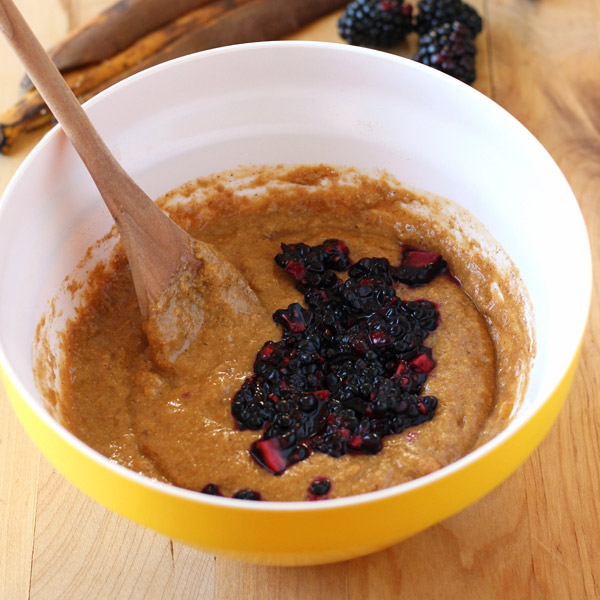 Can you use frozen berries?
Yeppers. Mixed frozen berries work great, skip the chopping and just toss them into the batter without thawing. The baking time may need to be increased by a few minutes.
Do I have to use coconut sugar?
Nope. You can substitute an equal amount of brown sugar or granulated white sugar. Coconut sugar adds a subtle caramel-like flavor and darker color to the bread. Brown or white sugars will result in a lighter texture and appearance. All three options taste scrumptious.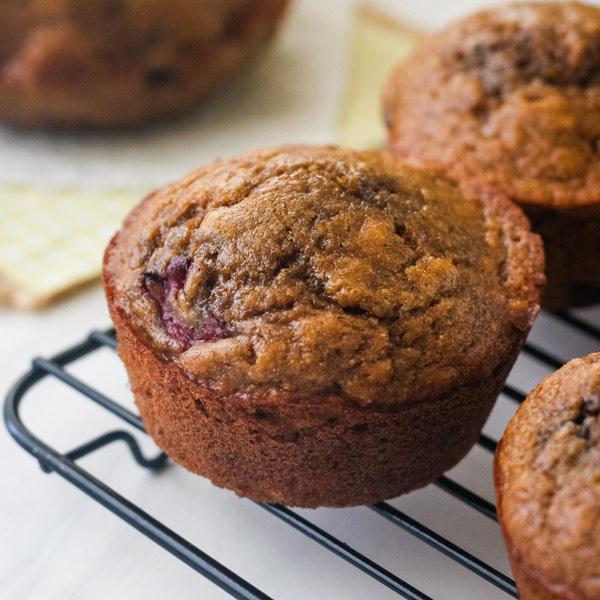 What if you don't have ramekins?
You can try one of these other mini pan options. Note, the baking time may be different depending on the type of pan used.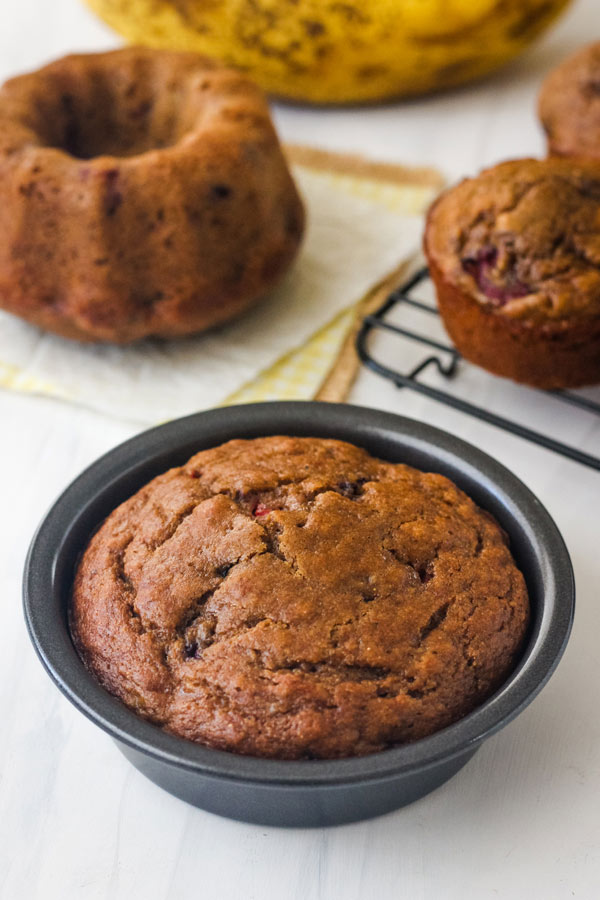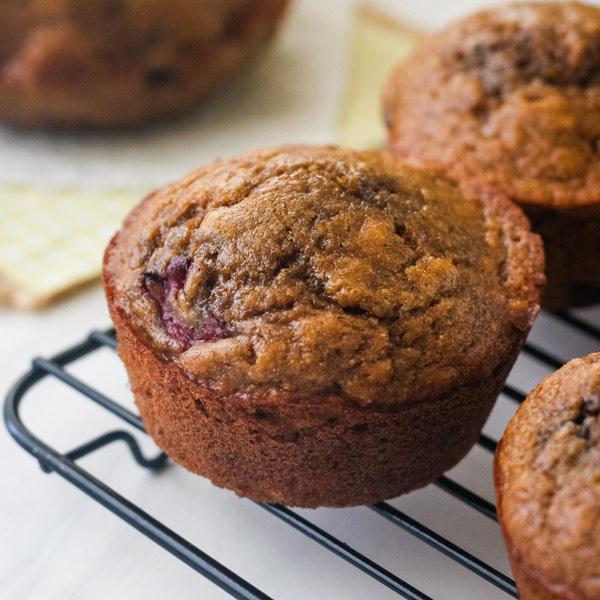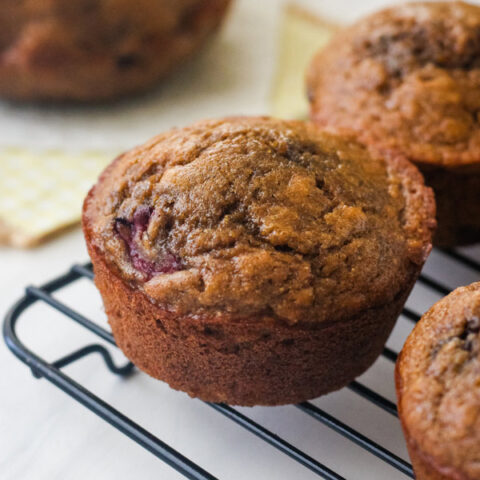 Small Batch Berry Banana Bread
Bake muffins, individual breads, mini bundts, or a small loaf of berry stuffed bread with this easy small-batch recipe.
Ingredients
1/4 cup Mashed Banana, about 1 small very ripe banana
1 Large Egg
2 tablespoons Plain Yogurt
1 tablespoon Neutral Oil (see note)
1/2 teaspoon Vanilla Extract
1/4 cup Coconut Sugar (see note)
1/2 cup White Whole Wheat Flour, (or all-purpose flour)
1/4 teaspoon Baking Soda
1/2 teaspoon Ground Cinnamon
1/8 teaspoon Fine Sea Salt
1/3 cup Chopped Fresh Berries (Blackberries, Strawberries, or Raspberries)
Instructions
Preheat your oven to 350°F. If using a toaster oven, adjust the cooking rack to the bottom placement and select the BAKE setting. Lightly oil two 7 ounce ramekins (or see notes for alternative pan ideas).
In a small bowl whisk together the banana, egg, yogurt, oil, vanilla, and sugar until fully combined.
In a medium bowl stir together the flour, baking soda, cinnamon, and salt. Make a well in the center of the flour and pour in the banana mixture. Stir just until combined and some small lumps remain.
Carefully fold in the chopped berries (if you are too aggressive the berries will burst and turn the batter a purple grey color).
Distribute batter evenly into the prepared ramekins and smooth the tops.
Bake until the edges are browned, the middle springs back when pressed and a toothpick inserted in the center is free of crumbs about 20 to 25 minutes depending on your oven.
Allow breads to cool for at least 10 minutes before removing from ramekins. Cool completely on a baking rack or serve warm with salted butter.
Notes
Oil: We've had success using grapeseed and canola oil. Melted coconut oil tastes great but you need to make sure all of the ingredients are at room temperature or the oil will harden in the batter.
Sugar: Brown sugar can be substituted. Dark brown sugar will added the richest flavor.
Baking Pan Alternatives:
2 Mini Round Cake Pans or Mini Bund Pans can be used in place of the ramekins, the baking time will be similar.
The batter can also be baked in a single mini loaf pan (3 x 5.75 x 2.5-in). Begin testing for doneness after 25 minutes, adding more time as needed.
To make muffins, divide batter across 5 cavities of a greased muffin pan and bake for 14 to 16 minutes.
Recipe adapted from America's Test Kitchen Cooking for Two Banana Bread recipe. 
Nutrition Information:
Yield:

2
Serving Size:

1 Mini Banana Bread
Amount Per Serving:
Calories:

327
Total Fat:

10.3g
Saturated Fat:

1.4g
Cholesterol:

93mg
Sodium:

228mg
Carbohydrates:

53.2g
Fiber:

4.6g
Sugar:

29.6g
Protein:

8.3g