Shortcut Dinner: Tempeh Salad
All you need is 5 ingredients and 20 minutes to make this easy Tempeh Salad, a satisfying veggie-packed meal that's perfect for busy weeknights!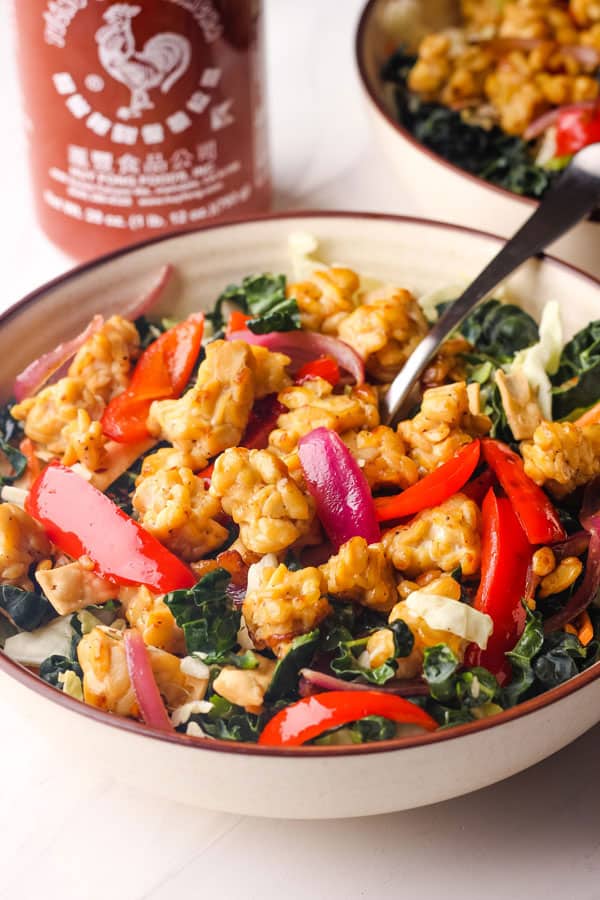 Who doesn't love a dinnertime shortcut? Like adding frozen broccoli to lemony pasta or roasting gnocchi and vegetables in your toaster oven.
This quick salad kit upgrade is one of my favorite dinner hacks. It combines nutty chewy tempeh, sweet red pepper, and crunchy cabbage for a fresh and filling meal that comes together faster than getting takeout.
Ingredient Notes
Chopped Salad Kit: Look for a kit that has a mix of different veggies (not just lettuce) plus a few fun toppings (ours had wontons and almonds). And it doesn't have to be an Asian-inspired one; we've had equally tasty results using Tangerine Crunch and Mediterranean-style salad kits too.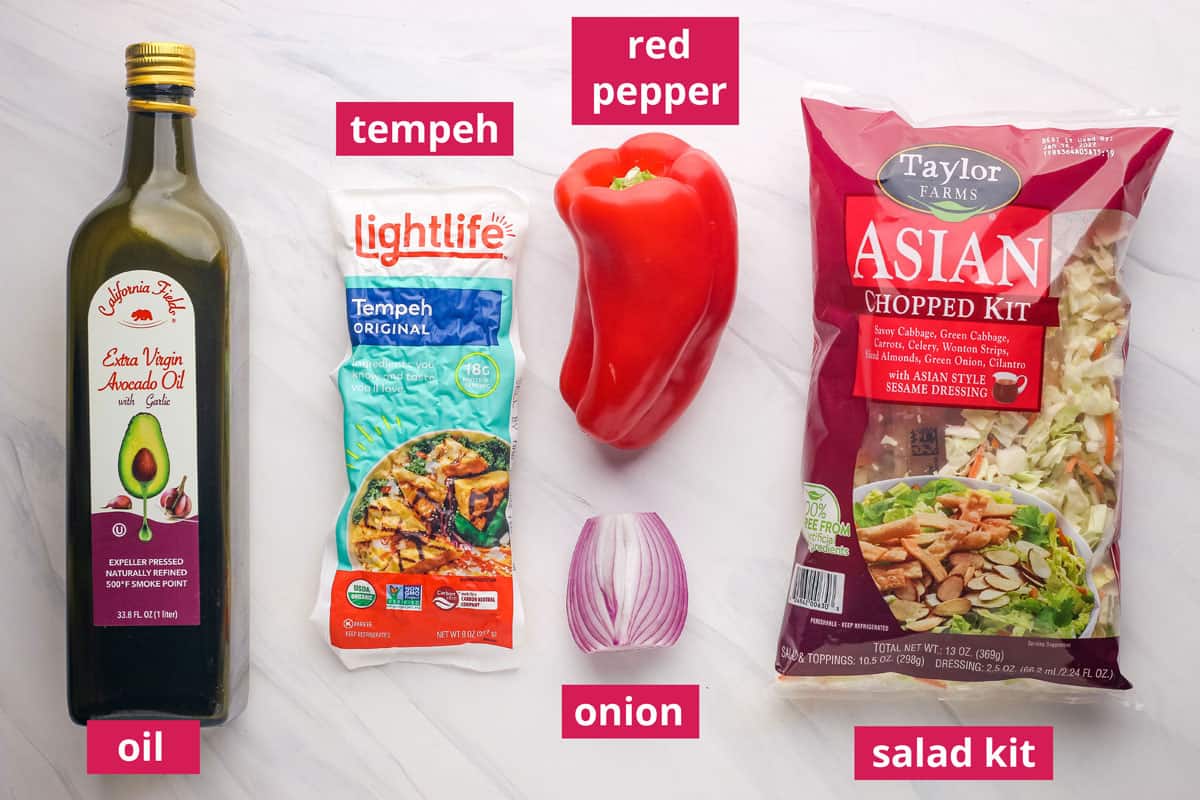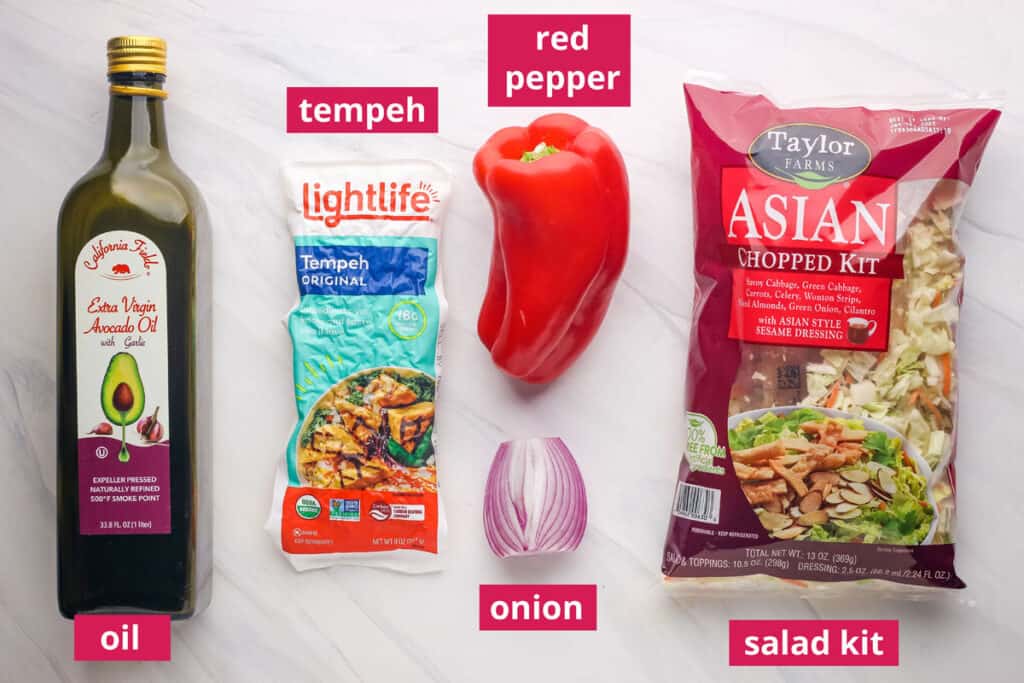 Red Bell Pepper: Our pepper was big so I only used half of it but you can add the whole pepper if you want. Or swap it for whatever veggies you have on hand, like zucchini, green beans, asparagus, or snap peas.
Tempeh: Usually found by the tofu in grocery stores, tempeh is made from fermented cooked soybeans. Trader Joe's tempeh (which combines the soy with a variety of grains) is a favorite in our house but if you don't have a TJ's near you, the Lightlife brand has lots of yummy options too.
Quick Tip: Did you know that you can freeze tempeh?
I always grab a few extra packages at the store and toss them in the freezer. To thaw, just transfer a package to the fridge in the morning. Come dinnertime, it will be thawed and ready to be turned into a batch of BBQ tempeh stuffed sweet potatoes.
Step by Step Directions
1. First, slice up the bell pepper and onion. You can chop the tempeh into tiny cubes if you want but I like to crumble it into small-ish chunks.
2. Pour a little oil into a skillet and warm over medium heat. Add the onion, bell pepper, and tempeh to the hot oil. Cook, stirring often until the vegetables have softened and the tempeh is crisped around the edges and browned about 6 to 9 minutes.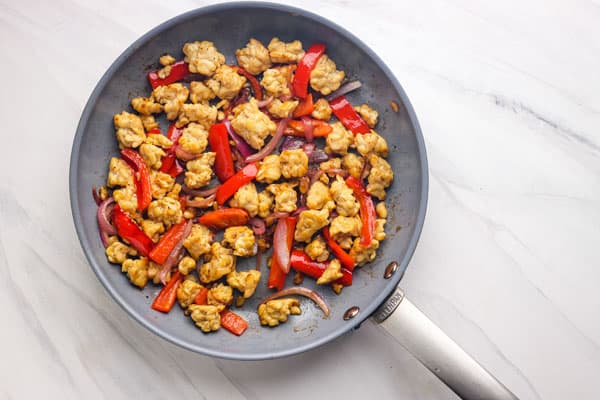 Once the veggies have softened and the tempeh is lightly browned, reduce the heat and pour some of the dressing over everything, stir well and continue cooking for another minute.
3. Divide the salad mix into two bowls. If you've got extra greens to use up (we had leftover chopped kale on hand) toss that in too. Drizzle with some of the dressing (we usually have a little dressing leftover but feel free to add more if you think your salad needs it) and toss to combine.
4. Spoon the tempeh and veggies over the salads. Then add the toppings plus a few squirts of sriracha sauce if you please, and dig in!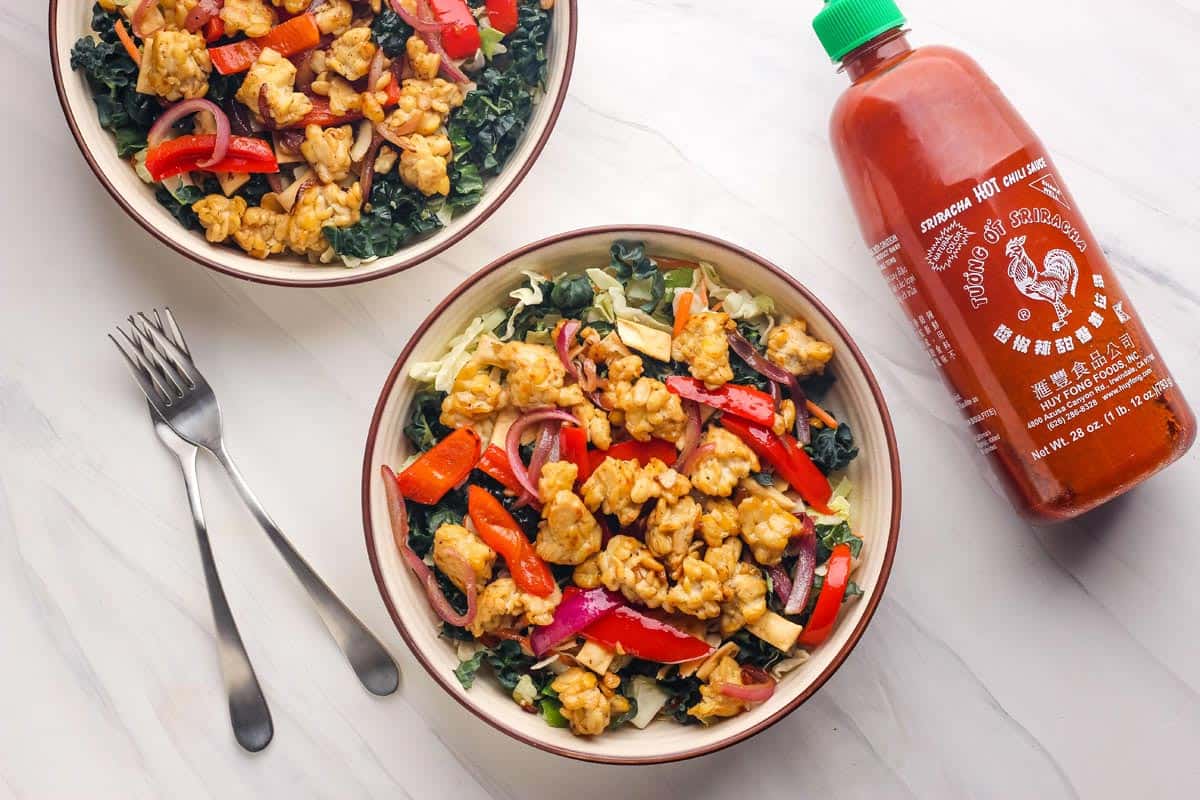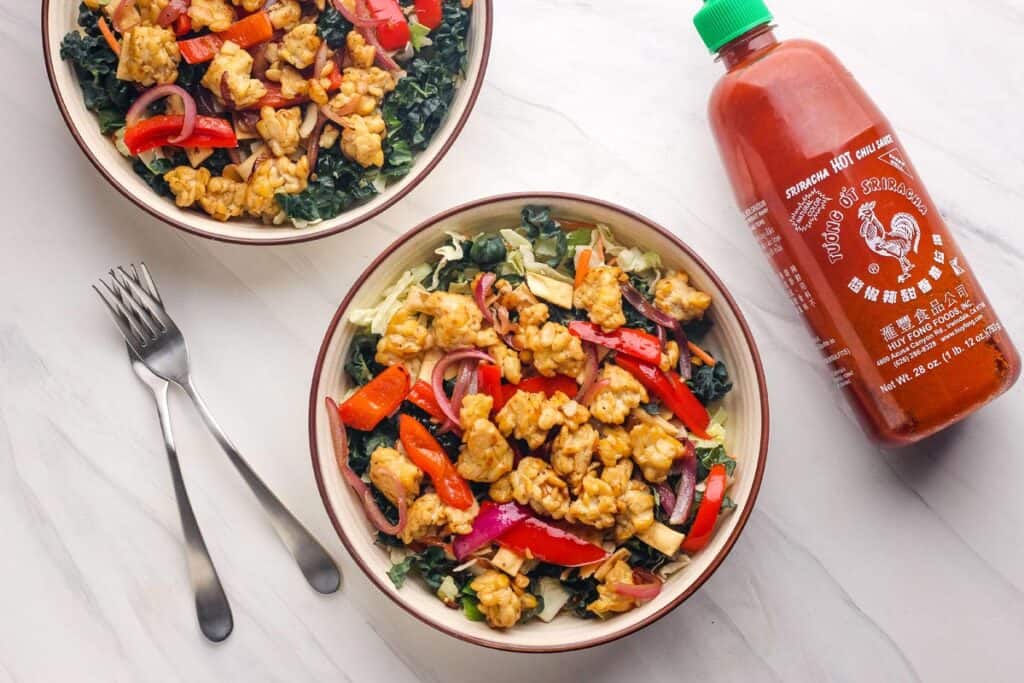 More Easy Vegetarian Meals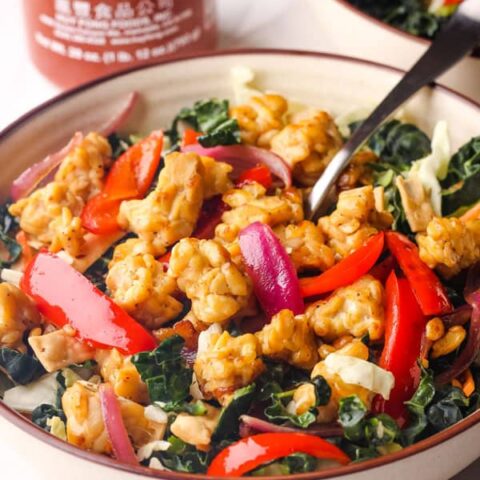 Tempeh Salad
Thanks to a store-bought shortcut, this satisfying vegetarian salad comes together faster than takeout.
Ingredients
1 to 2 teaspoons Avocado Oil or Olive Oil
1 (8-ounce) package Tempeh
½ Large Red Bell Pepper (about 1 cup sliced)
¼ Medium Red Onion (about ½ cup sliced)
1 Asian Style Chopped Salad Kit (we used Taylor Farms )
Sriracha Sauce, optional
Instructions
Cook The Tempeh and Veggies
1. Seed the bell pepper and cut it into strips. Thinly slice the onion. Remove tempeh from packaging and break or crumble into small chunks.
2. Heat the oil in a skillet over medium heat, add the sliced pepper, onion, and crumbled tempeh. Cook, stirring occasionally until the vegetables have softened and the tempeh is browned, about 6 to 9 minutes. Reduce the heat and drizzle 2 tablespoons of the salad dressing over the tempeh and veggies. Stir well and cook until warmed through, about 1 minute more.
Make The Salads
1. Divide the chopped salad mix into two large bowls drizzle with a little of the dressing (add more if desired) and toss to combine.
2. Top the salads with tempeh, peppers, onions, and garnishes from the salad kit. For a spicy kick, serve with sriracha sauce and enjoy.
Notes
Craving More Veggies? Add some sliced snap peas, shredded carrot, diced cucumber, chopped broccoli, or any extra greens you have on hand. We tossed in about 1 cup of leftover chopped kale to the salads pictured. 
Nutrition Information:
Yield:

2 Large Salads
Serving Size:

1 Salad
Amount Per Serving:
Calories:

560
Total Fat:

26.85g
Saturated Fat:

2.85g
Cholesterol:

0mg
Sodium:

509mg
Carbohydrates:

45.6g
Fiber:

20.05g
Sugar:

12.6g
Protein:

30.75g