Vegetarian Broccoli Salad with Orange Vinaigrette
Nutritious and delicious, this Vegetarian Broccoli Salad with Orange Vinaigrette makes a fantastic lunch or BBQ side dish. Featuring crunchy fresh broccoli, dried cranberries, salty feta, and hearty chickpeas tossed in a bright and refreshing orange dressing. Make this recipe ahead of time, the longer it sits in the fridge the tastier it gets!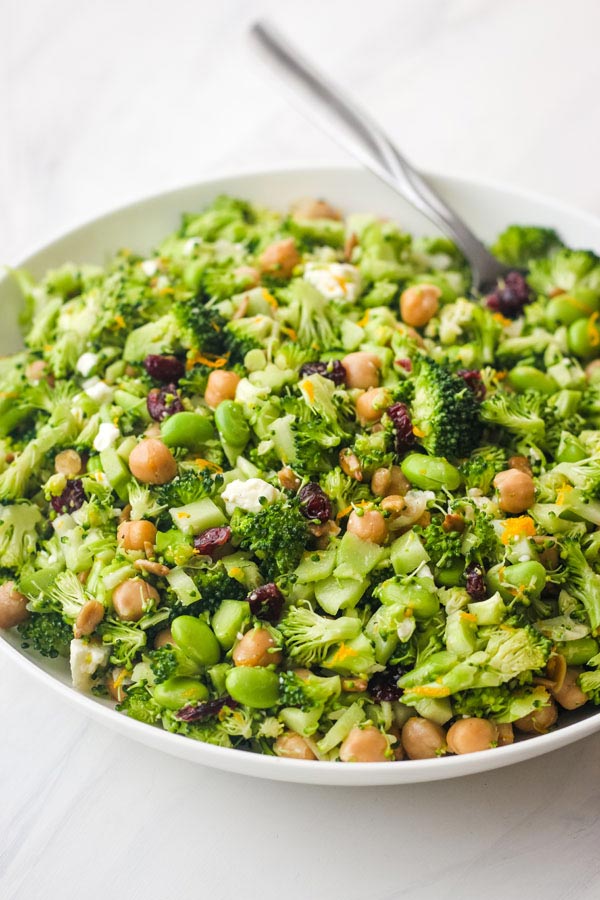 I love a good make-ahead salad. They're perfect for quick lunches and great for using up random ingredients. Plus nothing beats opening your fridge on a busy day to find a refreshing and nutritious meal. Already prepped and waiting for you!
Some of my favorite make-ahead salad recipes include this high-protein Corn and Tomato Chickpea Pasta Salad, Quinoa and Zucchini Salad, or this Zesty Zucchini Pasta Salad. They're easy to throw together in the morning before the day get's away from us.
This Vegetarian Broccoli Salad with Orange Vinaigrette is a fairly recent addition to that list. But it's quickly become one of our go-to lunches. The salad is light but filling and simple to customize. Feel free to use whatever nuts, beans, and dried fruit you have on hand.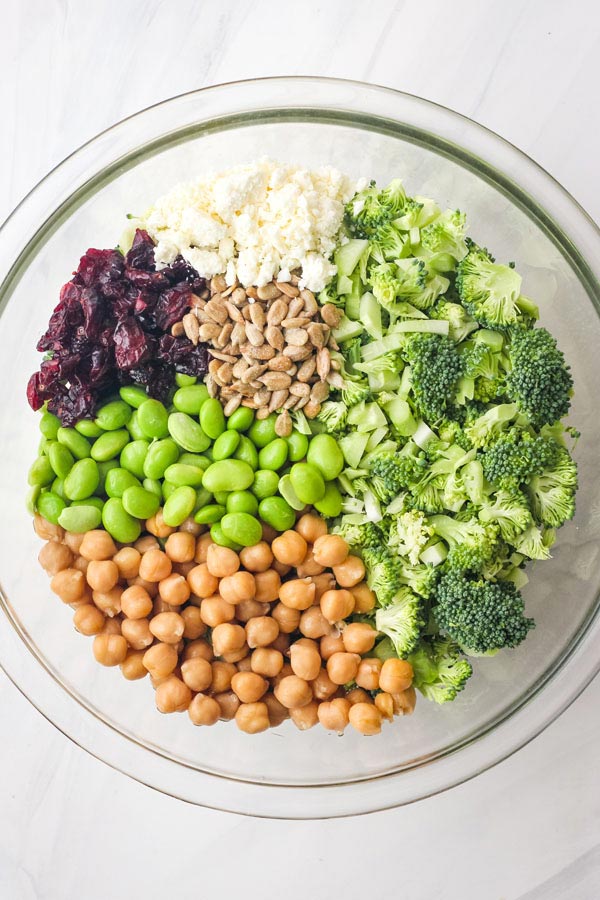 Salad Ingredients
This salad starts with chopping the broccoli into small bite-sized pieces, then tossing everything into a bowl:
chickpeas and edamame for protein
dried cranberries for sweetness
and crumbled feta for a salty punch
The orange vinaigrette is a blend of orange zest and juice, apple cider vinegar, olive oil, and maple syrup, and takes just minutes to make. If you're feeling adventurous, add a squirt of spicy sriracha sauce. It gives the dressing a fun kick that pairs perfectly with the orange and broccoli.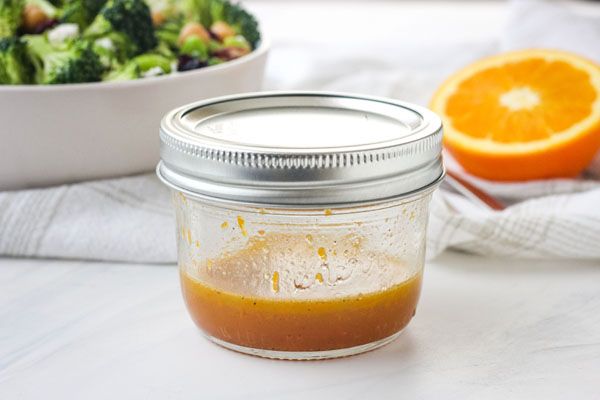 Lastly, toss everything together and refrigerate for at least 30 minutes to let the flavors meld together. Just before serving add in the sunflower seeds. Or any other nuts you've got – chopped pecans, pistachios, or almonds taste great too.
Serving Ideas
We like to enjoy this salad served with half a sandwich or a batch of quick baked sweet potatoes. Or make it more substantial by mixing in leftover brown rice or quinoa.
Like our Broccoli Ranch Salad For Two, it's also delicious enjoyed with these baked potato wedges or stuffed into a tortilla for a fun lunch wrap.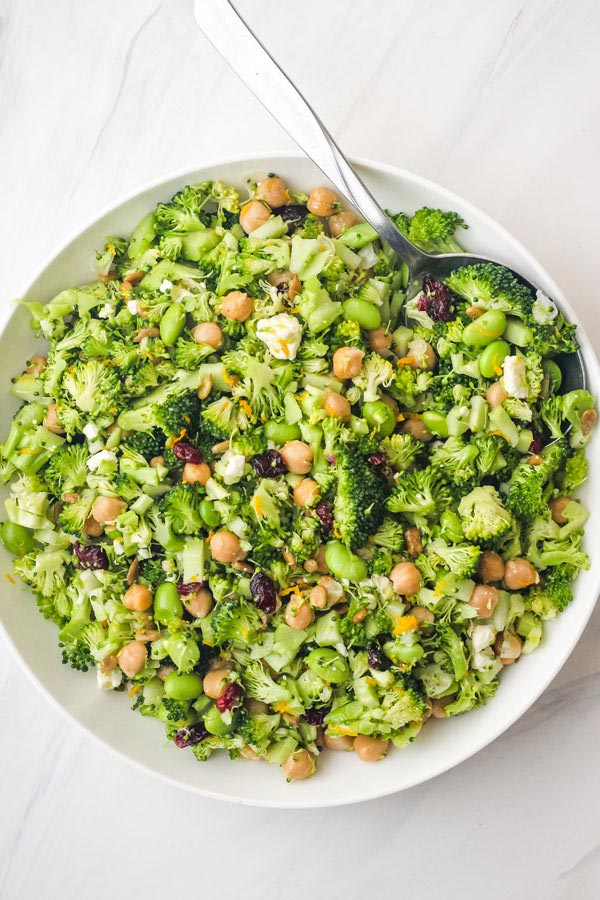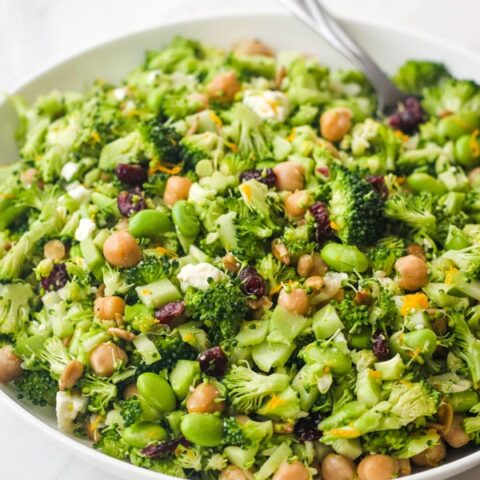 Vegetarian Broccoli Salad with Orange Vinaigrette
Don't toss your broccoli stems, peeled and diced, they make a great addition to this refreshing salad. For a heartier meal, serve this salad with crusty bread, baked potato wedges, or toss with leftover brown rice.
Ingredients
Broccoli Salad
12 ounces Raw Broccoli Crowns (about 2½ cups chopped florets)
3/4 cup Cooked Chickpeas, drained and rinsed well if using canned
1/2 cup Cooked Edamame
3 tablespoons Dried Cranberries
1/4 cup Crumbled Feta Cheese (1 ounce)
2 tablespoons Sunflower Seeds (substitute sliced almonds or chopped pecans)
Salt and Black Pepper, to taste
Orange Vinaigrette
1/2 teaspoon Orange Zest
2 tablespoons Fresh Orange Juice (about half a large orange)
1 tablespoon Extra Virgin Olive Oil
1 tablespoon Apple Cider Vinegar
1½ teaspoon Maple Syrup
1/8 teaspoon fine sea salt
2 Pinches black pepper
1/4 to 1/2 teaspoon sriracha sauce, optional
Instructions
Finely chop the broccoli. Peel and dice the stem if using.
In a large bowl, whisk together all of the dressing ingredients until well combined.
Add the chopped broccoli, chickpeas, edamame, dried cranberries, and feta cheese to the bowl with the dressing. Toss well to coat. Taste, and add salt and pepper as desired.
Transfer the bowl to the fridge and chill for at least 30 minutes to allow the broccoli to soak up the flavor of the dressing.
When ready to serve, add sunflower seeds, and toss well. Then dig in!
Nutrition Information:
Yield:

2
Serving Size:

Half of Recipe
Amount Per Serving:
Calories:

327
Total Fat:

14.4g
Saturated Fat:

3.4g
Cholesterol:

13mg
Sodium:

419mg
Carbohydrates:

42.4g
Fiber:

10.1g
Sugar:

16.8g
Protein:

13.5g