Small Batch Cinnamon Cream Cheese Frosting (No Powdered Sugar)
This small-batch cinnamon cream cheese frosting is made with light cream cheese, greek yogurt and sweetened with maple syrup. It's a not-too-sweet frosting that's perfect for topping any mini cake. Leftover frosting can be stored in the fridge and tastes great served with graham crackers or on a toasted bagel.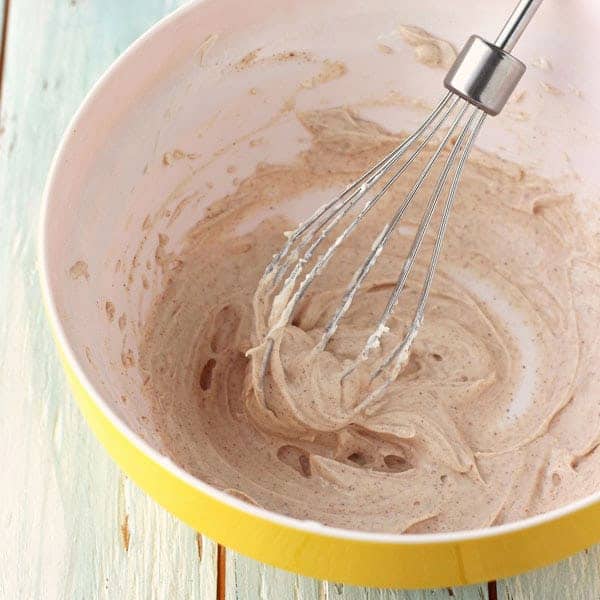 A few years back Tim and I tried quitting sugar. While these toaster oven desserts are evidence that it clearly didn't stick, I did stop buying powdered sugar.
Which meant we had to get creative when coming up with a cream cheese frosting for this toaster oven carrot cake.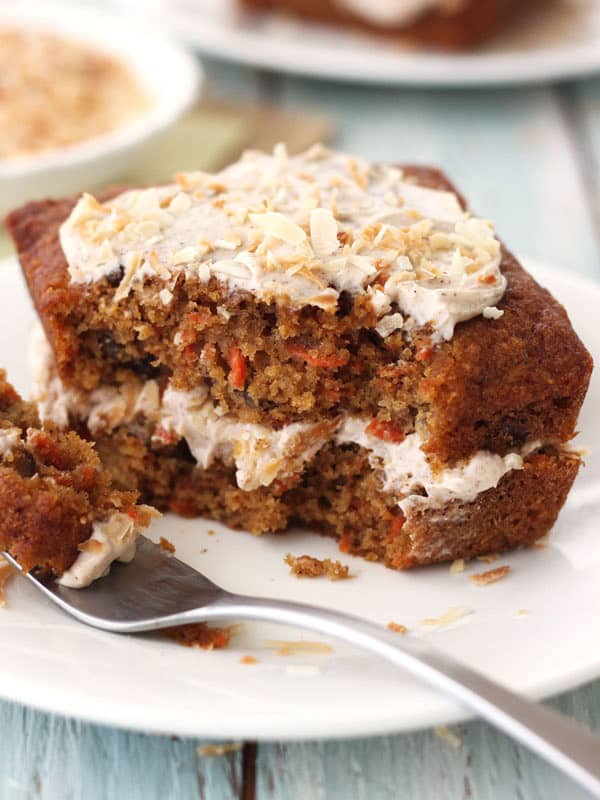 Looking online I found a recipe for Greek Yogurt Frosting (nom!) and a Maple Cream Cheese Frosting (double nom!!). We tried both and then mashed them together for a small batch of Cinnamon Cream Cheese Frosting.
Warning: It's not super sweet.
Instead, it's rich with just the right amount of warm cinnamon and tangy flavor that goes perfectly with a tiny whole-grain carrot cake, graham cracker or spoon headed for your mouth!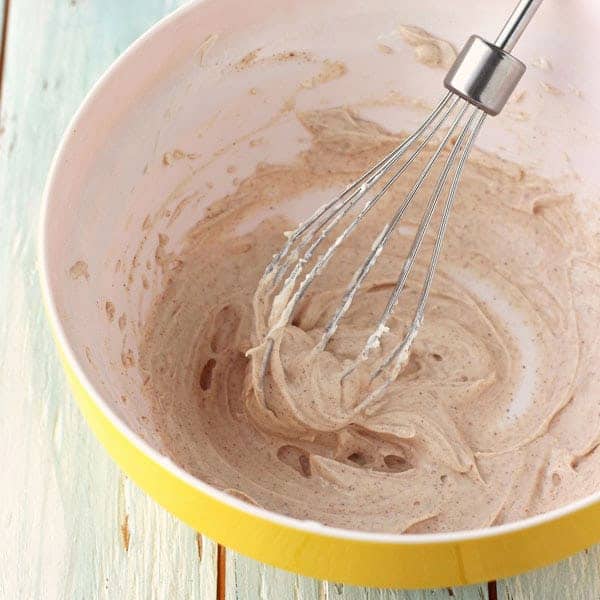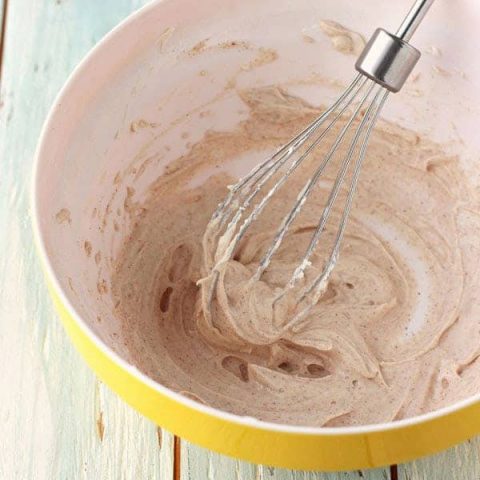 Cinnamon Cream Cheese Frosting
A small batch of cinnamon cream cheese frosting made without powdered sugar.
Ingredients
2 ounces (4 tablespoons) Neufchatel cheese or light cream cheese, softened
1 tablespoon non-fat greek yogurt, plain or vanilla
1 tablespoon real maple syrup
1/4 teaspoon vanilla extract
1/4 teaspoon (heaping) ground cinnamon
Instructions
With a hand mixer, beat cream cheese until smooth.
Scrape down the bowl's sides and add the greek yogurt, maple syrup, and vanilla. Beat on high until combined and smooth.
Scrape down the sides again and quickly beat in the cinnamon.
Taste and adjust vanilla, cinnamon, and maple syrup to your preference.
Notes
Nutritional information is an estimate for 1.5 tablespoons, about 1/4 of the recipe.
Nutrition Information:
Yield:

4
Serving Size:

1.5 Tablespoons
Amount Per Serving:
Calories:

53
Total Fat:

3.3g
Saturated Fat:

2.1g
Cholesterol:

11mg
Sodium:

59mg
Carbohydrates:

4g
Fiber:

0.1g
Sugar:

3.6g
Protein:

1.8g