Strawberry Chocolate Chip Banana Bread Bars
Strawberry Chocolate Chip Banana Bread Bars are moist and hearty whole-grain banana bread filled with mini chocolate chips and freeze-dried strawberries. A great take-anywhere treat or afternoon snack!
(A quick heads up that this post contains affiliate links, which means that if you choose to make a purchase through them, we will earn a commission.)
Toaster oven cooking has its share of challenges. And I'd say baking is pretty high on that list.
But as fans of the occasional sweet tasty treat, we try not to let a few challenges get in our way. Especially when a recipe is worth the effort like these Strawberry Chocolate Chip Banana Bread Bars.

The bars were originally adapted from a Banana Oat Muffins recipe in the Vegetarian Cooking for Everyone Cookbook.
Before our switch to baking only in our toaster oven, I had spent time applying my not a trained chef self-taught baker skills to make that muffin recipe ours.
Adjusting the ingredients so we could use white whole wheat flour without making it to heavy and dense.
Swapping coconut oil for melted butter and trying it with different varieties and smaller amounts of sugar.
And of course, adding fun mix-ins like mini chocolate chips and freeze-dried strawberries.

The Problem Was
Our go-to recipe made 9 big muffins, sometimes 8 on heavy-handed days. Or as the book's author, Deborah Madison describes them Plump Muffins.
Unfortunately, our 6-cup toaster oven muffin tin wasn't going to cut it.
Another snag was that we didn't want a smaller recipe of just a few muffins. Those extra muffins were perfect for tossing in the freezer and grabbing as a snack or breakfast if you were running late.
So I started wondering "Can I bake this recipe differently? Do these ingredients have to be in the shape of a muffin?"
The answer to those questions was a 10-inch x 7-inch cake pan from this Farberware Toaster Oven Set I got at Christmas. It turned our favorite muffin recipe into moist and delicious Strawberry Chocolate Chip Banana Bread Bars.
It took a couple of tries to get the bake time correct. Mostly because I accidentally broiled the first batch.
When it comes to remembering to set the dial back to bake after broiling a cheese toast I am the biggest offender.
The top was burnt to a crisp but underneath that layer was yummy banana bread. So I set the toaster oven to bake and started another batch at the correct temperature.

The final bars have the same great banana bread flavor of our favorite muffins.
The old-fashioned rolled oats only par-cook but we like their chewy hearty texture. If you prefer flakier less chewy oats you can substitute an equal amount of quick oats.
What really makes these bars special is the strawberry, chocolate chip, and banana combo.
If you love strawberries in baked goods but want to avoid their added liquid try freeze-dried strawberries. They partially rehydrate while baking becoming sweet strawberry slices without making your bread soggy.
And if you're feeling indulgent, drizzle the bars with a mixture of equal parts melted peanut butter and coconut butter. The creamy duo provides a little healthy fat and makes a gooey messy peanut butter banana split flavored treat!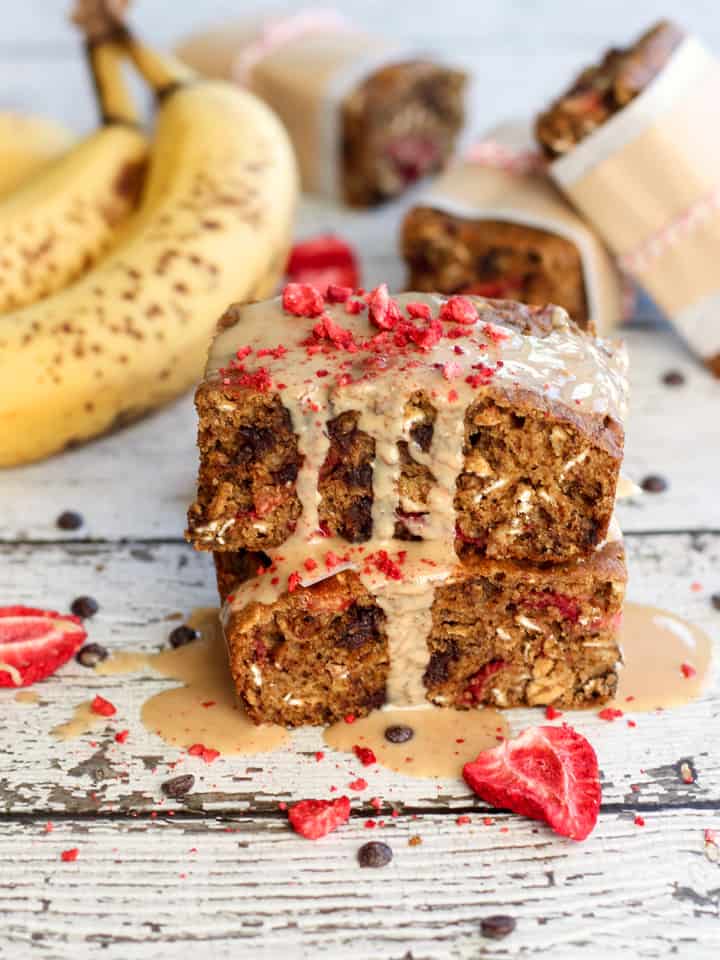 Strawberry Chocolate Chip Banana Bread Bars
Moist and hearty whole grain banana bread filled with mini chocolate chips and freeze-dried strawberries. A great take anywhere treat or afternoon snack!
Ingredients
1 cup + 1/4 cup white whole wheat flour
1 cup old-fashioned rolled oats or quick oats, (not instant)
1 teaspoon ground cinnamon
1 teaspoon + 1/2 teaspoon baking soda
2 large or 3 small spotted bananas, mashed well (about 1 cup mashed)
1 large egg, (at room temp)
1/4 cup packed organic brown sugar**
2 tablespoons melted coconut oil + more for greasing pan, (or sub your favorite neutral flavored oil)
3/4 cup + 1 tablespoon reduced-fat buttermilk, (at room temp)
1 cup freeze-dried strawberries***
1/4 cup semi-sweet mini chocolate chips
Instructions
Preheat your toaster oven or oven to 350 F and grease a 10-inch x 7-inch cake pan.
In a large bowl stir together the flour, oats, cinnamon and baking soda. Make a well in the center and set aside.
In a medium bowl stir together the mashed bananas and egg until combined. Add sugar, coconut oil and buttermilk, mix well.
Pour banana mixture into the flour mixture and stir just until combined and a few flour streaks remain.
Fold in strawberries and mini chocolate chips.
Pour batter into prepared pan and smooth top. Bake at 350 F for 23 to 27 minutes until a toothpick in the center is clean. The banana bread will be browned and the center will spring back when pressed.
Allow bread to cool for 15 to 20 minutes before transferring to a cake rack to cool completely.
Slice cooled bread into 10 bars that are 2-inches x 3-inches. Store leftover bars in the freezer tightly wrapped.
Notes
The old-fashioned rolled oats will be par-cooked and have a chewy texture. The quick oats will still taste great but won't contribute a chewy texture. It's about preference so the choice is yours.
*You don't have to use organic brown sugar that's just what we used and it does have a more granular texture. You can substitute light brown sugar or coconut sugar.
***You can find freeze-dried strawberries in the produce section at your grocery store. They are usually on the shelves under the produce. At some stores they are kept with the nuts, granola and trail mixes.
If you would like your bars sweeter, you can increase the sugar to 1/3 cup without affecting the recipe.
Recipe adapted from the Banana Oat Muffins recipe from Vegetarian Cooking for Everyone.
Nutritional information is an estimate for 1 of 10 bars.
Nutrition Information:
Yield:

10
Serving Size:

1 Bar
Amount Per Serving:
Calories:

181
Total Fat:

5.7g
Saturated Fat:

3.6g
Cholesterol:

20.2mg
Sodium:

239.7mg
Carbohydrates:

29.5g
Fiber:

3.4g
Sugar:

10.7g
Protein:

4.9g