Roasted Summer Veggie Bowls
A quick dinner for two, these roasted summer veggie bowls are made with rice, beans, and a variety of colorful vegetables. They're easy to customize, super satisfying, and ready in just 30 minutes!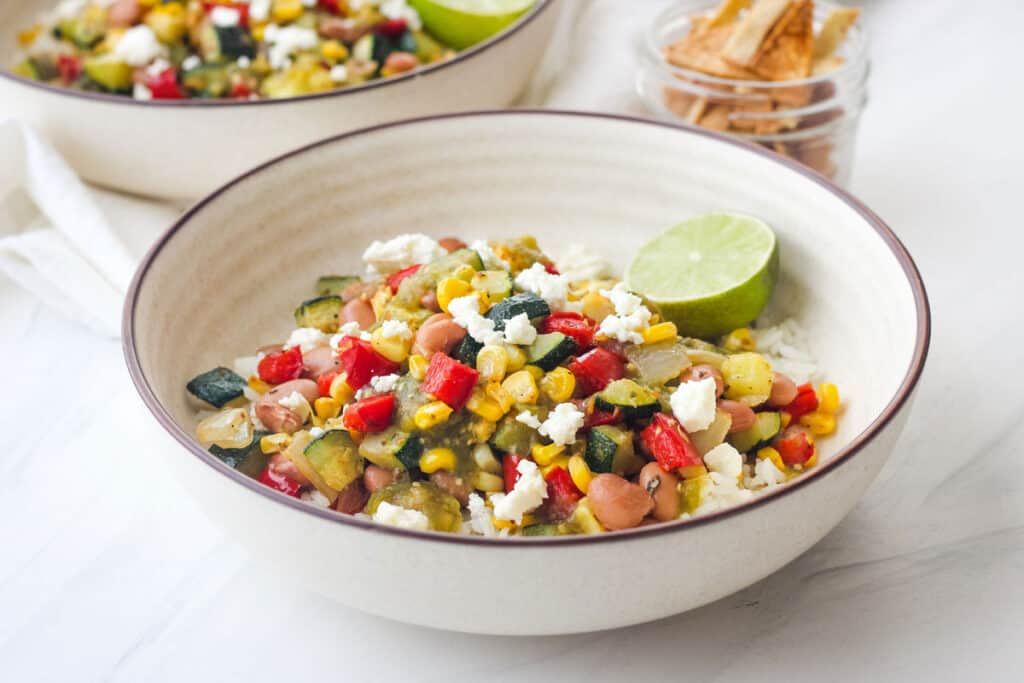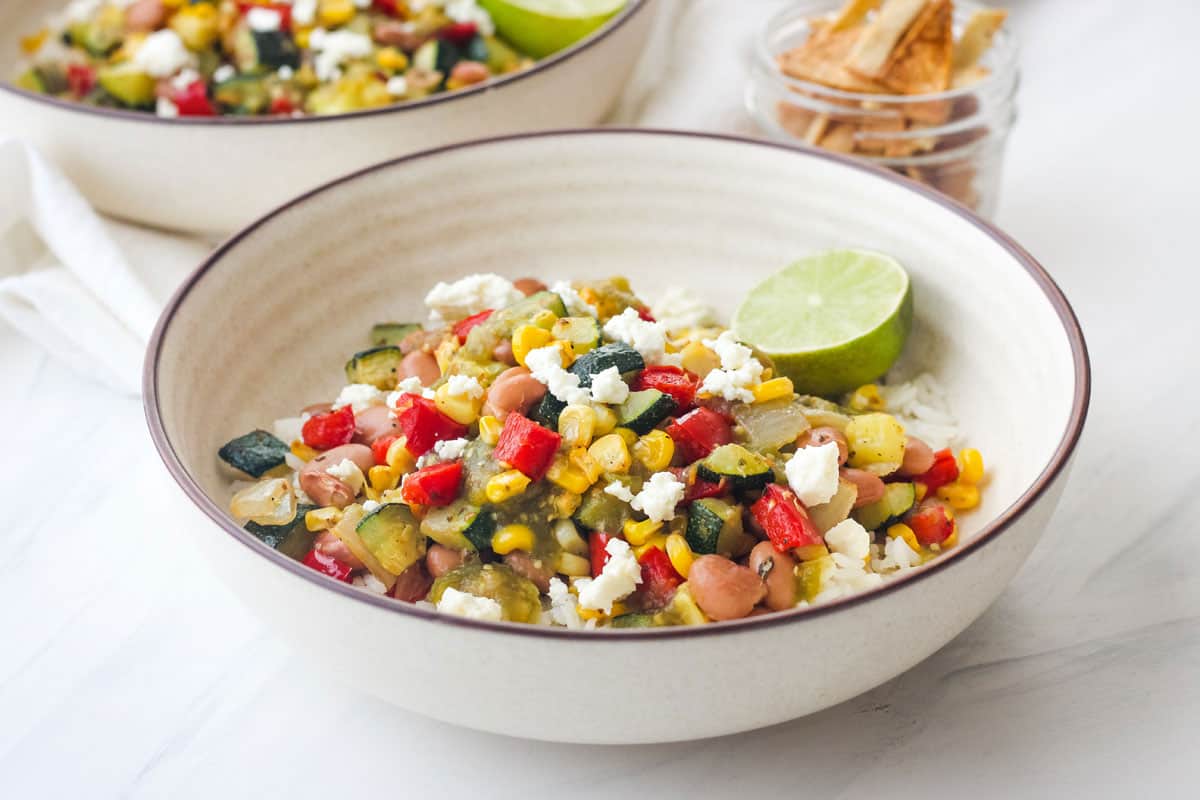 If you're looking for an easy and delicious dinner idea that will also help you avoid wasting food there's really nothing better than a veggie bowl. That's because they're less of a recipe and more of a use-what-you've-got-situation.
To make our bowls, I start by roasting whatever vegetables are currently languishing in the fridge. During the summer that's usually:
zucchini or yellow squash
red bell pepper
sweet corn on the cob
Then I grab any leftover grains (like rice or quinoa), a protein, one of the many half-used sauces/dressings in our fridge (there's always an open jar of salsa), and any toppings that sound good like cheese and fresh herbs.
Throw it all together…and dinner is served!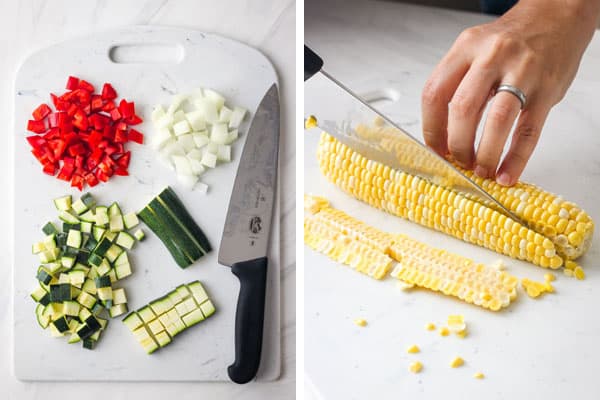 Build-Your-Own-Veggie-Bowls
The recipe card has a list of the specific ingredients we used to make these roasted summer veggie bowls. But feel free to substitute with what's in your fridge and pantry.
Here are a few ideas to try:
Proteins: beans (black beans, kidney beans, chickpeas), toaster oven tofu (or store-bought baked tofu), crumbled tempeh, lentils, or eggs (scrambled, fried, or hard-boiled).
Grains: rice, quinoa, farro, or any other leftover grain you have. Cooked pasta or polenta are great options too.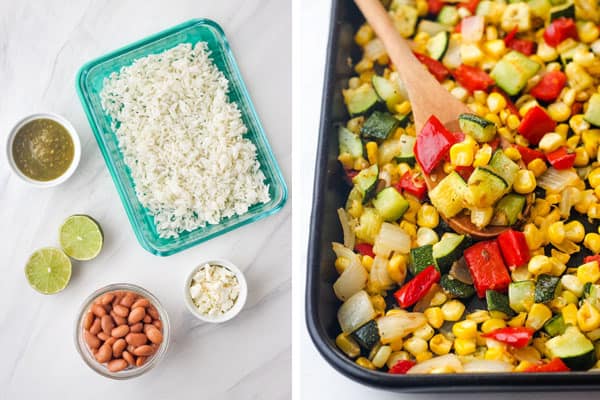 Sauces: salsa, pasta sauce, buffalo sauce, BBQ sauce, or pesto.
Toppings: crumbled feta, goat cheese, or queso fresco, diced avocado, grape tomatoes, baked tortilla strips, shredded cabbage or lettuce, black olives, cilantro, or basil.
Basically, use anything that sounds good to you!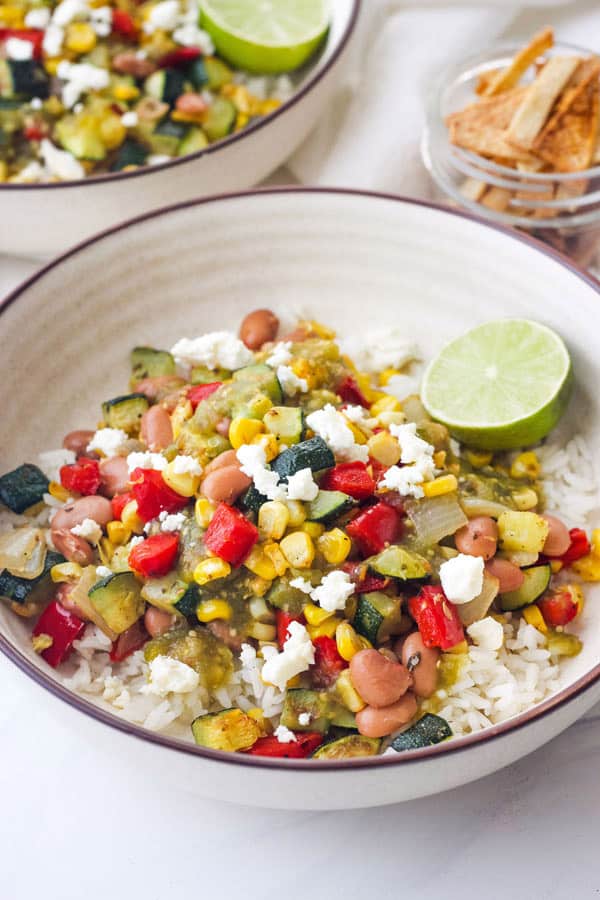 More Easy Vegetarian Dinners to Enjoy: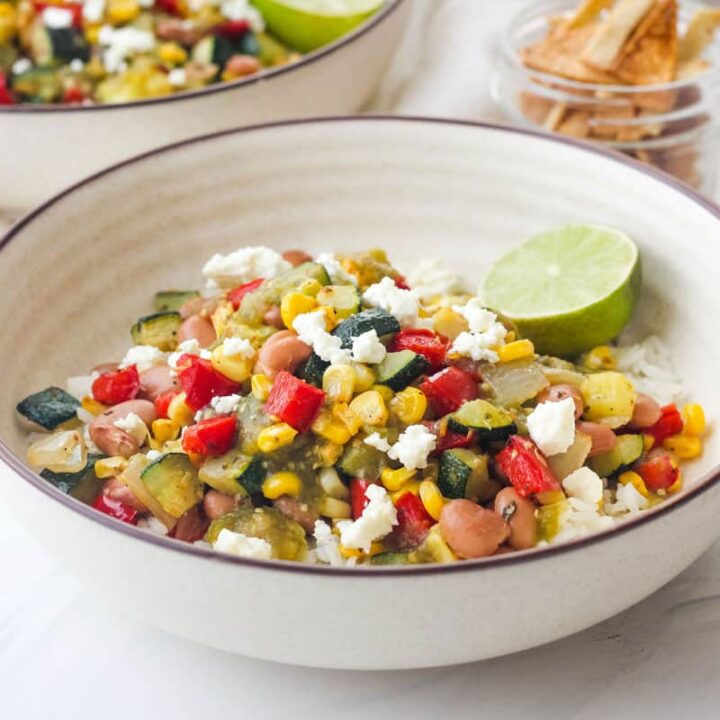 Roasted Summer Veggie Bowls
This simple dinner idea is great for cleaning out the fridge. Make it your own by changing up the seasonings and using whatever leftover grains and protein you have on hand!
Ingredients
1 medium Zucchini (8 to 9 ounces), chopped ¼-inch thick
½ Red Bell Pepper, seeded, chopped ¼-inch thick
¼ Onion, red or yellow, papery skin removed, chopped ¼-inch thick
1 Ear of Sweet Corn, husk removed and kernels sliced from the cob (½ to ¾ cup)
2 teaspoons Avocado Oil
¼ to ½ teaspoon Dried Oregano
¼ teaspoon Garlic Powder
Pinch Red Pepper Flakes
Salt and Black Pepper, to taste
1 cup Cooked Pinto Beans, rinsed and dried if using canned
For Serving:
1 cup cooked white or brown rice
1/4 cup (60 grams) Salsa Verde
2 tablespoons (28 grams or 1 ounce) Crumbled Feta Cheese
1 Small Lime, halved
Instructions
Preheat the oven to 450°F. If using a toaster oven, adjust the cooking rack to the bottom position and select the BAKE setting.
In a large bowl, combine the zucchini, red bell pepper, onion, and corn. Drizzle with oil and sprinkle with oregano, garlic powder, salt, and black pepper. Toss well to combine, then pour onto a rimmed sheet pan.
Roast the vegetables, stirring once or twice, until they are tender and starting to brown, about 15 to 17 minutes.
Add the beans to the pan with the cooked veggies and stir to combine. Taste the mixture and season with more salt and pepper as desired.
If cold, warm the rice in the microwave for 1 to 2 minutes then divide between two bowls. Top with the salsa, veggie bean mixture, feta, and a squeeze of fresh lime if desired. Then dig in!
Notes
Corn: If fresh corn is out of season in your area, an equal amount of frozen corn or canned corn kernels (drained and dried well) can be substituted. 
Nutrition Information:
Yield:

2
Serving Size:

1 Bowl
Amount Per Serving:
Calories:

431
Total Fat:

9.4g
Saturated Fat:

3.1g
Cholesterol:

12mg
Sodium:

400mg
Carbohydrates:

76.6g
Fiber:

10.4g
Sugar:

7.6g
Protein:

14.2g