Butterscotch Banana Oatmeal Cookies
Butterscotch Banana Oatmeal Cookies are sweet, chewy, and made with just 5 ingredients. The perfect small batch recipe for baking in your toaster oven.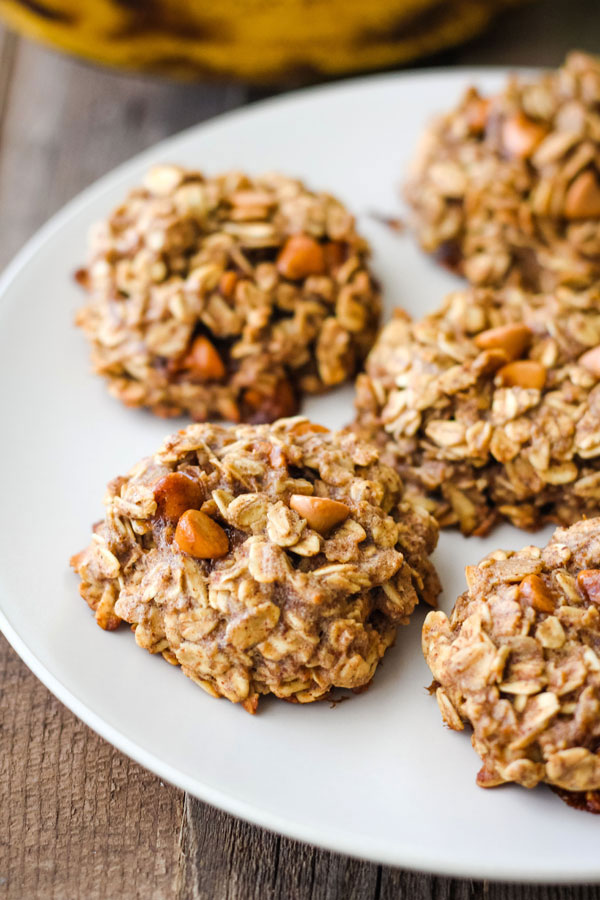 Got an overripe banana to use up? Make Cookies!
Butterscotch Banana Oatmeal Cookies are my favorite way to use up a single banana. Though this mini toaster oven banana bread isn't a bad option either.
The cookies are delicious with crispy edges, chewy toasted oats, and a great cinnamon banana bread flavor. It's hard to believe they're made with only 5 simple ingredients:
Banana
Old Fashioned Oats
Almond Butter
Cinnamon
Butterscotch Chips
Now before you start sending me emails, I know I'm playing a little fast and loose using the word cookies here. Since the recipe has no flour, butter, or eggs I guess you'd say they're technically more like baked oatmeal bites.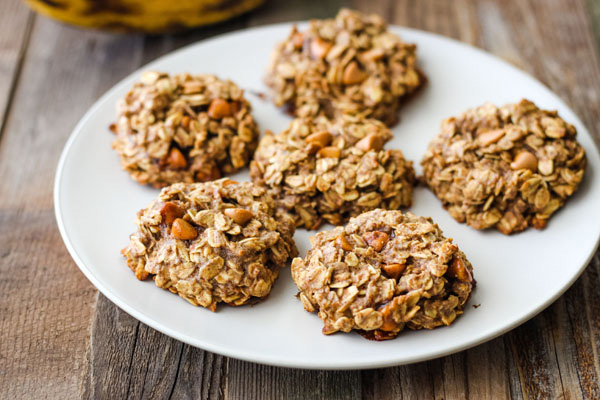 What I love most about these "cookies" are the toasted oats. Toasting oats brings out their naturally nutty flavor and it takes just a few extra minutes.
Do You Have to Toast The Oats?
You can skip it and the cookies will be okay. Not awesome, but okay, and ready quicker.
Personally, I find untoasted old fashioned oats have a bland, almost raw flavor. So I think it's totally worth the extra effort!
~ Keep scrolling for step by step photos & tips after the recipe ~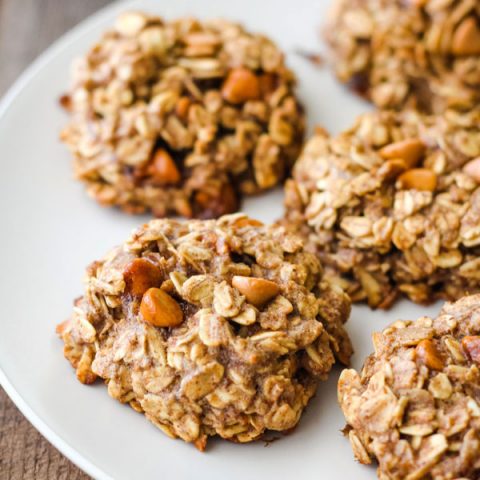 Butterscotch Banana Oatmeal Cookies
Almond butter and mashed banana combine with rich butterscotch chips for a sweet small-batch treat you can bake in the toaster oven.
Ingredients
1 cup Old Fashioned Oats
1 medium Ripe Banana, about 7-inches long
1/4 cup Almond Butter
1/2 teaspoon Ground Cinnamon
2 tablespoons Butterscotch Chips
Instructions
Adjust the cooking rack to the bottom position and preheat your toaster oven to 350°F.
Spread oats in a single layer on a quarter sheet pan and place in the toaster oven.
Cook oats until lightly toasted, about 8 to 10 minutes. Set pan aside to cool completely.
In a medium bowl, mash the banana until smooth. Stir in the almond butter and mix well. Add the cooled toasted oats, cinnamon, and butterscotch chip. Mix until combined.
Line a quarter sheet pan with a silicone baking mat. Use an ice cream scoop or two spoons to drop the mixture into 6 even mounds onto the pan.
Bake at 350°F until the tops are set and edges are golden about 14 to 15 minutes.
Cool cookies on pan for at least 5 minutes before devouring.
Notes
The cookies will not spread during baking. If you want a perfect cookie shape, moisten your fingertips with water and gently flatten/shape the sticky dough mounds before baking.
Freezing and Reheating
Freeze leftover cookies in a single layer in a freezer-style plastic bag.
To reheat frozen cookies, place cookies on a pan lined with a silicone baking mat. Heat in your toaster oven at 325°F for 5 minutes or until warmed through.
Nutrition Information:
Yield:

6
Serving Size:

1 Cookie
Amount Per Serving:
Calories:

133
Total Fat:

7.5g
Saturated Fat:

1.4g
Cholesterol:

0mg
Sodium:

12mg
Carbohydrates:

14.1g
Fiber:

2.3g
Sugar:

6.2g
Protein:

4.1g
Ingredients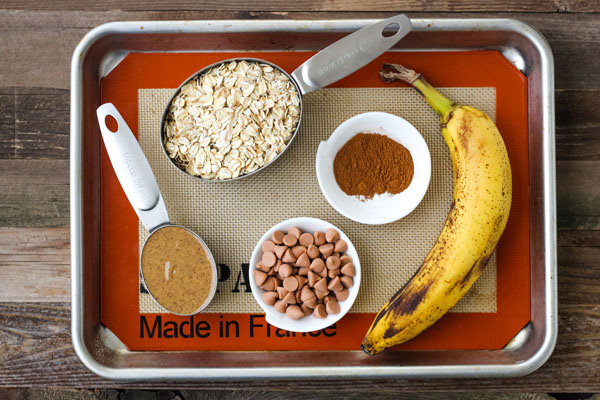 Start by gathering your ingredients.
Make sure you're using an overripe banana (the kind with brown speckled spots). It will have the most flavor and sweetness.
We've tried both almond and peanut butter with this recipe.
The almond butter was our favorite, it brings a fantastic salty roasted almond flavor to the cookies.
Peanut butter is another good option but it can overpower the other flavors.
Next, you'll want to get your oats toasting.
How to Toast Oats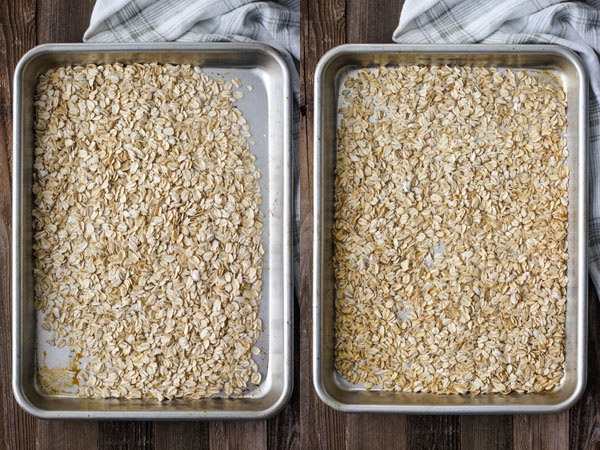 Spread your oats in a single layer on an ungreased quarter sheet pan.
Add to a 350°F preheated oven or toaster oven.
Cook until lightly toasted, about 8 to 10 minutes.
The toasted oats won't appear very different, just a little golden, but that nutty aroma of baked oatmeal will fill your kitchen.
Let the oats cool completely (7 to 8 minutes) before adding to your recipe.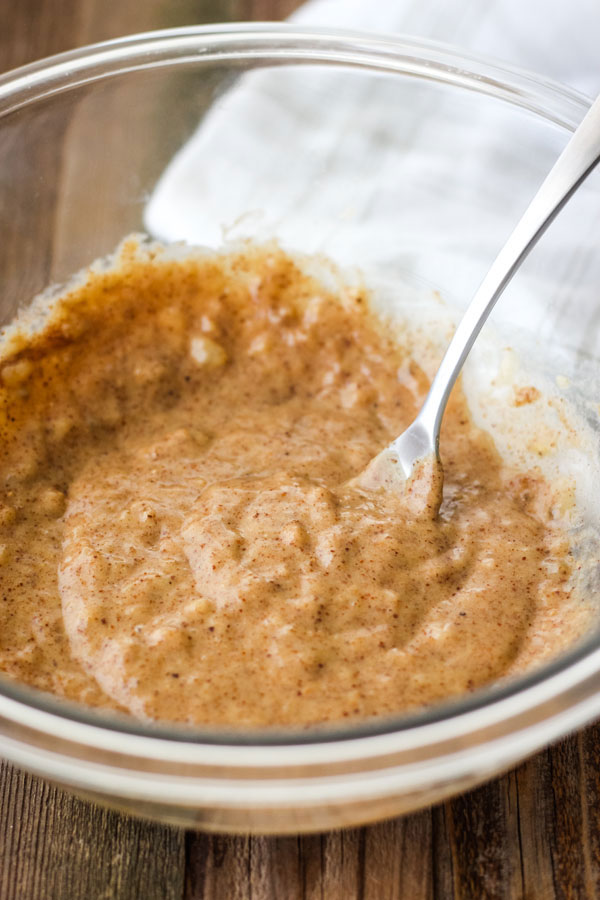 While the oats cool, add the banana to a medium bowl and mash the heck out of it with a fork or potato masher.
Then add the almond butter and stir until it combines with the banana.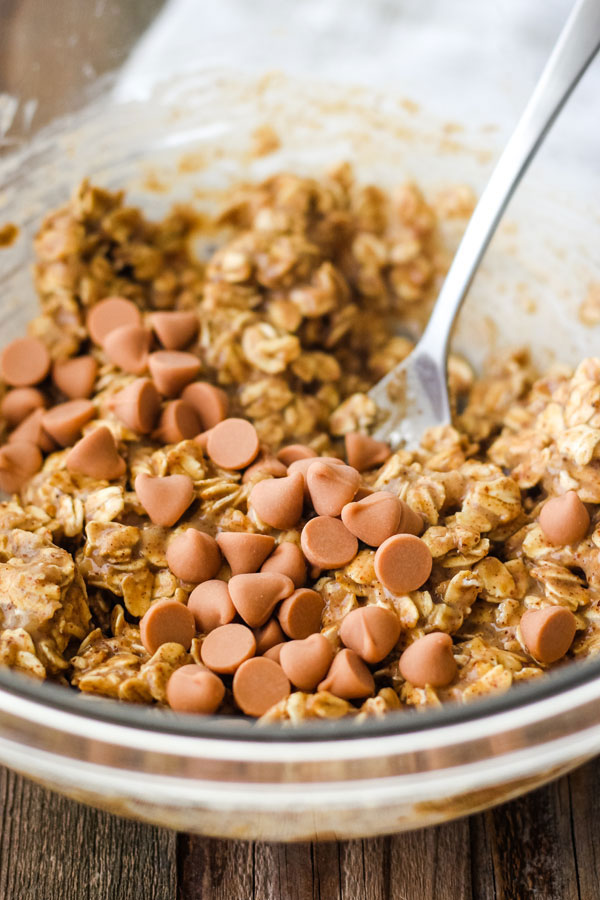 Lastly, stir in the cooled oats, cinnamon, and butterscotch chips.
While I love the combo of butterscotch + banana, chocolate chips taste great too.
If you're trying to avoid added sugar chopped nuts or even fresh fruit would be a good swap for the chips. Obviously, the cookies won't be as sweet.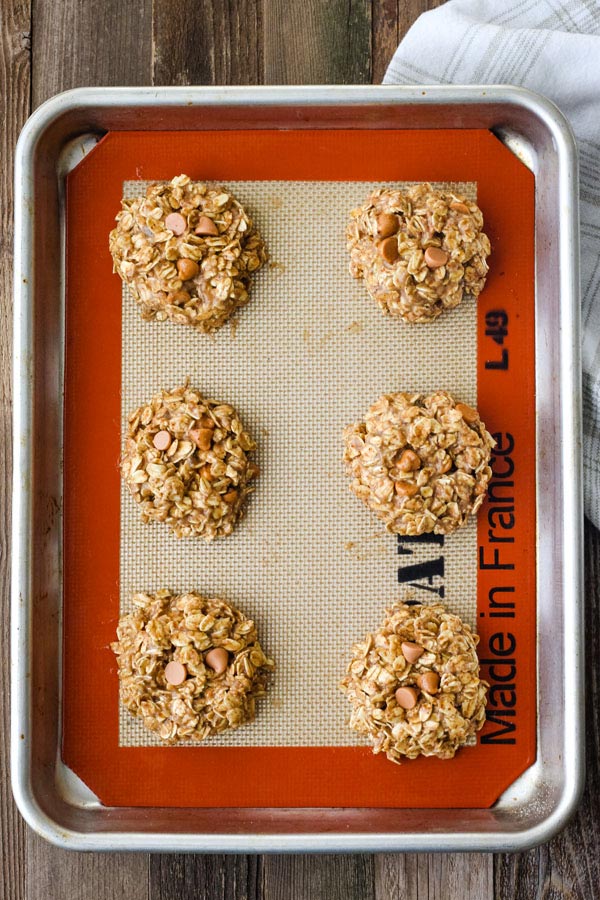 During baking, a few of the butterscotch chips will melt and caramelize on the bottoms (yes, it's as delicious as it sounds).
Pro Tip: To keep the cookies from sticking use a silicone baking mat or lightly grease the pan.
To portion out the dough/batter I like to use an ice cream scoop but two spoons work well too.
Now all that's left is to bake your cookies!
They cook up quickly in about 14 to 15 minutes so don't go wandering off. Once the edges are browned – it's time to take them out.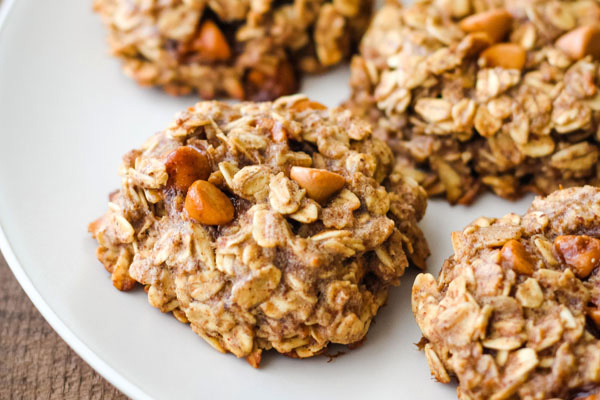 These butterscotch banana oatmeal cookies taste best the day they are baked.
After that, toss any uneaten cookies in the freezer and they'll keep for a few months. You can even reheat them in your toaster oven for a quick snack or grab-and-go treat!