Persimmon Banana Breakfast Cookies
Persimmon Banana Breakfast Cookies are a tasty and nutritious cookie recipe you can feel good about eating for breakfast!
It's the first full week of January and a brand spanking new year! Let's start things off right. How about a small batch of wholesome fruit-filled breakfast cookies?
Persimmon Banana Breakfast Cookies
So, these delicious persimmon oatmeal cookies aren't 'cookies' in the traditional sense. Aside from a few chopped raisins, they have no added sugar and then there's the lack of dairy, eggs, or flour.
Instead, they're full of hearty rolled oats, mashed banana, shredded coconut, ground flaxseed, cinnamon, and a pinch of cardamom. Along with one super unique ingredient: sweet Hachiya persimmon pulp.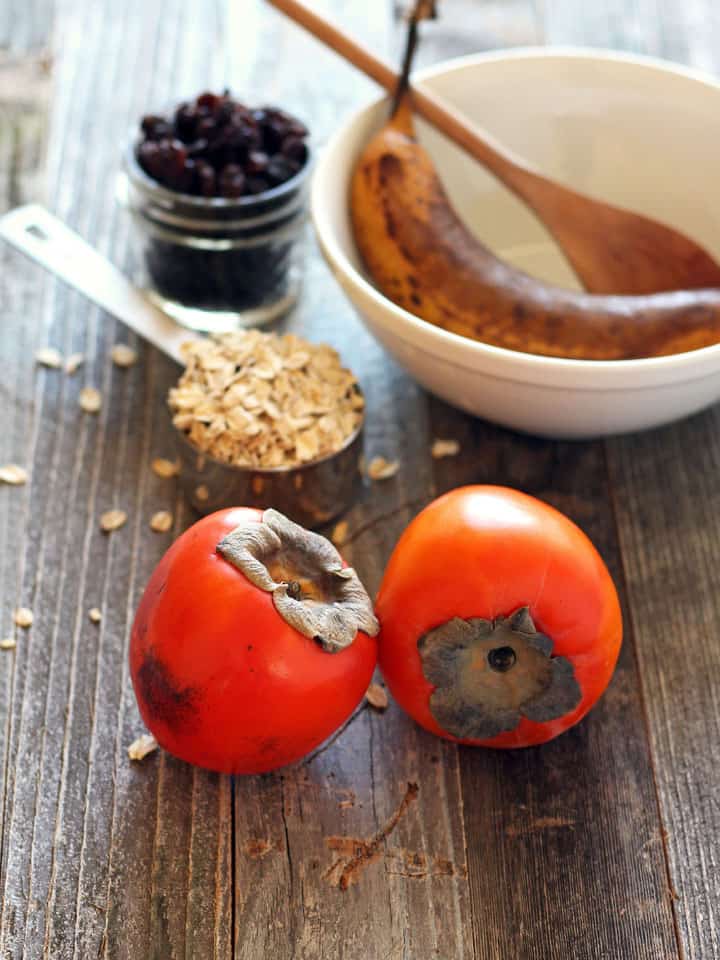 They're basically a tiny bowl of oatmeal you can hold in your hand!
If you like the idea of eating cookies for breakfast (who doesn't really?), we've got a few other fruit-based cookie recipes you might enjoy:
You can even layer them with yogurt in a yummy parfait. Because Yogurt + Oatmeal + Fruit is a fantastic, healthy, and filling breakfast option!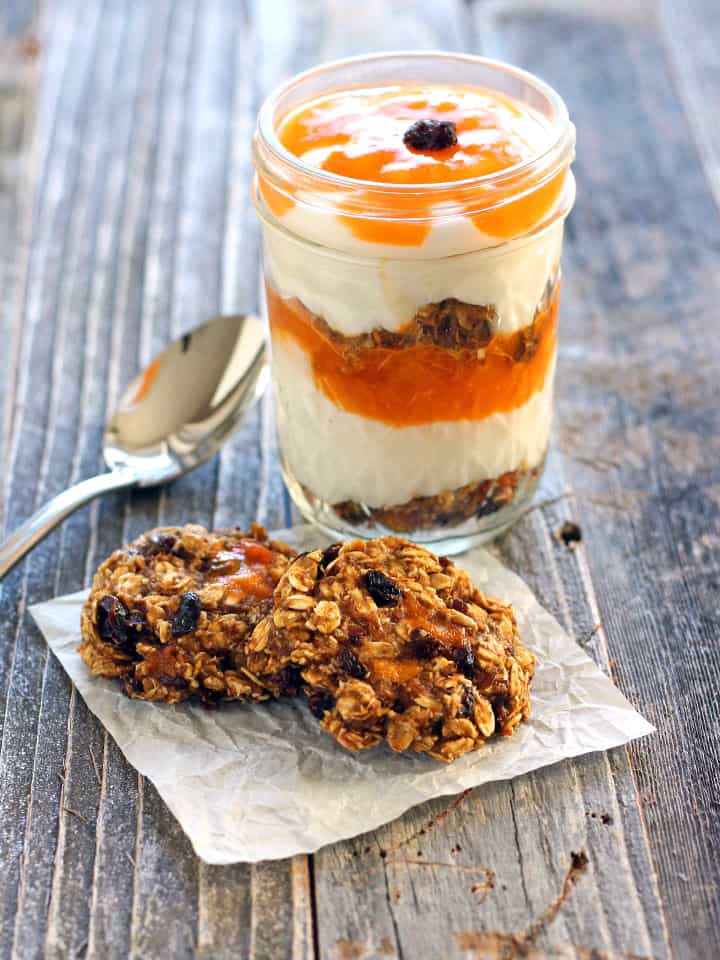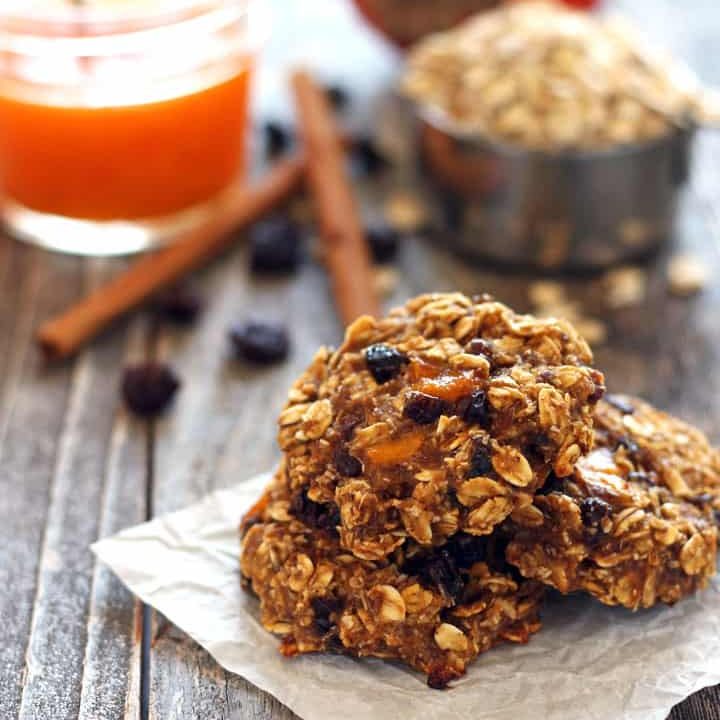 Persimmon Banana Breakfast Cookies
Quick and easy persimmon oatmeal cookies you can feel good about eating for breakfast.
Ingredients
1 small very ripe banana, mashed (about 1/3 cup mashed)
3 tablespoons fresh Hachiya persimmon pulp, (see note)
1/4 teaspoon vanilla extract
1/4 teaspoon ground cinnamon
Pinch Ground Cardamom (optional)
1/2 cup and 1 tablespoon old-fashioned rolled oats
2 teaspoons ground flax meal
2 tablespoons finely shredded unsweetened coconut
2 tablespoons raisins, roughly chopped
Instructions
Preheat toaster oven or oven to 350 F and line your cookie sheet with a small silicone baking mat.
In a medium bowl mix together the mashed banana, persimmon, vanilla extract, cinnamon and cardamom. Stir in oats, flax meal and shredded coconut until well combined. Lastly stir in the chopped raisins.
Using an ice cream scoop drop dough at least 1 inch apart on prepared cookie sheet. The "dough" will be sticky but should maintain its shape when scooped. If your dough is too wet to scoop, stir in an extra tablespoon or two of rolled oats.
Bake cookies at 350 F for 18 to 20 minutes until the edges are browned and the cookies are set. Allow cookies to cool at least 10 minutes before using a spatula to carefully remove them.
These fruit based cookies are best enjoyed the day they are baked but will keep for 2-3 days if stored in a sealed container in the refrigerator.
Notes
Different from a squat, firm and crunchy Fuyu persimmon Hachiya persimmons are more acorn shaped and should only be consumed once fully ripe. When ripe a Hachiya persimmon feels like a squishy full water-balloon that is just ready to burst.
To prep a ripe Hachiya persimmon, slice the top off and scoop out the jelly-like pulp with a spoon. You can process the pulp in a blender or food processor or just mash any chunks with a fork and add it to the recipe.
Layer cookies with yogurt and leftover extra persimmon pulp in a small mason jar for an eye-catching and filling breakfast.
Nutritional information is an estimate for a serving of 3 cookies.
Nutrition Information:
Yield:

2
Serving Size:

3 Cookies
Amount Per Serving:
Calories:

227
Total Fat:

6.2g
Saturated Fat:

3.4g
Sodium:

5.1mg
Carbohydrates:

41.3g
Fiber:

5.9g
Sugar:

12.3g
Protein:

5g