Italian Salad Dressing For Two
This Italian Salad Dressing For Two is packed with zippy flavor. It's absolutely delicious tossed with pasta, roasted vegetables, salads, and more!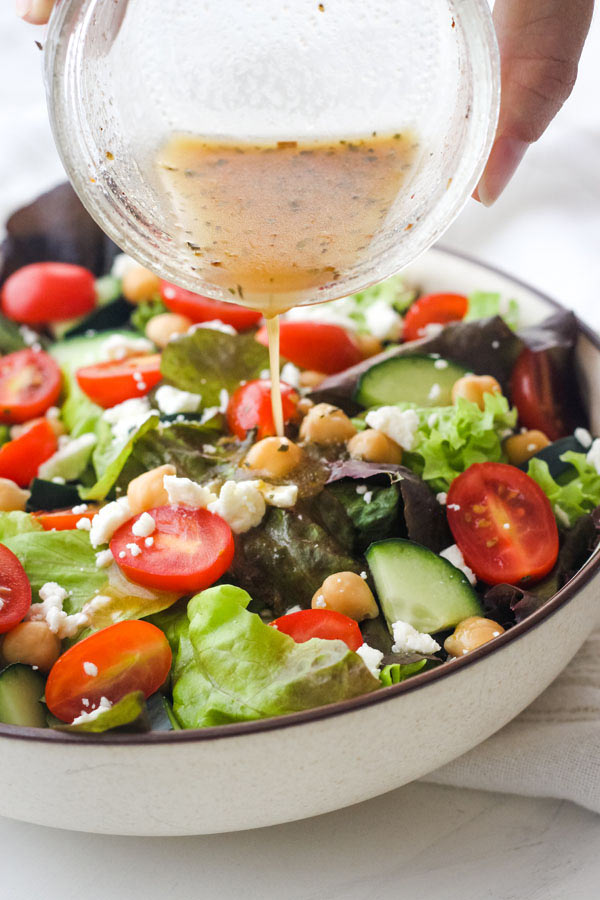 We initially created this recipe for our zesty zucchini pasta salad but it also tastes great drizzled over roasted vegetables, served with raw veggies for dipping, or tossed with a pan of roasted gnocchi and vegetables.
Think of this little Italian salad dressing recipe as a starting point for your own custom creation. Feel free to adjust the herbs, seasonings, and other ingredients to fit your individual tastes and preferences.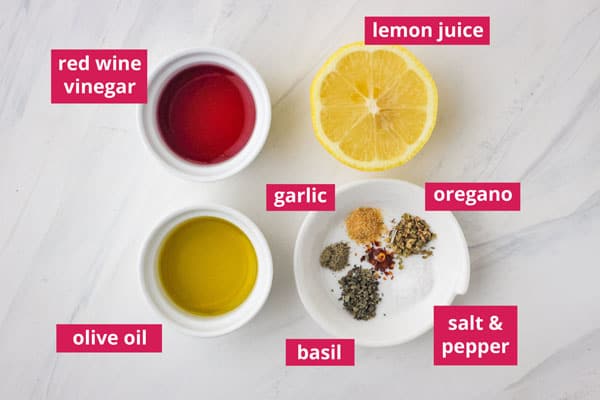 Dressing Ingredients
Oil: For the best flavor, use regular or extra-virgin olive oil. We like a tangier dressing with lots of vinegar, if you prefer a less vinegar-forward dressing, increase the oil to 2 or 3 tablespoons.
Red Wine Vinegar: If you're out of red wine vinegar, try white wine vinegar or apple cider vinegar. The flavor will be different but still pleasant.
Lemon Juice: Adds brightness and freshness to the dressing. The lemon flavor is very mild. If you'd like your dressing to have a more pronounced lemon flavor add a pinch of lemon zest too.
Salt, Pepper, and Dried Herbs: We use oregano and basil. Feel free to add parsley, thyme, or substitute your favorite Italian Seasoning blend.
Garlic: Garlic powder is the easiest and quickest option for such a small recipe. If you prefer fresh garlic, substitute about half a clove, finely minced.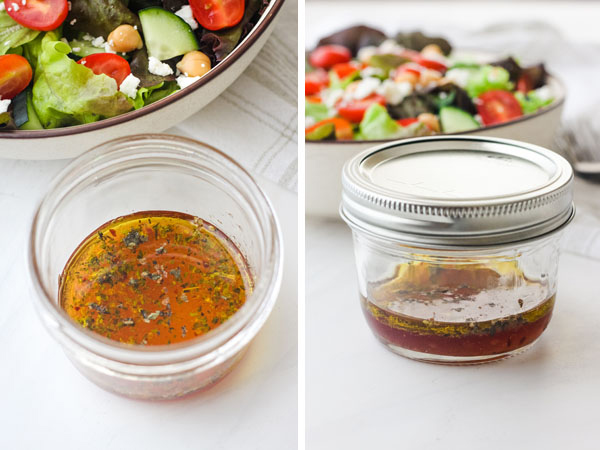 Instructions
1. To make the dressing I usually grab a small mason jar with a well-fitting lid. Toss everything in, and shake away for a minute.
Tips and Variations
If you don't use the dressing right away, the oil and vinegar will separate. If this happens, just shake the dressing again before using it.
To enhance the flavor of your dressing, try adding one or more of the following ingredients.
Grated or Shredded Parmesan Cheese: A teaspoon or two adds a layer of savoriness.
Red Pepper Flakes: Just a pinch for a fun spicy kick.
Sugar: A bit of white sugar or a drizzle of honey brings a little sweetness that tempers the tanginess of the vinegar and lemon juice.
Dijon Mustard: Acts as an additional emulsifier that helps to keep the vinegar and oil combined longer. It also adds a more complex savory flavor to the dressing.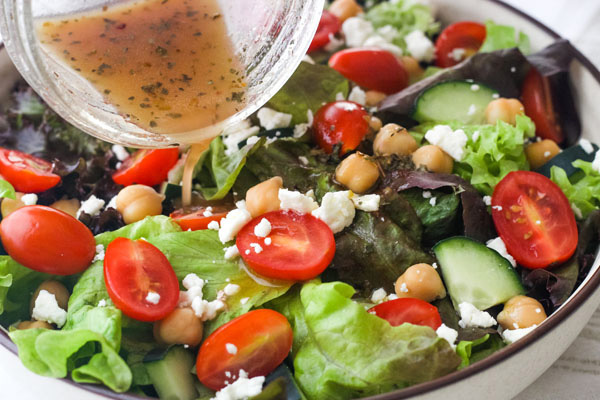 More Small Batch Dips and Dressings
Italian Salad Dressing For Two
Yield:
About 3 Tablespoons
Ditch the bottle and whip up a small amount of homemade tangy Italian dressing in minutes. It tastes great on green salad and zucchini noodles, drizzled over roasted vegetables, or as a dipping sauce for crusty french bread.
Ingredients
1½ tablespoons Extra-Virgin Olive Oil (*see note)
1½ tablespoons Red Wine Vinegar
1/2 teaspoon Fresh Lemon Juice
1/8 teaspoon Dried Basil
1/8 teaspoon Dried Oregano
1/8 teaspoon Garlic Powder
1/8 teaspoon Fine Sea Salt
1/16 teaspoon Black Pepper
Instructions
Add all of the ingredients to a mason jar with a fitted lid and shake well to combine.
Dip a raw vegetable or lettuce leaf into the dressing. Taste, adjust seasonings as desired, and shake again before serving.
Refrigerate leftovers and use within 4 to 5 days.
Notes
For a more traditional less vinegar-forward dressing, use 2 or 3 tablespoons oil and 1 tablespoon vinegar.
Optional Additional Ingredients
For more savory flavor add 1 to 2 teaspoons of shredded or grated parmesan cheese.
For a spicy kick add a pinch red pepper flakes.
For a sweeter (less tangy) dressing add 1/4 teaspoon granulated sugar or honey.
For a deeper flavor add 1/4 to 1/2 teaspoon dijon mustard.
Nutrition Information:
Yield:

2
Serving Size:

1½ tablespoons
Amount Per Serving:
Calories:

94
Total Fat:

10.5g
Saturated Fat:

1.5g
Cholesterol:

0mg
Sodium:

118mg
Carbohydrates:

0.4g
Fiber:

0.1g
Sugar:

0.1g
Protein:

0.1g