Cherry Banana Oat Cookies
These Cherry Banana Oat Cookies taste like a bowl of oatmeal in cookie form! They're loaded with good-for-you ingredients like toasted oats, coconut, banana, flax meal, fresh cherries, and for fun a little chocolate. Perfect for snacking or a quick breakfast on the run.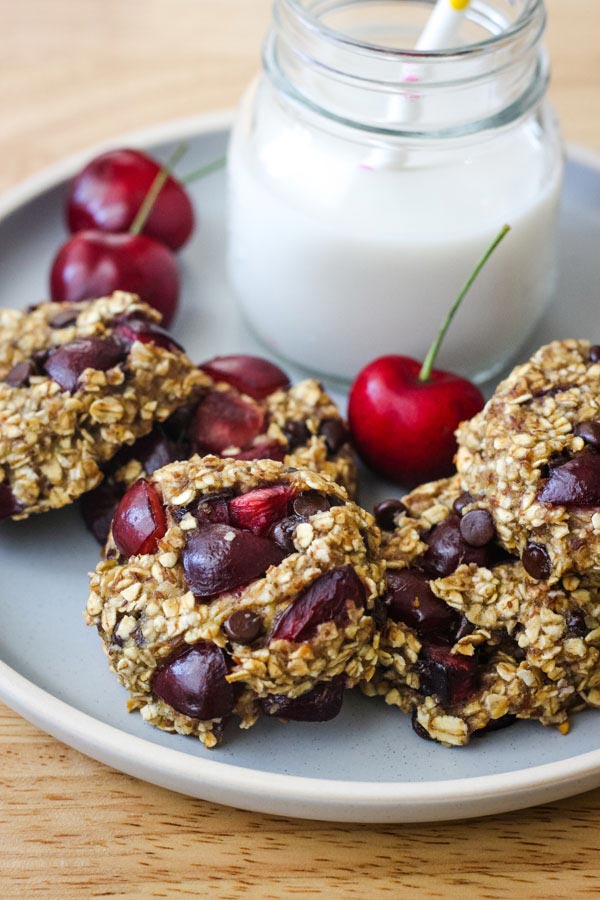 Got an overripe banana? Here's a yummy way to put that guy to use!
These Cherry Banana Oat Cookies are a deliciously decadent breakfast, snack, or dessert. Each bite is filled with juicy sweet cherries, toasted oats, and a little chocolate.
They taste so good, you might find it hard to believe they're actually full of wholesome goodies like:
banana
flax meal
toasted oats
fresh cherries
a splash of almond extract
and mini chocolate chips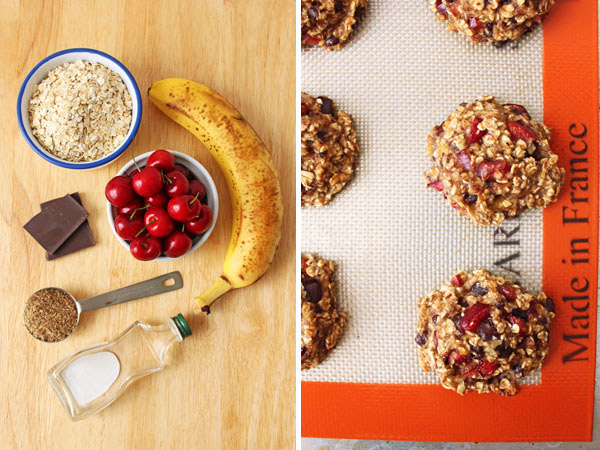 3 Quick Tips
Set Your Expectations – These are not cookies in the traditional sense, I'd describe them as more like mini baked oatmeals.
Toast Your Oats – Raw oats are seriously lacking in the flavor department. A little trip to the oven/toaster oven and they will be golden and crisp with a slightly nutty flavor. Here's a quick guide for how to toast oats.
Pitting Cherries is the Pits – It's not my favorite activity either but this recipe calls for pitting a handful so I just slice them in half and dig the pits out with my fingers. If you're not sure how to pit a cherry, check out this video from Sunset with 3 simple techniques.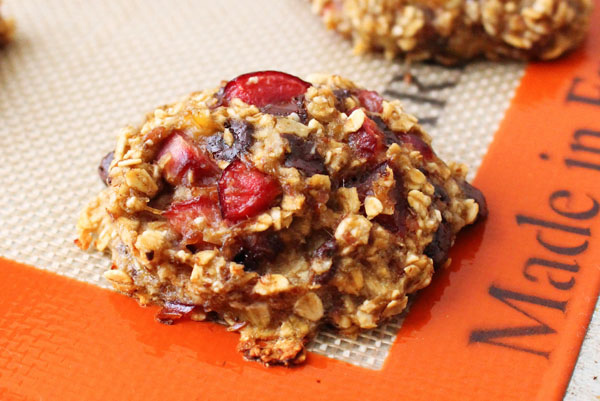 Just like our Persimmon Banana Breakfast Cookies and Easy Banana Oat Cookies, these fruit-based cookies are best consumed the same day they are baked.
You can store any uneaten cookies in the fridge for a few days. But something tells me you won't have any trouble finding someone to help you eat these scrumptious Cherry Banana Oat Cookies.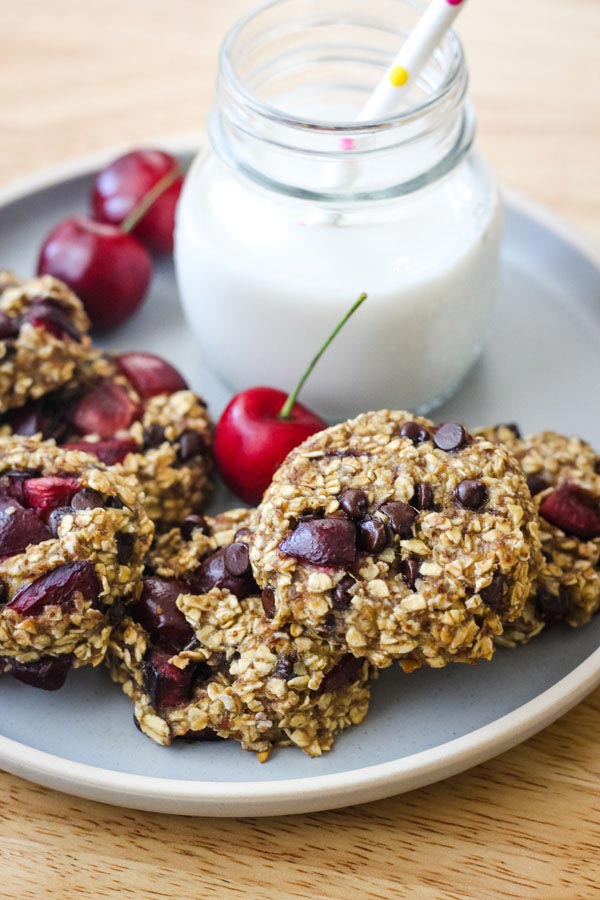 More Tasty Ways to Enjoy Cherries
Fresh cherries taste fantastic in a pair of Yogurt Topped Cherry Almond Breakfast Cakes and even better in Coffee Greek Yogurt Parfaits with homemade Almond Granola. Yum!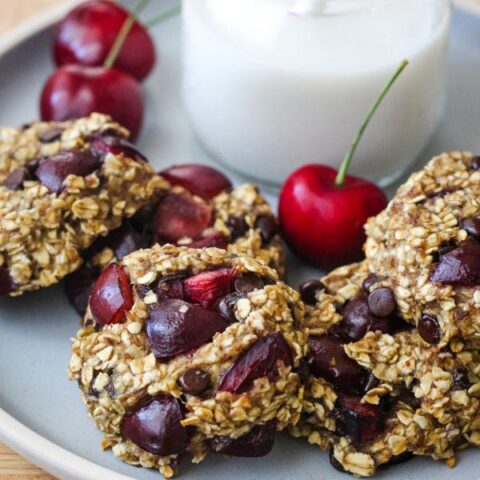 Dark Chocolate Cherry Banana Oat Cookies
A decadent and quick breakfast, snack or dessert. Eat the whole high fiber batch for under 400 calories!
Ingredients
1/2 cup Quick Oats, toasted if desired
1/2 cup Mashed Banana (about 1 very ripe large banana)
2 teaspoons Flax Meal
1/8 teaspoon Almond Extract
1½ tablespoons Vegan Mini Chocolate Chips or Chopped Chocolate (about .50 ounces)
1/3 cup seeded and chopped Fresh Cherries, (about 7 large or 10 small whole cherries)
Instructions
Toast The Oats
Adjust the cooking rack to the middle position and preheat your oven to 350°F. If using a toaster oven, select the BAKE setting.
Spread oats in a single layer on an ungreased rimmed pan and add to the oven. Cook until the oats are toasted, about 8 to 10 minutes. Set pan aside to cool completely before adding to the recipe.
Make The Cookies
Line a quarter sheet pan with a silicone baking mat or lightly oil.
In a medium bowl add the mashed banana, flax meal, and almond extract and mix well. Stir in the oats, chocolate chips, and cherries until combined.
Use an ice cream scoop to drop the cookies onto the prepared sheet pan.
Bake until they are no longer wet looking and are just starting to brown around the edges, about 12 to 15 minutes.
Allow the cookies to cool completely on the pan before using a spatula to remove them.
Nutrition Information:
Yield:

6
Serving Size:

1 Cookie
Amount Per Serving:
Calories:

66
Total Fat:

1.7g
Saturated Fat:

0.5g
Sodium:

0.8mg
Carbohydrates:

11.7g
Fiber:

1.9g
Sugar:

3.8g
Protein:

2g