Veggie Pita Pizza Bites. Add a little green to your next party with some mini veggie topped pizza bites. Whole wheat mini pitas, ricotta and sun dried tomatoes topped with lots of fresh veggies. Serve drizzled with balsamic vinegar and watch these "pizza bites" disappear.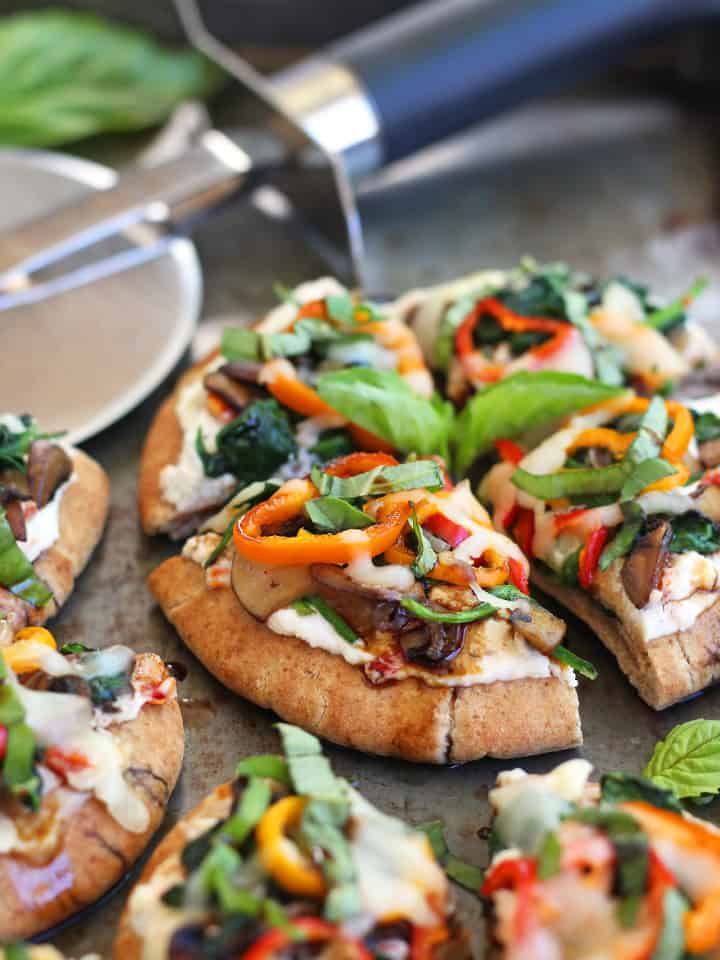 It's party time people! Starting today The Casual Veggie Cookbook is available for purchase. Come celebrate at the virtual launch party and load up on these Veggie Pita Pizza Bites along with many more tasty appetizer and drink recipes perfect for any fall party.
We interrupt this post to tell you it contains affiliate links, which means that if you click on them and make a purchase we will receive a commission. You will be helping to support Toaster Oven Love and our efforts to bring you tasty wholesome small batch recipes, which we truly appreciate ♥.

If you haven't heard The Casual Veggie Cookbook is the answer to all your veggie questions. 48 food bloggers with different cooking styles (paleo, vegetarian, gluten-free …) have contributed their best recipes to this easy to navigate digital cookbook. With 29 chapters each focused on a different vegetable and 166 quality recipes you'll never wonder what to do with that aging bundle of kale again.
So how do you get your hands on a copy? You can purchase the e-book for just $18.00 by clicking The Casual Veggie Cookbook images in this post or anywhere else on the website.

You can also use this → The Casual Veggie Cookbook link to visit the sales page. Make sure to check out the fun "tablet" and click the left and right arrows to scroll through the table of contents to get a sneak peek at a few recipes.
Tim and I are so passionate about helping others learn to cook, eat and enjoy a variety of vegetables because of Our Life Changing Vegucation. We are honored to be part of such a useful and delicious vegetable resource like The Casual Veggie Cookbook. If you have any questions about the book you can email us or leave them in the comments.
Hungry yet…you were told there would be food at this party, right?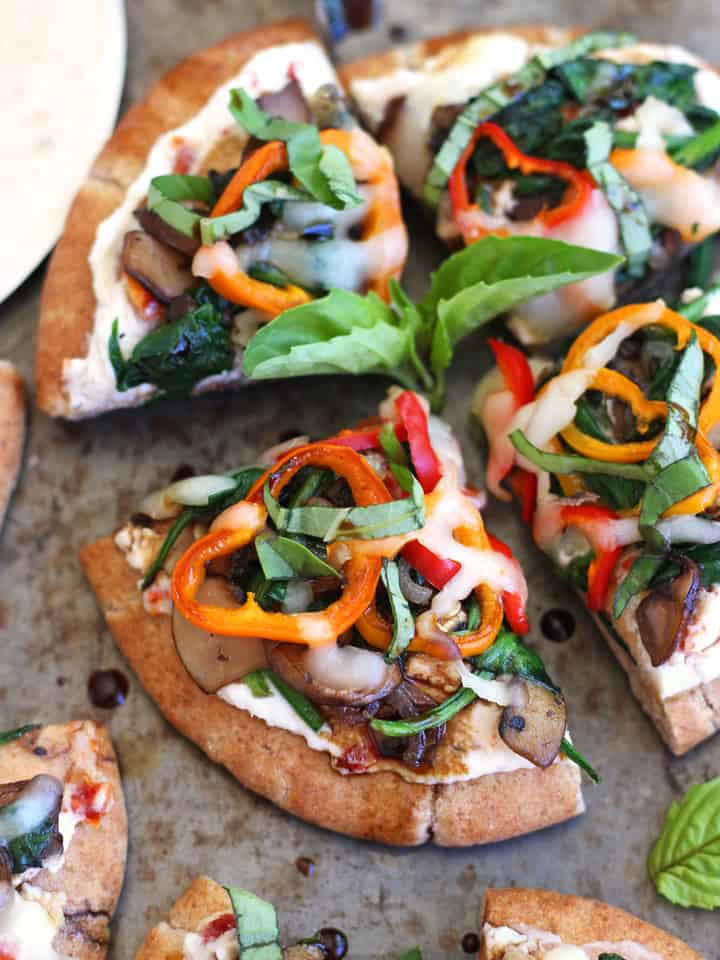 Party food is usually pretty easy but what to bring to a bash full of veggie loving bloggers and their awesome readers? How about some fun and healthy Veggie Pita Pizza Bites!
These little slices of yum start with warm mini pitas that are smothered with a creamy ricotta and sun-dried tomato mixture.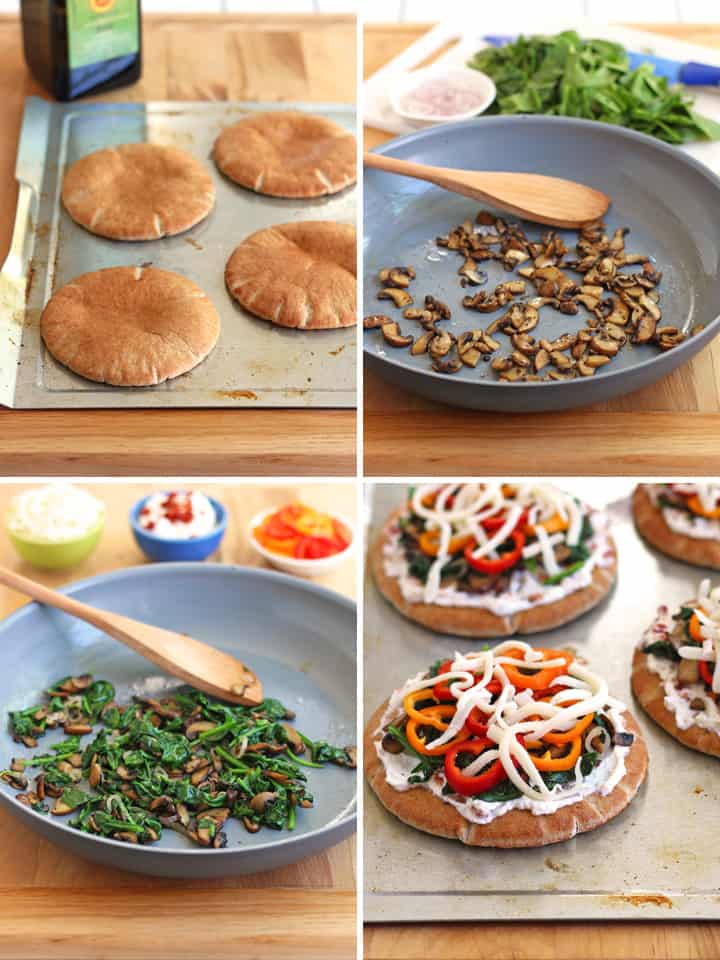 Then piled high with sautéed mushrooms and spinach, crisp mini bell pepper slices and a tiny bit of melted mozzarella.
Thinly sliced fresh basil and a drizzle of balsamic vinegar finish off this tasty appetizer.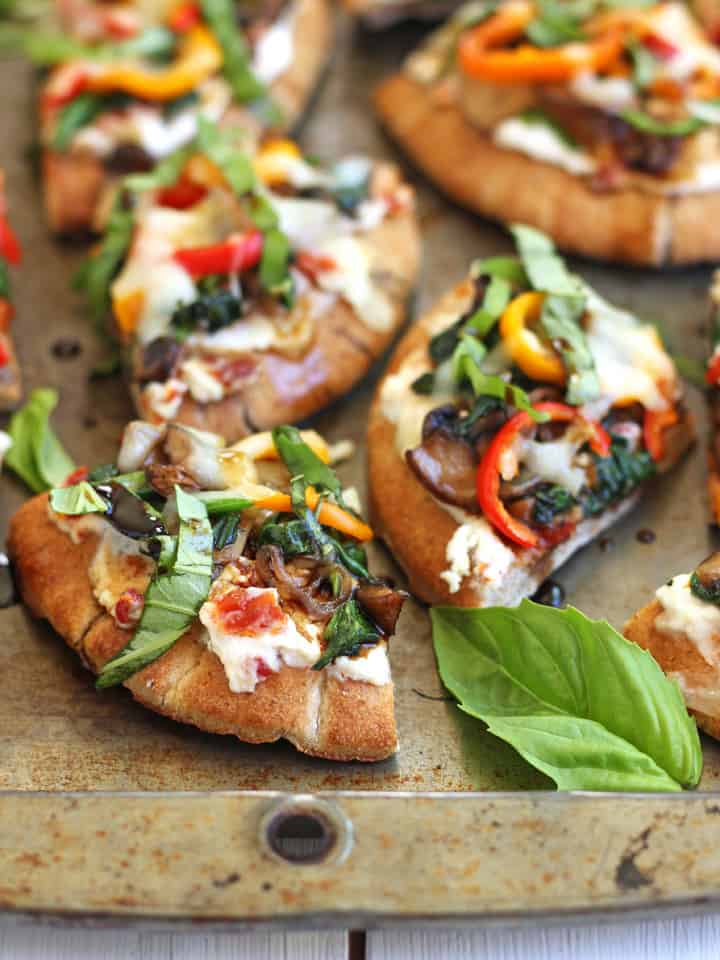 We hope you enjoy The Casual Veggie Cookbook and this recipe for Veggie Pita Pizza Bites. Be sure to scroll down after the recipe to see what some of the other contributors are bringing to the party!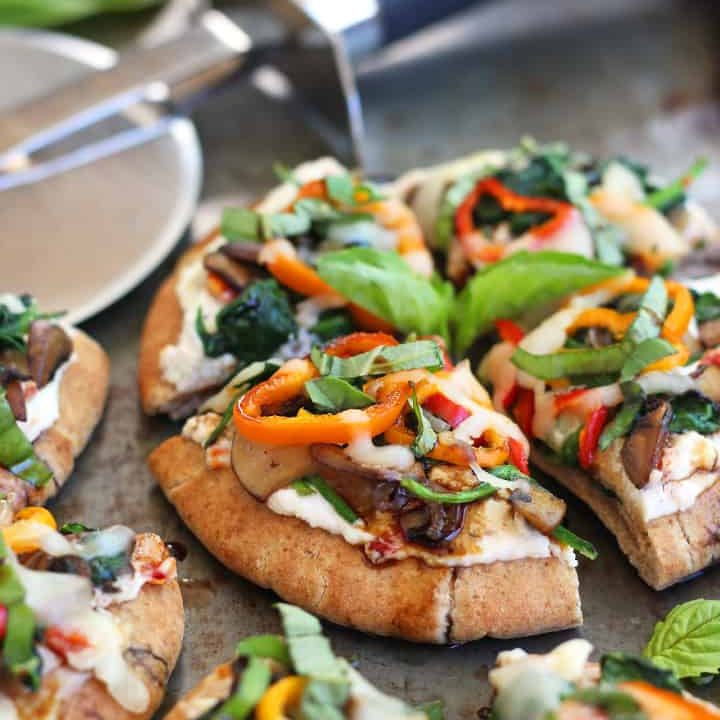 Veggie Pita Pizza Bites
Baked mini pitas topped with ricotta, sun-dried tomatoes, mushrooms, spinach and so much more.
Ingredients
4 whole wheat mini pitas
3 teaspoons + 1/2 teaspoon olive oil
2 ounces thinly sliced baby Bella mushrooms, (or your favorite type of mushroom)
2 cups loosely packed fresh baby spinach, roughly chopped
1 small shallot, thinly sliced
1/4 cup whole milk ricotta cheese
1 tablespoon finely chopped sun-dried tomatoes
1/3 cup thinly sliced mini bell peppers, (about 5 or 6 whole mini peppers depending on size)
1/4 cup shredded mozzarella cheese
1/4 cup loosely packed fresh basil leaves, thinly sliced
2 teaspoons balsamic vinegar
Salt & pepper
Instructions
Preheat oven or toaster oven to 400 F. Place mini pitas on cookie sheet and drizzle with just 1/2 teaspoon of the olive oil. Use your hands to rub oil over both sides of pitas. Bake pitas for 5 to 7 minutes until crispy and lightly golden. Remove pitas once cooked but leave oven on.
While the pitas are baking place 2 teaspoons of olive oil in a medium skillet over medium-high heat. Add mushrooms and give the pan a good stir to coat the mushrooms with oil, allow them to sit undisturbed for 2 minutes. After the 2 minutes continue cooking the mushrooms stirring occasionally, for 4 to 5 minutes until golden brown. Add the remaining teaspoon of olive oil and shallots. Lightly salt and pepper, cook for 2 minutes stirring occasionally. Lastly, add the spinach, lightly salt and pepper and cook for another 2 to 3 minutes, stirring frequently until the spinach has wilted down. Remove from heat.
In a small bowl combine the ricotta and sun-dried tomatoes, lightly salt and pepper.
Spread each pita with 1/4 of the ricotta mixture, top with 1/4 of the spinach/mushrooms and arrange mini bell pepper slices in an even layer across the top. Sprinkle each pita with 1 tablespoon mozzarella cheese.
Return pizzas to the 400 F oven and bake for 3-4 minutes until cheese is melted and ingredients are warmed. Broil for 1-2 minutes to brown cheese if desired.
Slice each pita into 4 triangles, sprinkle with sliced basil, drizzle with balsamic vinegar and serve to your hungry party guests.
Notes
Recipe and technique for sautéed mushrooms and spinach portion adapted from Martha Stewart's Sauteed Spinach and Mushrooms Recipe.
Recipe makes 16 bites, Nutritional Information is an estimate for 3 Veggie Pita Pizza Bites.
Nutrition Information:
Yield:

5
Serving Size:

3 Bites
Amount Per Serving:
Calories:

151
Total Fat:

5.8g
Saturated Fat:

2.2g
Cholesterol:

10.1mg
Sodium:

188mg
Carbohydrates:

20g
Fiber:

3.2g
Sugar:

2.5g
Protein:

6.5g
Nutritional information provided is an estimate generated by an online calculator. It should not be considered a substitute for advice from a professional nutritionist or your doctor.
Pumpkin Madelbrodt – A Tasty Mess
Pumpkin Apple Wontons – Cooking Up Clean
Bacon Wrapped Brussels Sprouts – Family for Health
Pumpkin Kale Smoothie – Fitful Focus
Guacamole Deviled Eggs – Hola Jalapeno
Butternut Squash and Saurkraut Pizza with Fizzy Pumpkin Punch – Parsley and Pumpkins
Paleo Pumpkin Hummus – Primal Health with Jean
Simple Spaghetti Squash Cakes – Pumpkins and Peanutbutter
Pesto Stuffed Mushrooms – Real Simple Good
Sweet Potato Casserole Muffins – The Weekly Menu
Lemongrass Ginger Barley Tea – Vermilion Roots
Roasted Beetroot with Crisp Chickpeas – Where is my Spoon?
Sparkling Pear Ginger Cocktail – Will Cook For Friends
In keeping with the very veggie theme today, this recipe was submitted to Meat Free Mondays at the yummy vegetarian blog Tinned Tomatoes – check it out every Monday to easily plan a delicious meat free week!