Double Chocolate Coconut Spelt Mini Muffins. The flavors of your favorite chocolate coconut candy bar baked into a rich whole grain mini muffin treat.

I know the word muffin makes you think of breakfast.  Eat oatmeal or baked egg tostadas for breakfast instead and save these Double Chocolate Coconut Spelt Mini Muffins for dessert!
These little bites of chocolate yumminess have all the tasty flavors of your favorite coconut candy bar baked into a rich whole grain mini muffin treat.  And they take just one bowl and less than 30 minutes to make!
There's lots of yummy goodies on the ingredients list too.  Like shredded coconut, cocoa powder and chopped semi-sweet chocolate.
And for those times when you "feel like a nut" stir 1/4 cup slivered almonds into the batter before baking.  Spelt flour and flax meal bring up the healthier end adding fiber and Omega 3 fatty acids.

Just like these Buttermilk Cinnamon Apple Donuts, this is a great recipe for using up leftover buttermilk.  The low-fat buttermilk and virgin coconut oil make the batter super thick and fudgy.  They also keeps the finished muffins moist but light.
Funny thing about coconut oil, if you want it to stay in liquid form it cannot come in contact with something cold.  A few times I have forgotten and poured the buttermilk cold straight from the fridge.  The silky smooth coconut oil quickly turns into a lumpy hard mess forged to the bottom of the bowl.
If this happens to you just pop the bowl in the microwave for 15 to 20 seconds (but make sure your bowl is microwave safe first).

With their tiny stature these Double Chocolate Coconut Spelt Mini Muffins fit nicely in a lunchbox for a surprise afternoon treat.  Finding a mid-day secret chocolate filled mini muffin would certainly make anyone's day!
Other lunchbox treats you might enjoy: Small Batch Peanut Butter and Jelly Bars, No-Stir Toaster Oven Granola, Strawberry Chocolate Chip Banana Bread Bars, Dark Chocolate Cherry Banana Oat Cookies

Double Chocolate Coconut Spelt Mini Muffins
---
Brie
Yield: 12 Mini Muffins
The best parts of your favorite chocolate coconut candy bar baked into a rich whole grain mini muffin treat.
10 minPrep Time
10 minCook Time
20 minTotal Time
Ingredients
1/2 cup + 1 Tablespoon low-fat buttermilk
1/4 cup coconut oil, melted
1/4 cup + 2 tablespoons unsweetened cocoa powder
3 Tablespoons coconut sugar (or your choice of granulated sugar)
1/2 teaspoon vanilla extract
3/4 cup spelt flour (or substitute whole wheat flour)
1 tablespoon flax meal
1/2 cup finely shredded unsweetened coconut
1/4 teaspoon baking soda
1/4 teaspoon salt
1/4 cup roughly chopped semi-sweet chocolate (about 1 ounce before chopping)
Instructions
Measure buttermilk into measuring cup and set aside (to bring it's temp down so it's not so cold).
Preheat toaster oven to 350 F and grease a 12 cup mini muffin pan.
In a large bowl, whisk together the melted coconut oil and cocoa powder until all of the cocoa powder has dissolved. Stir in coconut sugar and vanilla extract. Sprinkle spelt flour, flax meal, shredded coconut, baking soda and salt over cocoa mixture and stir just until combined (a few streaks of flour may remain). Mix in buttermilk and chopped chocolate.
Spoon batter into mini muffin pan and bake at 350 F for 9 to 10 minutes until a toothpick in the center comes out with a few chocolate crumbs/batter. Allow mini muffins to cool in pan at least 10 minutes before removing.
Notes
Like brownies you want to take the muffins out of the oven while they are still a little under cooked as they will continue cooking while they cool. This will keep the center moist.
7.3
http://toasterovenlove.com/buttermilk-double-chocolate-coconut-spelt-mini-muffins/
Nutritional Information is an estimate for 1 Mini Muffin.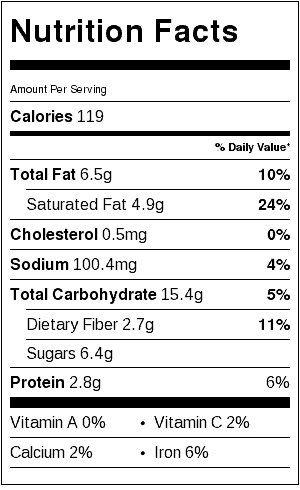 Original post was updated February 5, 2016 with new photos.