Toaster Oven Roasted Green Beans
Toaster Oven Roasted Green Beans. Sweet, spicy, crispy, and crunchy! Quickly add a delicious and healthy vegetable side dish to your next holiday meal or weeknight dinner.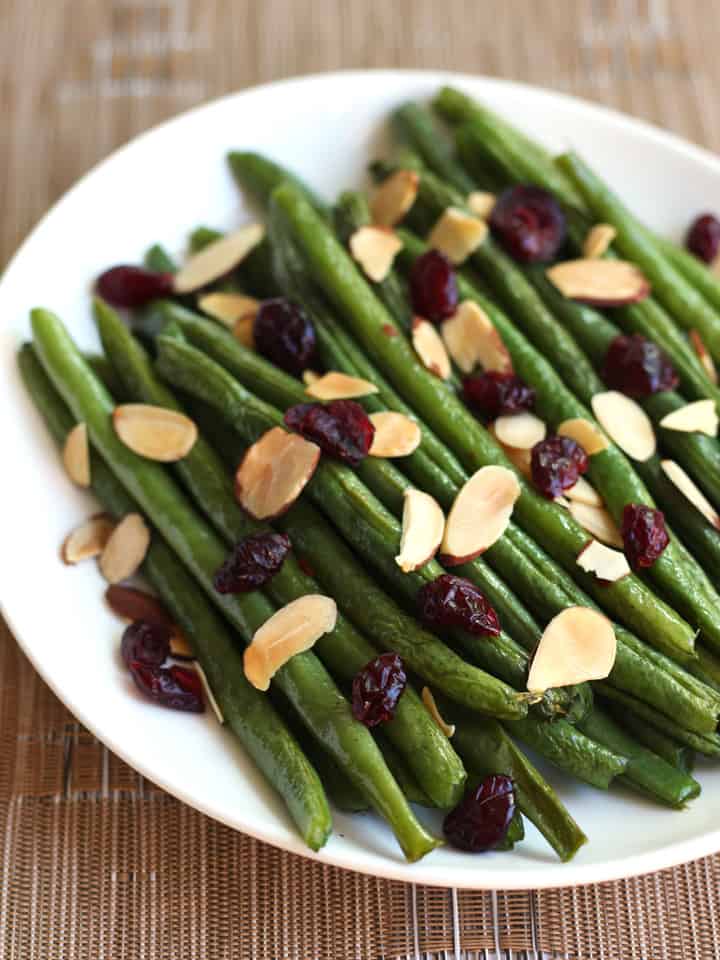 The table feels empty, unfinished without them. Like a slice of naked pumpkin pie or mashed potatoes without gravy.
It doesn't feel like a real holiday until green beans hit the table. Not just any kind, I mean good green beans.
Were your childhood Thanksgivings punctuated by that icky gray soup and fried onion dish too? Memorable for all the wrong reasons. I hold it and my parents "two-bites-rule" responsible for putting me off mushrooms until I was 32.
Had our holiday dinners included these toaster oven roasted green beans, I would have Cleaned My Plate and then fought my sister for seconds.
Lightly roasted in olive oil, with dried cranberries and toasted almonds…Veggie Perfection.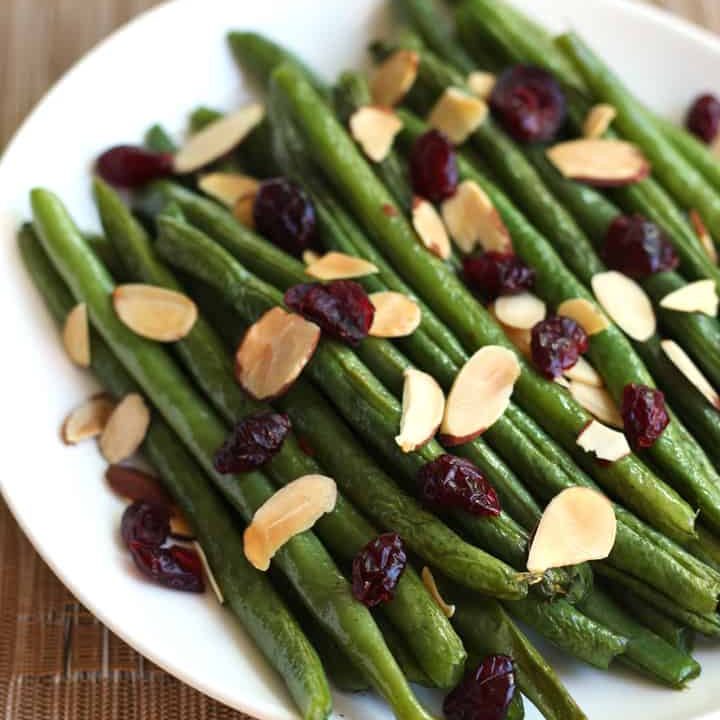 Toaster Oven Roasted Green Beans
Sweet, spicy, crispy and crunchy! Quickly add a delicious and healthy vegetable side dish to your next holiday meal or weeknight dinner.
Ingredients
12 ounces fresh green beans
1 teaspoon extra virgin olive oil
1/4 teaspoon fine sea salt
1/8 teaspoon black pepper
Pinch of red chili pepper, (optional)
1 tablespoon toasted sliced almonds
1 tablespoon dried cranberries
Instructions
Preheat toaster oven to 450 F. Wash and dry green beans. Snap off the ends on each bean and place them on a rimmed cookie sheet or in a baking dish.
Drizzle green beans with olive oil, salt, pepper and red chili pepper. Toss to coat well.
Roast green beans at 450 F for 14 to 19 minutes. Use tongs to turn the green beans halfway through cooking. Green beans will be done when tender to the tooth with a little crispness and snap left.
Serve warm green beans plain or topped with toasted sliced almonds and dried cranberries.
Notes
If using a baking dish turn the green beans about every 5-7 minutes to help them roast and keep from steaming.
If cooking green beans as a single layer on a cookie sheet start checking their doneness at the 14 minute mark as they will cook faster in a single layer.
Nutritional Information is an estimate for 1 of 2 servings.
Nutrition Information:
Yield:

2
Serving Size:

Half of Recipe
Amount Per Serving:
Calories:

104
Total Fat:

4.4g
Saturated Fat:

0.5g
Sodium:

301.1mg
Carbohydrates:

15.8g
Fiber:

5.3g
Sugar:

8.2g
Protein:

3.8g
Tips For Your Toaster Oven Roasted Green Beans
The best tasting roasted veggies start as an even layer on a rimmed baking sheet.
But Here's The Problem
Green beans are delicious. So you'll inevitably want to roast more than the pan that came with your toaster oven can handle.
For smaller toaster ovens you can cook your beans in two batches or use an 8 x 8 metal baking pan. We avoid glass baking dishes since most manufacturers advise not to use them in a toaster oven.
If you use the baking dish you will have to turn the beans more often during cooking. This helps to prevent the bottom layer from steaming instead of roasting.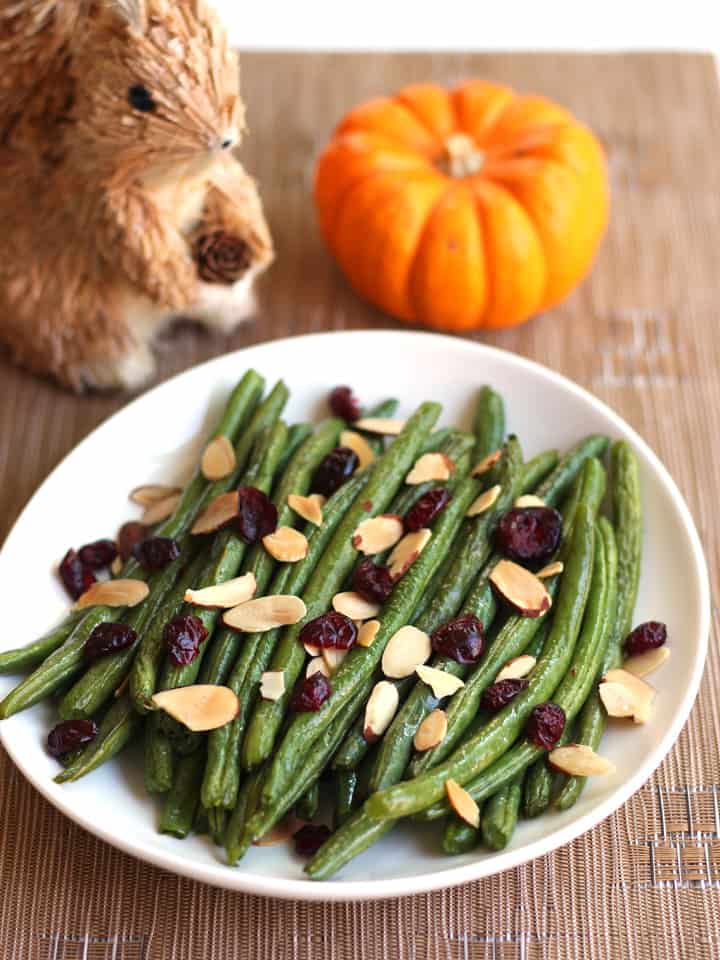 Before Roasting
Drizzle the beans with a little oil and season simply with salt and black pepper.
Surprise your guests with a pinch of crushed red chili pepper. The touch of heat is a nice counter to the sweet dried cranberries and nutty toasted almonds.
Related: Spicy Sriracha Roasted Red Potatoes
When Are They Done?
Roasted green beans taste best if cooked until they are crisp-tender. Meaning they have softened but still retain a bit of crunch or snap when you bite into them.
Look for your beans to be slightly shriveled with light caramelization or brown spots on them.
Hands-down the best way to check if they are ready is to grab a green bean and take a bite!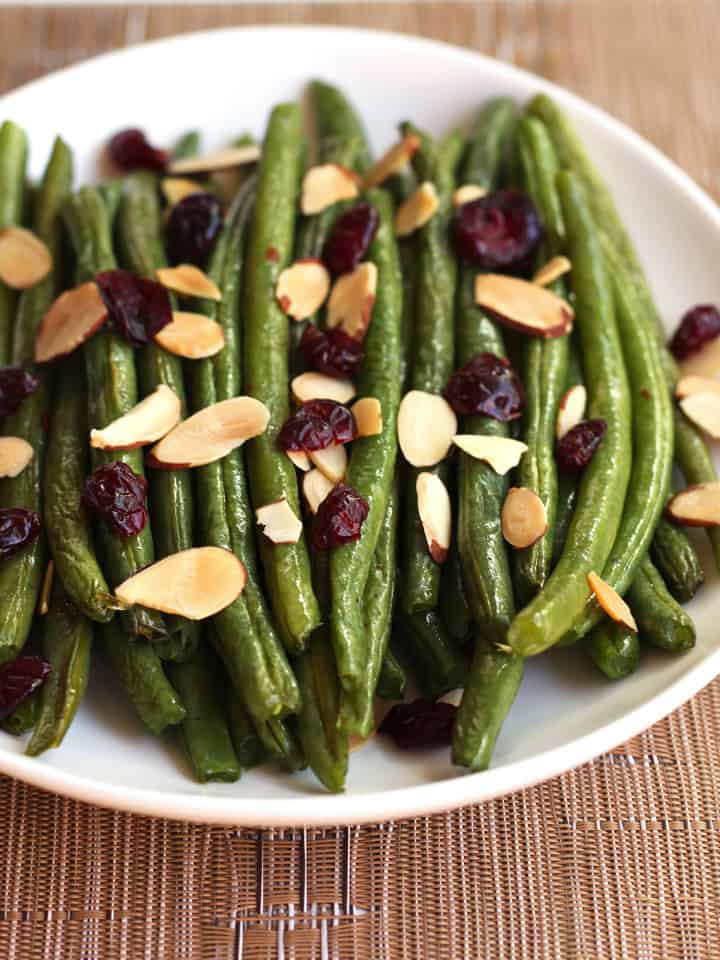 Finishing Touches
Right before serving, sprinkle your finished green beans with dried cranberries and toasted almonds. Then enjoy your healthy holiday side dish, memorable for all the right reasons.
More Toaster Oven Vegetable Sides