How To Cook Acorn Squash In A Toaster Oven
Nutty and sweet, Toaster Oven Acorn Squash makes a fantastic fall side dish. Earthy acorn squash halves are coated with oil, seasoned, and roasted until tender.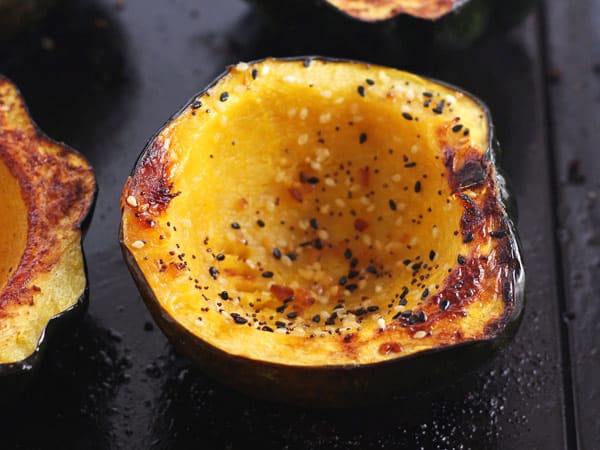 Acorn squash's small size makes it easy to fit in most toaster ovens. Usually, I can cook one acorn squash in our tiny Oster and two in our larger countertop oven.
The baked squash makes a great side dish or it can be stuffed for a tasty and nutritious meal!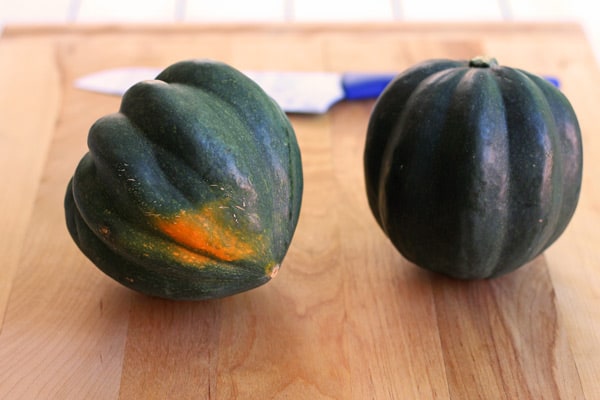 Recipe Ingredients
Acorn Squash: Make sure to consider the size of your toaster oven when selecting a squash. A general rule of thumb is to look for small to medium-sized squashes that are around 1 to 1½ pounds.
Olive Oil
Seasoning: Salt and pepper, cinnamon, or your favorite seasoning blend.
Step-By-Step Instructions
1. Start by adjusting your toaster oven's cooking rack to the bottom placement and preheat it to 400°F on the BAKE setting. Lightly oil a small sheet pan or line it with a silicone baking mat.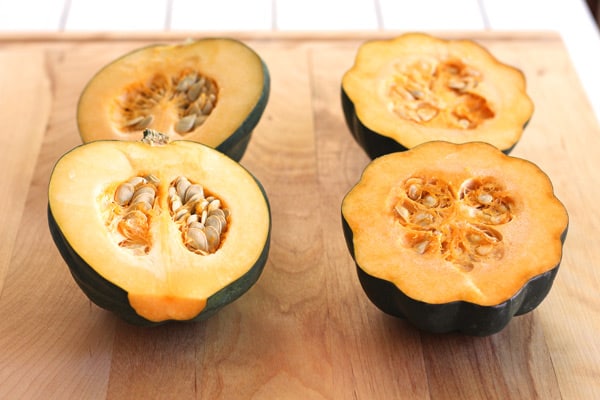 2. Place your squash on a cutting board and slice in half lengthwise (for longer acorn-shaped bowls) or widthwise (for round flower-shaped bowls). If the squash is rolling around slice a small portion off of the bottom of the squash. This will provide a flat base for it to rest on during slicing.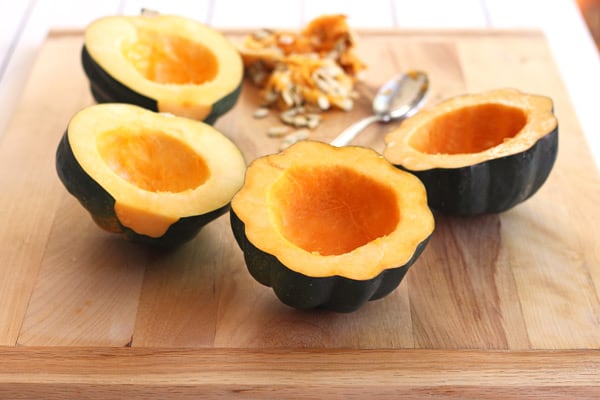 3. Next, scoop out the seeds using a spoon or ice cream scoop.
Quick Tip: You can save the seeds and roast them for snacking. Just separate the seeds from the pulp, toss with oil and salt, and toast for about 10 to 15 minutes. The process is similar to toasting nuts in a toaster oven.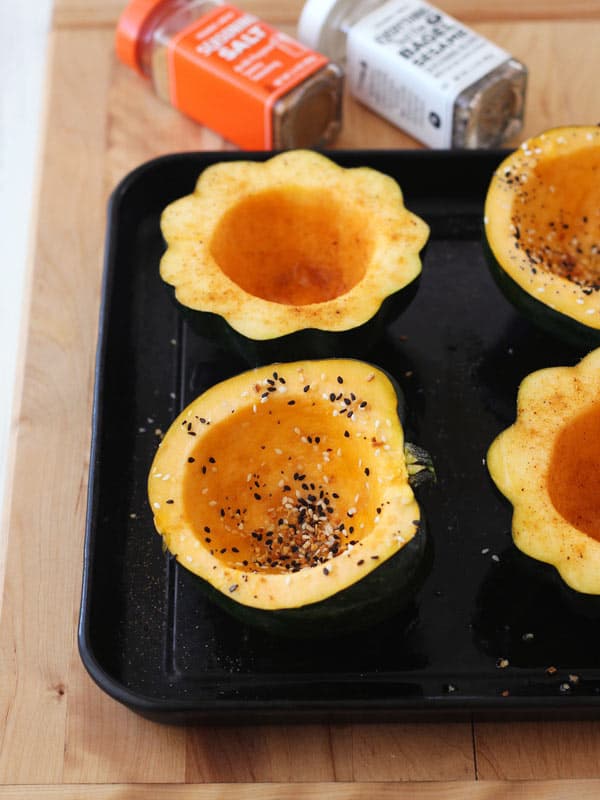 4. Rub some oil over the squash's flesh and season as desired. We used olive oil and some Everything Bagel seasoning for the squashes pictured. For a sweeter side dish try using coconut oil and cinnamon.
5. Place the oiled and seasoned squash cut-side down on the prepared pan.
6. Cook until a fork slides easily through the skin on the back of the squash and the edges are browned, about 30 to 45 minutes. The total time will depend on how large your squash is.
7. Allow the squash bowls to cool for a few minutes before serving or stuffing.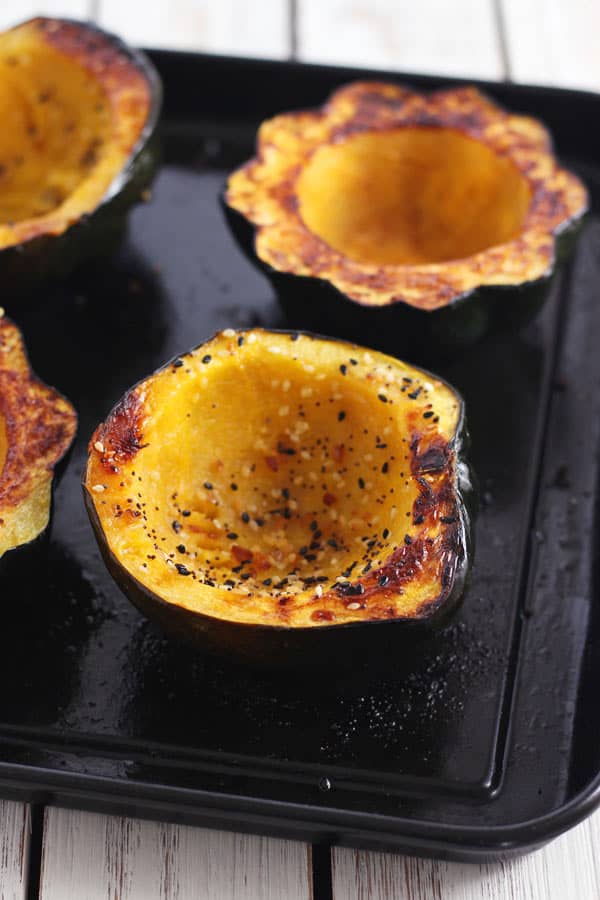 Stuffed Acorn Squash
A stuffed squash bowl is one of my favorite autumn dinners. Similar to baked sweet potatoes, acorn squash tastes great with a variety of sweet or savory fillings. Here are two quick ideas.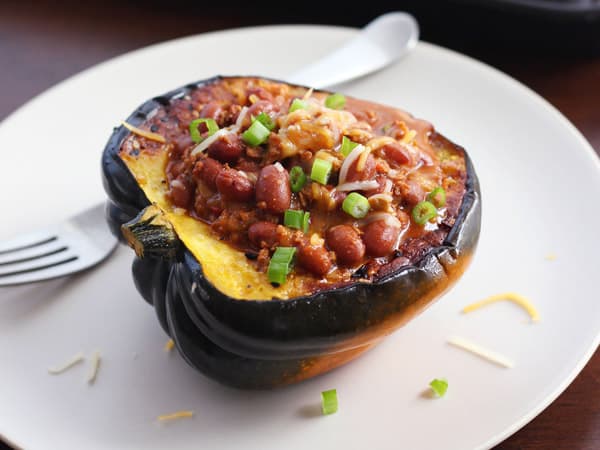 Chili Stuffed Squash
Fill the cooked squash with your favorite homemade or canned vegetarian chili. Top with shredded cheese, green onions, and a dollop of plain greek yogurt for a satisfying fall lunch.
Breakfast Squash Bowls
Rub the squash with coconut oil and season with cinnamon before roasting. Once cooked, cool slightly. Then, fill each bowl with 1/3 cup of yogurt. Sprinkle with chia and pomegranate seeds, more cinnamon, and granola.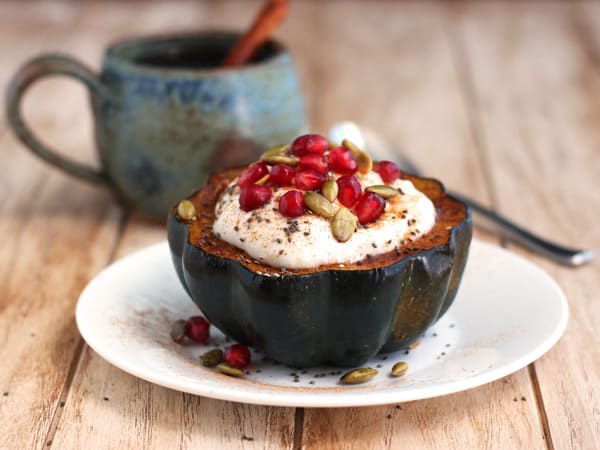 More Toaster Oven Vegetable Recipes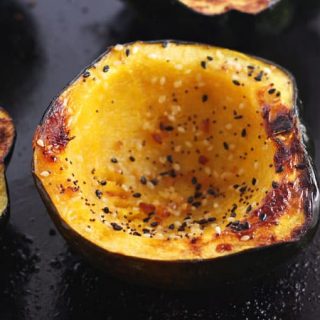 Toaster Oven Acorn Squash Bowls
Sweet and earthy acorn squash make a fantastic fall side dish or dinner for two. 
Ingredients
2 medium acorn squashes, (about 1 to 1.5 lbs each)
1 teaspoon oil
Seasonings of choice
Instructions
Adjust the cooking rack to the lowest position and preheat your toaster oven to 400°F on the BAKE setting.
Lightly oil a baking pan or line with a small silicone baking mat for easy cleanup.
Using a very sharp knife carefully slice the squash in half. Scoop out seeds and discard or save for roasting later.
Drizzle the inside of each squash with 1/4 teaspoon oil. Use your fingers to rub the oil over all of the exposed orange flesh. Season the squash generously.
Place squash flesh side down on your prepared pan and roast until a fork or knife slides easily through the skin and flesh. About 30 to 45 minutes depending on the size of your squash.
Allow squash to cool slightly before filling and serving.
Notes
Convection Toaster Ovens: Keep the temperature at 400°F but begin checking squash after 20 to 25 minutes, adding more time as needed.
To reheat leftover squash bowls, place in a 350°F preheated toaster oven for 20 to 30 minutes.
Nutritional information is an estimate for 1 unfilled acorn squash bowl.
Nutrition Information:
Yield:

4
Serving Size:

1 Unfilled Squash Bowl
Amount Per Serving:
Calories:

96
Total Fat:

1.4g
Saturated Fat:

0.2g
Sodium:

6mg
Carbohydrates:

22.5g
Fiber:

3.2g
Protein:

1.7g