This cozy Cheddar Apple Pita Pizza is sweet, savory, and takes just 15 minutes to make. Enjoy it as a quick vegetarian lunch or easy toaster oven appetizer.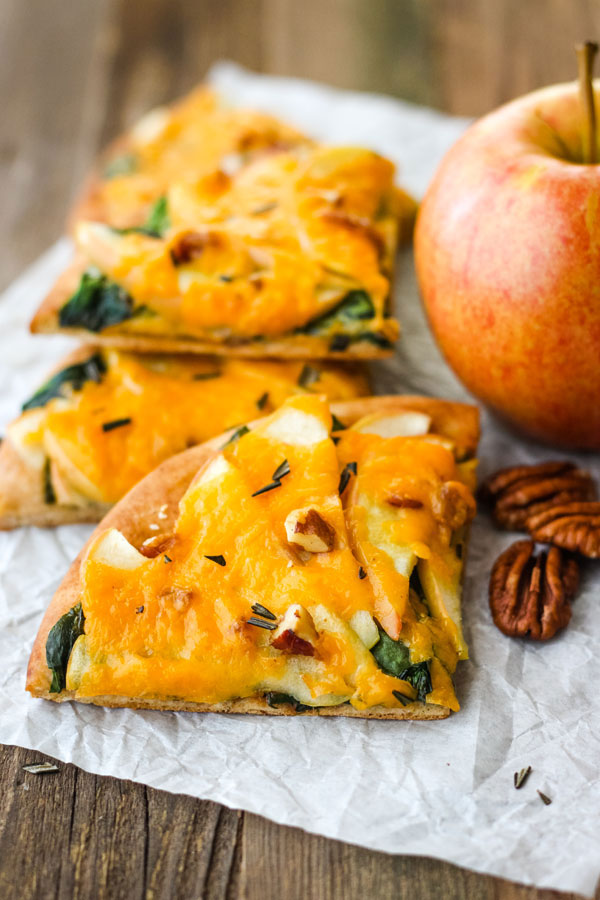 We're heading into my favorite food season: Fall!
It's where I get all fired up about making roasted Brussels sprouts and sweet potato rounds, baking small-batch pumpkin spice cookies, and eating anything made with apples like this yummy Cheddar Apple Pita Pizza.
It's a little sweet and salty and really quite nice to look at too. The warm and earthy colors feel like autumn on a plate.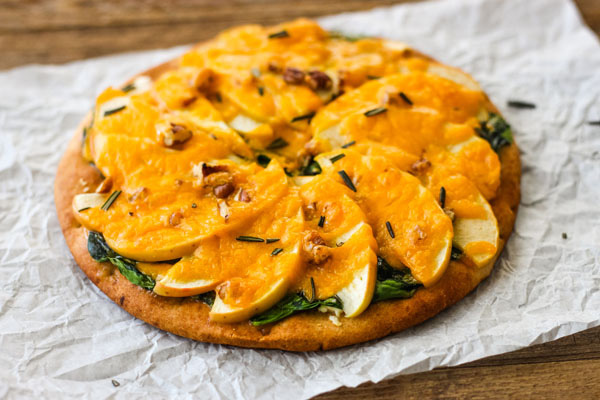 Ingredients
Here's what you'll need for this easy single-serving pizza:
Pita Bread: Preferably squishy and not the pocketed kind (assuming you have the option to be choosey).
Fruit: A crisp Gala or Pink Lady apple tastes great. You can use half a pear instead, just make sure it's a firm variety like Bosc. Otherwise, you'll have a juicy hot mess on your hands.
Cheese: 2 kinds, salty feta, and mild cheddar. They both do their own flavor thing here.
Greens: Spinach pairs nicely with the apple but baby kale or a handful of arugula wouldn't be a bad idea either.
Odds & Ends: A little apricot preserves, some chopped pecans, and if you've got any rosemary on hand from making Rosemary Cashews, just a sprinkle is the perfect finishing touch on this simple fall lunch.
Once you've got your ingredients sorted all that's left is to load up your pita, pop it in the toaster oven, and enjoy!
~ Keep scrolling for step by step photos & tips after the recipe ~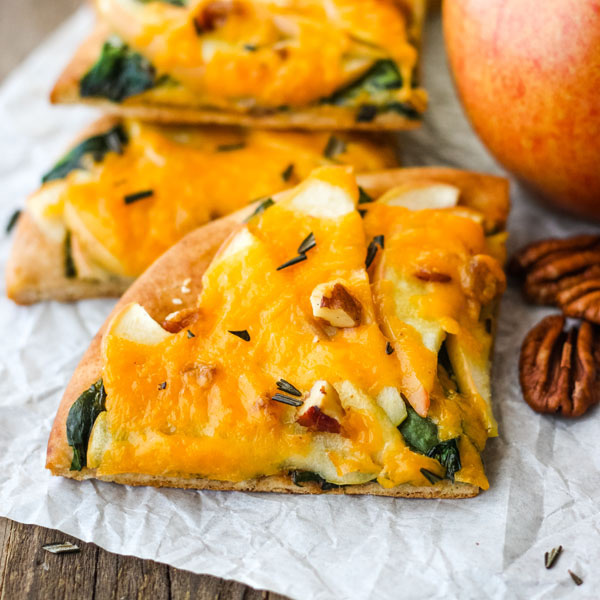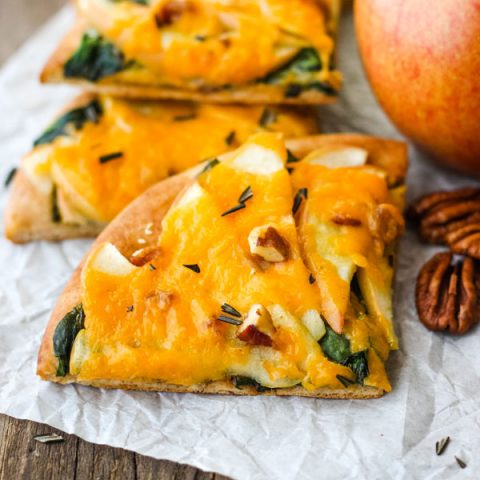 Cheddar Apple Pita Pizza
The classic combination of apple and cheddar cheese on a small pita pizza that's just for you!
Ingredients
1 Pita Bread
1/2 teaspoon Apricot Preserves
1 tablespoon Crumbled Feta Cheese*
2 tablespoons Chopped Pecans, divided
1/2 cup Baby Spinach, loosely packed
1/2 Apple, seeded, thinly sliced
2 ounces Shredded Mild Cheddar Cheese, (about 1/2 cup)
Fresh Rosemary, optional
Instructions
Adjust cooking rack to the bottom placement and preheat toaster oven to 400°F on the BAKE setting.
Place pita on the baking sheet and spread with preserves. Top with feta, half the pecans, and spinach. Arrange apple slices in a single layer on top of the spinach. Sprinkle with remaining pecans and cheddar cheese.
Bake until the pita edges are browned and the cheese is melted and bubbly about 8 to 11 minutes.
Remove pan from the toaster oven, top with fresh rosemary (if using) and allow pizza to cool for 3 minutes before slicing and devouring!
Notes
*Crumbled Blue Cheese can be substituted for the feta cheese.
Nutrition Information:
Yield:

1
Serving Size:

1 Pita Pizza
Amount Per Serving:
Calories:

323
Total Fat:

10.5g
Saturated Fat:

4.6g
Cholesterol:

21mg
Sodium:

521mg
Carbohydrates:

50.2g
Fiber:

7.9g
Sugar:

11.7g
Protein:

11.6g
Step by Step Photos
During the holiday season, a few of these little pizzas sliced up would make a great party snack (maybe paired with one of these other healthy toaster oven appetizers?). Especially since the pizza tastes delicious served warm or at room temperature.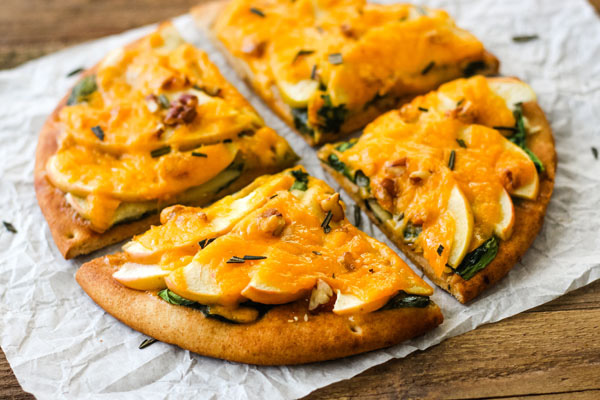 Today we're just cooking a single one for lunch so let's use the best appliance for this small job; your toaster oven!
Step One: Move your toaster oven's cooking rack to the bottom placement, select the BAKE setting and preheat to 400°F.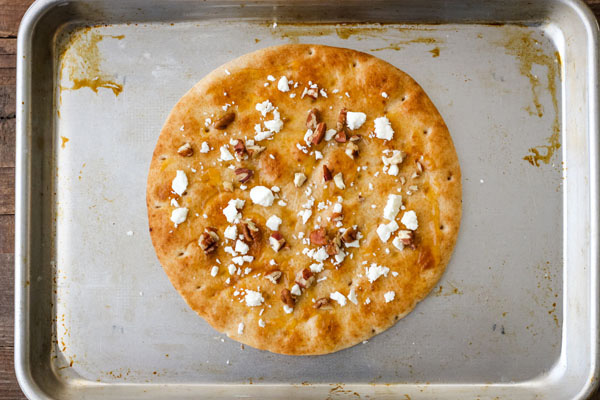 Step Two: Add the pita to a baking sheet and spread it with the apricot preserves. Next top with feta cheese, half the pecans, and spinach.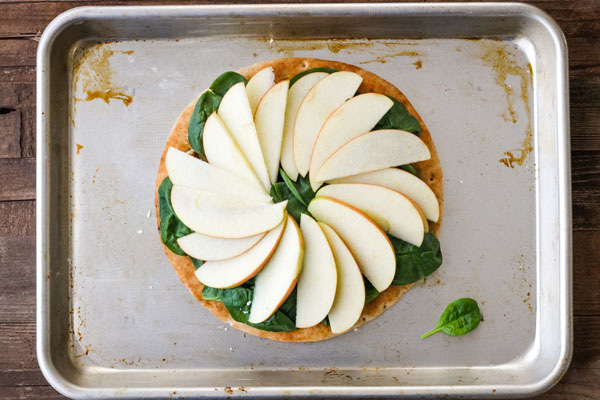 For the apple layer, I like to take a minute and arrange the slices in a nice spiral It looks super impressive but it's actually really easy as long as you've thinly sliced them.
Sprinkle the remaining pecans over the slices and top with the shredded cheese.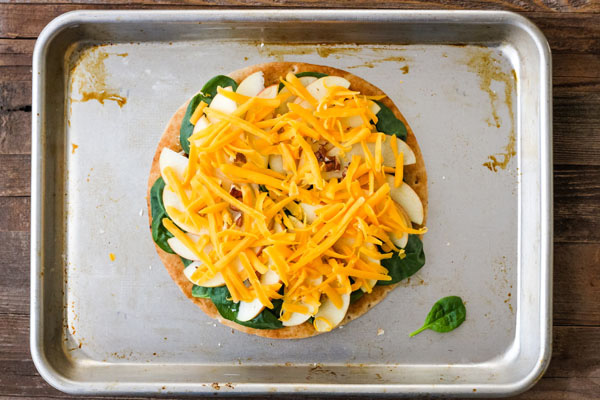 Step 3: Bake until the cheese is melted and the edges of the pita are browned. This should take between 8 to 11 minutes. The pita will have crisp edges but a soft and chewy middle.
Step 4: Once your pita pizza is ready, let it cool for a few minutes. Just like a regular pizza, if you try to slice through it straight out of the oven, the cheese and toppings will slide right off.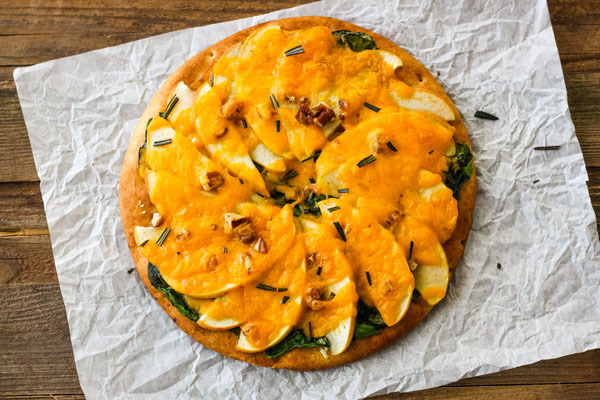 Finally, top your cheesy autumnal pita pizza with a sprinkle of fresh rosemary and dig in!