Roasted Zucchini and Tomatoes Crostini are a light dinner for two that highlight the season's best produce. Slice them into smaller pieces for a flavorful appetizer your guests will love!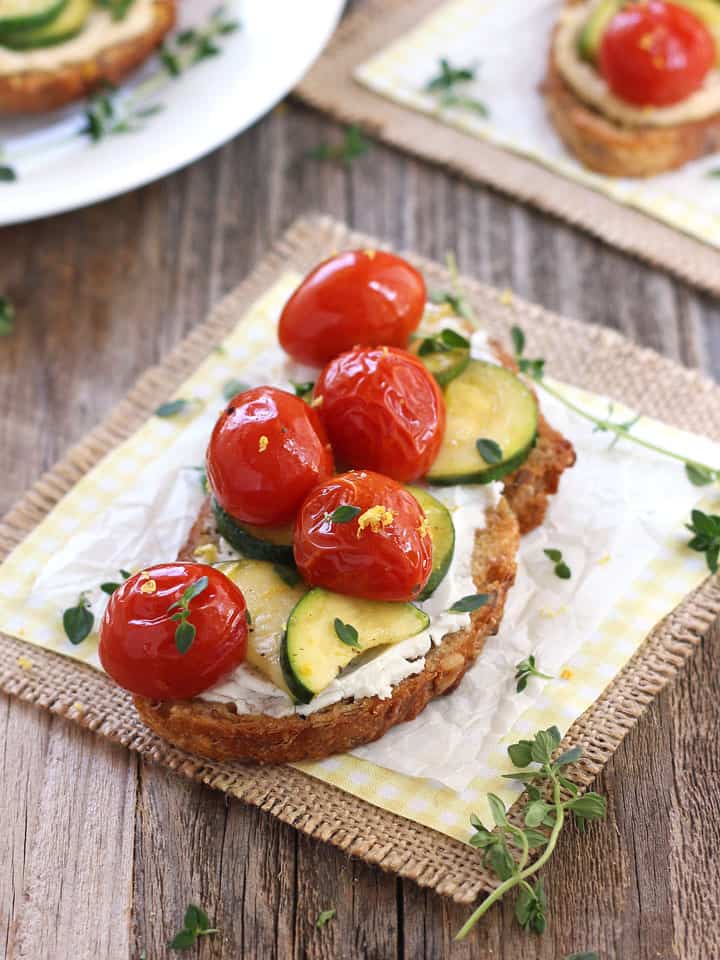 Is there anything better than fresh tomatoes and zucchini on a mid-summer evening?
Okay, Maple Pecan Ice Cream Cookie Sandwiches are better but we should really eat dinner and then dessert. I vote for a simple yet flavorful dinner of fresh roasted zucchini and tomatoes crostini!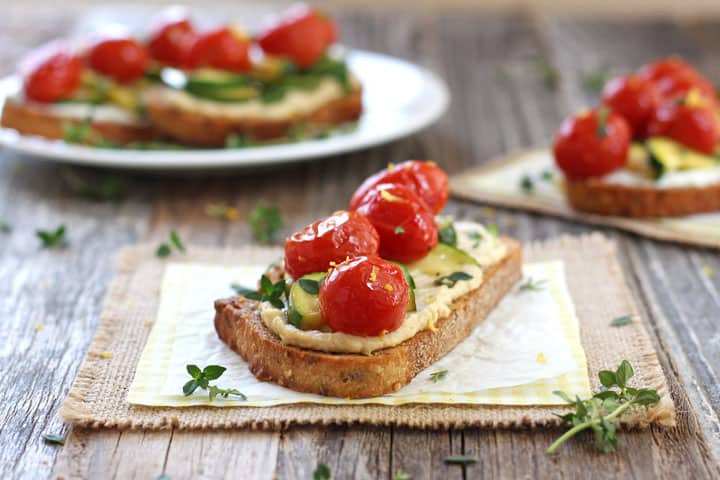 Now I know the weather is all kinds of H-O-T and you're thinking she wants to roast vegetables? The girl has lost her mind.
Guys, you know I wouldn't steer you wrong. First, we're using our toaster ovens so just a little extra heat in the kitchen and second, it is so worth it.
Roasting intensifies the flavors of the veggies and transforms them into sweet, garlicky, juicy flavor bombs. Plop them on a few goat cheese or hummus slathered toasts and you've got a tasty summer dinner for two!

Nutritional information is an estimate for 3 Crostini made with 2 ounces of hummus.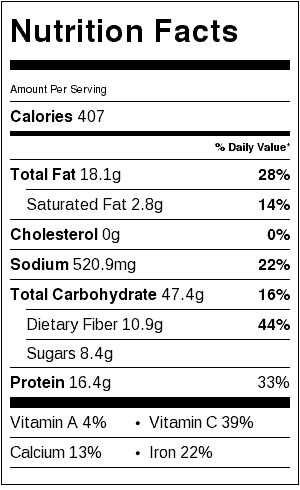 How to Make Toaster Oven Crostini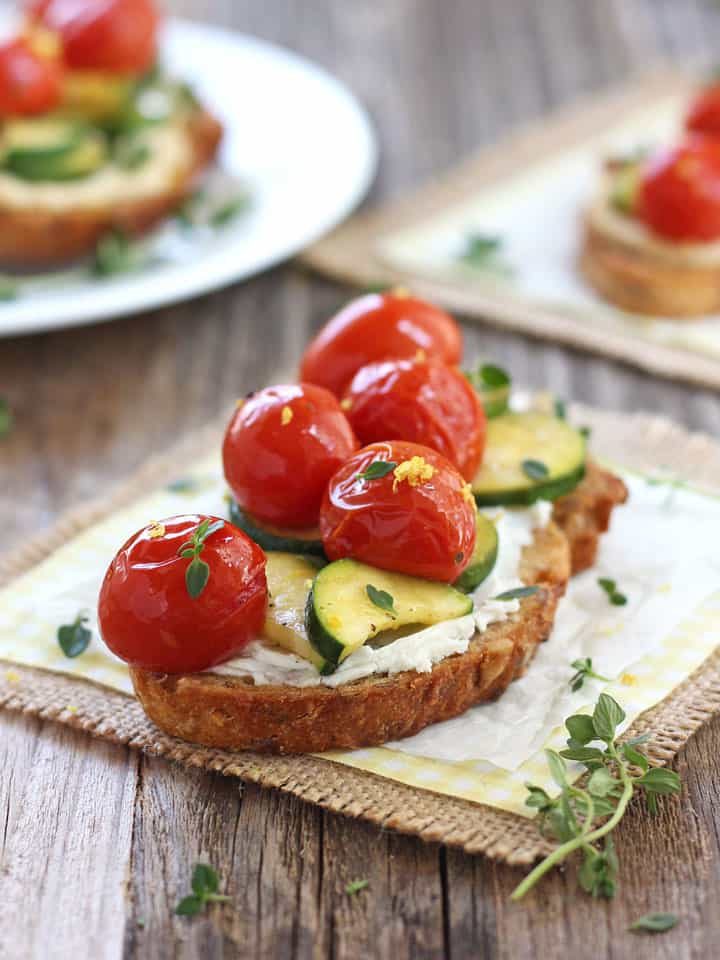 Start by drizzling your bread with a little olive oil. Add the bread to a baking sheet and toast in a 400F toaster oven for 5 to 8 minutes.
Next, add your vegetables (tomatoes, zucchini, asparagus, diced yellow onion or mushrooms) to a baking dish and toss with olive oil, garlic, salt, and pepper. Roasted for about 15 minutes or until tender, stirring halfway through the cooking time.
Remove the roasted vegetables and let them sit for a few minutes. Then add a giant pop of bright flavor with the zest from a whole lemon.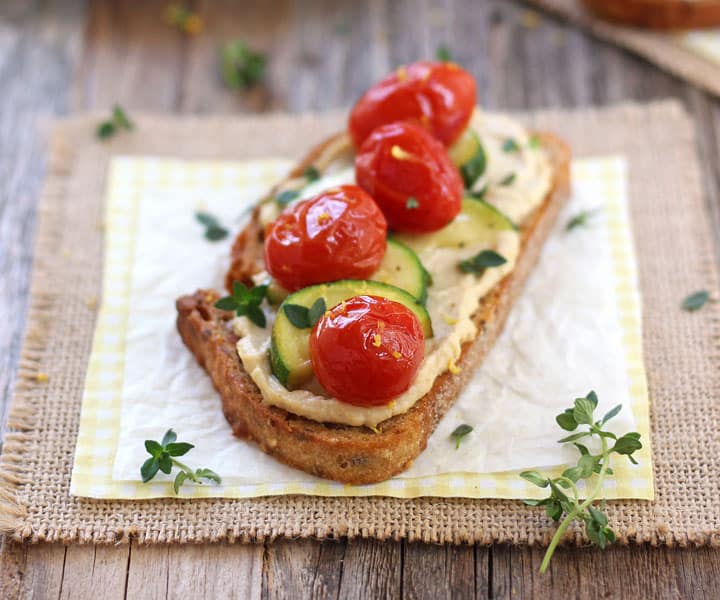 By now that amazing roasted veggie aroma will have likely lured another hungry belly to the kitchen. So let's make this into an actual meal.
Next spread on a layer of something rich and creamy onto your toasted bread.
Tim prefers a generous helping of tangy goat cheese.
I like this crostini with hummus.
Hummus is a great alternative if you're goat cheese adverse (that's me) and creates a delicious vegan-friendly option too. Plus you can use any leftover hummus for a Roasted Red Pepper, Carrot and Hummus Sandwich, Zucchini and Hummus Pita Sandwiches or a Veggie Hummus Flatbread.
To finish off your crostini, top the toasts with the roasted vegetables along with a sprinkle of fresh herbs. Basil, mint, and parsley taste quite nice. But earthy fresh thyme is the perfect complement to all of the other flavors.
Now, let's talk about that dessert!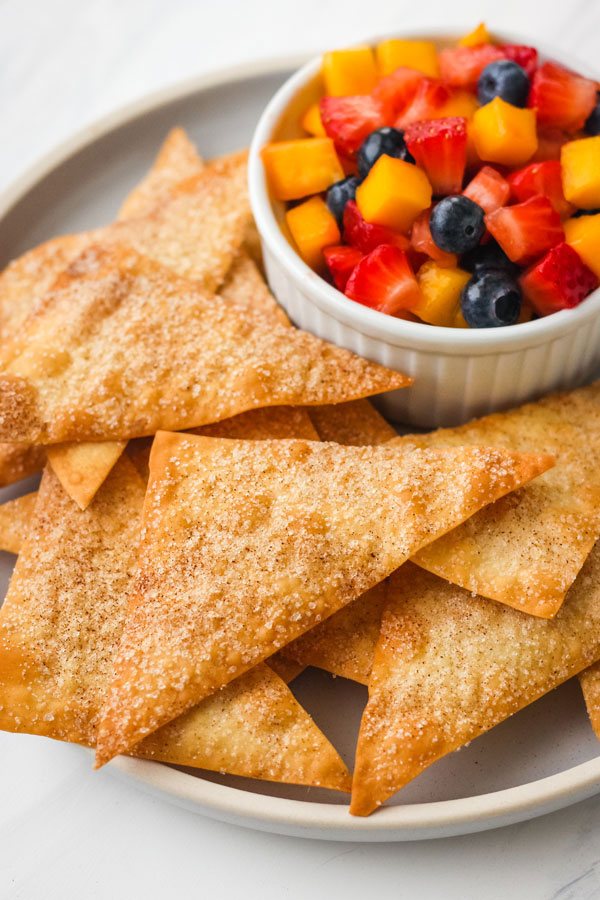 A batch of Cinnamon Baked Wonton Chips or Toaster Oven Double Chocolate Cookies with a big scoop of vanilla ice cream sounds like the perfect ending to this light summertime meal.