Roasted Zucchini and Tomatoes Crostini
Roasted Zucchini and Tomatoes Crostini is a delightful dinner for two. Crusty toasted bread topped with creamy hummus or goat cheese and sweet roasted vegetables. Light, flavorful, and perfect for snacking on the patio.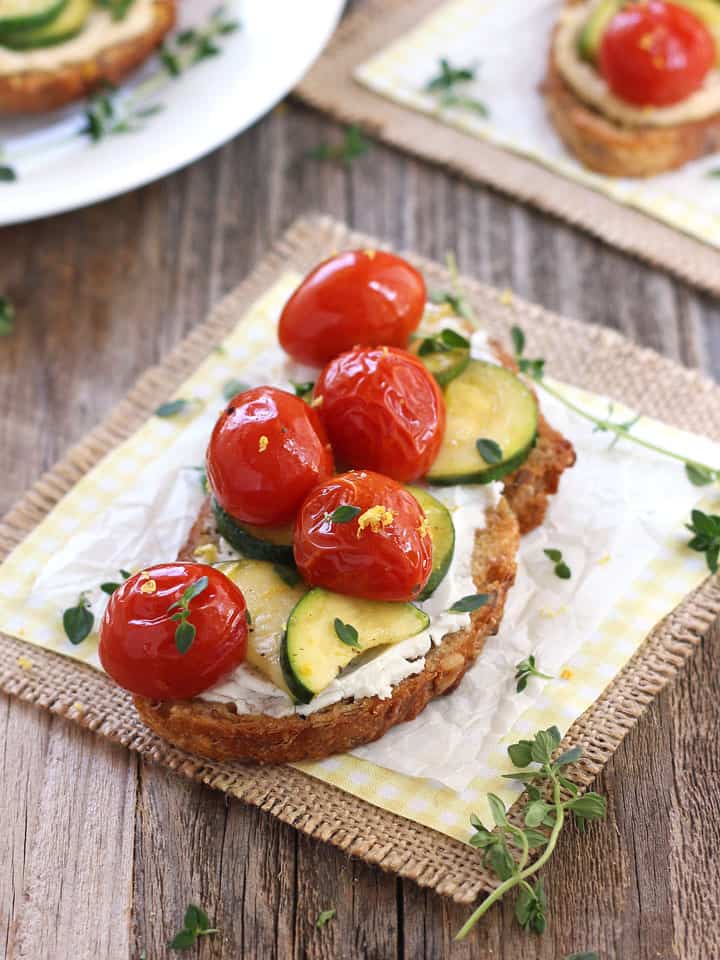 Is there anything better than fresh tomatoes and zucchini on a mid-summer evening?
Okay, ice cream is better but we should really eat dinner and then dessert. I vote for a simple yet flavorful dinner of fresh roasted zucchini and tomatoes crostini!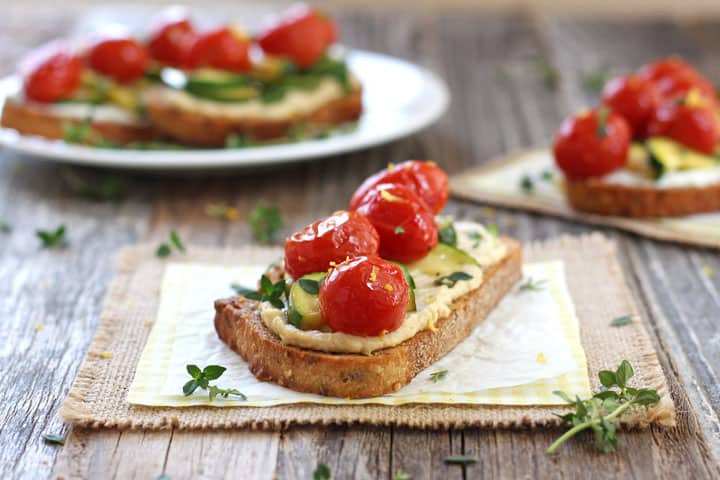 Now I know the weather is all kinds of H-O-T and you're thinking she wants to roast vegetables? The girl has lost her mind.
Guys, you know I wouldn't steer you wrong.
We're using our toaster ovens so just a little extra heat in the kitchen.
It is so worth it.
Roasting intensifies the flavors of the veggies and transforms them into sweet, garlicky, juicy flavor bombs. Plop them onto goat cheese and hummus slathered toasts and you've got a tasty summer dinner for two!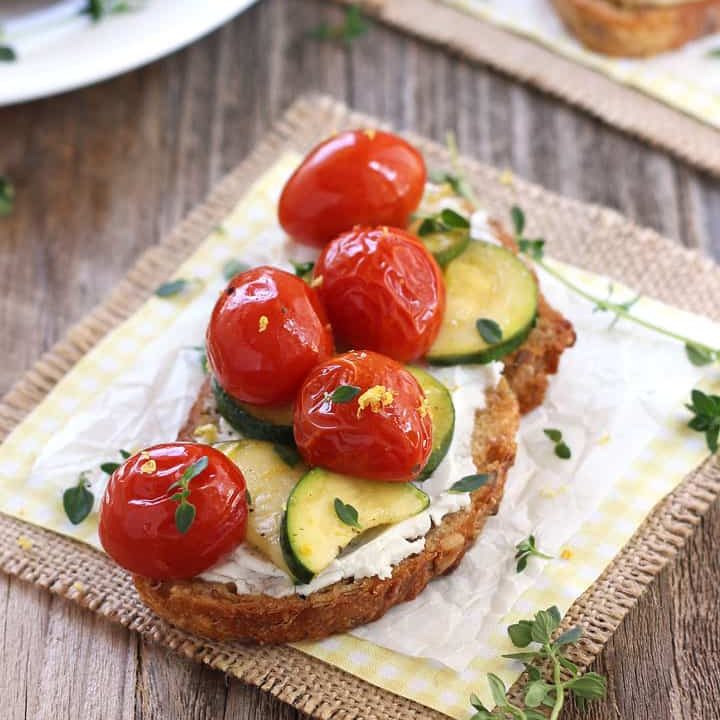 Zucchini and Tomatoes Crostini
A delightful dinner for two of toasted crusty bread spread with goat cheese or hummus and topped with savory roasted vegetables.
Ingredients
6 slices Crusty Bread, About 1/2 inch thick pieces
4 teaspoons Olive Oil, Divided
1 small Zucchini Squash, Sliced into half-rounds, about 1 cup
1 cup Grape Tomatoes
1 clove Garlic, Peeled and finely chopped
Salt and Pepper
zest of one Lemon
2 ounces Goat Cheese, at room temp
2 ounces Hummus
1-2 teaspoons Fresh Thyme
Instructions
Preheat your toaster oven to 400°F on the BAKE setting.
Place bread slices on a cookie sheet and drizzle with 2 teaspoons of olive oil. Bake 5 to 8 minutes until lightly browned. Remove toast and set aside but leave toaster oven on.
In a baking dish combine the zucchini, tomatoes, garlic, and remaining olive oil. Sprinkle with salt and pepper; stir well to coat all of the vegetables with oil.
Roast vegetables for 12 to 16 minutes, stirring halfway through cooking, until the zucchini has softened and most of the tomatoes are starting to burst open.
Allow vegetables to cool about 5 minutes then stir in all of the lemon zest.
To assemble the crostini spread each toast with goat cheese or hummus, top with roasted vegetables, sprinkle on fresh thyme, and enjoy.
Notes
The tomatoes may spray some juice as they split. After your toaster oven has cooled completely, unplug it and wipe down the inside with a damp cloth to remove any juices.
Nutrition Information:
Yield:

6 Crostini
Serving Size:

3 Crostini
Amount Per Serving:
Calories:

407
Total Fat:

18.1g
Saturated Fat:

2.8g
Cholesterol:

0mg
Sodium:

520.9mg
Carbohydrates:

47.4g
Fiber:

10.9g
Sugar:

8.4g
Protein:

16.4g
Ingredients and Tips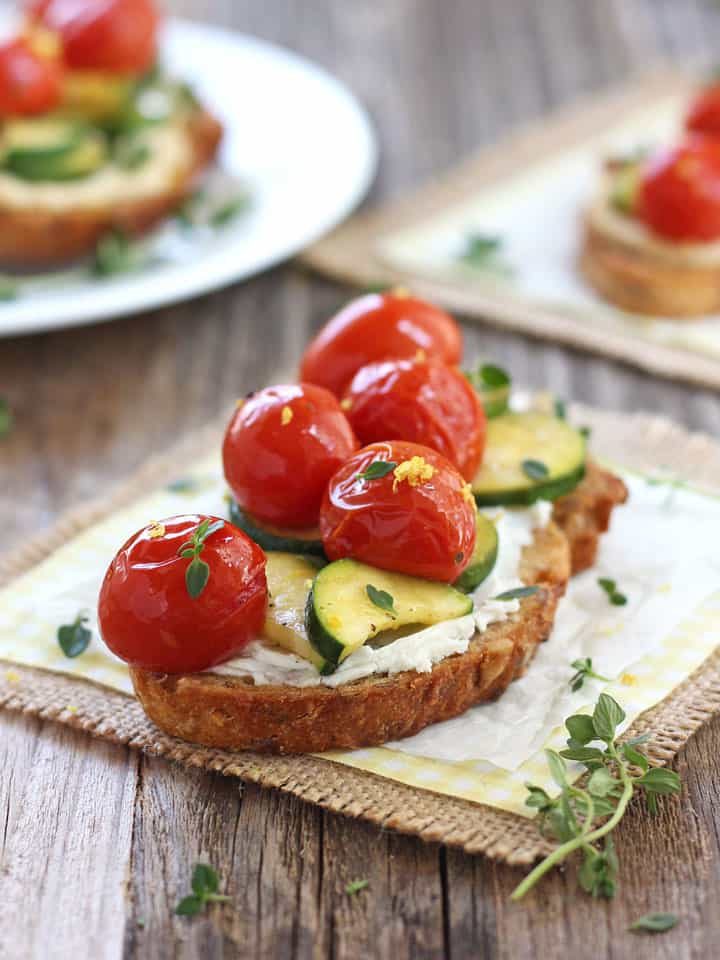 Start By Toasting The Bread
You can use the TOAST setting on your little oven. I prefer to use the BAKE setting, it's less intense.
Place the bread on a small baking sheet and drizzle with a little olive oil.
Pop the pan in a preheated 400°F toaster oven until toasted, about 5 to 8 minutes. Once toasted, set the bread aside.
Next, Roast The Vegetables
This is a summer recipe so we used tomatoes and zucchini. In spring you could try asparagus and radishes, or onions and mushrooms in the fall.
Add your veggies to a baking dish and toss with olive oil, garlic, salt, and pepper.
Roast until tender, stirring once or twice. This should take about 15 to 20 minutes.
Remove the vegetables and let them sit for a few minutes.
Lastly, add a giant pop of bright flavor with the zest from a whole lemon.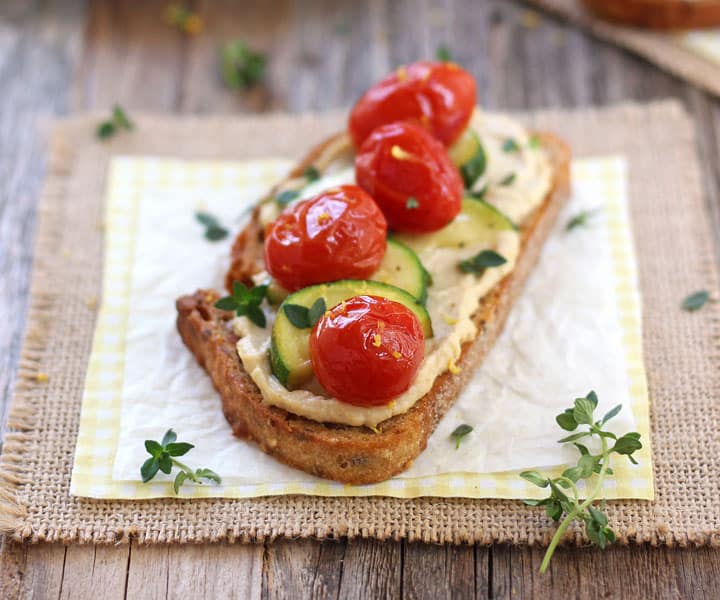 Put It All Together
By now that amazing roasted veggie aroma will have likely lured another hungry belly to the kitchen. So let's make this into an actual meal.
Next spread on a layer of something rich and creamy onto your toasted bread.
Tim prefers a generous helping of tangy goat cheese.
I like this crostini with hummus.
Hummus is a great alternative if you're goat cheese adverse (that's me) and creates a delicious vegan-friendly option too.
Plus you can use any leftover hummus for a Roasted Red Pepper, Carrot and Hummus Sandwich, Zucchini and Hummus Pita Sandwiches or a Veggie Hummus Flatbread.
To finish off your crostini, top the toasts with the roasted vegetables along with a sprinkle of fresh herbs.
Basil, mint, and parsley taste quite nice. But earthy fresh thyme is the perfect complement to all of the other flavors.
Now, let's talk about that dessert!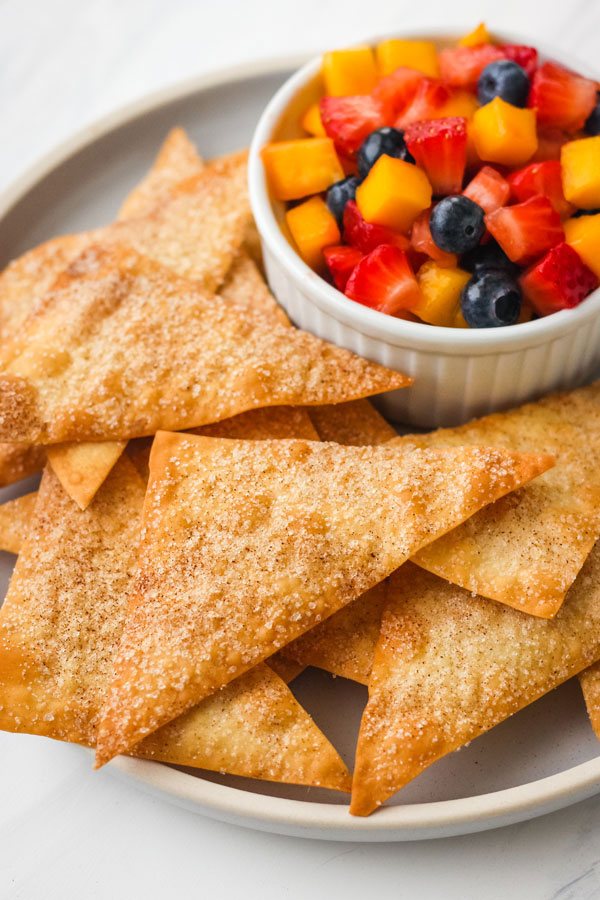 A batch of Cinnamon Baked Wonton Chips or Toaster Oven Double Chocolate Cookies with a big scoop of vanilla ice cream sounds like the perfect ending to this light summertime meal.