Baked Wonton Chips are deliciously crispy with a sweet cinnamon sugar topping. The perfect easy dessert, they're ready in 15 minutes with just 4 ingredients!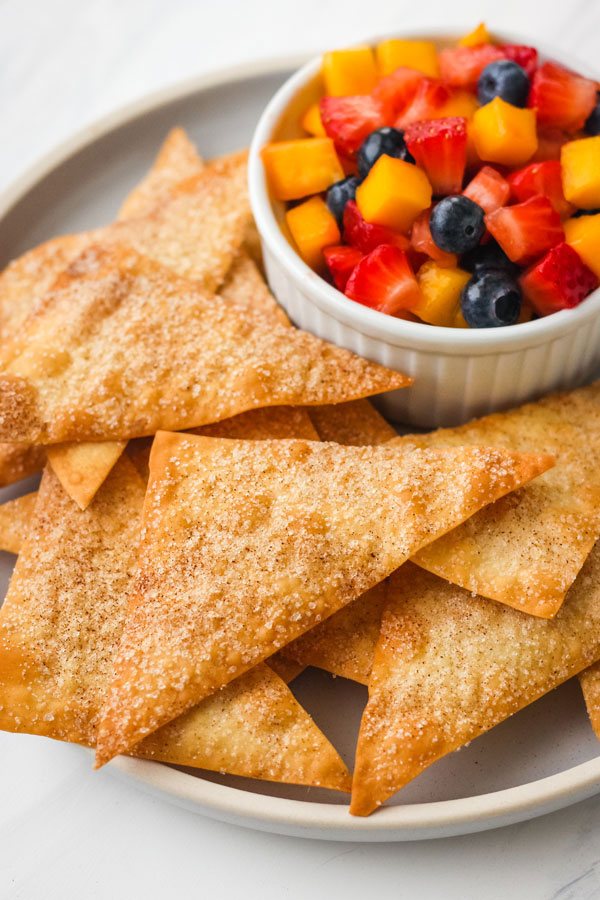 While I always enjoy cooking with our toaster oven, I'm most grateful for it during the summer. When it's crazy hot outside, we can still enjoy a variety of tasty treats without heating up the whole house.
Treats like these toaster oven chocolate chip cookies or a blueberry coffee cake. And on those days when it's too hot to even measure flour, I can whip up a batch of these addictive churro-flavored cinnamon baked wonton chips.
They take less than 15 minutes (start to finish) and are pretty impressive for a recipe that's so simple anyone can make it!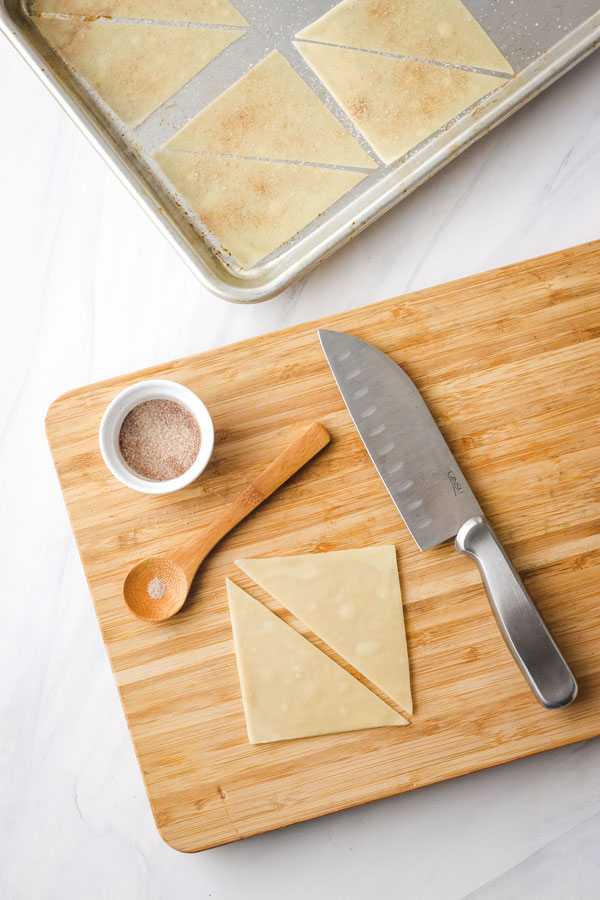 How to Make Wonton Chips
Start by selecting the BAKE setting and preheating your toaster oven to 350°F (or 325°F if you're using a convection toaster oven).
Then, grab a few wonton wrappers (potsticker wrappers work too) and spray or brush them with oil. Stack them together and slice them in half.
Next, arrange the pieces in a single layer on your baking sheet.
Combine the sugar and cinnamon and sprinkle over the chips.
Bake until the chips are golden brown around the edges, about 8 minutes.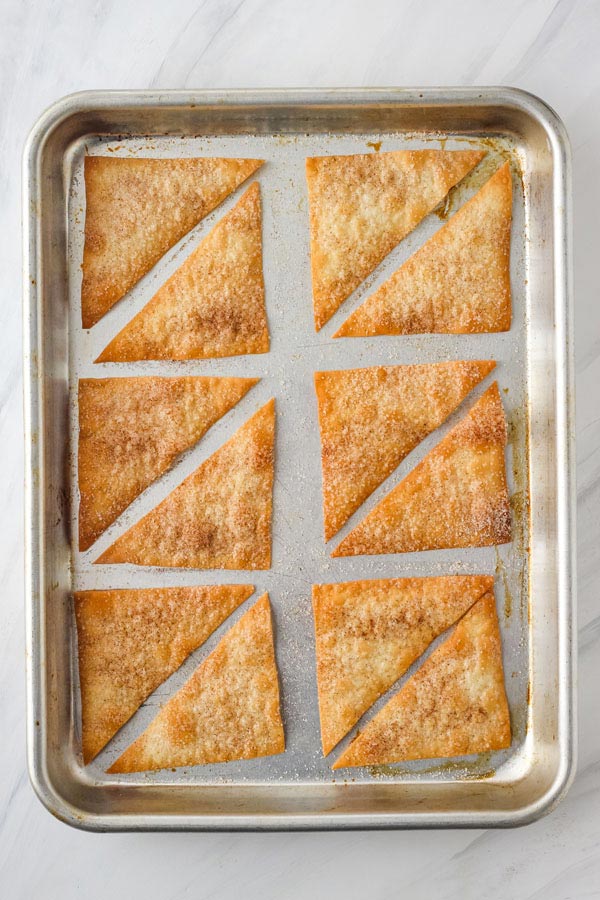 Cooking Tips
Spraying the wrappers on the pan is more convenient. But I've noticed that our pans don't get those sticky gunked-up areas if I spray the wrappers on the cutting board instead.
It's okay if the pieces are close together but if they're overlapping the chips won't crisp up properly.
The wonton crisps taste best if you remove them from the oven when they're still a little light-colored in the middle and not browned all over yet.
To make wonton strips (instead of triangles), cut the wrappers in half lengthwise. For smaller strips, you can slice them into thirds. Though they may bake a little faster.
Get creative with the flavors and swap the cinnamon for Chai spice mix, pumpkin pie spice, or apple pie spice.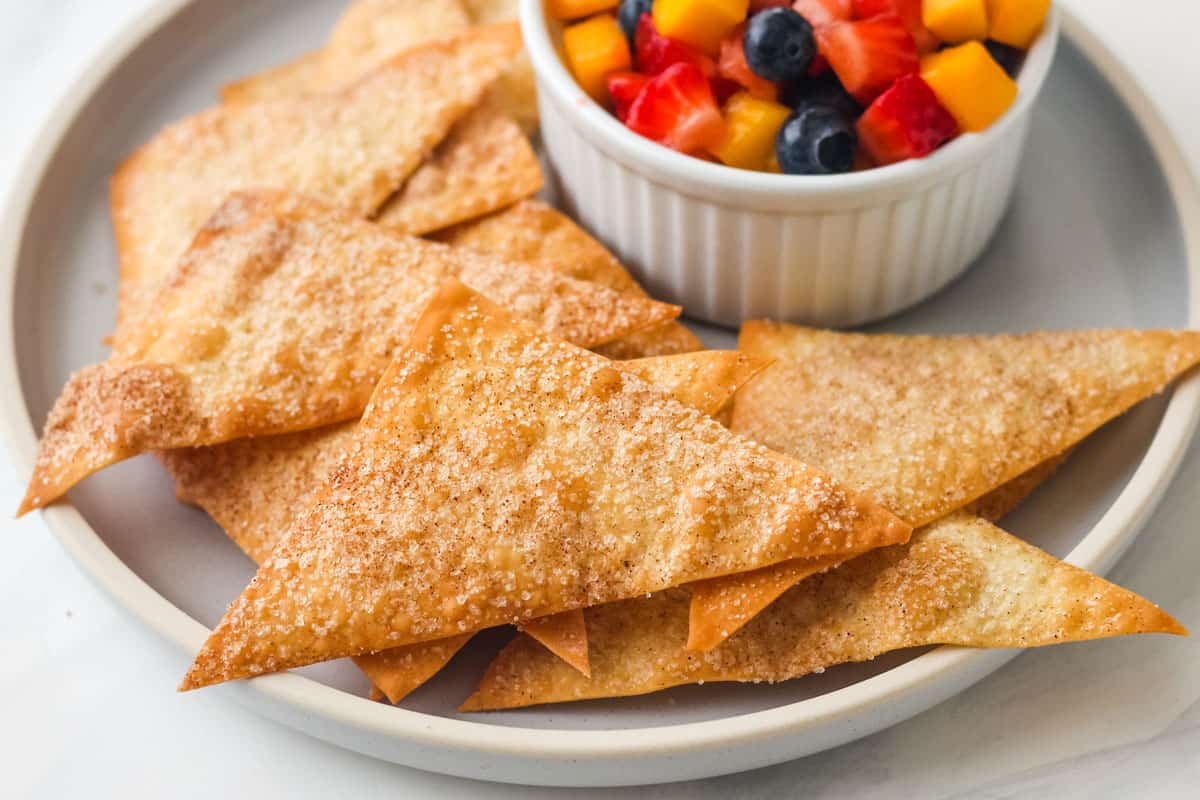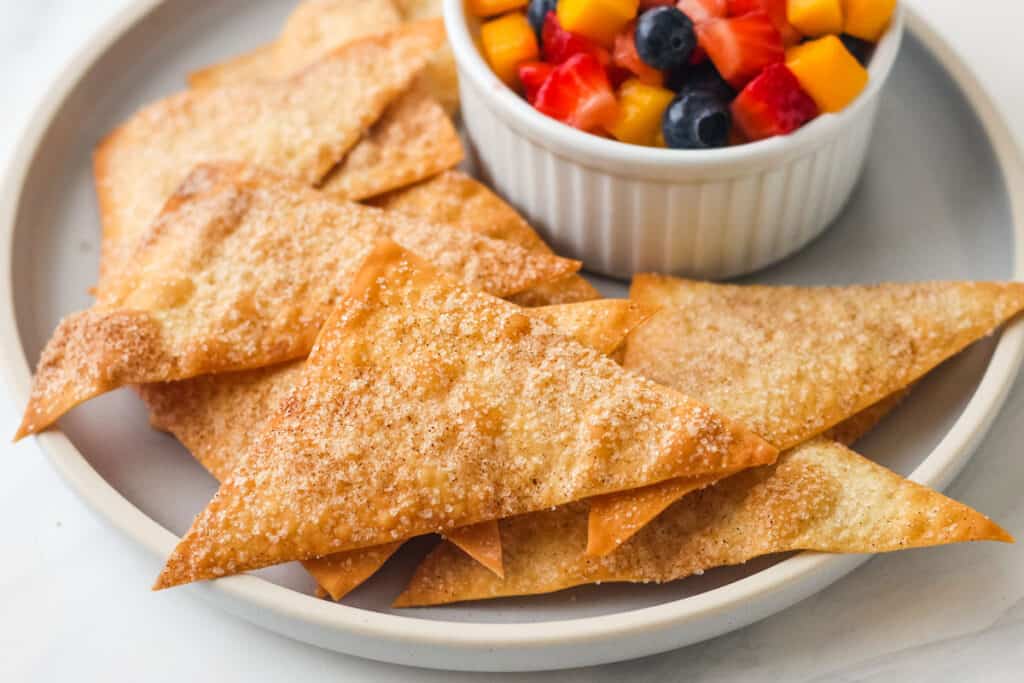 Serving Ideas
These cinnamon chips are deliciously sweet and simple on their own but even better served with a dip or toppings. Here are some fun ideas to try:
Make a quick fruit salsa with chopped mango, strawberries, blueberries, and a squeeze of lime juice.
Top with sliced bananas, mini chocolate chips, and a drizzle of melted peanut butter.
Go super decadent and crumble the chips over vanilla ice cream with caramel sauce.
How Should I Store Leftover Chips?
The chips keep really well in a sealed container at room temperature. The last time we had leftovers, I stored them in a glass container on the counter. After 3 days they were still crisp and delicious!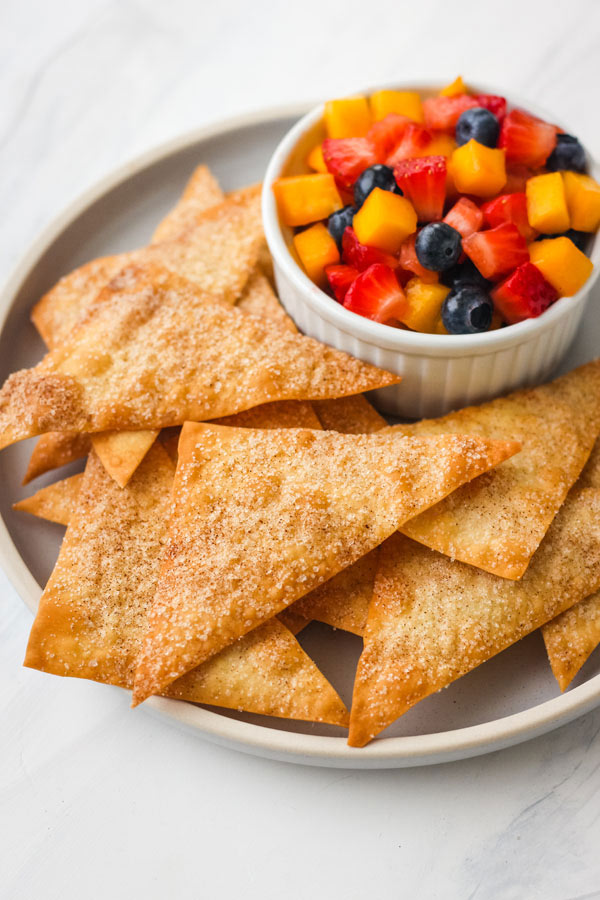 More Tasty Toaster Oven Dessert Recipes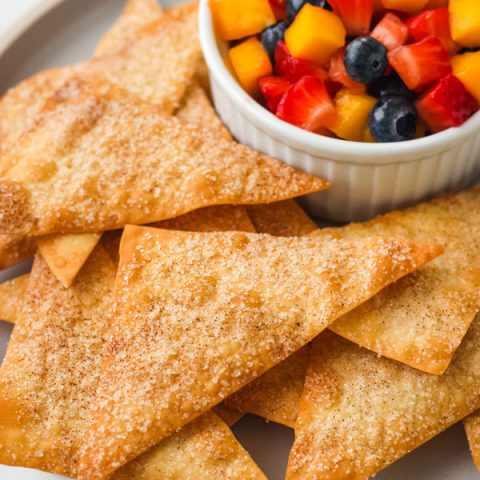 Cinnamon Baked Wonton Chips
A quick and easy toaster oven dessert for two or just for you!
Ingredients
6 Wonton Wrappers, (3-inch squares)
Cooking Oil Spray (We like the coconut oil variety)
1 teaspoon Granulated Sugar
1/8 teaspoon Cinnamon
Instructions
Adjust the cooking rack to the bottom position and preheat your toaster oven to 350°F on the BAKE setting.
Set one wrapper on a cutting board and spray lightly with oil. Place the next wrapper on top and spray it with oil. Repeat with remaining wrappers, then slice the stack in half.
Combine cinnamon and sugar in a small bowl. Arrange individual wonton pieces in a single layer on a sheet pan and sprinkle with the cinnamon sugar.
Bake until golden brown around the edges, about 7 to 9 minutes.
Enjoy warm or transfer chips to a wire rack to cool before eating.
Notes
Convection Toaster Ovens
Reduce the temperature to 325°F and begin checking for doneness after 7 minutes, adding more time as needed.
Traditional Ovens
Adjust a cooking rack to a center position. Proceed with the instructions above. Depending on your oven, the chips may take the same amount of time or a few additional minutes of baking.
Store leftover chips in a sealed container for up to 3 days.
Nutrition Information:
Yield:

2
Serving Size:

6 Chips
Amount Per Serving:
Calories:

83
Total Fat:

0.9g
Saturated Fat:

0.6g
Cholesterol:

2mg
Sodium:

137mg
Carbohydrates:

16.1g
Fiber:

0.5g
Sugar:

2.1g
Protein:

2.4g