Whole Grain Soft Oatmeal Raisin Cookies for Two
Bakery style Whole Grain Soft Oatmeal Raisin Cookies For Two. Bake up two chewy wholesome oatmeal cookies in just 15 minutes using your toaster oven!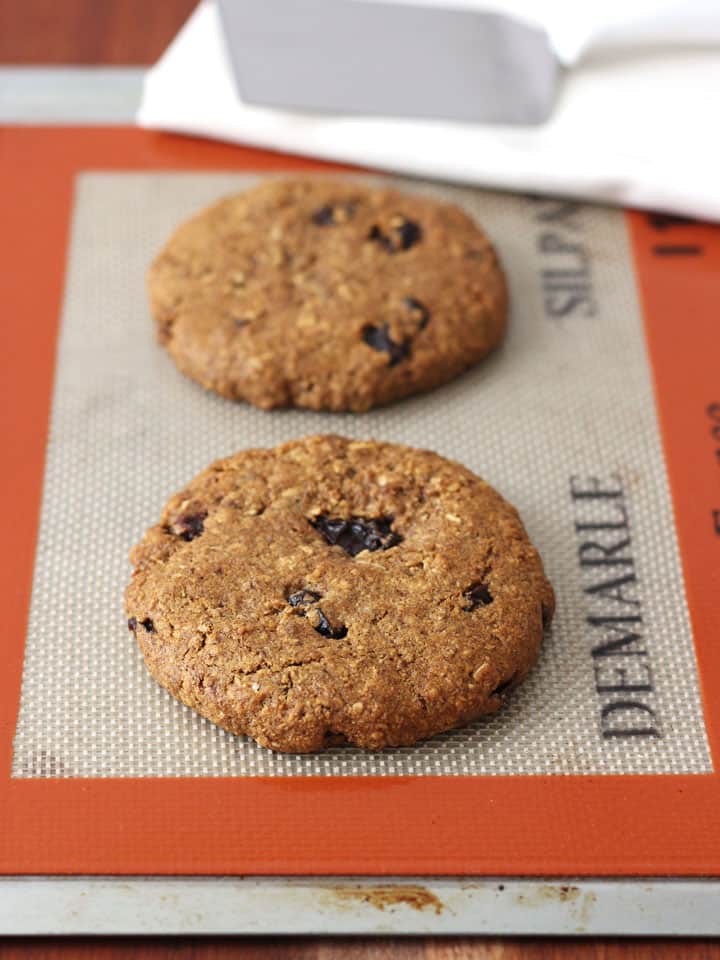 10 ingredients (11 if you like raisins), a mini-food processor and 10 minutes in the toaster oven gets you these large-and-in-charge chewy bakery style Whole Grain Soft Oatmeal Raisin Cookies For Two.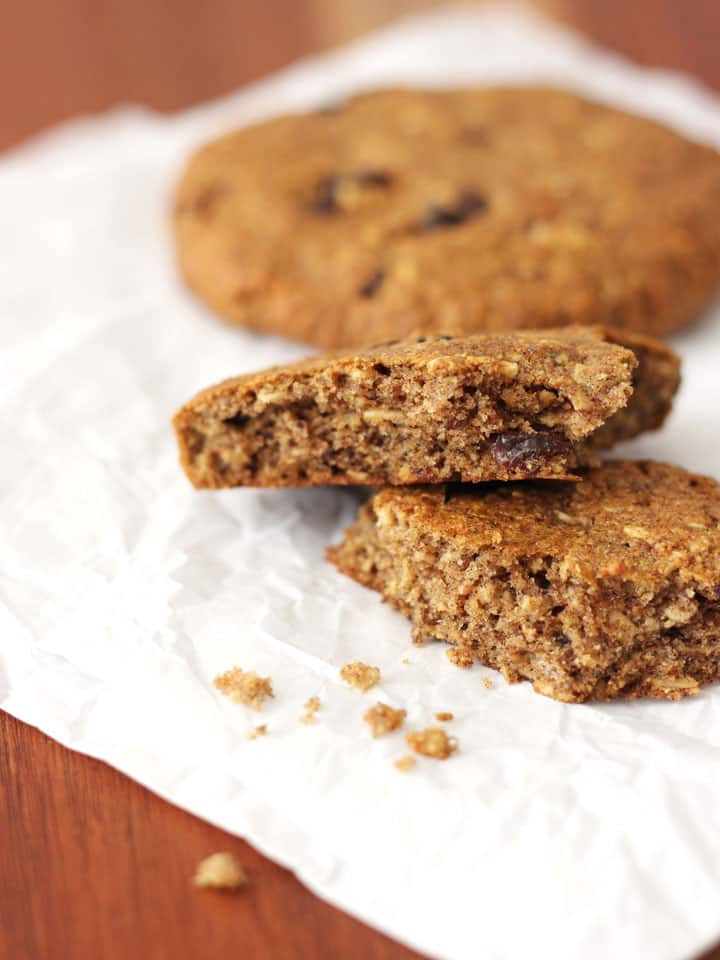 This isn't a shortcut or kitchen hack recipe. Like these Double Chocolate Cookies, Peppermint Shortbread Cookies and all of our other toaster oven cookie recipes this one has all of the ingredients and flavor of a full sized recipe just scaled-down to eliminate leftovers.
The cookie dough base starts with a few Medjool dates and a little maple syrup. Making the cookies sweet without overpowering the other tasty ingredients. Ingredients like wholesome spelt flour, hearty old fashioned oats, coconut oil and fragrant cinnamon.
The best part is that you can basically dump everything in your mini-chopper and it does all the work mixing up your cookie dough. It also ensures tiny bits of naturally sweet dates are spread throughout each cookie. How fun is that!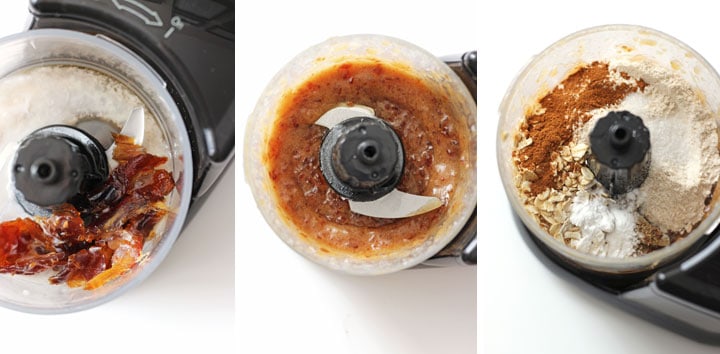 The dough doesn't really spread so make sure to gently flatten them with your hand or using the bottom of a glass dipped in flour before baking. Less than 15 minutes later you'll have two giant chewy oatmeal raisin cookie and a tough decision…
Eat your cookie and save one for later or find a friend to share with? Hmmm…that's a toughie 🙂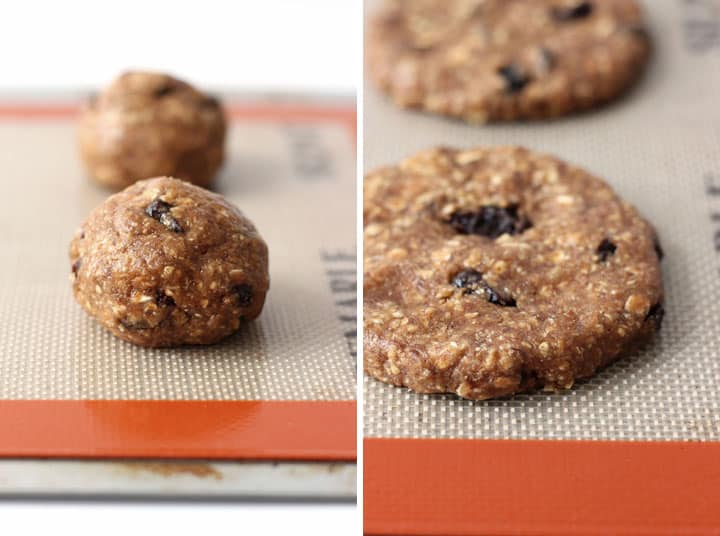 I'm a quality over quantity type of eater, at least most of the time. So, although these cookies are higher in calories if you look a little closer you will see that more than half of those calories come from spelt flour, oats, coconut oil and flax meal.
I'm not an expert but in terms of cookie ingredients but those sound like quality calories (from delicious ingredients) that your body and mine might know how to put to good use.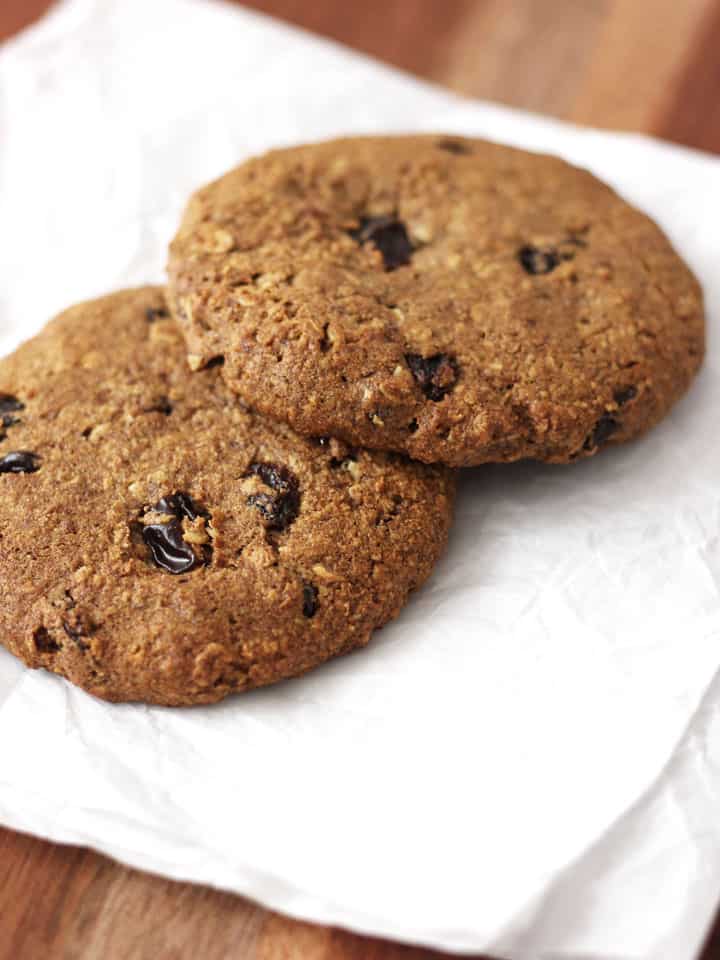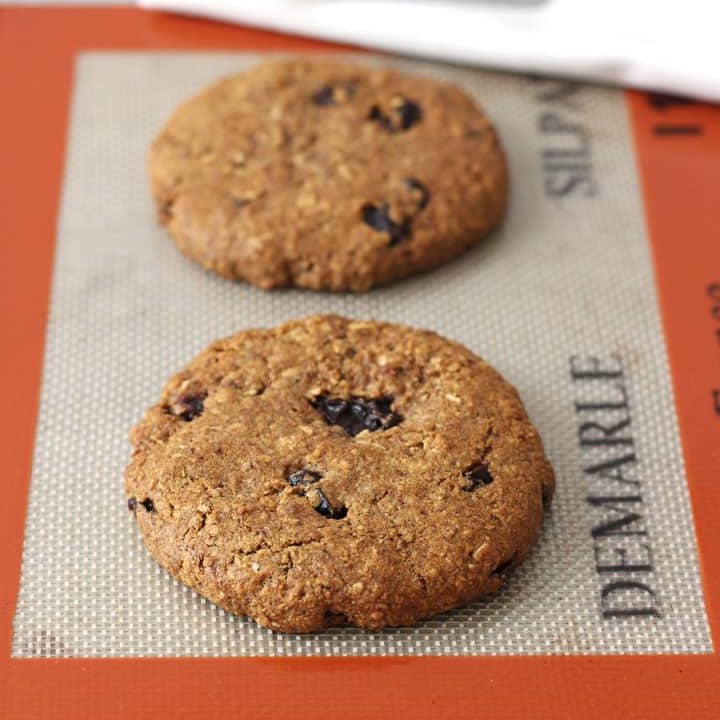 Whole Grain Soft Oatmeal Raisin Cookies for Two
A small batch recipe that make 2 big fat hearty whole grain oatmeal raisin cookies!
Ingredients
2 Medjool dates pitted and roughly chopped
1 tablespoon coconut oil, melted
1 tablespoon maple syrup
1 tablespoon almond milk
1 teaspoon flax meal
3 tablespoons spelt flour, (can sub whole wheat flour)
1/4 cup rolled oats
1/4 teaspoon baking soda
1/4 teaspoon fine grain sea salt
1/4 teaspoon ground cinnamon
2 tablespoons raisins
Instructions
Preheat toaster oven to 350 F and lightly oil your cookie sheet or line it with a toaster oven silicone baking mat.
In a food processor (I used a mini chopper) combine dates, coconut oil, maple syrup and almond milk. Pulse until mixture is well combined, there will be small pieces of dates visible (that's okay it does not need to be smooth). Add flax meal, spelt flour, oats, baking soda, salt and cinnamon. Pulse until mixture combines into dough, you may need to stop the processor and scrape the sides once to make sure all flour is incorporated. Carefully remove the blade and stir raisins into dough.
Form dough into two large balls. They do not spread while baking so you will need to gently flatten them with your hand or using the bottom of a glass dipped in flour.
Bake until lightly browned on the top, about 8 to 10 minutes. Allow to cool on cookie sheet for at least 5 minutes.
If you are not in the sharing mood, these cookies will keep in a covered container for up to 3 days or freeze well wrapped tightly in plastic wrap.
Notes
Measure coconut oil before maple syrup. The residual coconut oil will coat the tablespoon keeping the maple syrup from sticking.
Adapted from this recipe.
Nutrition Information:
Yield:

2
Serving Size:

1 Large Cookie
Amount Per Serving:
Calories:

249
Total Fat:

8.1g
Saturated Fat:

6g
Sodium:

311.1mg
Carbohydrates:

45.1g
Fiber:

4.5g
Sugar:

30g
Protein:

3.2g
Adapted from
Bake Your Day's Jumbo Cinnamon Butterscotch Oatmeal Cookie
recipe.