Vegan Oatmeal Cookies For Two
Made without egg or butter, these oatmeal cookies for two are not your grandma's recipe! Instead of granulated sugar, they're sweetened with dates and maple syrup. The quick recipe is easy to whip up (using a mini food processor) and features a great cinnamon raisin flavor.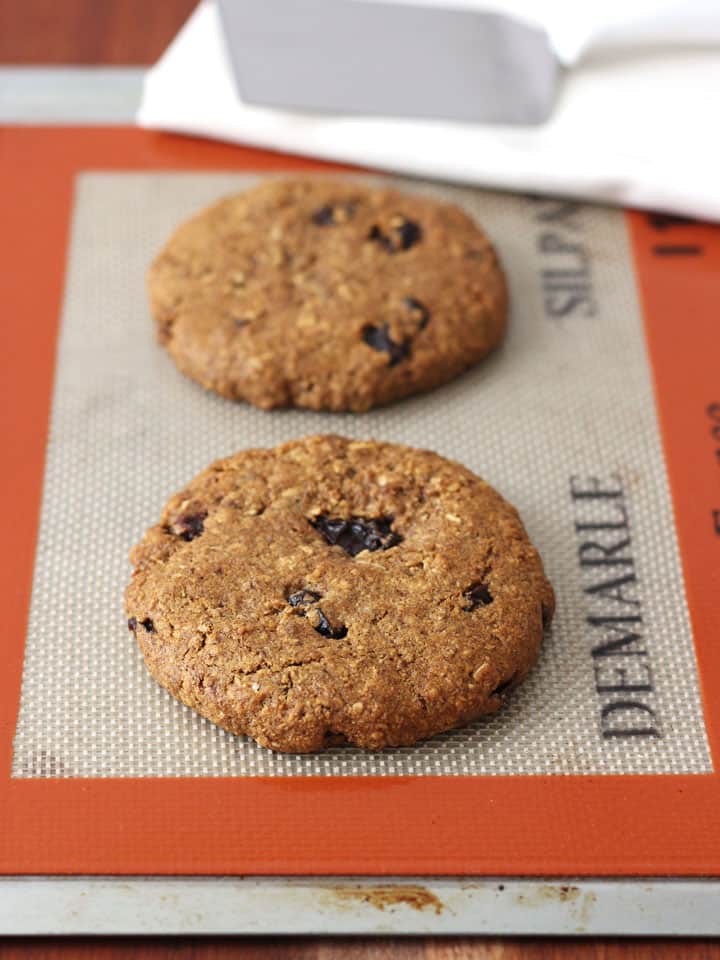 Oatmeal Cookies for One or Two
Packed with hearty oats and dried fruit, this easy small batch recipe makes a tasty treat, fun afternoon snack, or even a quick breakfast for one or two people.
You can bake up two large cookies that are as big as the palm of your hand. Or divide the dough into smaller tablespoon-sized portions.
Either way, they'll be ready in less than 30 minutes!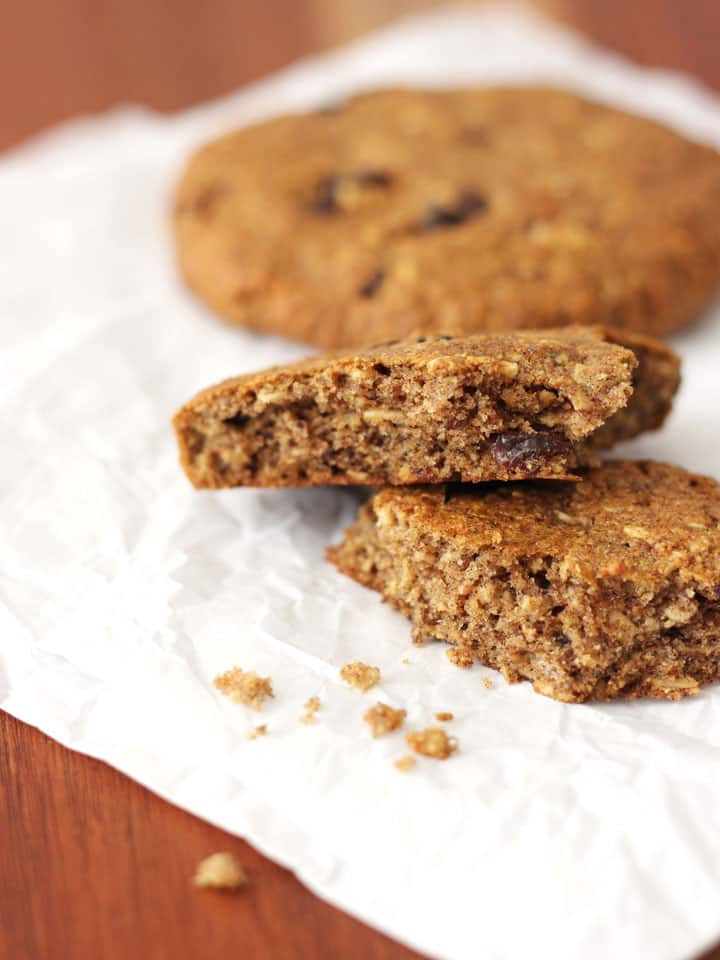 Frequently Asked Questions
Are there any substitutes for the Medjool Dates?
The dates add sweetness and act as a binder. If you don't have dates you can try using an equal amount of another dried fruit. Just know that it will change the way the cookie tastes.
Below are a few date substitutes that we've tried:
Black Mission Figs (30 grams about 4 small figs). The cookies tasted more like fig newtons with oats than an oatmeal cookie. Tim really liked them, I thought the fig flavor was a little overpowering and borderline savory.
Golden Raisins (30 grams rehydrated and drained). These cookies had a super prominent raisin flavor. If we tried this substitute again I'd skip the extra stirred-in raisins and use chocolate chips or chopped nuts instead.
Dried Apricots (30 grams, about 4 small). The dough was a little too wet (so maybe try less apricot) but overall it was a great tasting cookie.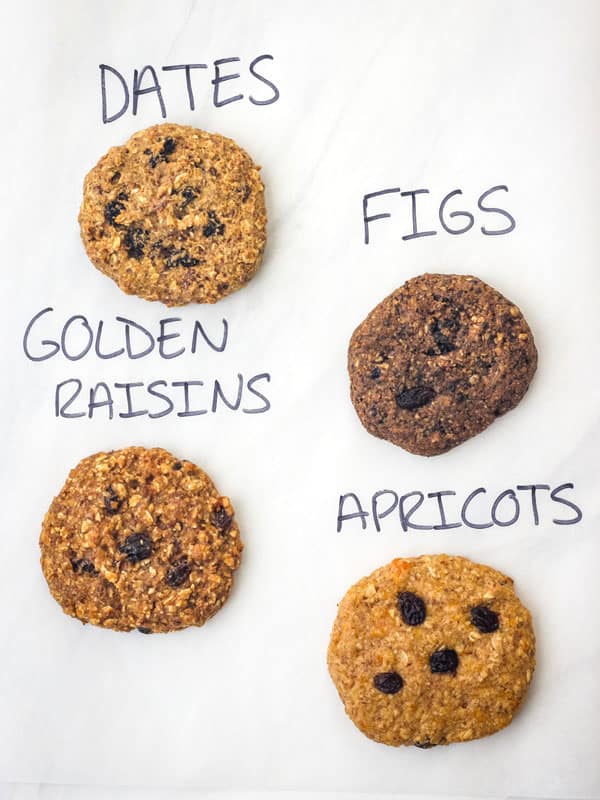 I don't like coconut oil. Can I use a different oil for this recipe?
Neutral oils like canola, grapeseed, and avocado will all work. Recently, I made a batch using olive oil and wasn't a huge fan of how prominent the oil's flavor was so I'd probably skip that one.
Recipe Tips and Notes
How to Revive Shriveled Up Dates: Place the dates in a bowl or coffee mug and cover with boiling water. In 10 minutes they'll plump right up. Then just drain off the water, dry them with a towel and remove any pits.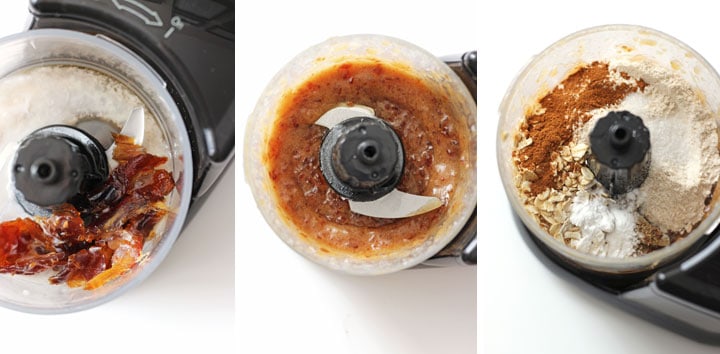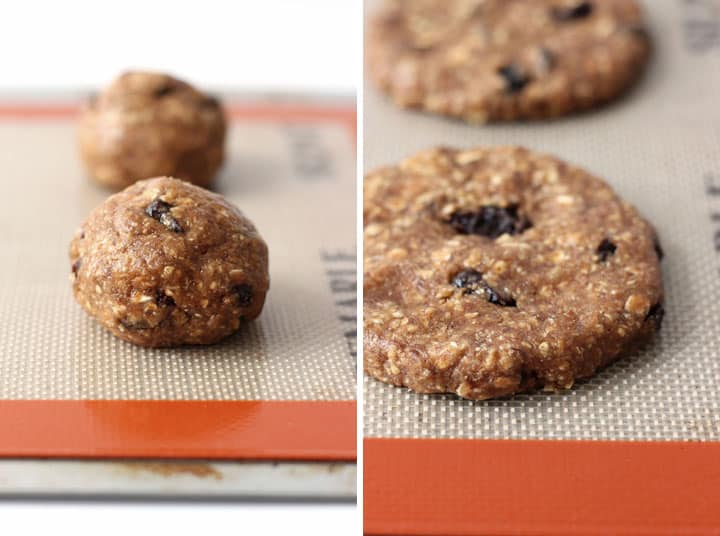 The cookies don't spread so make sure to gently flatten them with your hand before baking.
If raisins aren't your jam you can leave them out or substitute some:
dried cranberries
chocolate chips
chopped nuts
or shredded coconut
Have fun playing around with different mix-ins and spices – this is a very versatile dough.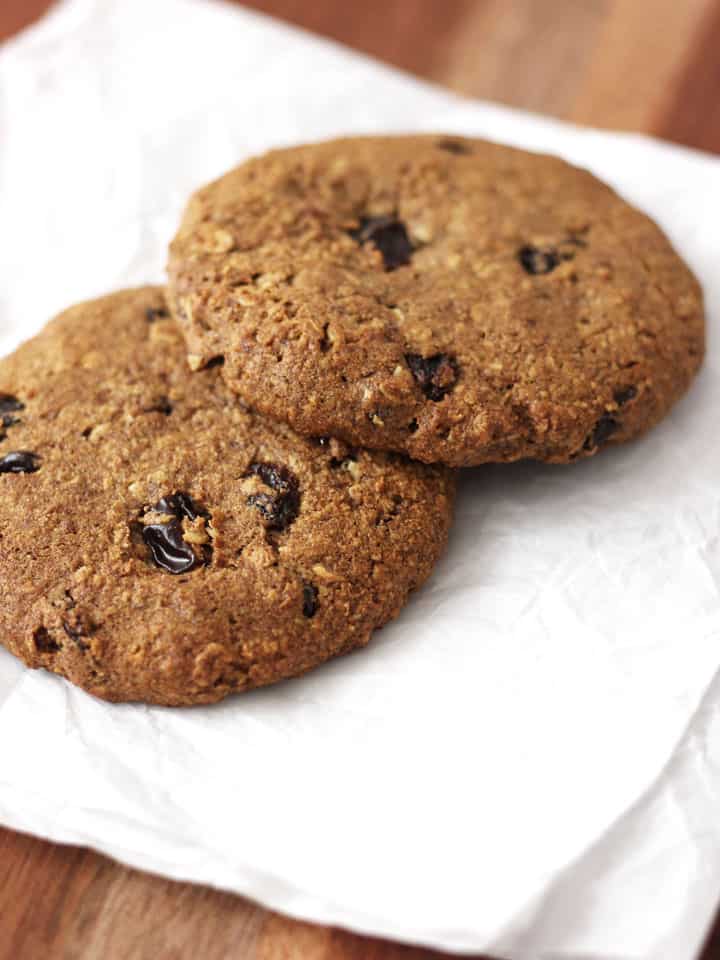 Other Small Batch Cookies You'll Love: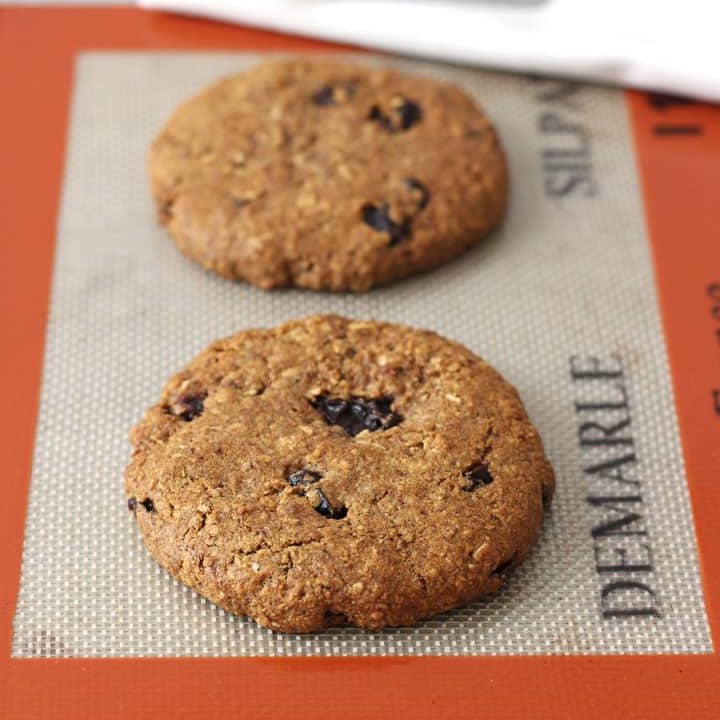 Vegan Oatmeal Cookies For Two
These cookies are sweet, chewy, and remind me of those breakfast cookies found in the cereal aisle at the grocery store. The recipe comes together quickly in a mini processor and you can even bake them in the toaster oven! 
Ingredients
2 Medjool Dates, pitted and roughly chopped (about 30 grams after pitting)
1 tablespoon Melted Coconut Oil
1 tablespoon Maple Syrup
1 tablespoon Non-Dairy Milk
1 teaspoon Flax Meal
1/8 teaspoon Vanilla Extract
3 tablespoons (23 grams) White Whole Wheat Flour
1/4 cup (23 grams) Old-Fashioned Rolled Oats
1/4 teaspoon Cinnamon
1/8 teaspoon Baking Soda
1/8 teaspoon Fine Sea Salt
2 tablespoons Raisins, optional
Instructions
Preheat your oven to 350°F. If using a toaster oven, adjust the rack to the bottom or middle placement and select the BAKE setting.
Lightly oil a small sheet pan or line with a silicone baking mat.
In a mini food processor combine the dates, oil, maple syrup, milk, flax meal, and vanilla extract. Pulse 4 to 5 times or until the mixture is well combined. It doesn't need to be smooth, there should still be small pieces of dates visible.
Add the flour, oats, cinnamon, baking soda, and salt to the processor. Pulse until the mixture combines into a sticky dough. You will need to stop and scrape the sides at least once to make sure all of the flour is incorporated.
Carefully remove the blade from the food processor and stir the raisins into the dough.
Form dough into two large balls and place them on the pan. Lightly moisten your hands with water and gently flatten the dough into discs.
Bake cookies until set and lightly browned on the top, about 8 to 12 minutes.
Remove from the oven and leave cookies on the pan to cool completely (about 10 to 15 minutes).
Notes
Oil: Any neutral oil like canola oil, grapeseed oil, or avocado oil can be substituted for the coconut oil.
Flour: We've used white whole wheat flour and spelt flour to make this recipe but you can substitute all-purpose flour if you want.
For Smaller Cookies: Scoop the dough into tablespoon-sized balls, press to flatten, and bake for 6 to 9 minutes.
Nutrition Information:
Yield:

2
Serving Size:

1 Large Cookie
Amount Per Serving:
Calories:

249
Total Fat:

8.1g
Saturated Fat:

6g
Sodium:

311.1mg
Carbohydrates:

45.1g
Fiber:

4.5g
Sugar:

30g
Protein:

3.2g