A small batch of mini Lemon Lime Coconut Sugar Cookies you can make in your toaster oven. They're crispy, chewy, full of flavor and smell fantastic.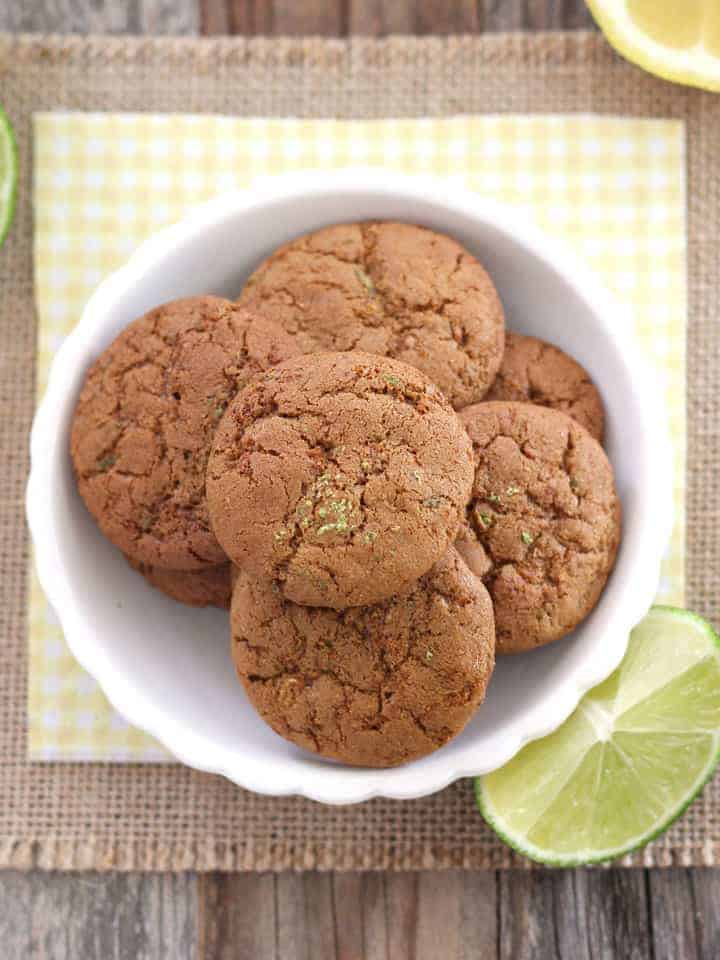 While satisfying a Chocolate Chip Pecan Oatmeal Cookie craving last month we asked you guys to vote for the cookie recipe you wanted to see next. It was a close one but with 42% of the vote these Lemon Lime Coconut Sugar Cookies won. We truly hope you enjoy them, they may be small (2-bites) but are loaded with flavor.
There's a lot to like in these cookies – crispy edges, tiny chewy middle and quality ingredients that all bring something to the table. The bright flavors of the lemon and lime zest combine with coconut sugar's caramel-like notes for a seriously tasty little cookie.
Last month, while testing this recipe we visited the zoo with my family. I packed a backpack of better-for-you snacks like hummus, veggies and grapes but tossed in a few of these more indulgent sugary cookies for a fun treat.
Melting atop a double-decker bus in 100 degree weather I handed the bag of cookies to my sister. She passed them around and behind me I could hear a chorus of "Oooh…that's nice" and "Mmmm." At that moment I was super thankful to be sitting in the front so no one could see my big goofy grin.
This is a little embarrassing to admit but I get such a rush when my family (especially Tim) enjoys something I've made. Even more so if it has whole grains or an unfamiliar ingredient like coconut sugar.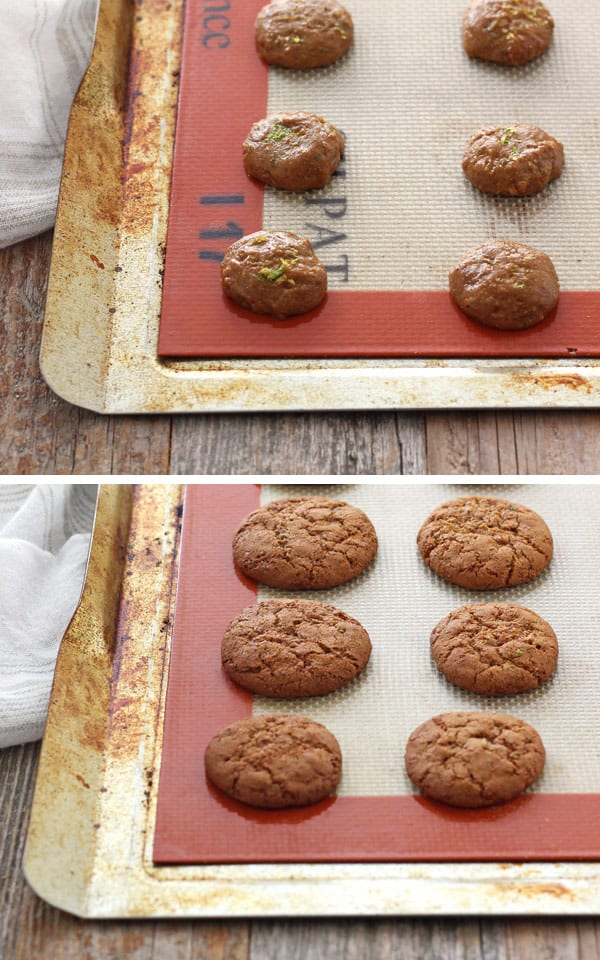 If you've never heard of coconut sugar and are wondering "What is this stuff?"  According to my bag it's sugar "made from the nectar of the coconut palm tree flower."  In the last year I've seen it popping up in the baking isle at our local grocery stores, Sprouts and Trader Joe's.
In addition to cookies we've used it in No-Stir Toaster Oven Granola and Small Batch Almond Granola instead of brown sugar.  If you've got some coconut sugar experience please share your favorite ways to use it in the comments.  We'd love to try it in more recipes.
A Few Tips for Making Your Lemon Lime Coconut Sugar Cookies:
Give your dough some space, you can see in the pictures above they will spread a good amount.
Use a silpat or grease your cookie sheet and let the cookies cool completely before removing them.
Sprinkle any extra grated citrus peel on top of the cookies before baking for added flavor.
The dough is super sticky so it's easiest to use the "two-spoon" method for scooping. Scoop the dough onto one spoon and then use the other spoon to push it onto the cookie sheet.
And if your heart was set on Peanut Butter Cup Cookies (runner-up with 37%) rest easy we're working to bring you a toaster oven cookie recipe for those too! As always, if you've got a special small-batch cookie request leave it in the comments or shoot us an email.  We like hearing from you 🙂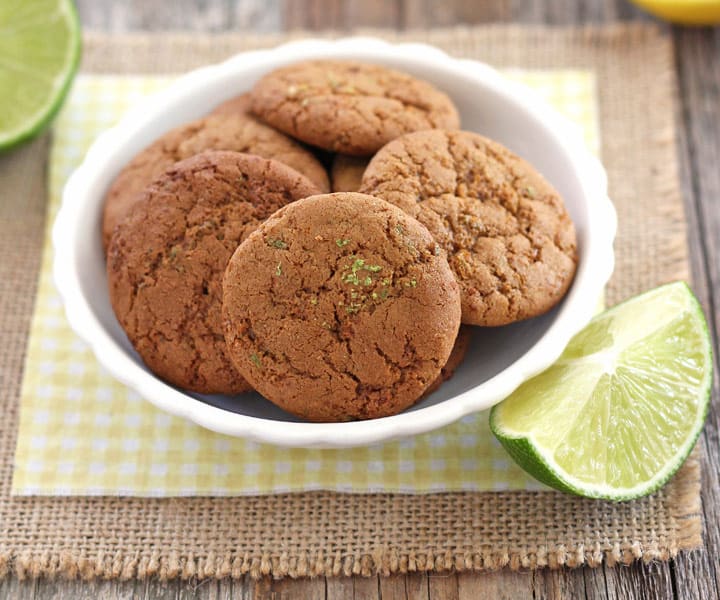 Lemon Lime Coconut Sugar Cookies
---
Yield: About 15 mini cookies
A small batch of bite-size cookies full of bright citrus flavor.
10 minPrep Time
11 minCook Time
21 minTotal Time
Ingredients
1 large egg yolk, at room temperature
1 teaspoon + 1/2 teaspoon melted coconut oil
1/4 teaspoon pure vanilla extract
1/4 cup coconut sugar
1/4 cup white whole wheat flour
1/8 teaspoon fine grain sea salt
1/8 teaspoon baking soda
1 teaspoon finely grated lemon peel (zest of 1 lemon)
1/2 teaspoon finely grated lime peel (zest of 1 lime)
Instructions
Preheat your toaster oven to 350 F and lightly oil your cookie sheet or line it with a toaster oven silpat.
In a small bowl whisk together the egg yolk and oil until combined. Add the vanilla and coconut sugar whisking well. Using a spoon stir in the flour, salt, baking soda, grated lemon and lime peels. The dough may seem dry at first just keep stirring until a sticky dough forms.
Drop the dough by rounded 1/2 teaspoons at least 1-inch apart onto the prepared baking sheet (the cookies will spread while baking).
Bake cookies for 8 to 11 minutes until the tops are set and they are lightly golden browned around the edges. Allow cookies to cool completely on the baking sheet before enjoying.
Notes
Store leftover cookies in a well-sealed container for up to 3 days or freeze for up to two months.
7.5
108
http://toasterovenlove.com/lemon-lime-coconut-sugar-cookies/
Nutritional information is an estimate for a serving of 3 mini cookies.