Blueberry Lemon Skillet Cookie for Two
Blueberry Lemon Skillet Cookie for Two. A chewy tart honey lemon mini skillet cookie filled with juicy fresh berries and topped with a scoop of vanilla ice cream.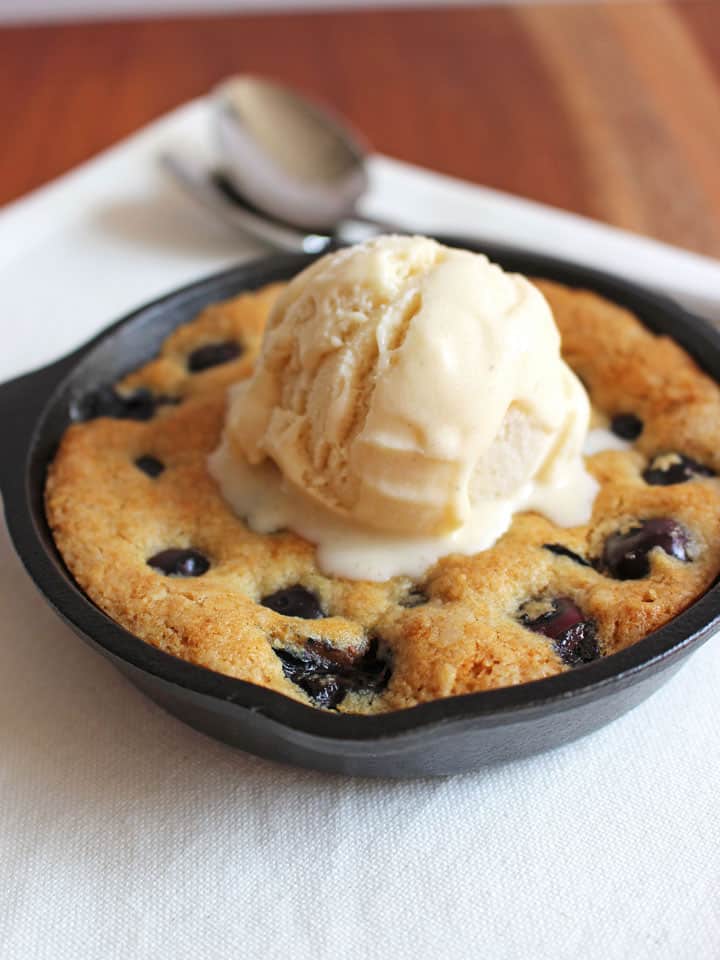 Sweet and crispy, this Blueberry Lemon Skillet Cookie for Two will fill your kitchen with a bright lemon scent. Each yummy spoonful is full of fresh blueberries bursting with juicy summertime flavor.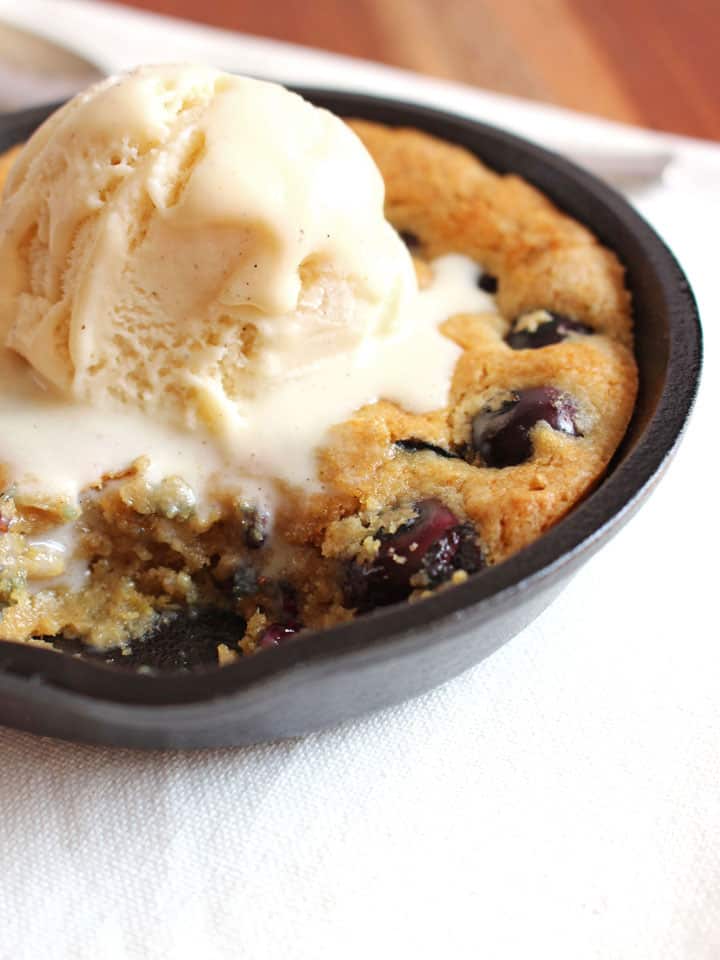 The mini cast-iron skillet is the secret to getting a golden crispy crust and chewy cookie center. If you don't have one, a ramekin can be substituted but your cookie won't be as browned and it will probably take a little longer to bake.
Either way, don't skip the vanilla ice cream!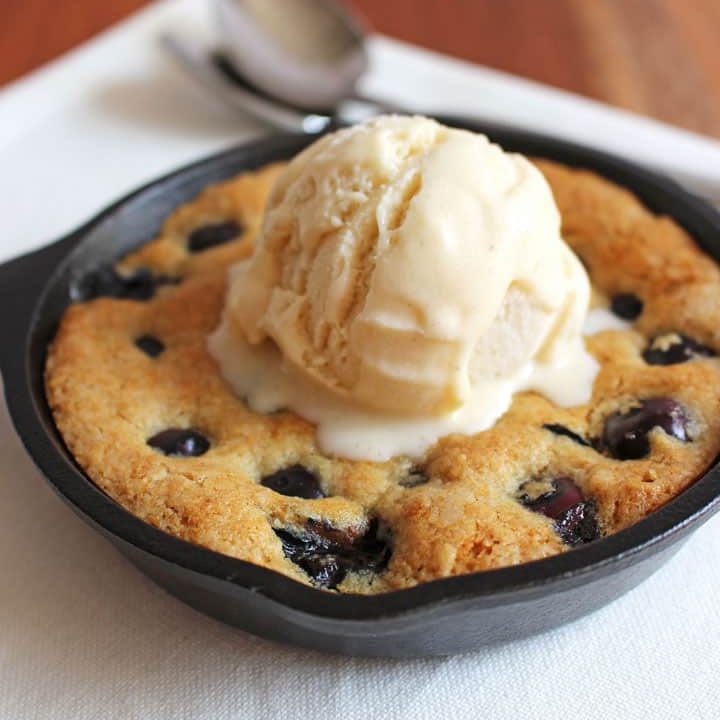 Blueberry Lemon Skillet Cookie for Two
Sweet and delicious, this mini deep dish cookie is perfect for sharing.
Ingredients
1 tablespoon Melted Coconut Oil
1 tablespoon Honey
1 tablespoon Granulated Sugar
2 teaspoons Egg, well-beaten* (See Notes)
1/4 teaspoon Vanilla Extract
Zest of a Small Lemon, about 1/2 teaspoon
1/4 cup White Whole Wheat Flour
1/8 teaspoon Baking Soda
2 Pinches Fine Sea Salt
1/4 to 1/3 cup Fresh Blueberries, rinsed and dried
1 scoop vanilla ice cream
Instructions
Adjust the cooking rack to the lowest position and preheat your toaster oven to 350°F
Lightly oil a 3.5-inch cast iron skillet.
In a small bowl combine the oil, honey, sugar, beaten egg, vanilla, and lemon zest. Whisk until light, frothy, and well combined (about 30 to 45 seconds).
Add the whole wheat flour, baking soda, and salt, and stir until a soft dough forms. Gently fold in the blueberries.
Pour the batter into your prepared mini skillet and smooth into an even layer.
Bake until the cookie is golden brown and set in the center, about 13 to 16 minutes.
Remove pan from the toaster oven and cool for at least 5 minutes before topping with a scoop of ice cream and devouring.
Notes
How To Measure The Beaten Egg
Crack an egg into a small bowl, beat with a fork just until blended about 30 seconds.
Measure out 2 teaspoons.
Store leftover egg refrigerated in a sealed container for up to 24 hours.
Flour: All-purpose flour can also be used.
Measure coconut oil before honey. The residual coconut oil will coat the tablespoon keeping the honey from sticking.
If your blueberries are very small reduce the amount to 1/4 cup.
Nutritional Information is an estimate for cookie with a scoop of slow-churned vanilla ice cream.
Nutrition Information:
Yield:

2
Serving Size:

Half of Recipe
Amount Per Serving:
Calories:

213
Total Fat:

8.7g
Saturated Fat:

6.6g
Cholesterol:

25mg
Sodium:

335mg
Carbohydrates:

32.5g
Fiber:

2g
Sugar:

20.4g
Protein:

3.7g