These colorful Rainbow Fruit Waffles are a quick and healthy breakfast that's fun for kids and adults. All you need are frozen waffles, fresh fruit, and your favorite creamy spread – perfect for St. Patrick's Day, Easter or any morning!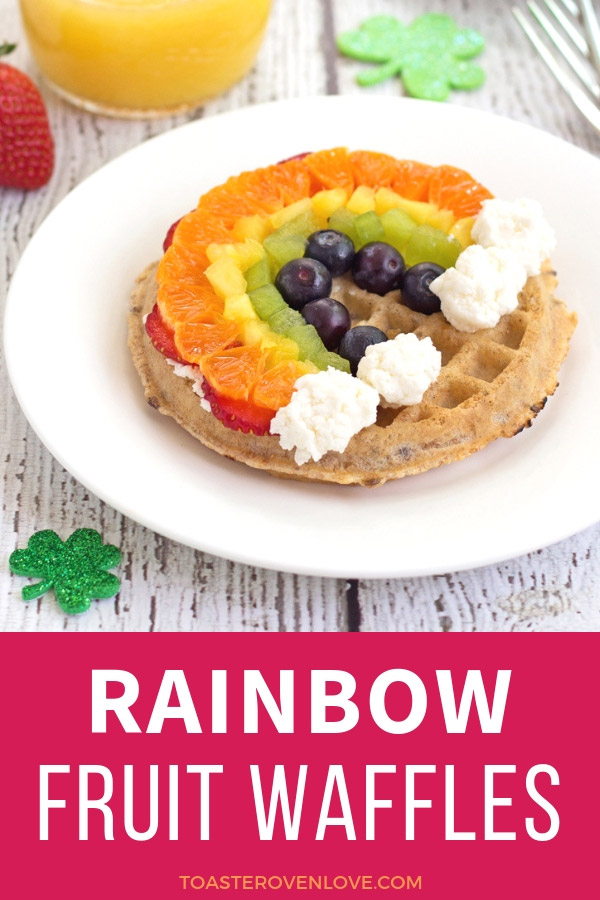 These crowd-pleasing fruit topped waffles check all the important holiday breakfast boxes: Quick, Healthy and Fun!
We made ours with ricotta and coconut butter but you can easily substitute cream cheese, yogurt or whipped cream.
Or just skip the creamy spread altogether and make the clouds with banana slices or mini marshmallows.
Seriously, there's no wrong way to make a fun and fruity breakfast rainbow 🙂
Did someone eat all of your blueberries?
No worries, here are a bunch of fruit substitutions for the different colors of the rainbow:
Red:

strawberries, raspberries, cherries, pomegranate seeds

Orange:

clementine, oranges, peaches, nectarines, apricots

Yellow:

pineapple, bananas, mango

Green:

kiwi, honeydew, pears

Blue:

blueberries, blackberries, grapes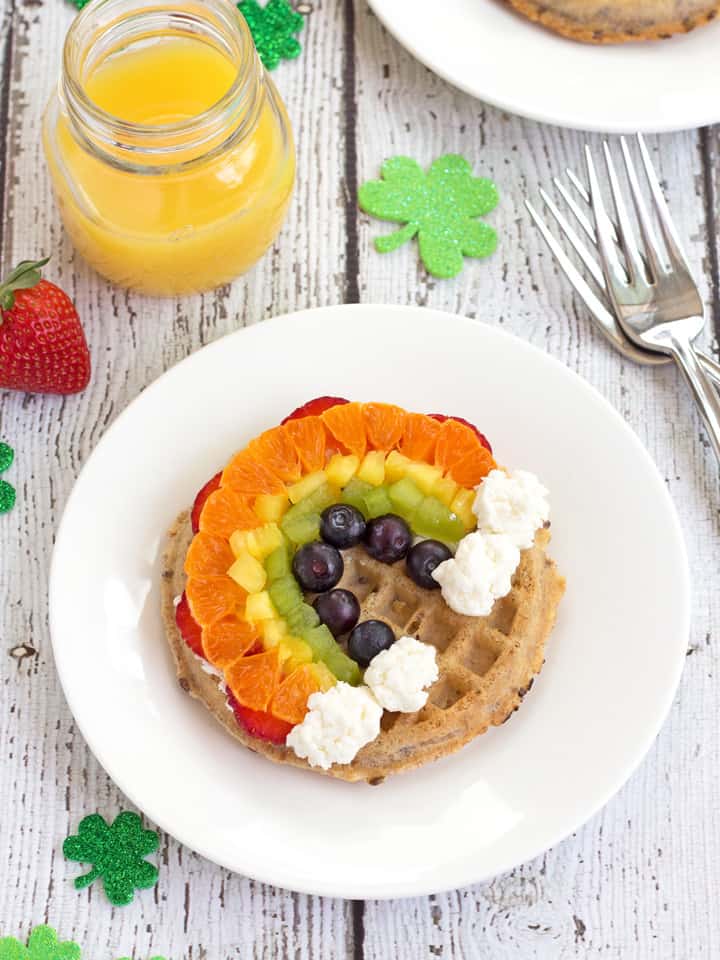 Adding a fruit rainbow to your usual ho-hum frozen waffle really takes it up a notch flavorwise – plus they are so fun to make!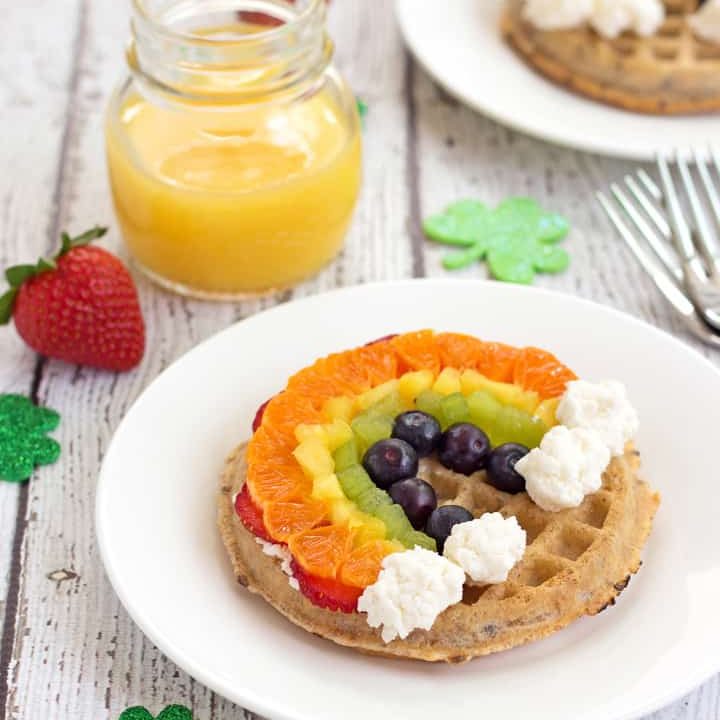 Rainbow Fruit Waffles
Yield:
2 Rainbow Fruit Waffles
A quick and healthy breakfast of frozen waffles topped with a creamy spread and fresh fruit rainbow.
Ingredients
2 whole grain frozen waffles
1/4 cup whole milk ricotta cheese, (at room temp)
1 tablespoon coconut butter
2 large strawberries, halved and thinly sliced
1 clementine, segmented and thinly sliced
1 pineapple ring, (fresh or canned in juice), finely chopped
1 small kiwi, peeled and finely chopped
15 small blueberries
Instructions
Prepare frozen waffles according to the package directions. Allow waffles to cool for 2 to 3 minutes before topping.
Mix together the ricotta cheese and coconut butter. Spread mixture in a horseshoe shape on the upper 2/3 of each waffle. Make sure to reserve a few teaspoons to make the clouds.
Starting with the strawberries arrange fruit in the shape of a rainbow on top of the ricotta.
Make clouds by using a teaspoon to dollop the remaining ricotta at the ends of each rainbow.
Notes
See post for fruit and ricotta substitutions.
Recommended Products
As an Amazon Associate and member of other affiliate programs, I earn from qualifying purchases.
Nutrition Information:
Yield:

2
Serving Size:

1 Rainbow Waffle
Amount Per Serving:
Calories:

258
Total Fat:

13.2g
Saturated Fat:

6.7g
Cholesterol:

36.1mg
Sodium:

260mg
Carbohydrates:

30g
Fiber:

3.1g
Sugar:

12g
Protein:

6.6g