These colorful Rainbow Fruit Waffles are a quick breakfast that's fun for kids and adults. All you need are frozen waffles, fresh fruit, and your favorite creamy spread. They're the perfect start to St. Patrick's Day or any spring morning!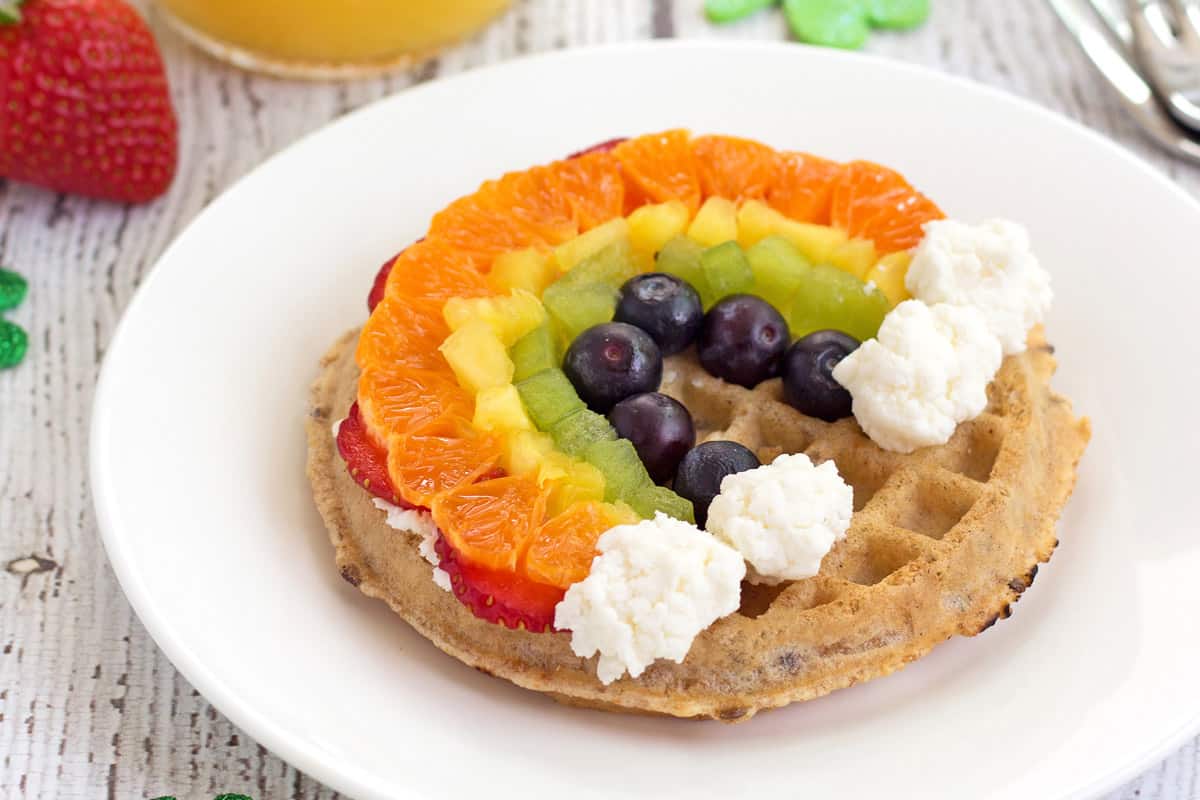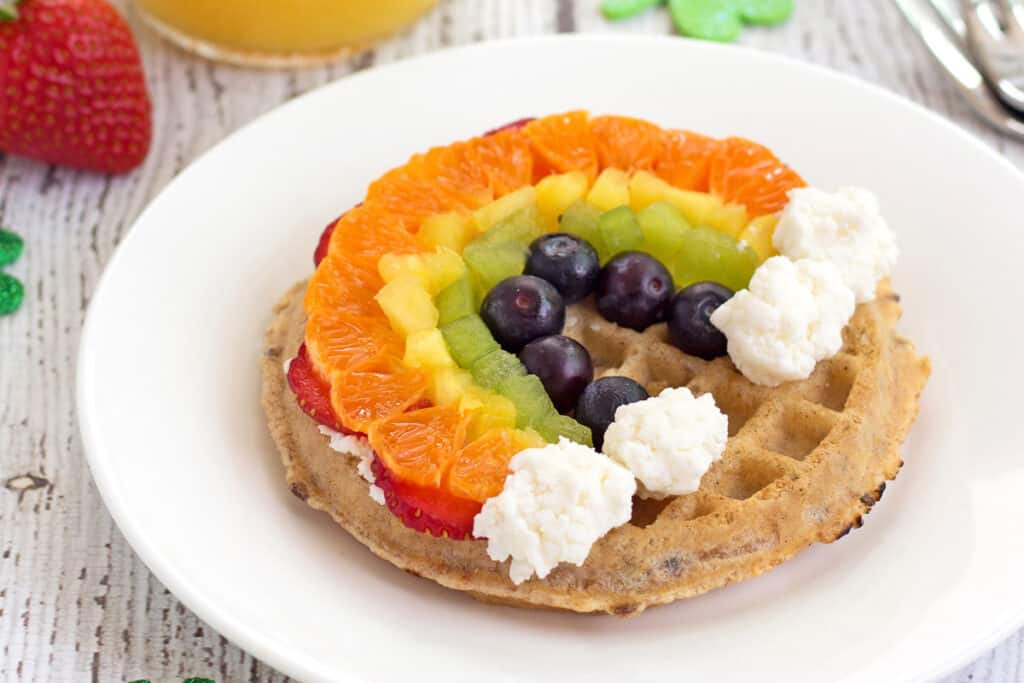 How to Make Rainbow Fruit Waffles
Start by preparing the frozen waffles according to the directions on the box. Then let them cool for a few minutes.
Once cooled, spread each waffle with some ricotta, cream cheese, or Greek yogurt. Then, arrange the fruit into a rainbow, beginning with the strawberries.
To make the clouds, dollop a few teaspoons of your spread or some whipped cream at the base of the rainbow. Banana slices or mini marshmallows also make for tasty clouds.
Fruit Options
Building the fresh fruit rainbow is my favorite part. Below are some ideas for different fruits that you can use to represent each color of the rainbow.
Red: strawberries, raspberries, cherries, pomegranate seeds
Orange: clementine, oranges, peaches, nectarines, apricots
Yellow: pineapple, bananas, mango
Green: kiwi, honeydew, pears
Blue/Purple: blueberries, blackberries, grapes
We don't usually have fruit for each of the colors on hand but no one seems to mind. Creating and eating these fruity waffles is just so much fun!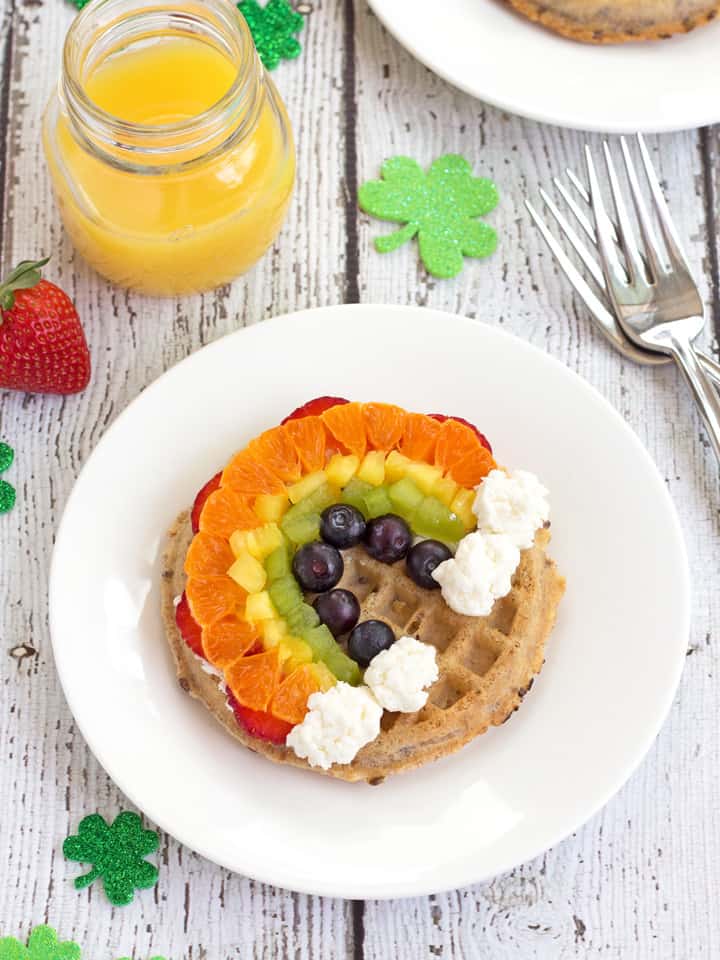 More Yummy Breakfast Recipes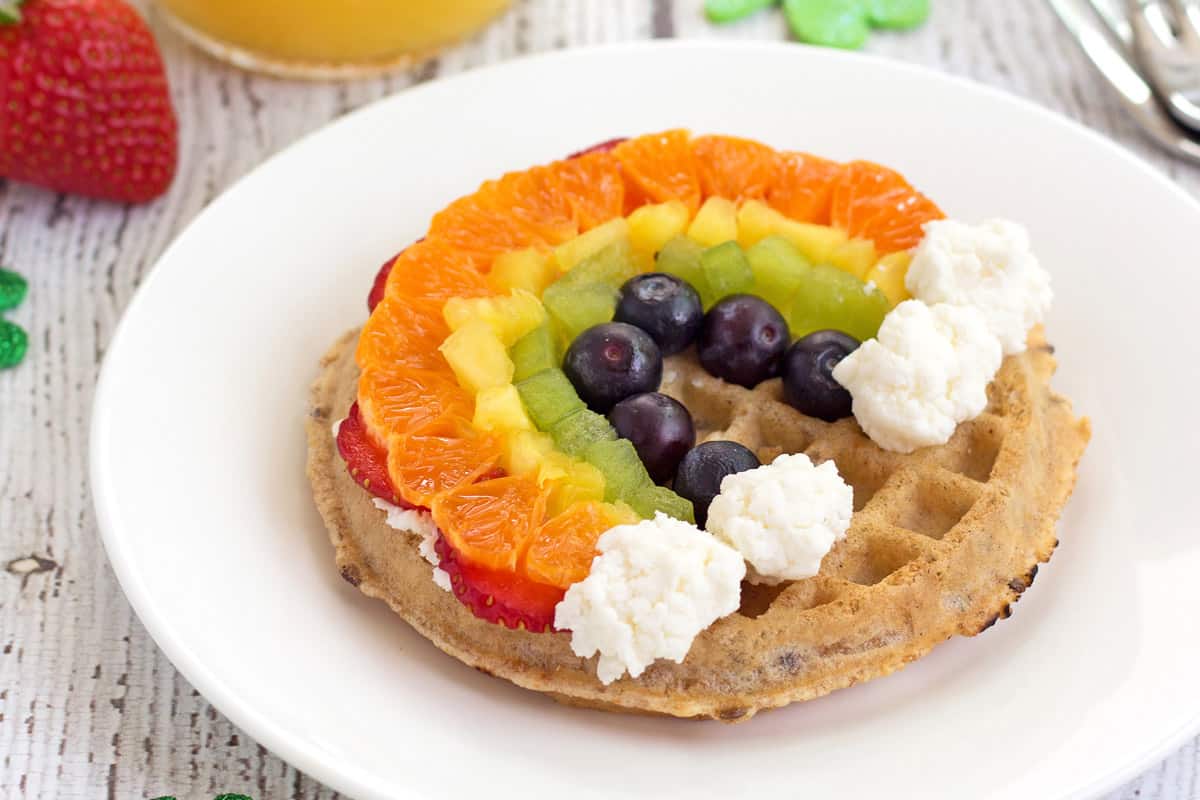 Rainbow Fruit Waffles
Yield:
2 Rainbow Fruit Waffles
Although we've listed specific fruits for the rainbow, feel free to substitute whatever fruit you've got on hand!
Ingredients
2 Frozen Waffles
1/4 cup Ricotta Cheese, (see notes for substitutions)
2 Large Strawberries, halved and thinly sliced
1 Clementine, segmented and thinly sliced
1 Pineapple Ring, (fresh or canned in juice), finely chopped
1 Small Kiwi, peeled and finely chopped
15 Small Blueberries
Instructions
Prepare the waffles according to the package directions. Then let them cool for 2 to 3 minutes before topping.
Reserve a few teaspoons of ricotta to make the clouds and then spread the remaining amount in a horseshoe shape on the upper 2/3 of each waffle.
Starting with the strawberries arrange fruit in the shape of a rainbow on top of the ricotta.
Make clouds by using a teaspoon to dollop the remaining ricotta at the ends of each rainbow.
Notes
1. Plain or flavored Greek yogurt or cream cheese can be substituted for the ricotta.
2. The clouds can also be made with whipped cream, banana slices, or mini marshmallows.
Nutrition Information:
Yield:

2
Serving Size:

1 Rainbow Waffle
Amount Per Serving:
Calories:

208
Total Fat:

8.7g
Saturated Fat:

2.7g
Cholesterol:

36.1mg
Sodium:

260mg
Carbohydrates:

28.5g
Fiber:

3.1g
Sugar:

11.5g
Protein:

6.1g